Combining style with functionality, Nataly Bolshakova creates a family home in Cherkasy, Ukraine, that encourages nesting and wellness.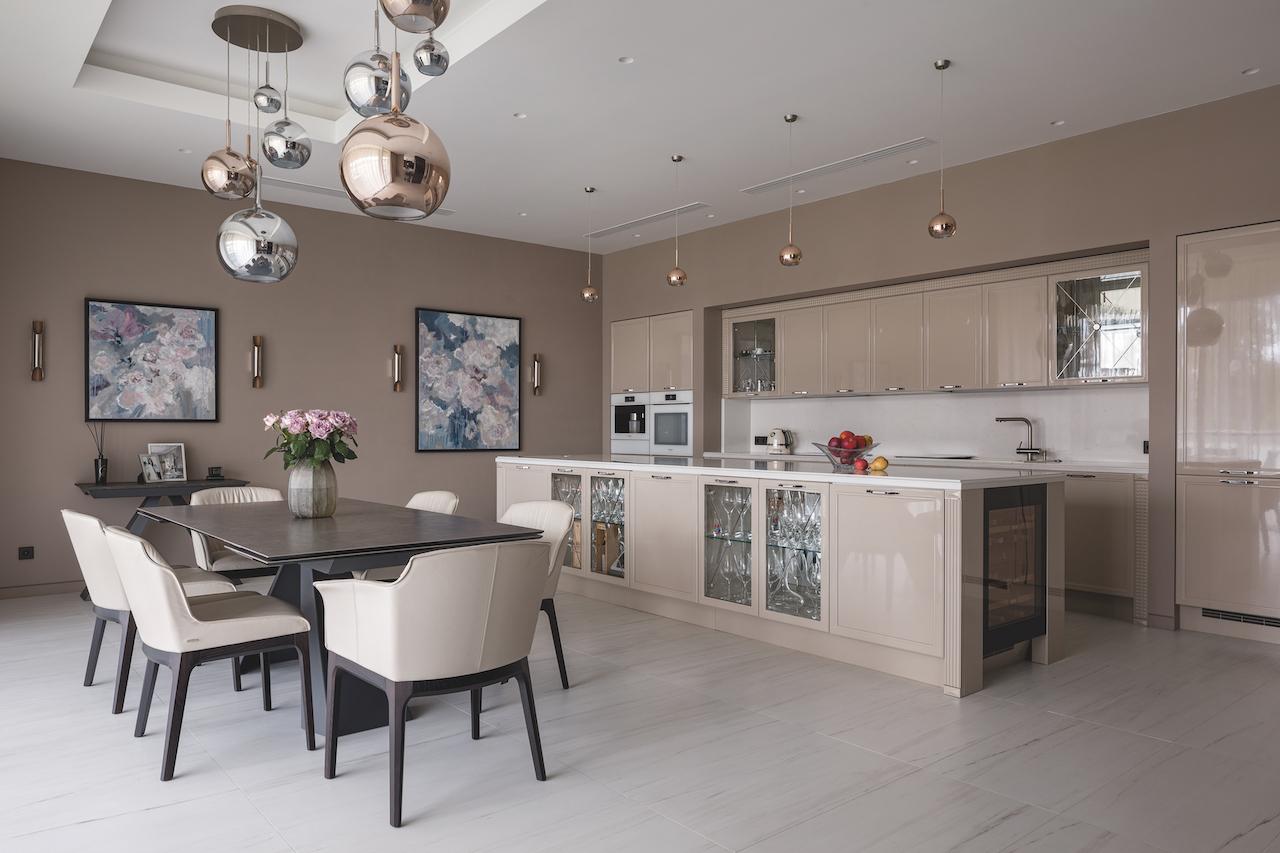 Ukrainian interior designer Nataly Bolshakova believes in creating timeless homes that won't go out of fashion quickly, but which will be relevant for generations to come. Her latest project is a two-level, 550 square-metre family residence in the city of Cherkasy in central Ukraine that has been designed to be an oasis of relaxation and togetherness.
Bolshakova's client – a couple, who have two teenage children, and who entertain frequently – wanted a sophisticated and contemporary home with plenty of warm-wood details; a large dining area; enough room for guests to stay over; and an indoor spa that included saunas, a gym, a bar, a relaxation area and a swimming pool.
"An active, healthy lifestyle is important to my clients, so they requested an indoor spa with a pool they could use in all seasons," she says.
She located the spa on the ground level facing the pine forest, so swimmers can look out to beautiful forest views as they swim laps. On the façade of the apartment, she incorporated a sliding glass system that retracts completely, so the views of nature outside become part of the interiors.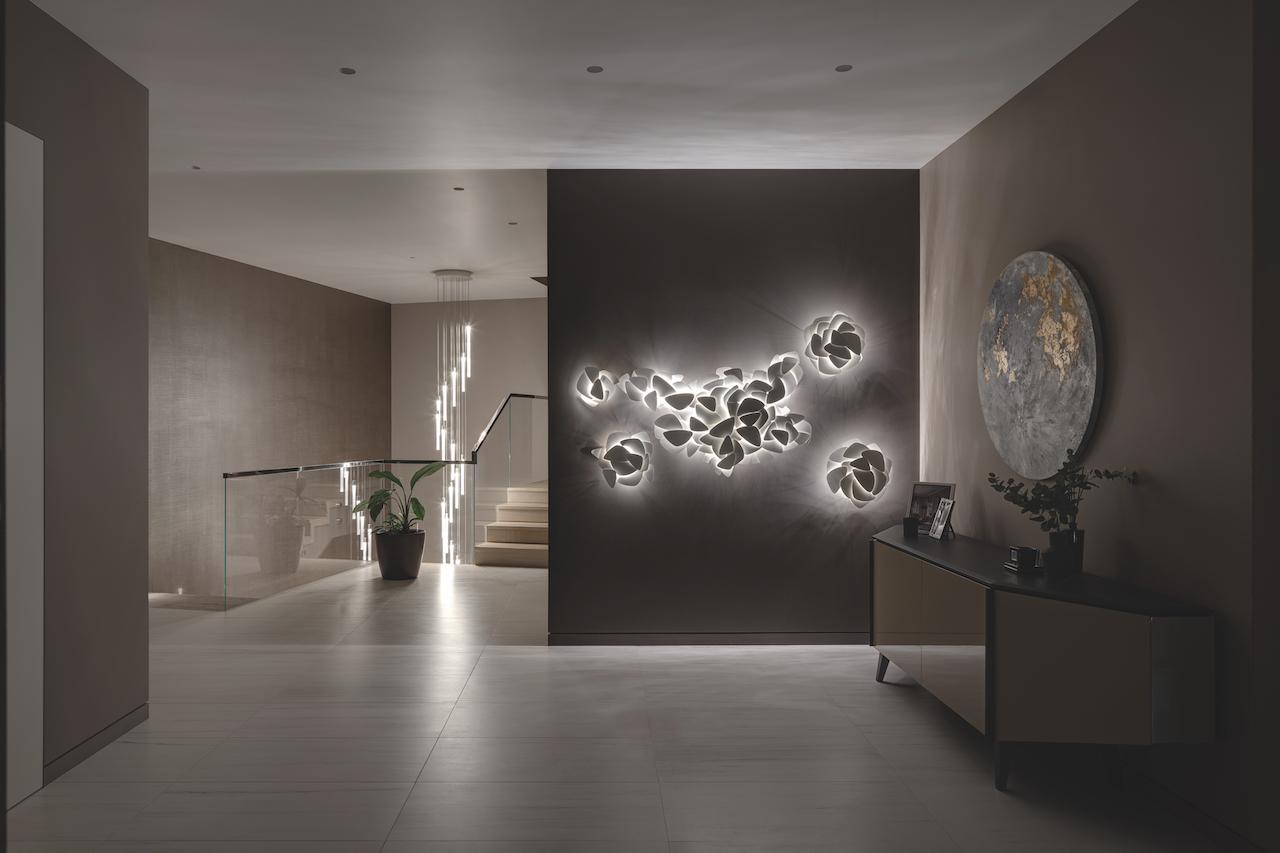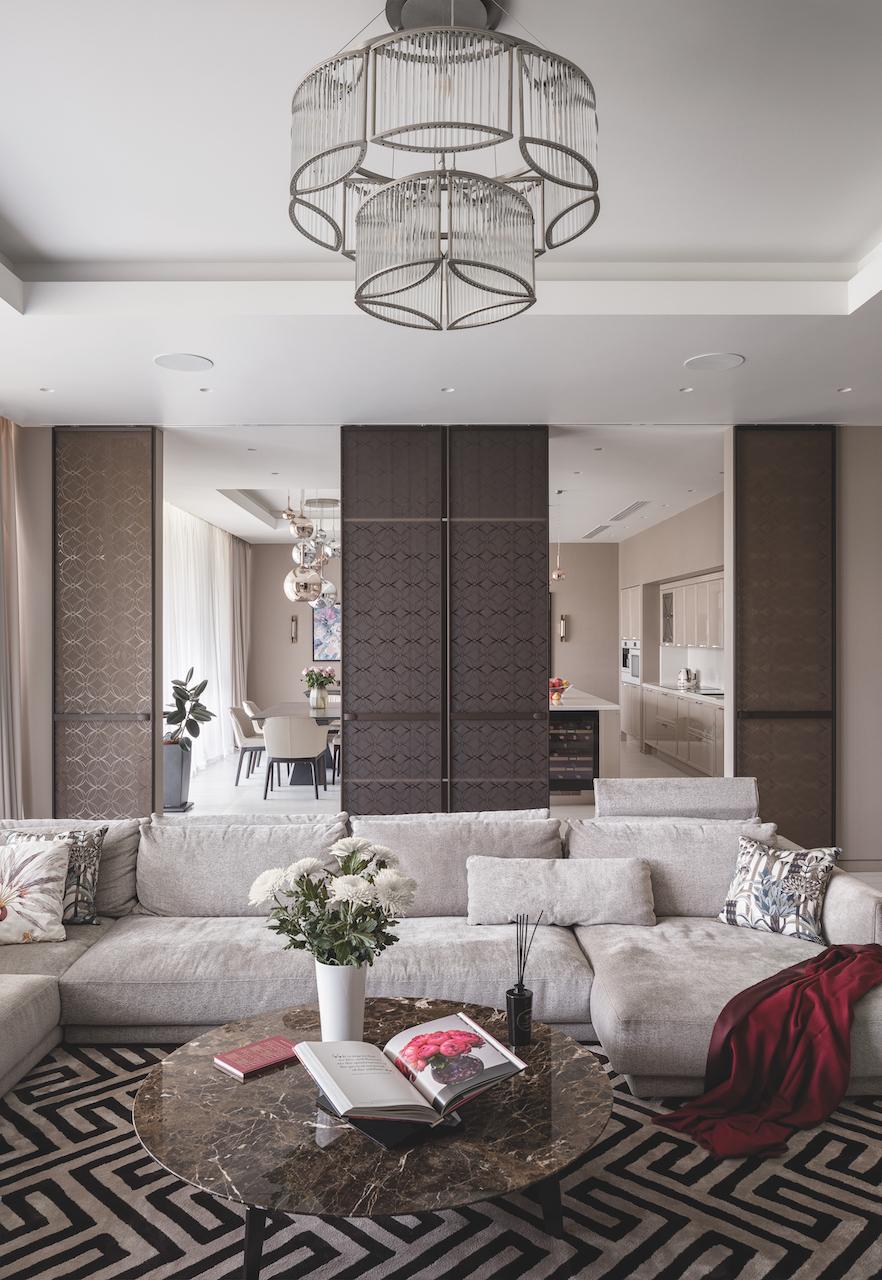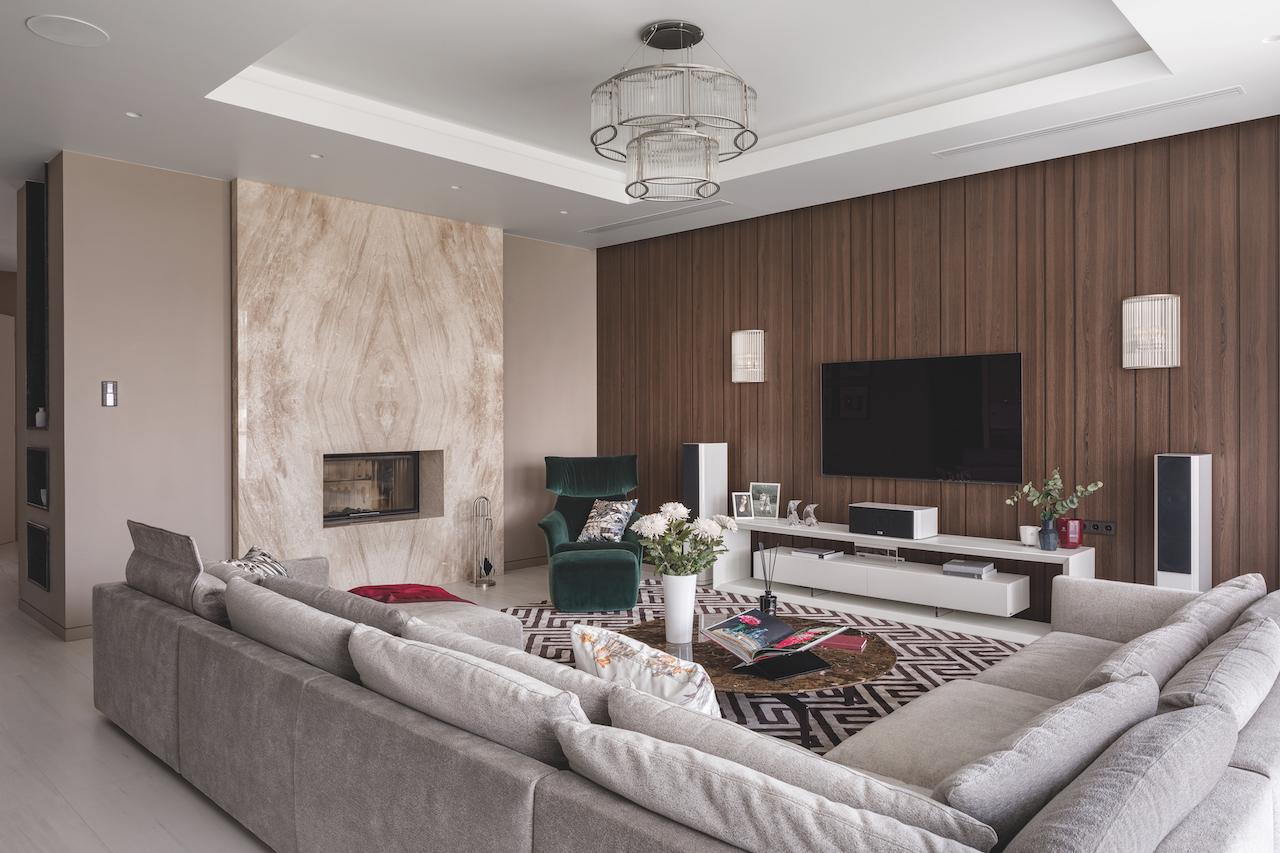 To comfortably accommodate visiting family and friends, she created two guest bedrooms on the ground floor. The commodious living areas and the family's private bedrooms are located on the upper level.
"My clients wanted this home to be the family's nest with plenty of spaces for relaxation and leisure," says Bolshakova, who tailored specific zones to cater to the individual needs of each family member, along with their social activities.
The main hallway on the upper level serves as the navigation centre for the entire home. Here, one's attention is immediately drawn to the refined Fabbian chandelier, and the Art et Floritude light composition on the wall.
The high-quality materials and carefully selected loose furnishings used for the interiors evoke a spirit of joie de vivre. The living lounge is furnished with a Poliform sofa, and a round Poliform marble coffee table. Here, Bolshakova used bright accent pieces such as an armchair upholstered in a deep emerald fabric, and a bold, black and white geometric print carpet, to add contrast to the otherwise earthy colour scheme.
Geometric-patterned Longhi sliding doors can be left open to connect or slid shut to separate the living lounge from the kitchen and dining space. For the dining set-up, Bolshakova chose Cattelan Italia table and chairs for their functionality, and complemented these with a glossy cream-toned kitchen counter and cabinets by Aster Cucine, pendant lamps from Penta, sconces from DelightFULL, and artwork by Ukrainian painter Maria Vozvyshaieva.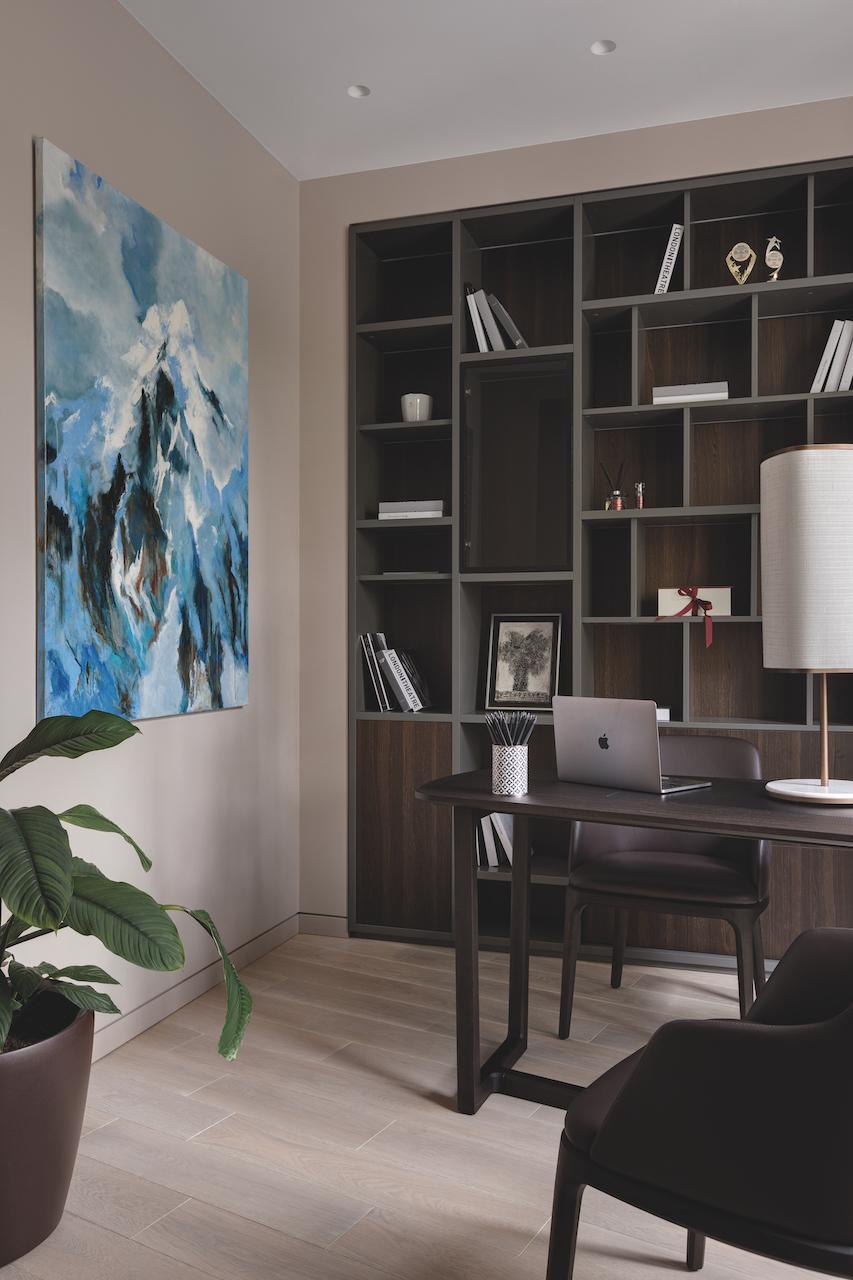 According to Bolshakova, with this project, like many of her other projects, it was absolutely necessary to combine functionality and style, because to her, both are equally important for a happy home.
"To meet my client's requirement for frequent entertaining, we designed furniture that can easily accommodate different situations. For example, the console under the painting in the dining room can be extended to conjoin with the main dining table to fit more guests at dinner parties," she says.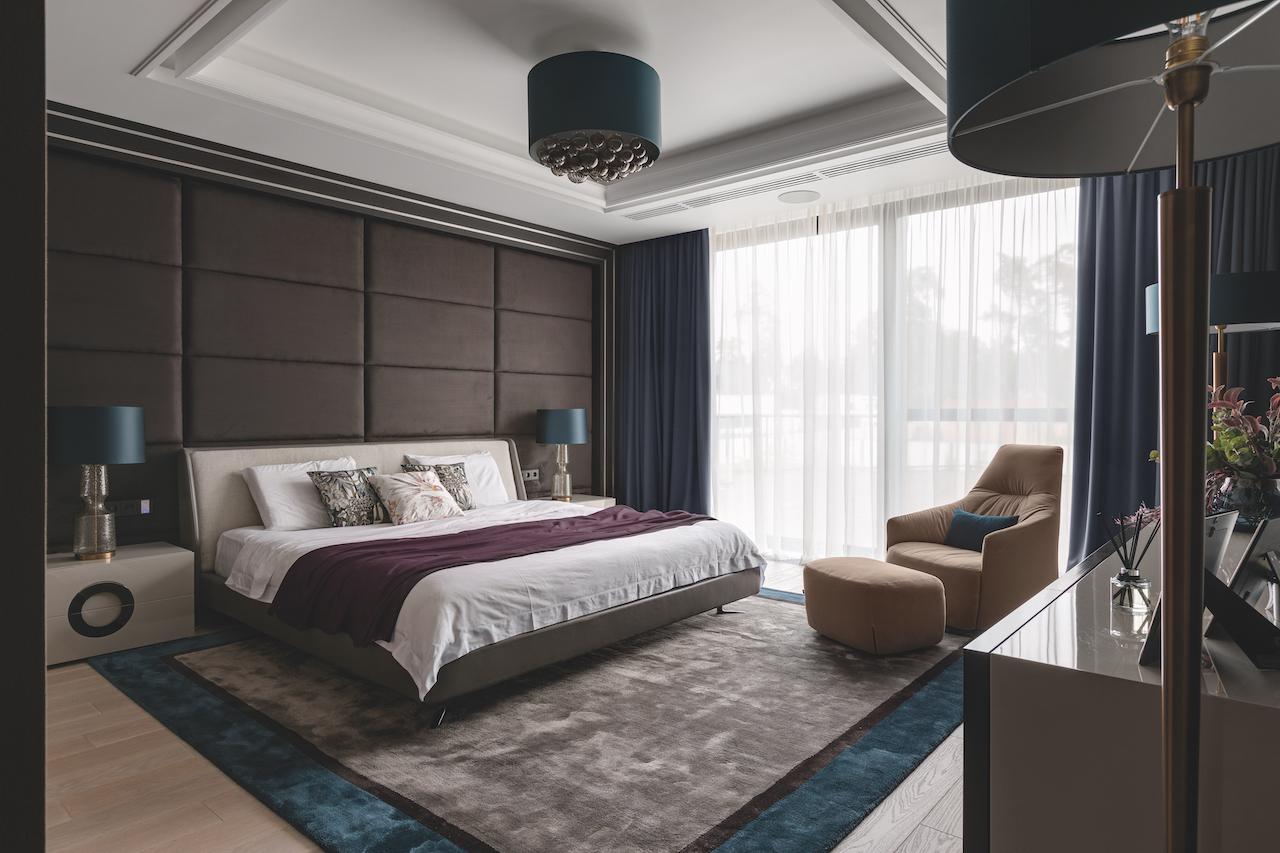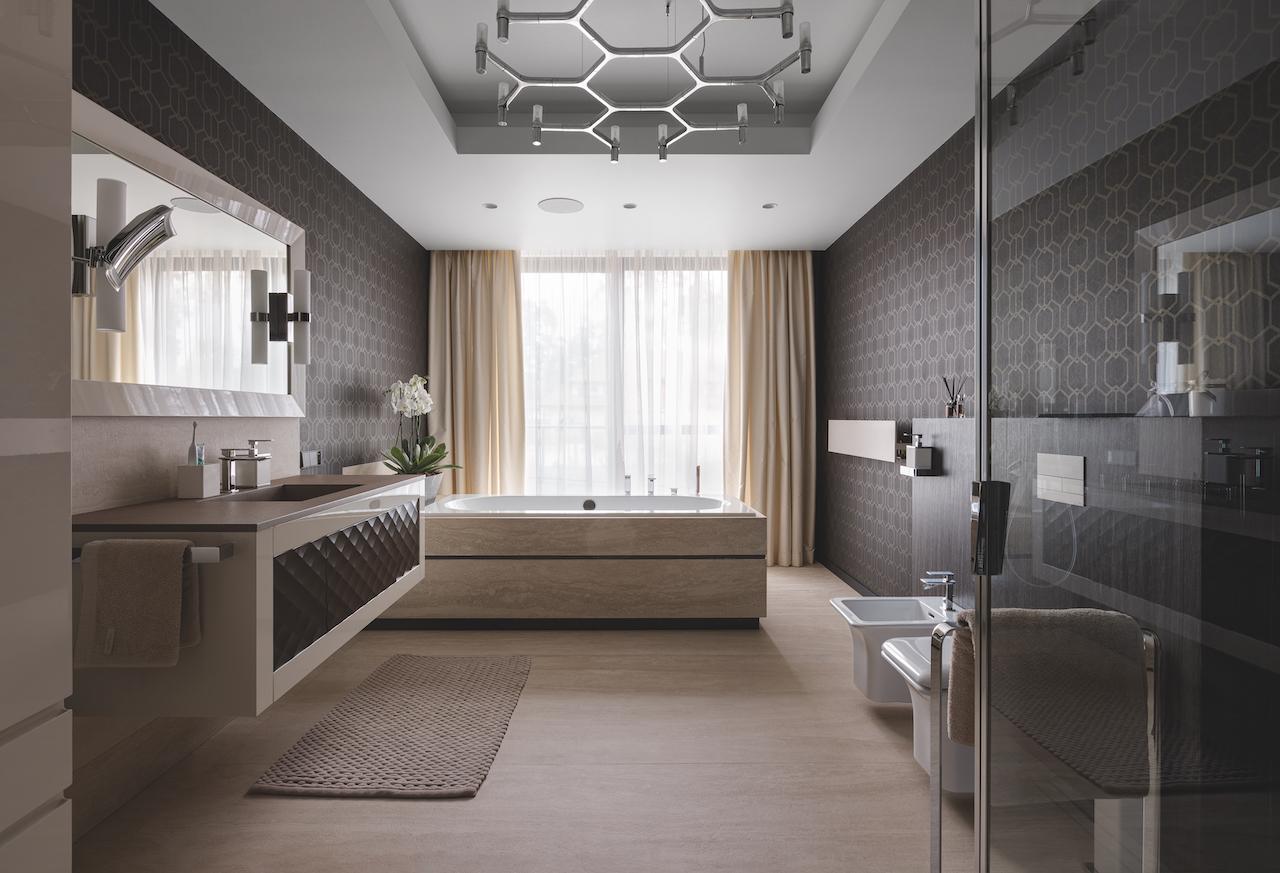 In the master bedroom, she included a Minotti bed and cabinetry, a padded headboard wall, and splashes of deep purple and turquoise to create an atmosphere of tranquillity. Near the window is a puffy Santa Monica Lounger by Poliform, and a floor lamp by Heathfield & Co with a turquoise shade. The pared down aesthetics of the bedroom were reiterated in the master bathroom to create a texturally interesting space that's calm and serene.
For the client's daughter's bedroom, she used a nude colour scheme and enlivened it with floral Wall & Décor wallpaper and romantic Moooi lighting. For the son's bedroom, she wove hues of blue and berry into a grey backdrop.
"It was important to accommodate the son's numerous gadgets and books into the overall design scheme, so we used Zalf furniture to fulfil these practical requirements," she says. For the home office, she chose Poliform furniture with classical forms in dark shades of wood and leather.
"I love how this project seamlessly combines elements of a cosy private residence with the glamour of a luxury hotel," she says.
"Having lived in the house for a while now, my clients have told me they are so happy here, they hardly leave the apartment over the weekends and often have friends over to stay instead."