Some of the most beautiful small islands in the world (26 coral atolls with approximately 1,200 islands and 100 resorts), the Maldives is a dream destination on every luxe traveller's wishlist.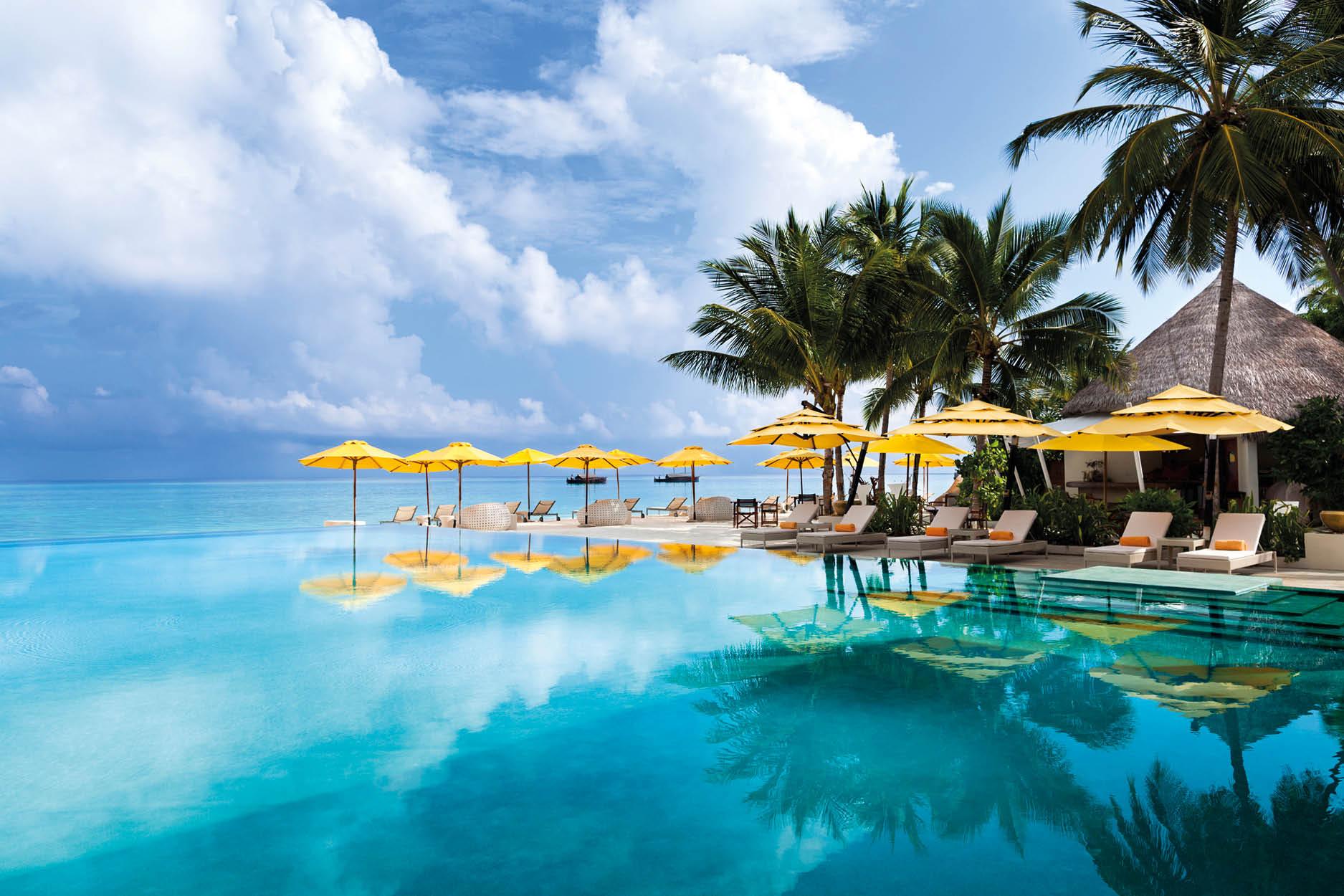 Its idyllic backdrops, soothing sea breezes and clear turquoise lagoons provide the ideal location for romantic escapes, wellness interludes, foodie adventures or much needed family bonding. These paradise islands have something for everyone and we highlight three of the best resorts to make the most of your holiday.
NALADHU PRIVATE ISLANDS
Chic elegance defines the Naladhu Private Islands, which is a 30-minute luxury speedboat journey from Malé International Airport. The island is small but utterly stunning with 20 colonial-style houses each boasting its own private swimming pool. A private stretch of powder white sand melts into the azure ocean – the sight and sounds of the waves crashing on the shore are mesmerising and therapeutic.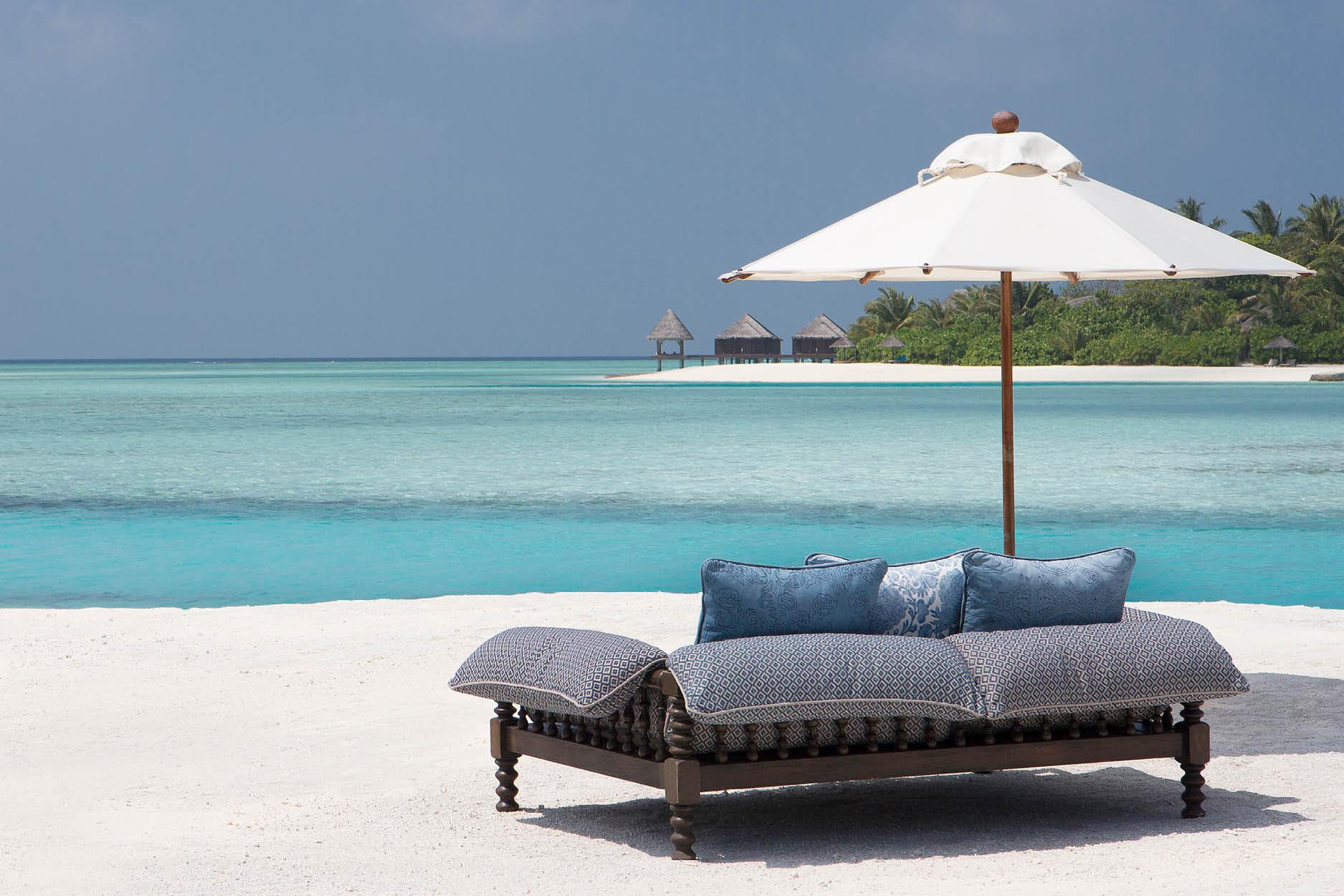 A therapeutic view to the ocean.
Each experience at Naladhu is truly bespoke, whether you opt for spas in-house, breakfast by the beach, a picnic on the deserted islands or water and fishing adventures. Your 24-hour butler caters to your every need, and if you're itching to explore further, Anantara Dhigu and its array of facilities and restaurants are a five-minute boat ride away.
Enjoy bespoke experience at one of the beach houses.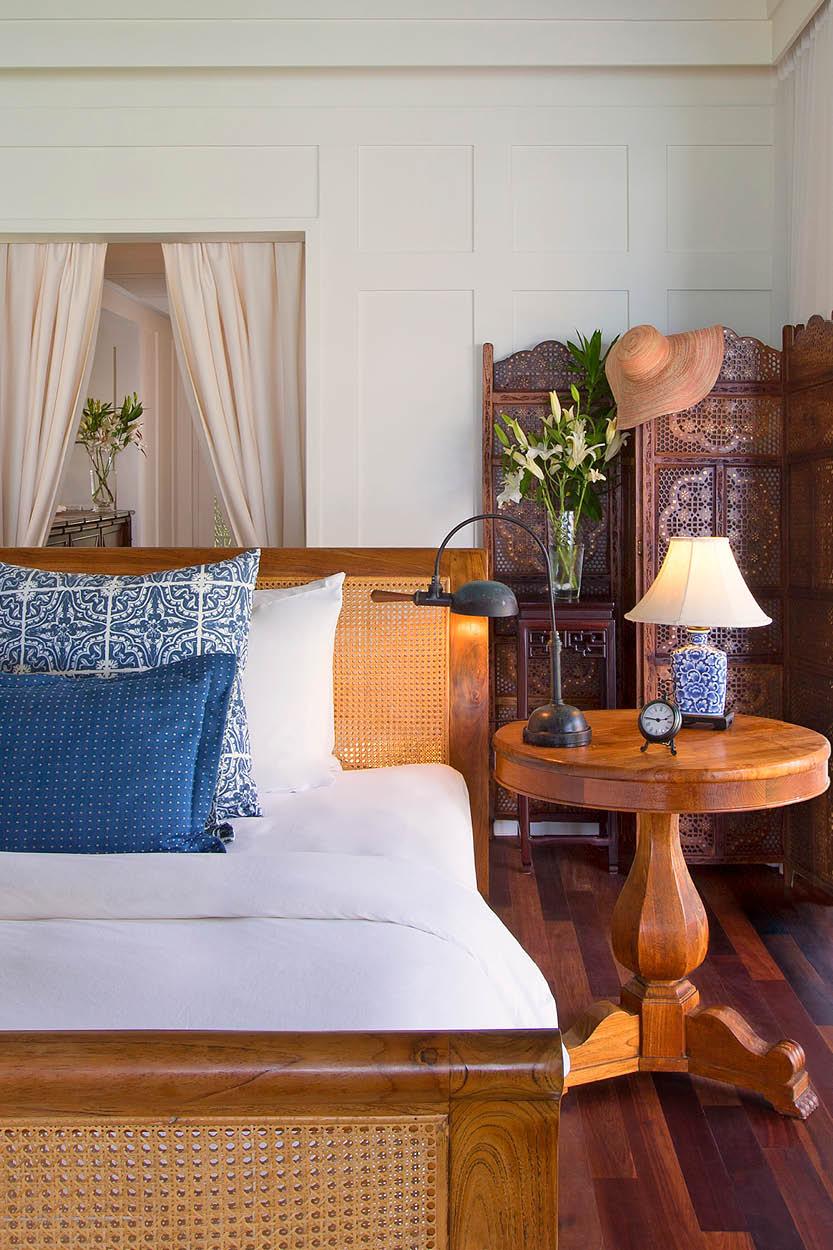 A cosy corner of the bedroom in neutral accents. ANANTARA KIHAVAH VILLAS
The jewel in the crown of Anantara's Maldivian properties, Anantara Kihavah is located in the Baa Atoll on Kihavah Huravaldi Island where, upon landing, one feels truly transported in the middle of the Indian Ocean. We recommend the over-water-pool villas featuring timeless design with a breathtaking deck boasting over-water hammocks, a huge swing, sun loungers and steps leading right into the crystal waters. The bathroom is an oasis with a glass bottom tub, an outdoor rinse shower and a massage rain shower, while sliding doors open up to private infinity pools. The expansive bed decked out in Egyptian cotton lulls you into sweet slumber as total serenity surrounds.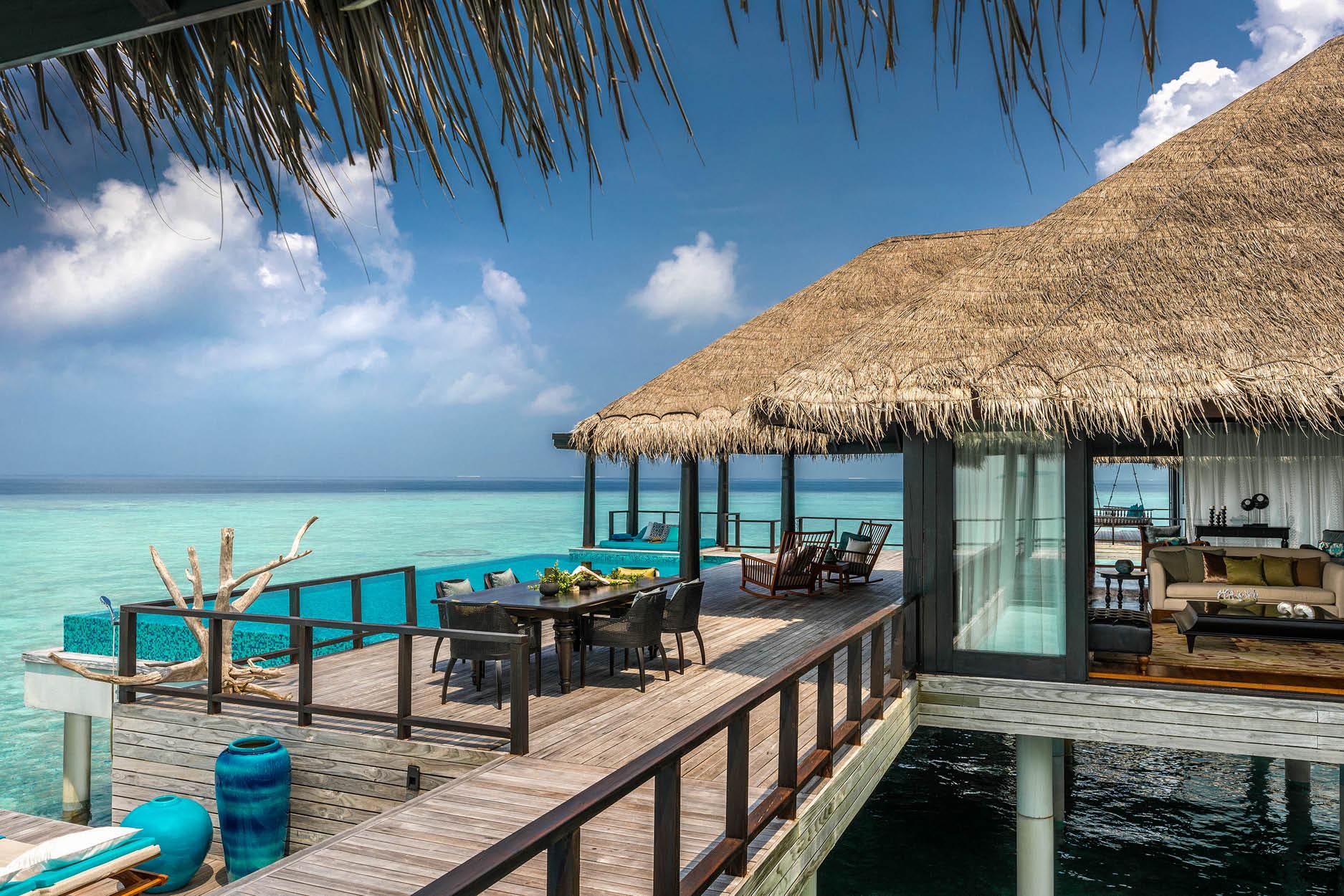 Over-water-pool villas featuring timeless design with a breathtaking deck.
When you can tear yourself away from the villa, the world is your oyster. Opt for some unforgettable experiences such as snorkeling with manta rays, a private cinema under the stars decked out with delectable bites, or an education in astronomy at the resort's custom-built observatory. The first and only observatory in the Maldives houses a research grade 16 Meade LX200 telescope, remote controlled with 360 degree movement to open up a whole new world of wonder. Star-gazing with Sky Guru Ali Shameem is a must – sip champagne on the sky beds as you learn from the resident astronomer and admire the Milky Way's shining Omega Centauri or Messier 13.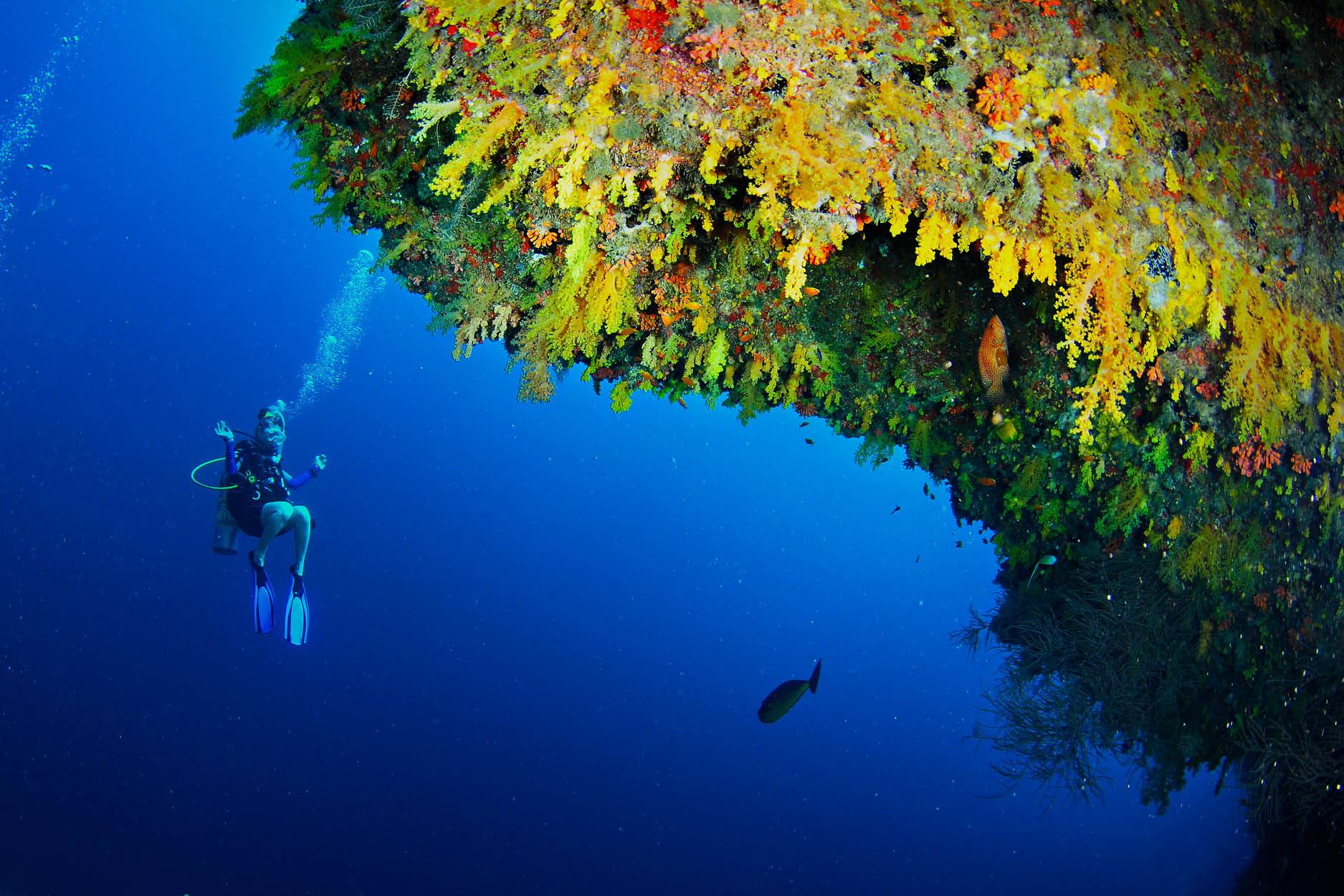 Feel the awe as you enjoy diving in the Golden Wall House Reef.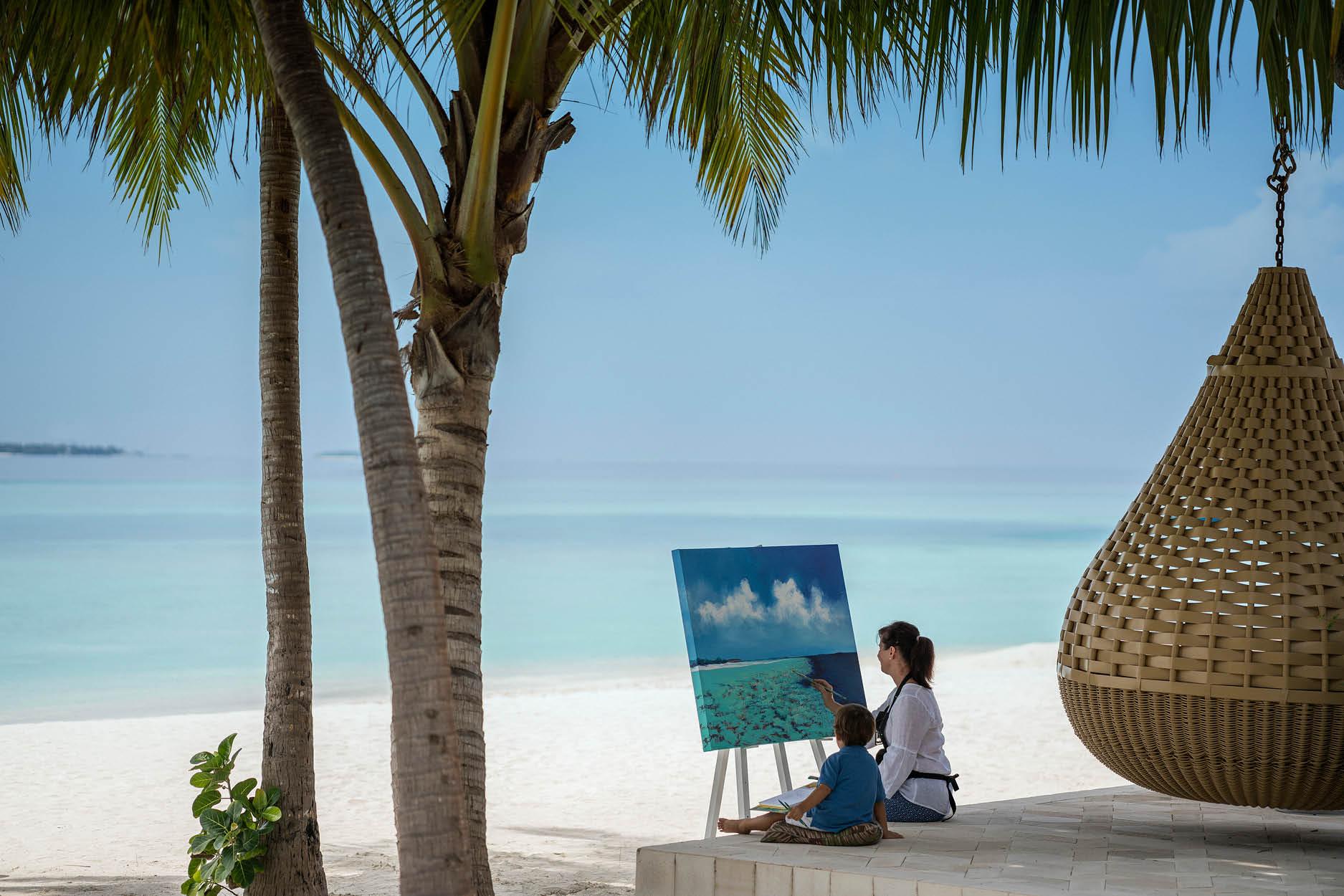 Enjoy quality time with loved ones by taking part in Kihavah art classes.
Discerning diners are beyond pampered at the resort's flagship restaurants, from teppanyaki at Fire to the spectacular underwater restaurant, Sea, which offers scrumptious seafood and fine wines.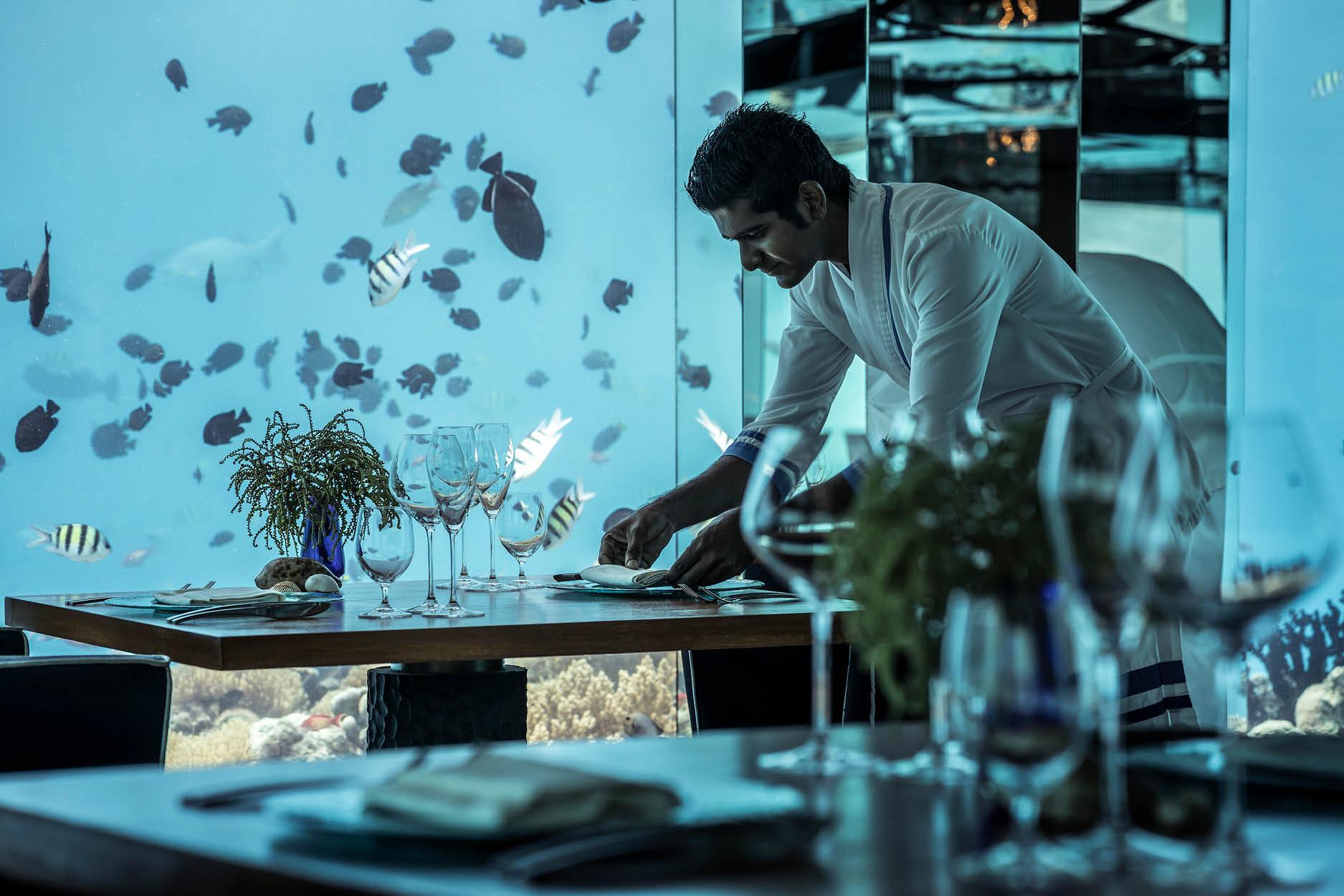 Enjoy underwater dining experience at Sea. NIYAMA PRIVATE ISLANDS
An exhilarating 40-minute journey south of Malé, the trip by seaplane to Niyama is an experience in itself, soaring over rings of islands and deserted isles. With a bold and creative concept that invigorates their clientele – many of them young families and active adventure lovers – what really sets Niyama apart is the multitude of activities and excursions on offer, from photography sessions, an innovative kids club that integrates with its locale, to a diversity of water sports and adventures.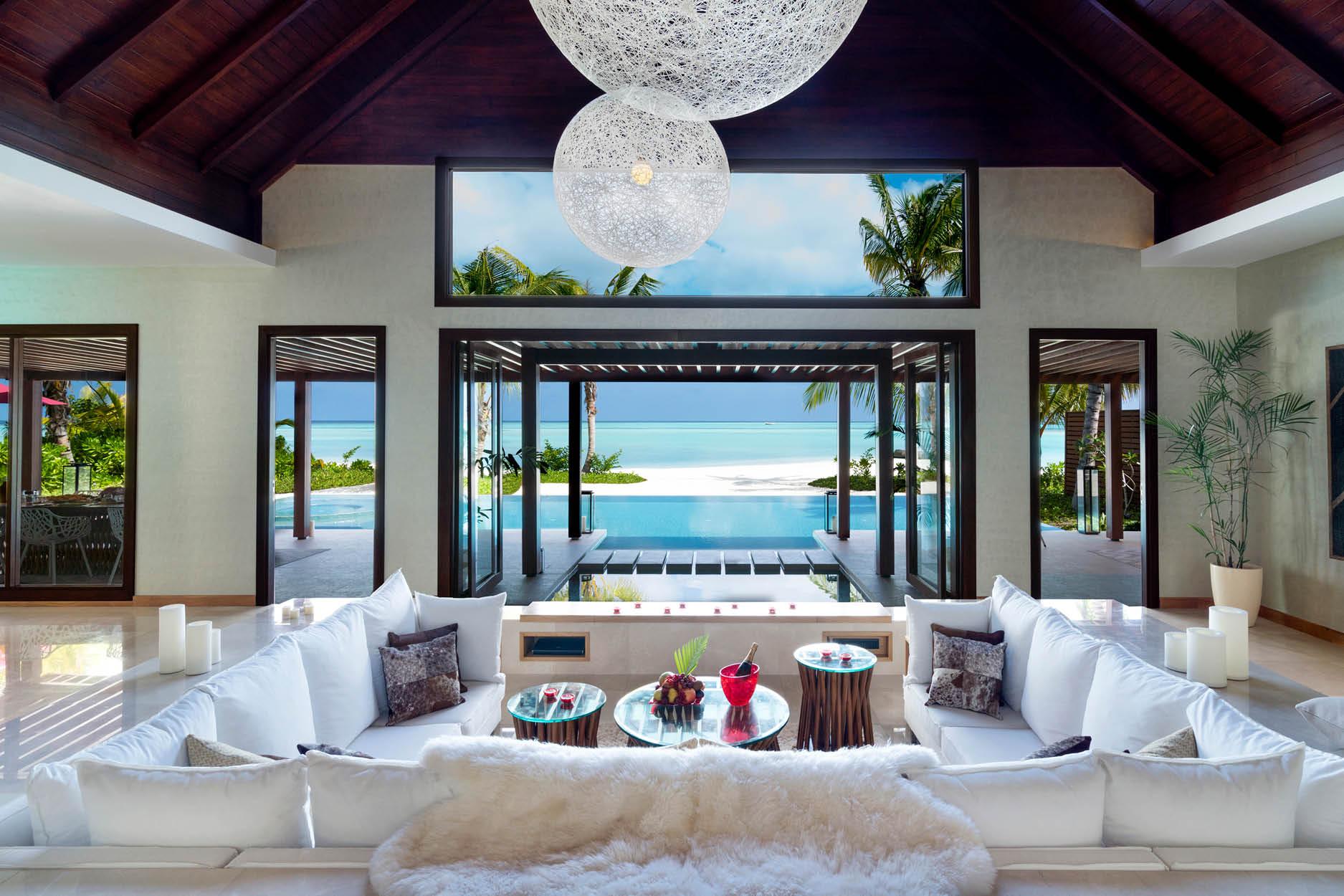 A sophisticated living area in the Family Beach Pavilion.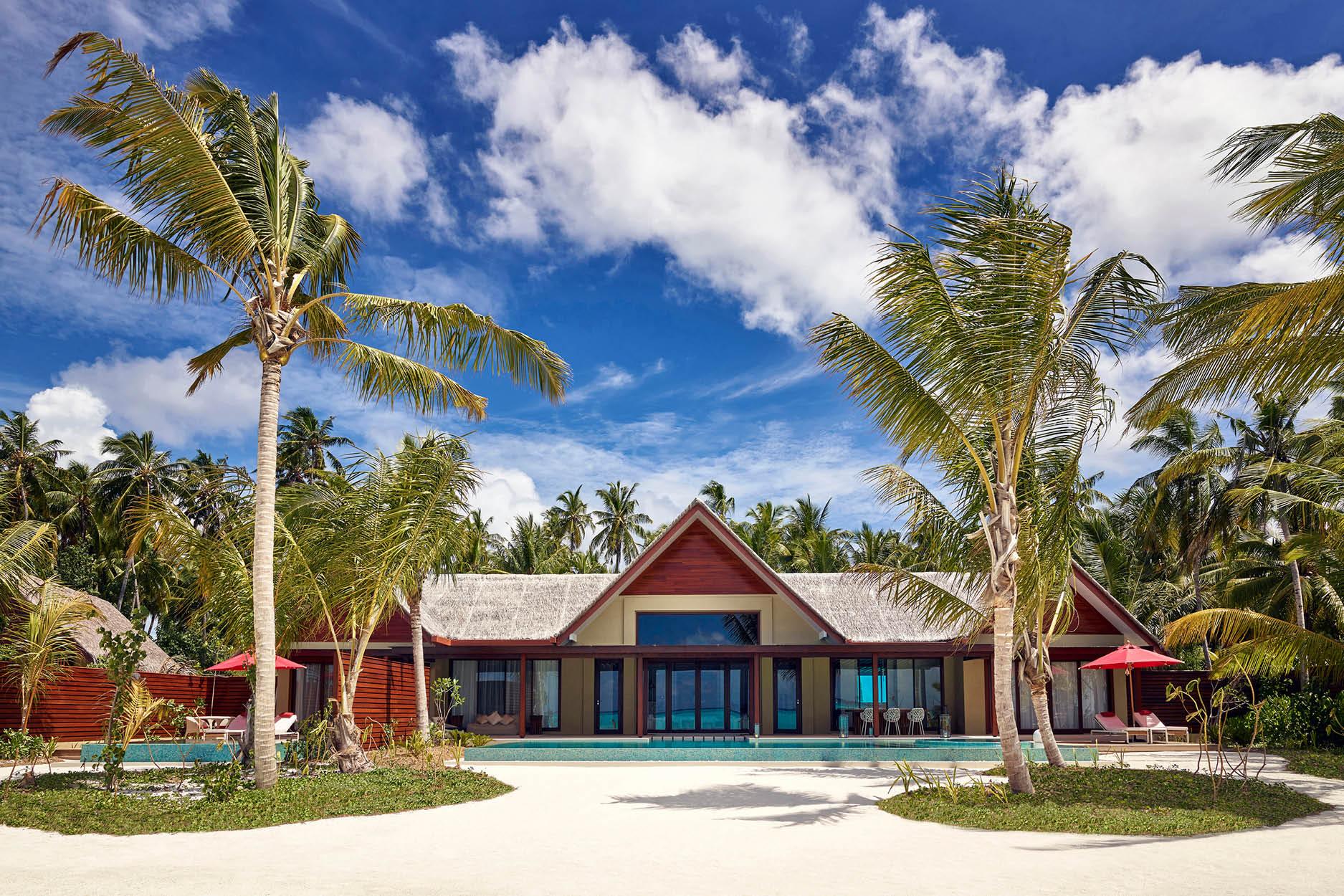 Pavilion with pool.
Adrenaline junkies will love the diving, jet-skiing and surfing (Niyama is the only luxe surfing resort in the Maldives that has waves breaking directly onto the island) while those looking to relax can enjoy blissful massages at Drift or just wander around the inspiring island.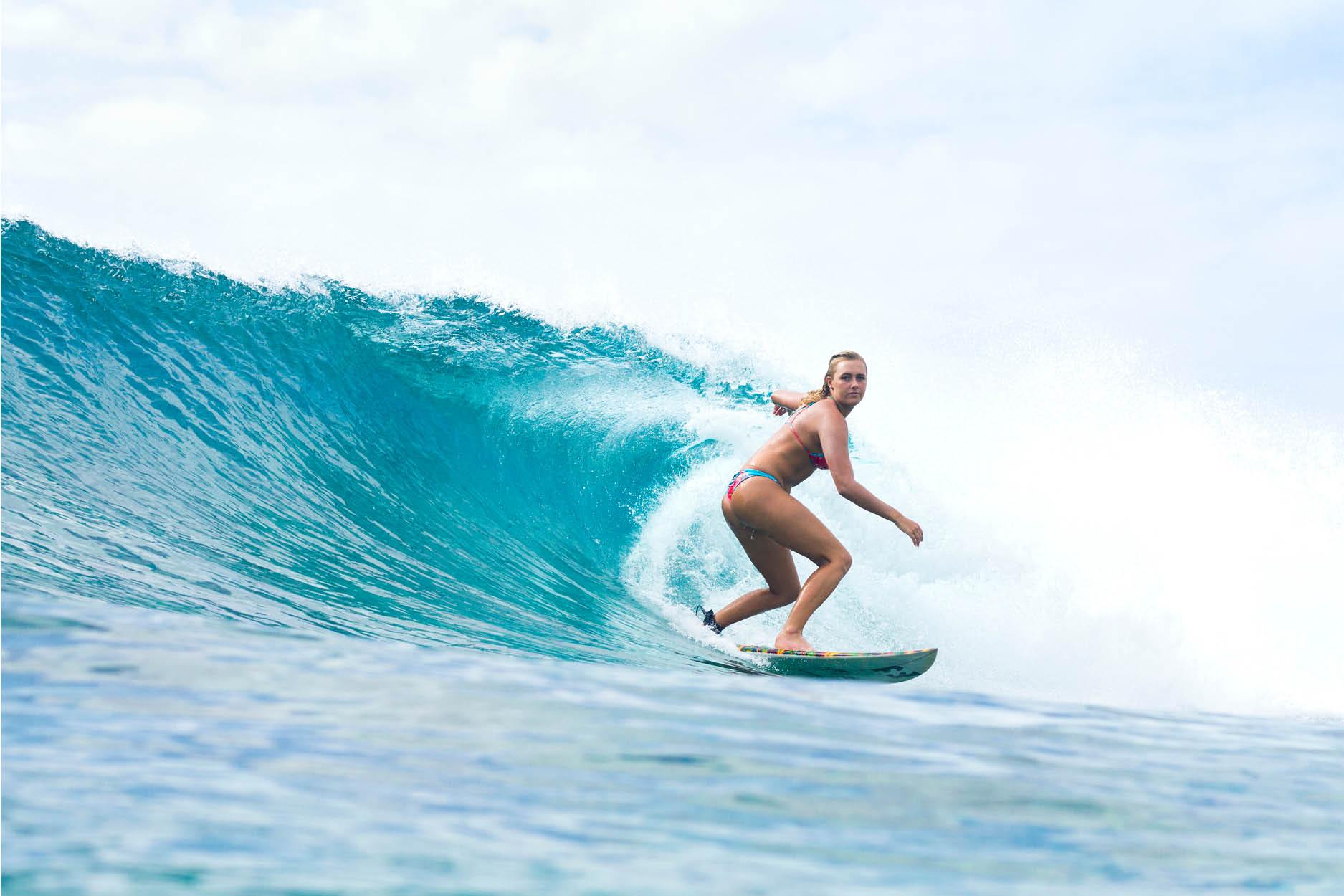 Surfing at Niyama.
Foodies will be in heaven at Niyama, where gastronomic creativity knows no bounds. The resort is home to nine unique restaurants, where spectacular design and culinary expertise converge – you'll be spoilt for choice among the Asian avant garde cuisine at the tree-top setting in Nest, African and South American bites amidst blazing fires and cool domes at Triba, modern fine dining at Edge to Mediterranean and Italian fare at poolside restaurant, Blu.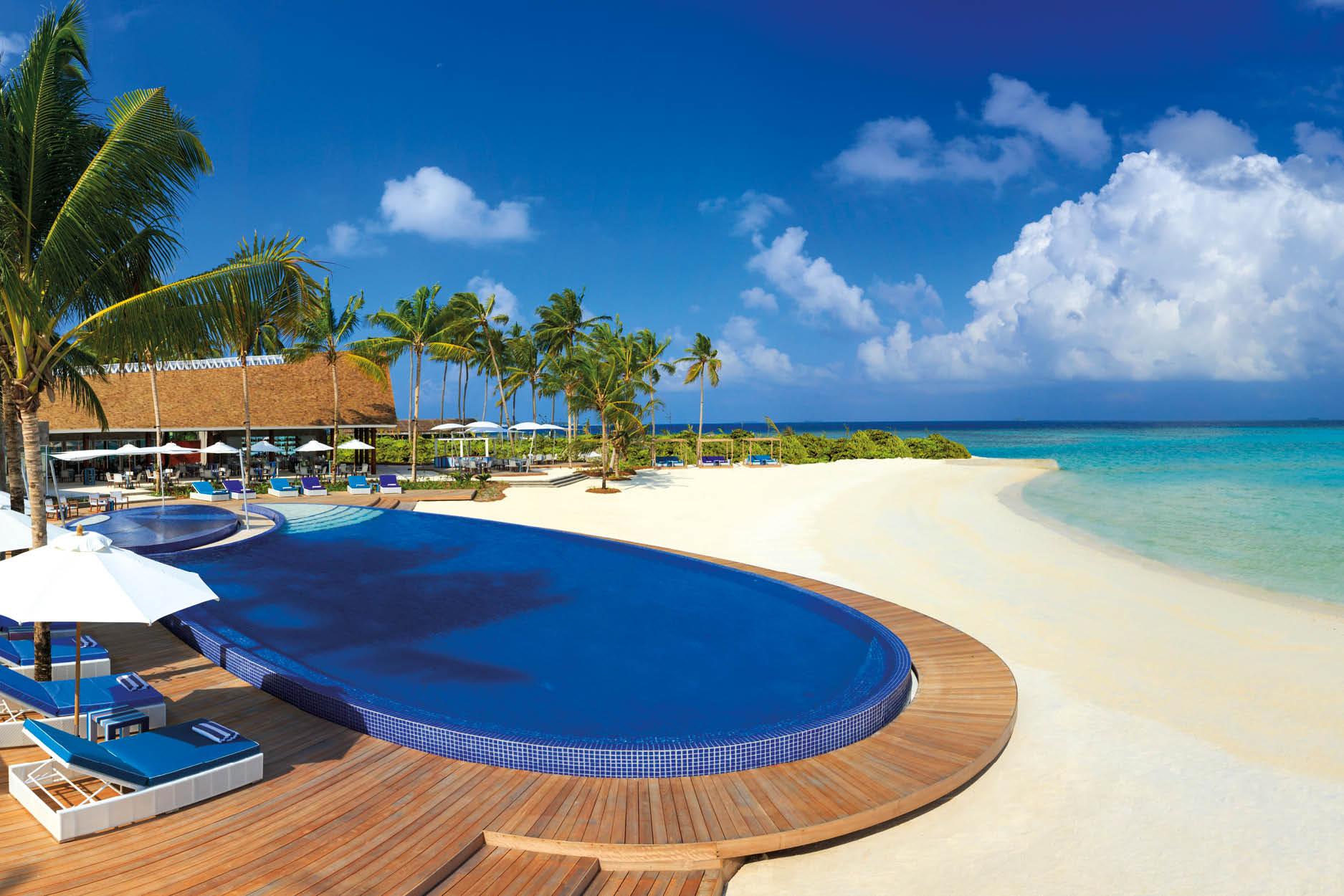 Poolside restaurant Blu.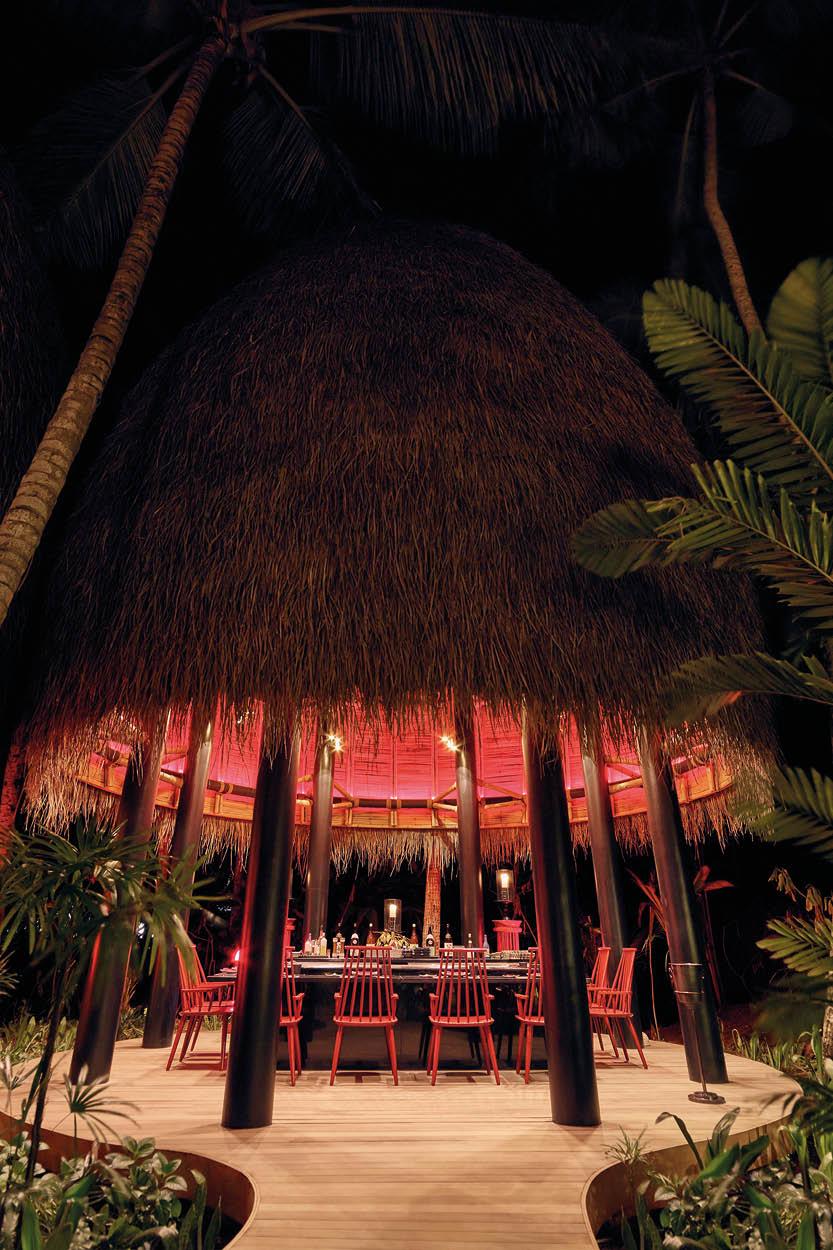 The main dining pod at Nest.
The post A Perfect Itinerary in the Maldives for Every Occasion appeared first on Home Journal.