7 Koppies is an exclusive dream retreat located in the koppies of Cape Town. Anji Connell takes a pampered tour.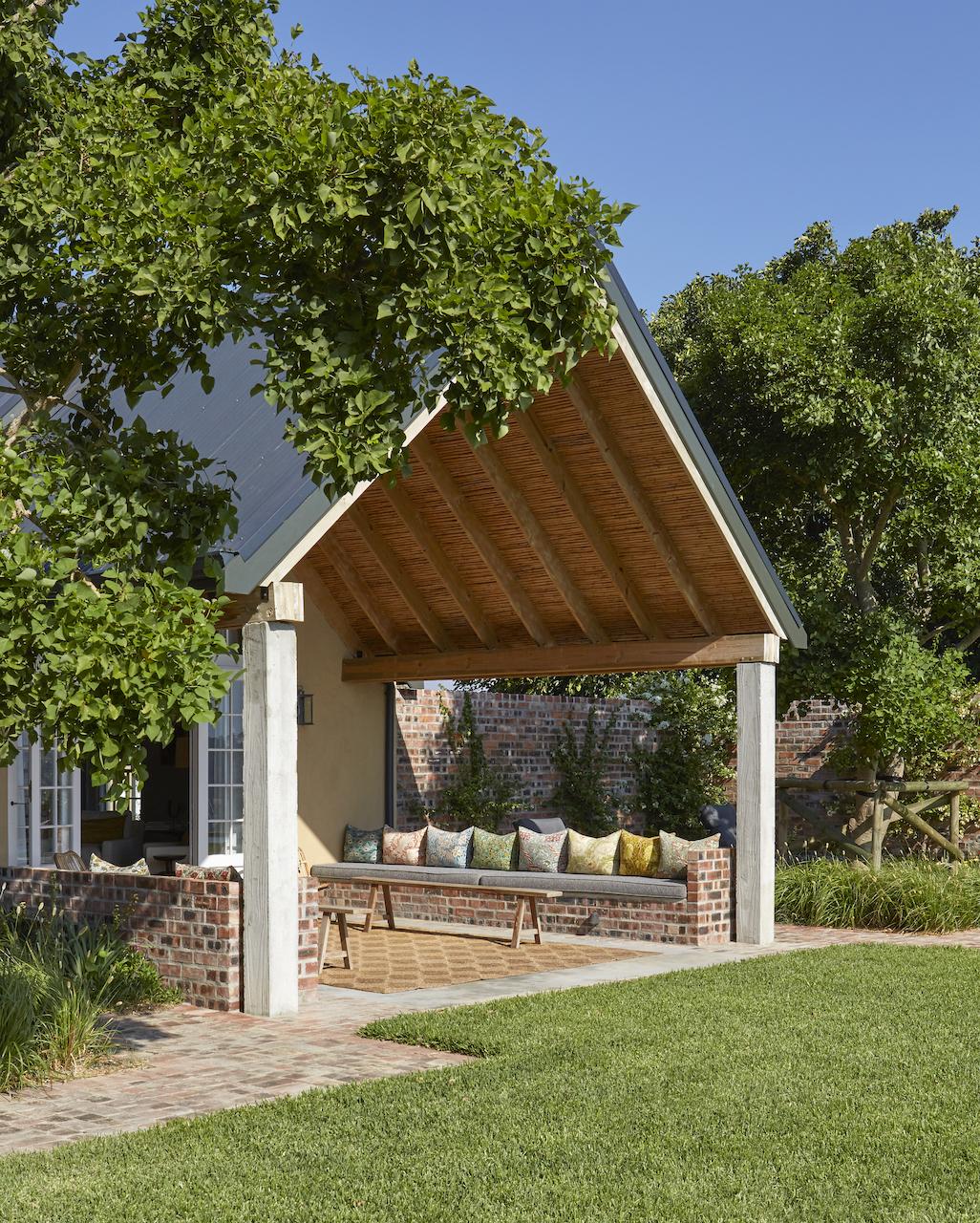 7 Koppies is a private guesthouse reached by a winding dirt road, snaking its way upwards through a 50-hectare fynbos reserve (indigenous shrub vegetation with extraordinary biodiversity) unique to the Cape region. A warm welcome awaits and an invitation into the heart of the farmhouse. This is an elegantly stylish open-plan kitchen-dining-sitting area with incredible views over the manicured lawn and a sublimely chic pool to the craggy Simonsberg mountains and verdantly green Franschhoek wine valley. Immediately your body sighs, and all stresses melt away in this incredibly tranquil space, where everything simply delights.
7 Koppies translates effortless elegance that is tasteful and timeless; it lends a quiet kind of luxury to exude calm. Relaxing interiors in soothing colours and natural materials create a peaceful environment designed to make the most of the surrounding nature. The pared-back interior design lets the view speak for itself. There is an honest, functional aesthetic with a nod to the arts and crafts movement, infused with Cape Dutch, South African elements, and a Mediterranean undercurrent. Immaculately appointed, the interiors evoke a feeling of having evolved over generations rather than having been designed. Interestingly curated vignettes and thoughtful seating areas allow you to appreciate the expansive views.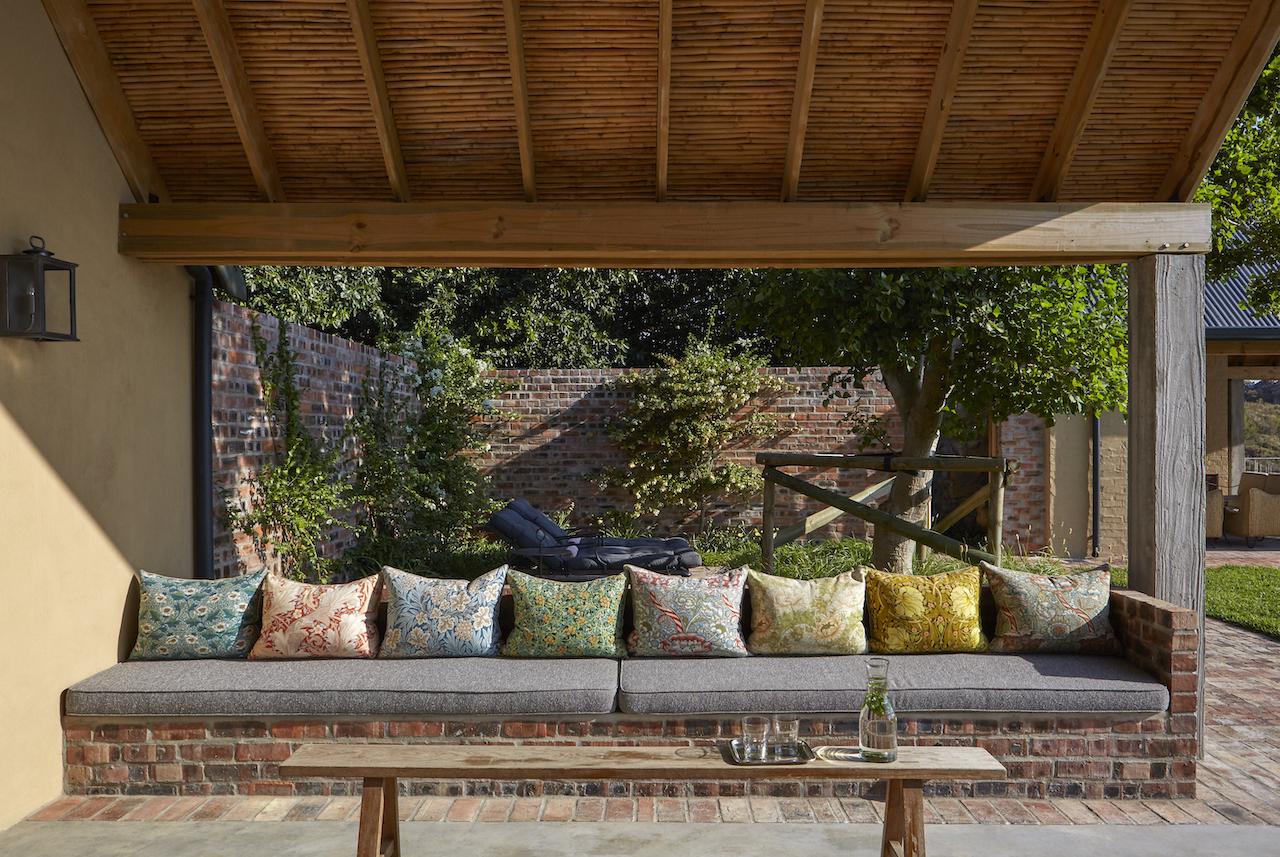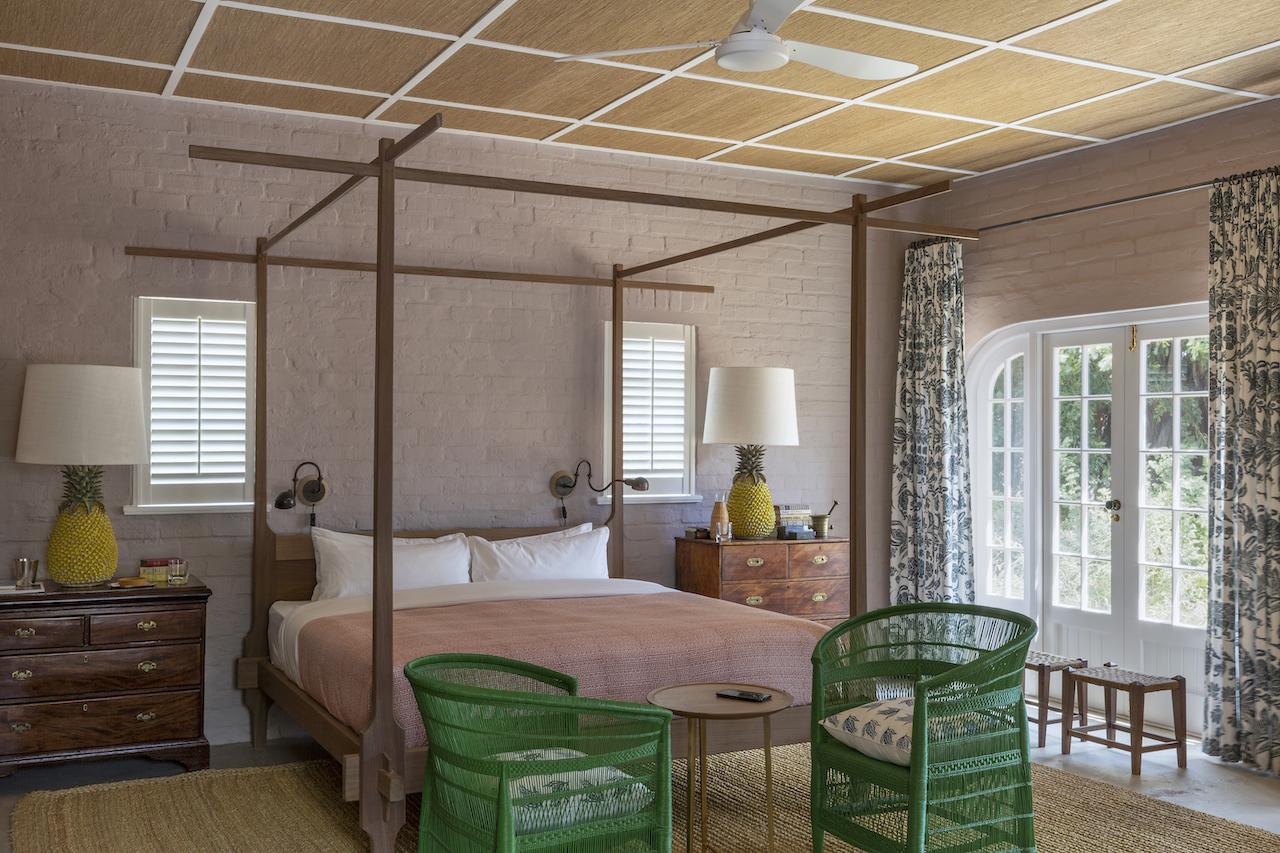 Four years ago, James Jayasundera brought his partner, architect and interior designer Marc-Ludolf von Schmarsow to South Africa, and the rest they say is history. Hours before flying home to Munich, while scanning the estate agent windows, they spotted a very dated 80's style farmhouse that was ten times larger than other farms they had seen and, temptingly, a fraction of the price. The fact that the dated 80's style farmhouse had no redeeming features and was halfway up a mountain on a rocky was of little concern as they planned to build their forever home and had no intention of farming the land.
The sale went through quickly. The extensive renovation and transformation of the old characterless building and the construction of two new wings took two years. Marc traveled from his home city of Munich every six weeks to oversee the build. Local architect Jan Desseyn was appointed to run the project. Marc and James worked with feted garden designer Francesca Watson and botanist Fiona Powrie to anchor the house to its surroundings, who have created a wonderful sense of place and blurring of the indoors and outdoors.
The open kitchen and living room -the heart of the home- is an open-plan space that connects to the garden to create a fluid sensory experience, with different vistas and relaxing areas and plentiful room for socializing and relaxing. The kitchen garden leads to the orchard, enveloping the larger natural vegetation where the land opens up, and hiking trails lead up to the highest koppie.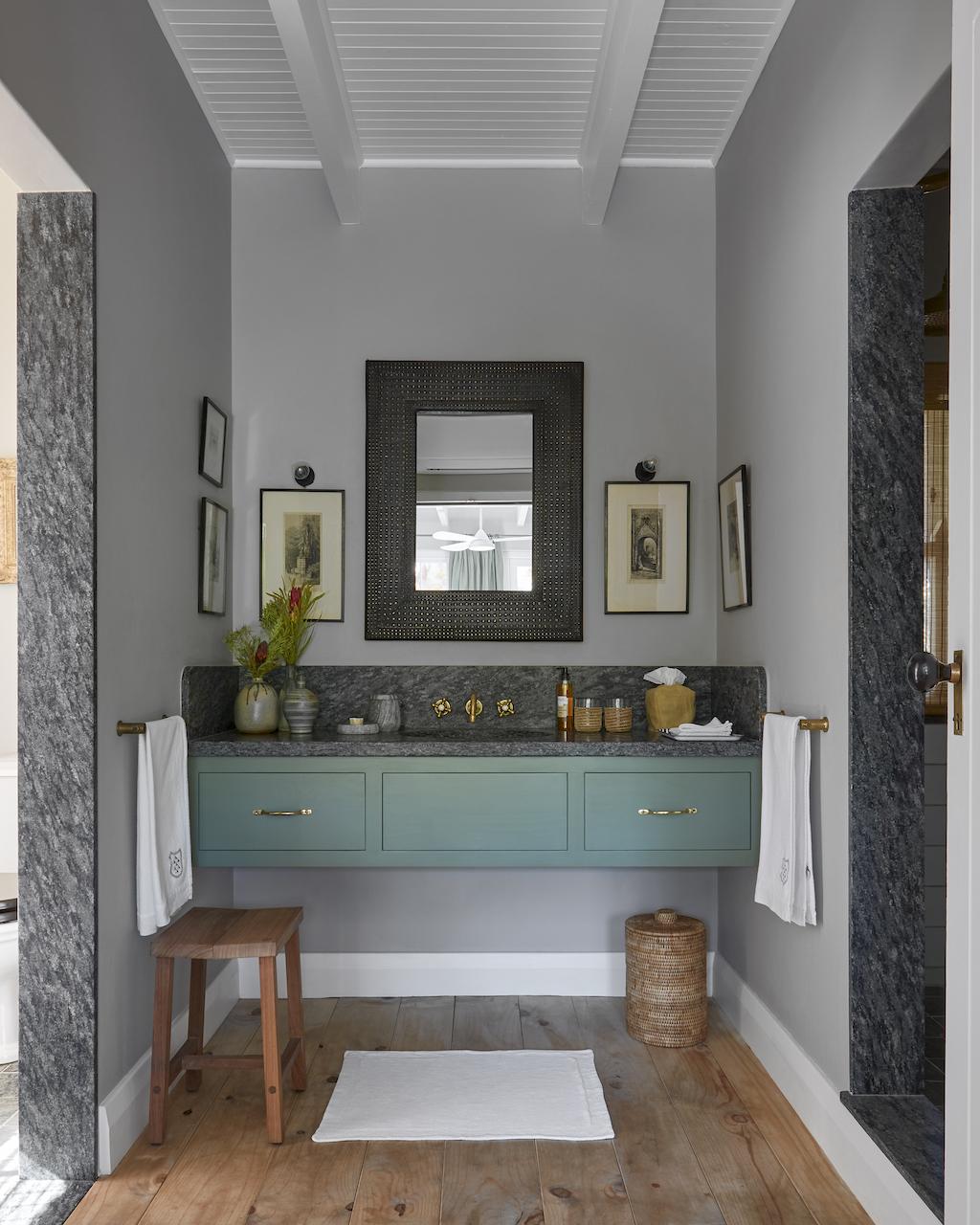 Daily harvests from the raised beds in the kitchen garden supply the kitchen with fresh, seasonal vegetables and herbs. Honey comes from their beehives, prickly pear, plum, peach, avocado, olive, and citrus trees are growing in the orchard. Fresh fruit is picked and squeezed daily and served with Rooibos tea made from the fynbos. What they don't grow on the farm is carefully sourced locally. The area has no shortage of outstanding produce with exceptional provenance.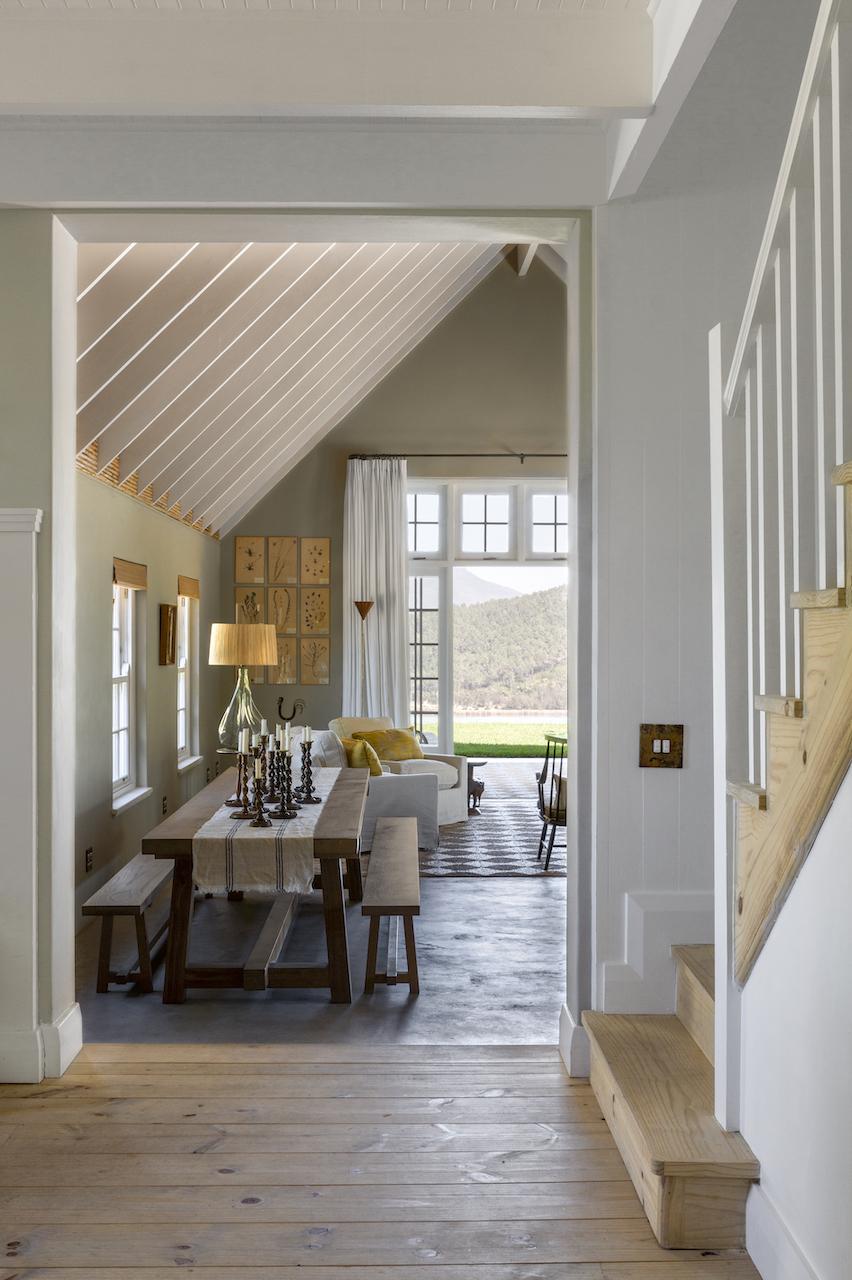 Symmetrical pavilions, fittingly barn-like, have been added to either side of the existing house to form an L shape framing the inner garden and pool while providing shelter from the strong prevailing winds. These outdoor living rooms are central to the Sri Lankan way of life and a signature of renowned Sri Lankan architect Geoffrey Bawa, who is known for seamlessly combining indoor and outdoor living. It was precisely this the owners wanted to recreate. An open fire in one of the pavilions makes the perfect setting in cooler evenings to watch the sun setting behind the mountains while sipping a glass of local wine or a glass of bubbles, the local MCC. Sumptuous day beds await in the opposite pavilion - nothing is left to chance, all has been considered. This is truly a place to relax, too mingle with fellow guests, the charming hosts, or to quietly enjoy some alone time reconnecting with nature and delighting in its restorative powers.
Unfinished natural materials, including brick, wood, cement, and stone, echo the craggy face of the koppies that will age, in the spirit of wabi-sabi, the Japanese concept of the unexpected beauty created from imperfection as objects develop through use and with age.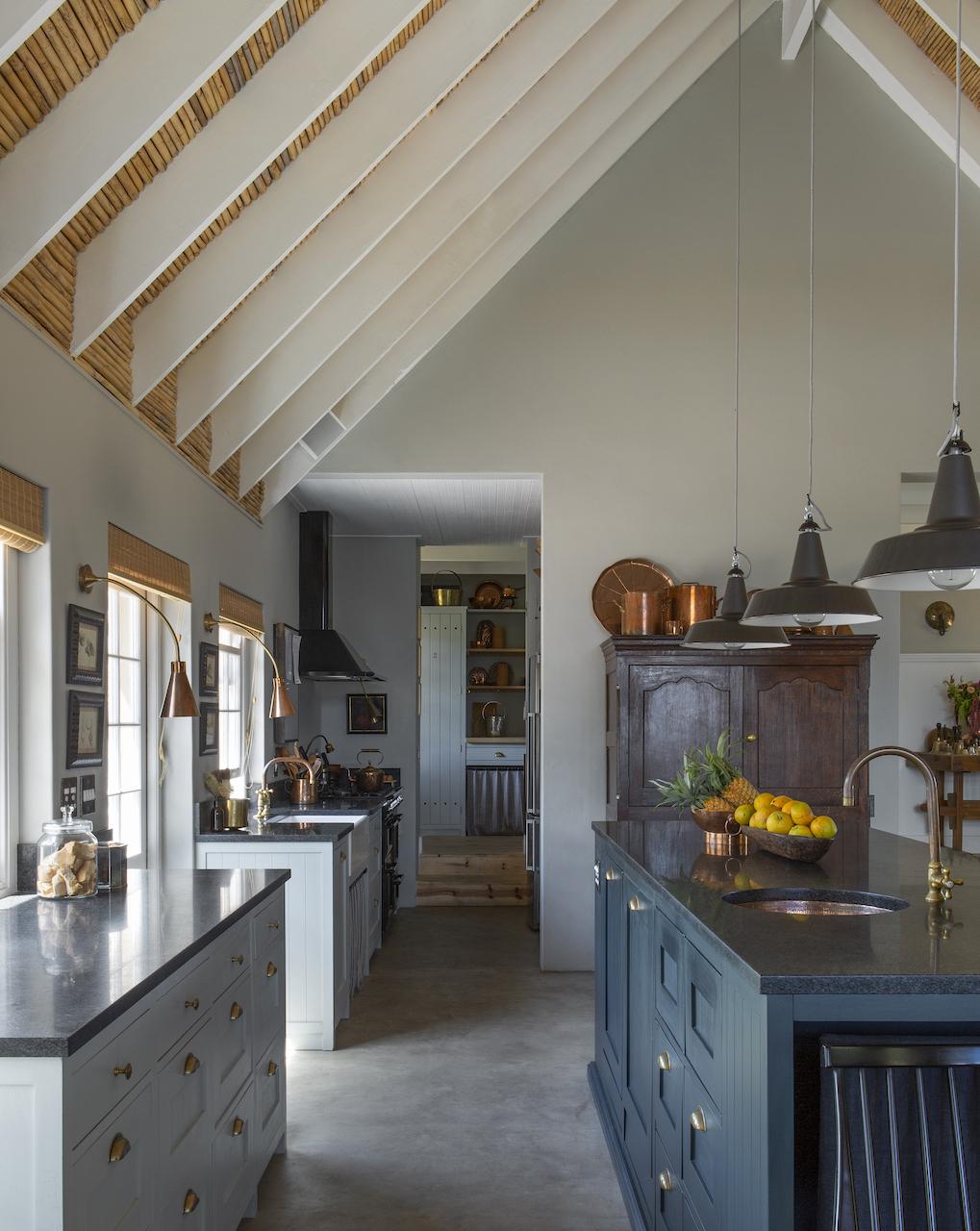 The guesthouse comprises three en-suite rooms, The Garden Room, The Orchard Room, The Mountain Room, two spacious en-suites, The Valley Suite and The Courtyard Suite, and Rockwood, a one-bedroom cottage with a kitchen, private pool, and balcony.
The Valley Suite, named for its impressive vistas, is constructed in brick to emulate a wine cellar. Outside, a beautiful indigenous garden, designed by Franchesca Watson, seamlessly blends into the fynbos-dotted landscape beyond. A roof garden spills sour fig over the edge that looks like the mountain vegetation has spilled onto the roof and down the walls. Luxurious upholstery and raw materials of brick, stone, and thatch create a warm yet thoroughly modern suite with character, a double shower, and, of course, stunning views for the bay window with its inviting window cushions. You will never want to leave.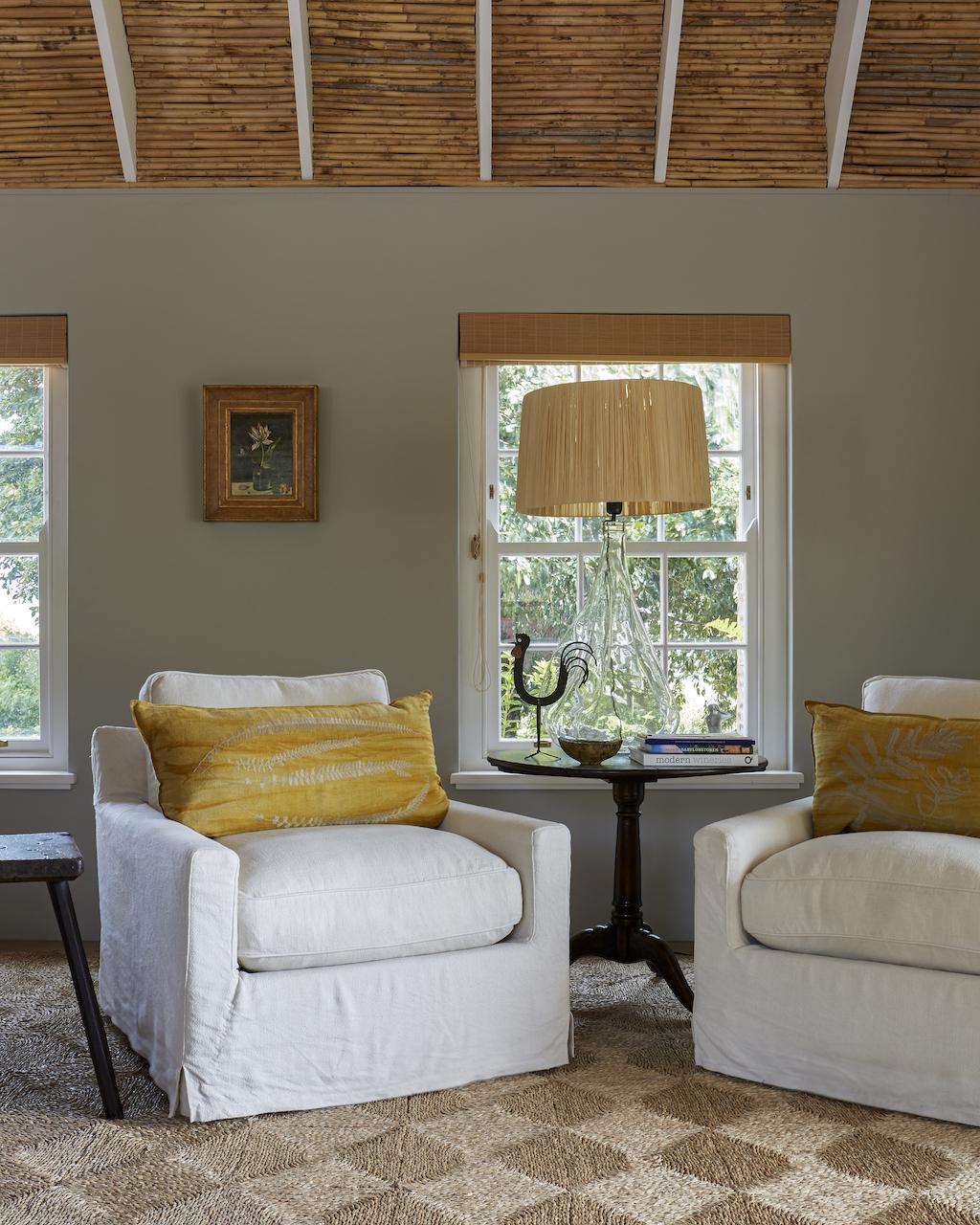 The use of natural materials, such as cane, sisal, bamboo, and wood add texture and warmth. Sisal rugs from Zimbabwe provide texture and a neutral base, whereas others add colour and warmth. William Morris Arts and Crafts fabrics from the William and Co archive meanwhile, add pattern to the curtains and pillows.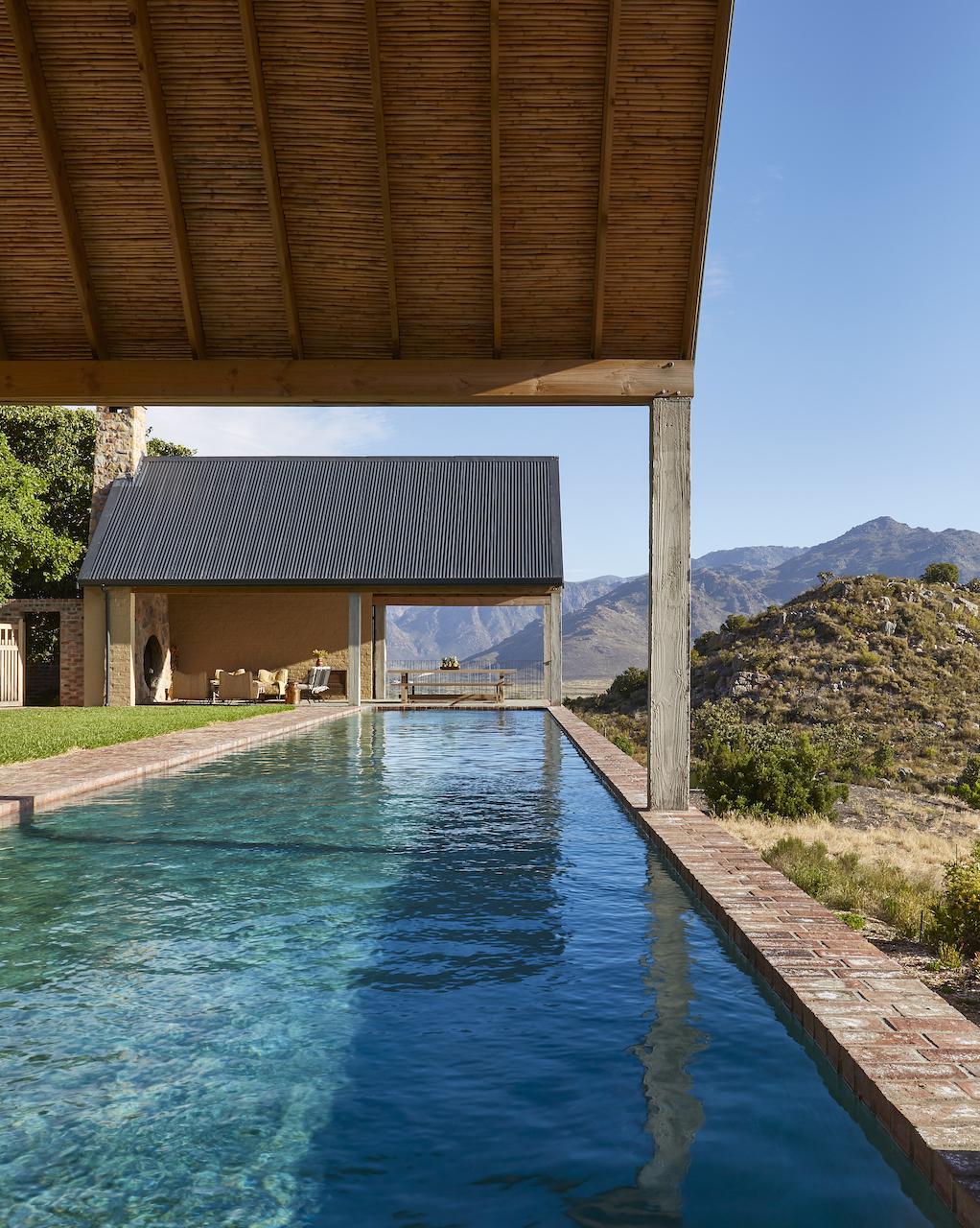 The luxury of 7 Koppies is its sense of remoteness – it transports you to the middle of nowhere. Yet, you are only a 45-minute drive away from Cape Town International Airport, in the middle of the Cape Winelands with over fifty wine farms on your doorstep, and Franschhoek's lovely high street lined with fabulous restaurants is only a 12 minute drive away. The only problem is, once you get here, you may never want to leave.
Rooms and suites are bookable individually or the entire house reserved for private rental. For more information, check out www.7koppies.co.za
***
Anji Connell is an interior architect, garden designer and self-proclaimed nomad who regularly writes about art, design, lifestyle and travel from her globe-trotting adventures. Known for her bubbly persona and even more exuberant sense of style, Anji's portfolio spans everything from interior styling to furniture and landscape design for some of the world's most beautiful spaces. For now, you will find her
@anjiconnell_acidplus
and
anjiconnellinteriordesign.com
bingeing on future travel plans from her designer chair.