After half a decade of restoration work, Stockholm's Nationalmuseum reopened to the public in November 2018.
Among the changes were those in the Old Library, which Swedish designer and art director Emma Olbers was enlisted with refurnishing.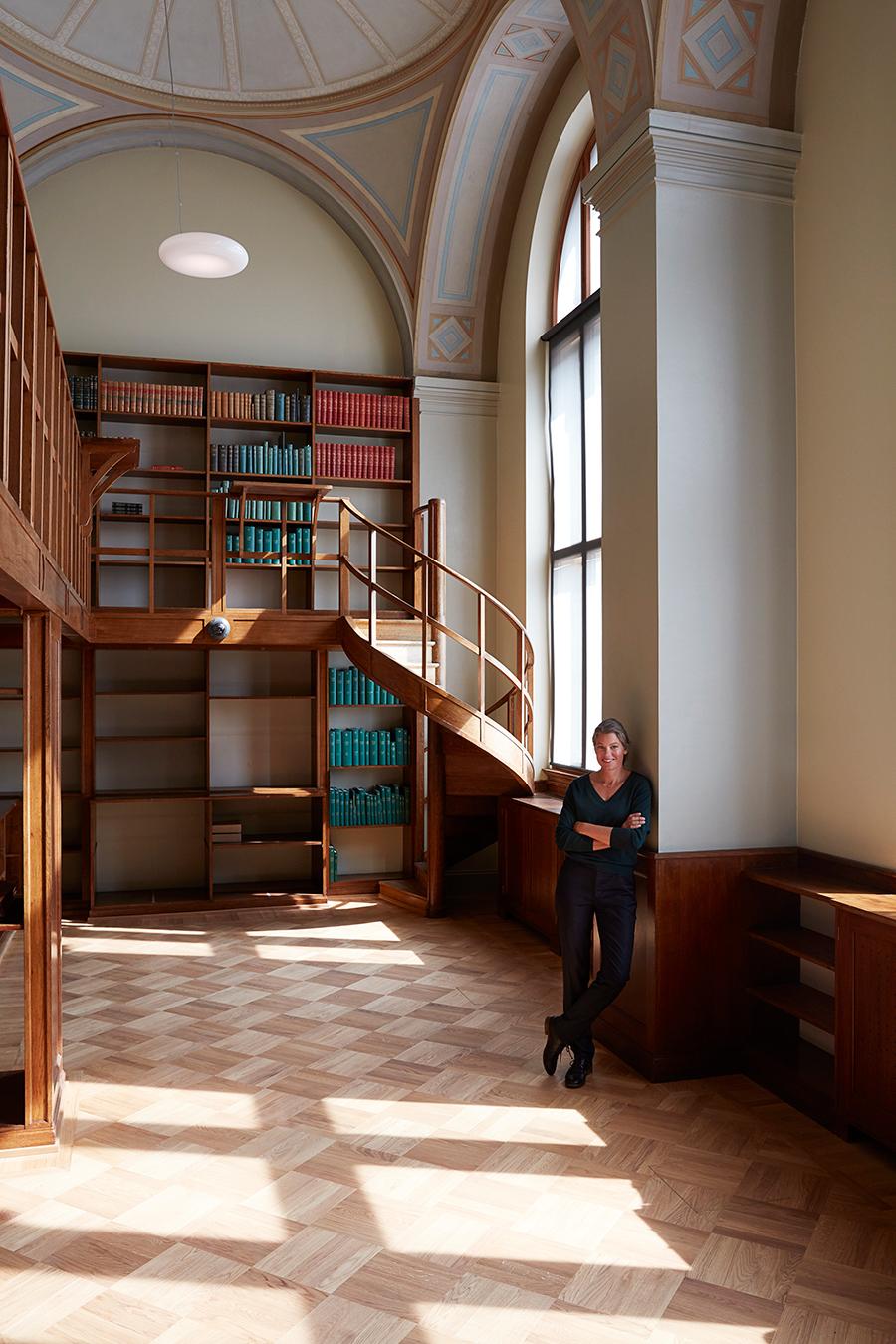 Her assignment was to "create a room for rest, reflection," as well as a space for smaller exhibitions from the library's archive.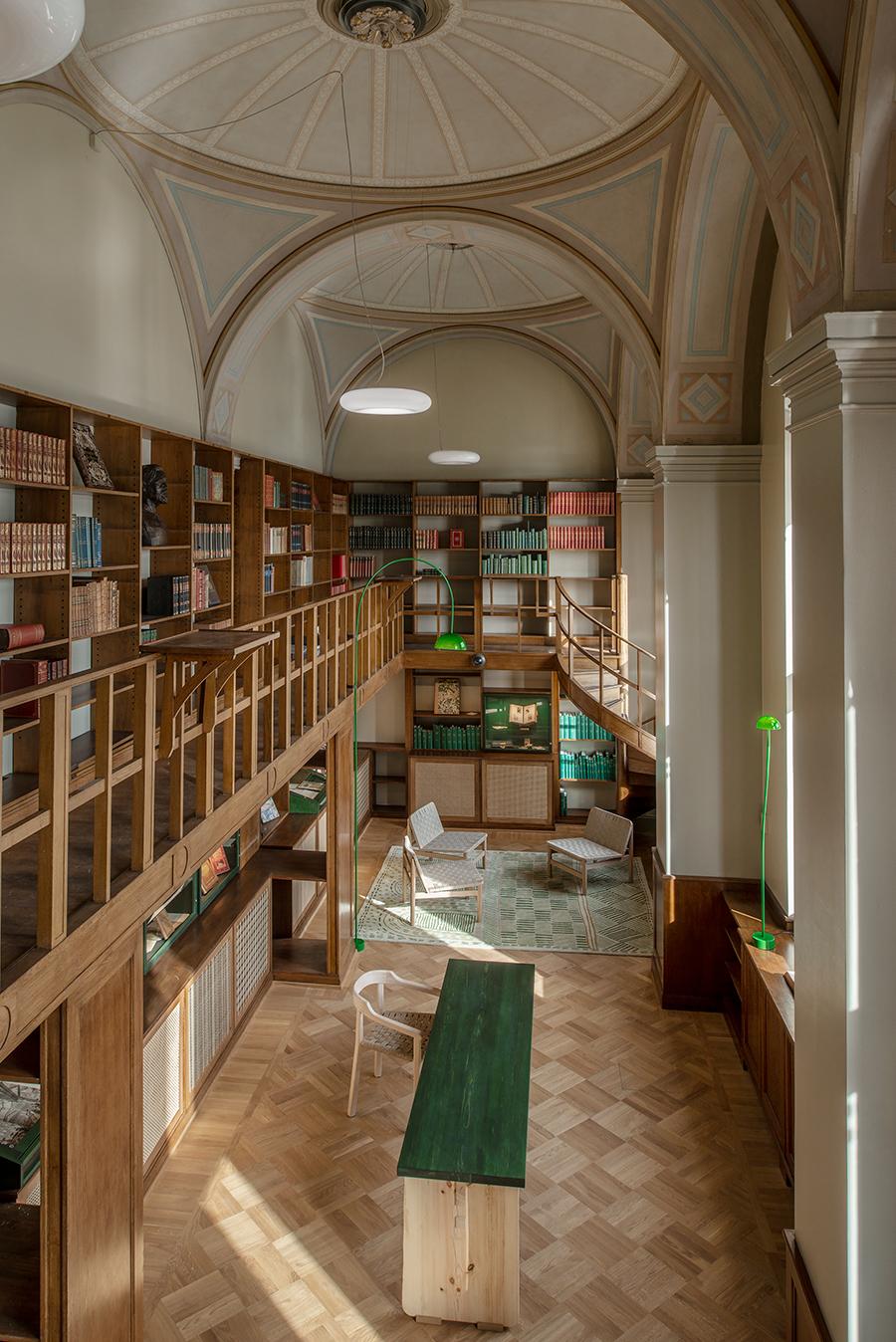 "It is a great honour to be able to decorate a room whose permanent interiors was designed 100 years ago," says Olbers.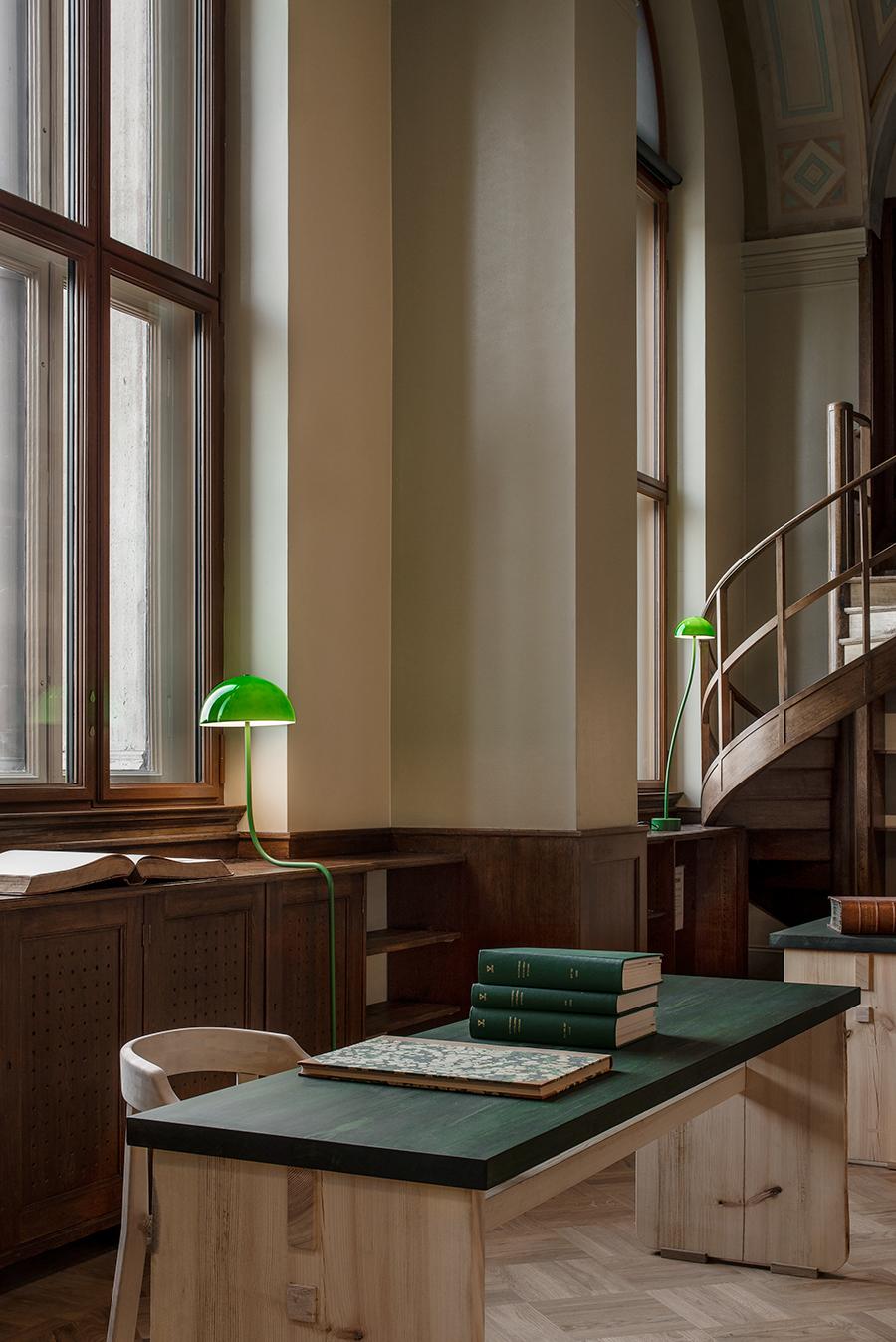 The original museum building, completed in 1863, underwent numerous more changes in the years that followed. Many collections migrated out of the space, for example – the Royal Armoury and Royal Wardrobe were moved back to the Royal Palace in 1884; the East Asian collections were taken out to form the Museum of Far Eastern Antiquities in 1963 – while new spaces were created and old ones were repurposed.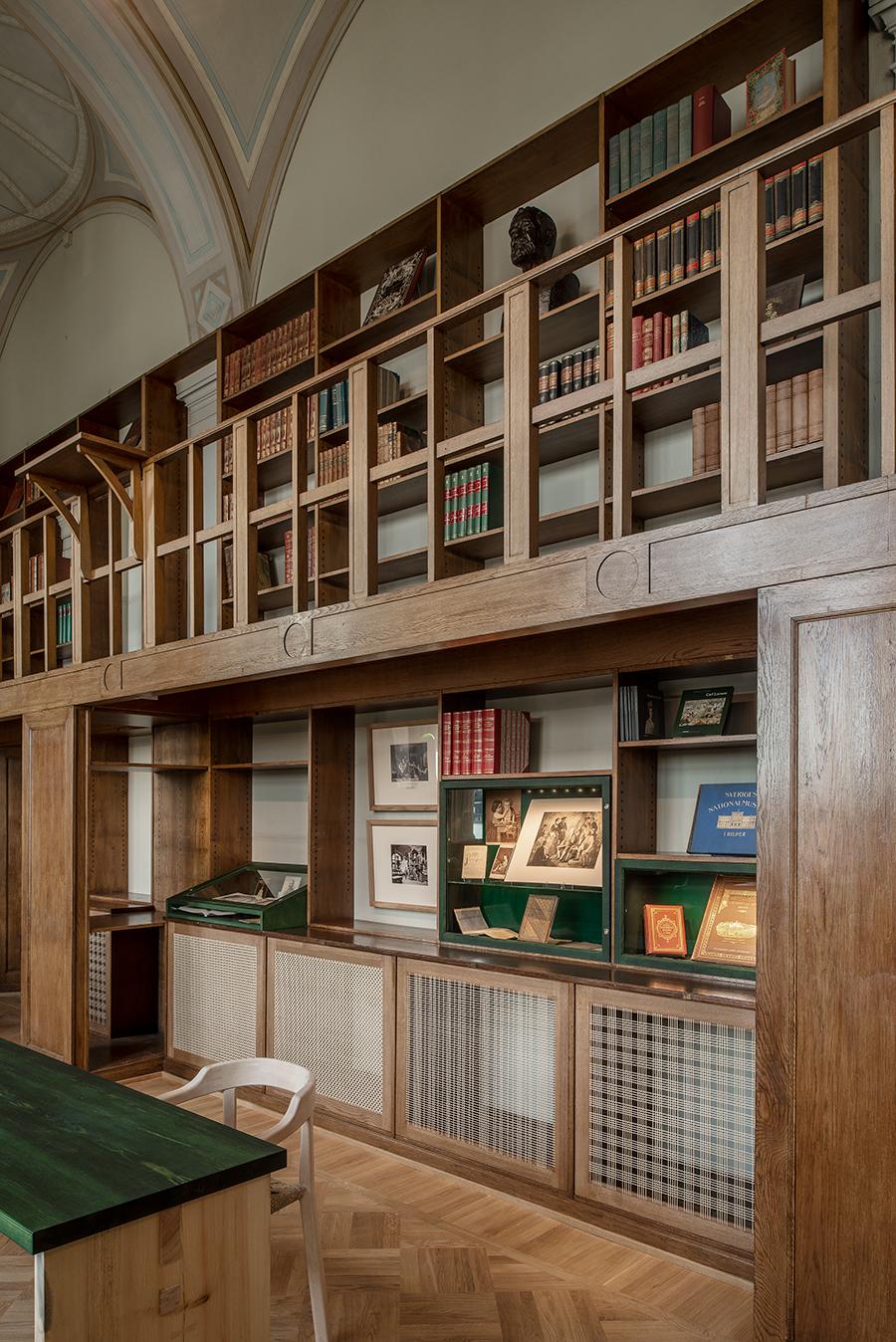 "I hope to be able to show long-term perspective in a well-thought out interior, where a 100-year-old bookshelf meets a contemporary armchair," she says.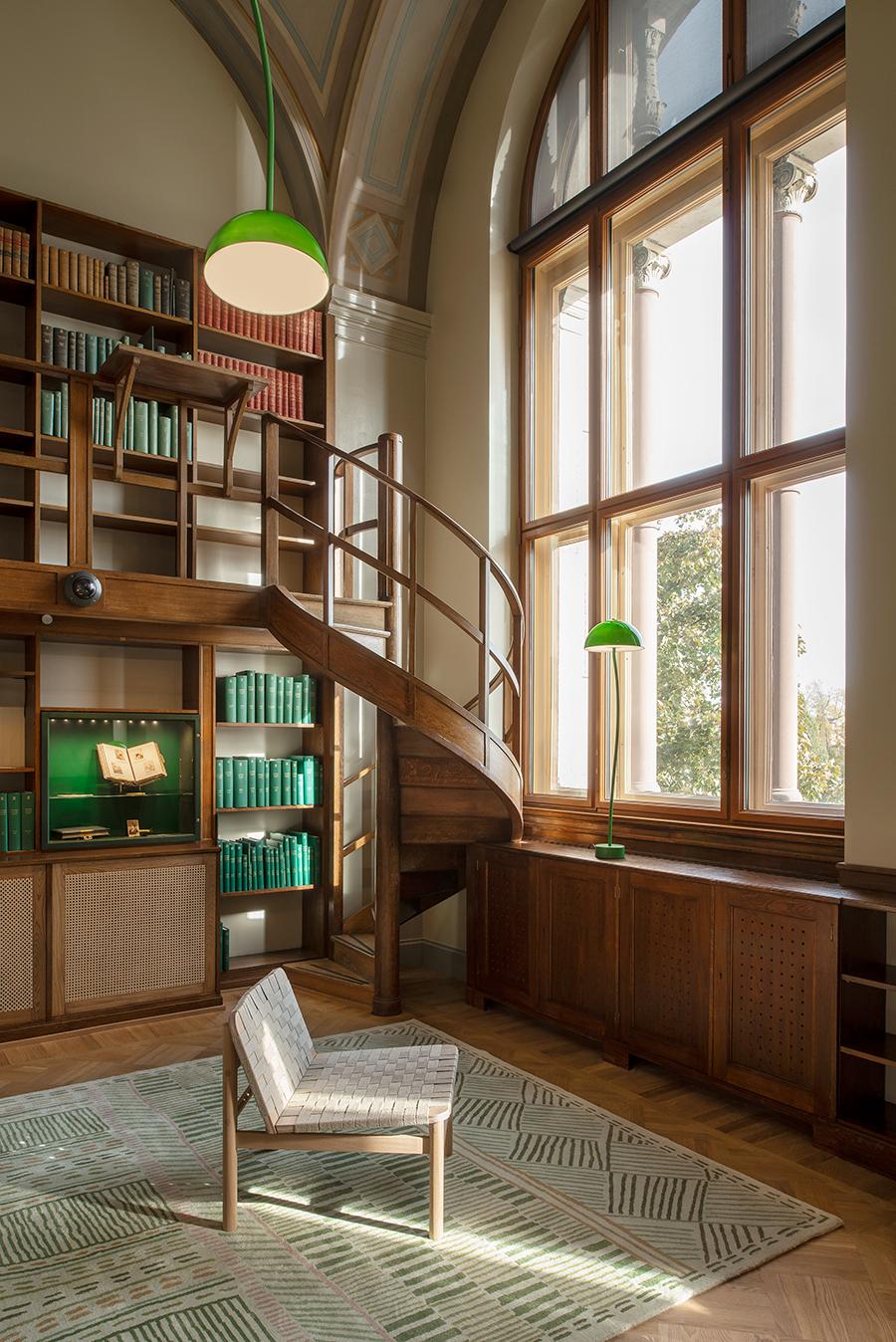 For the Old Library, Olbers zeroed in on the colour green – a 'library green' – taking inspiration from the museum's book collection.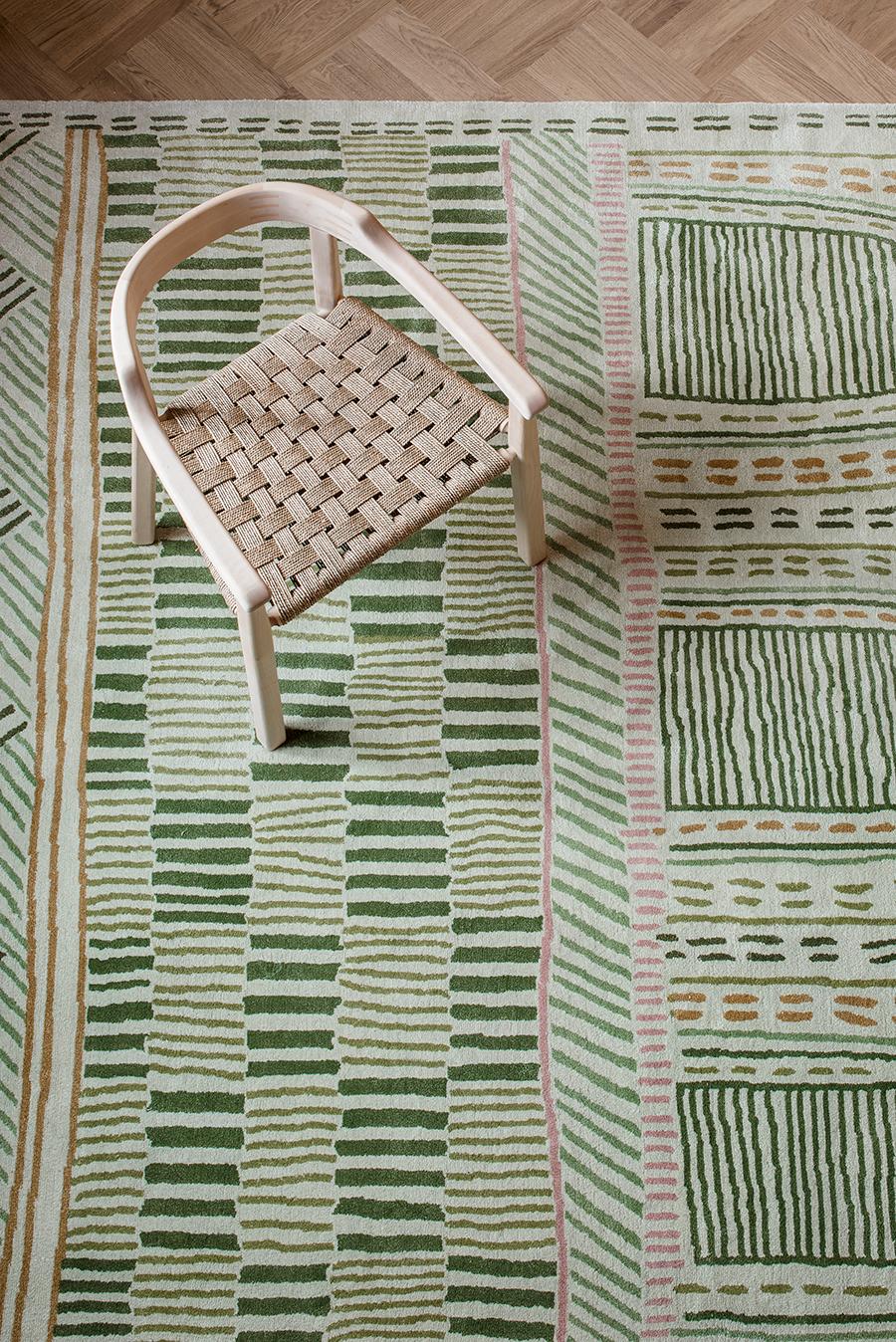 A veteran designer of furniture, having worked with the likes of Ikea as well as smaller, more independent Scandinavian studios, Olbers also worked on a small collection of original pieces for the library: oak armchairs with a woven hemp saddle, made in collaboration with furniture producer Ire Möbel; stackable birch chairs made with furniture brand Tre Sekel.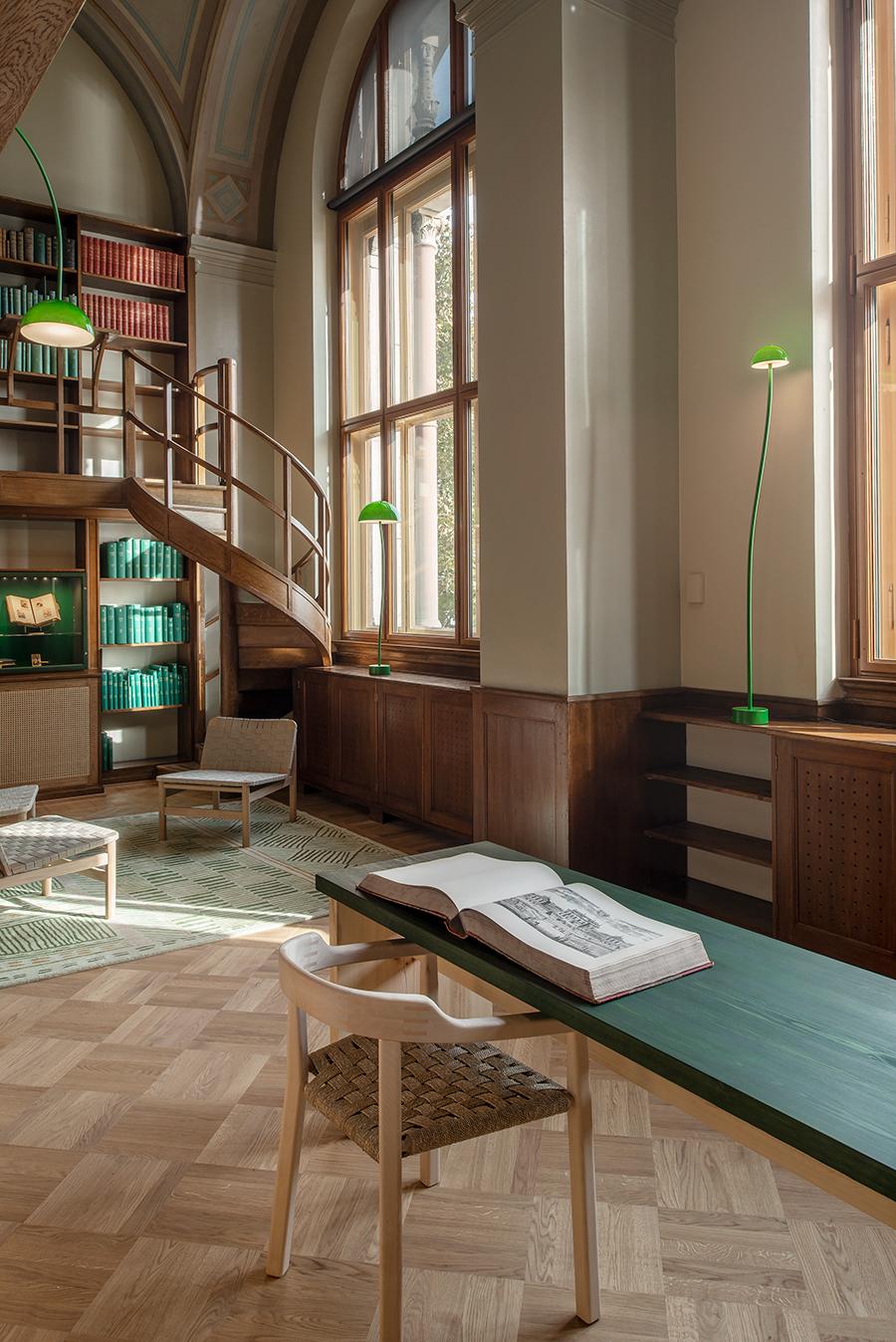 Punctuating the room is a carpet made with home design brand, Asplund.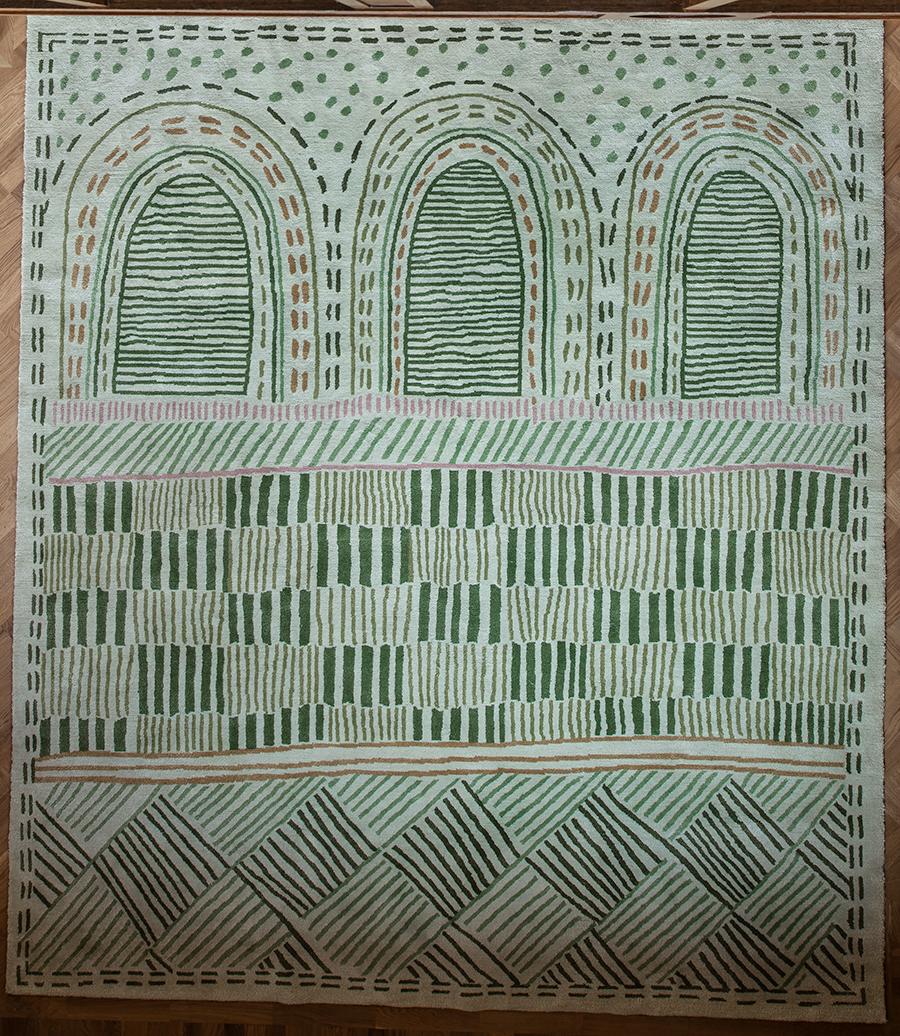 Fellow designers were also invited by Olbers to lend their mark to the space.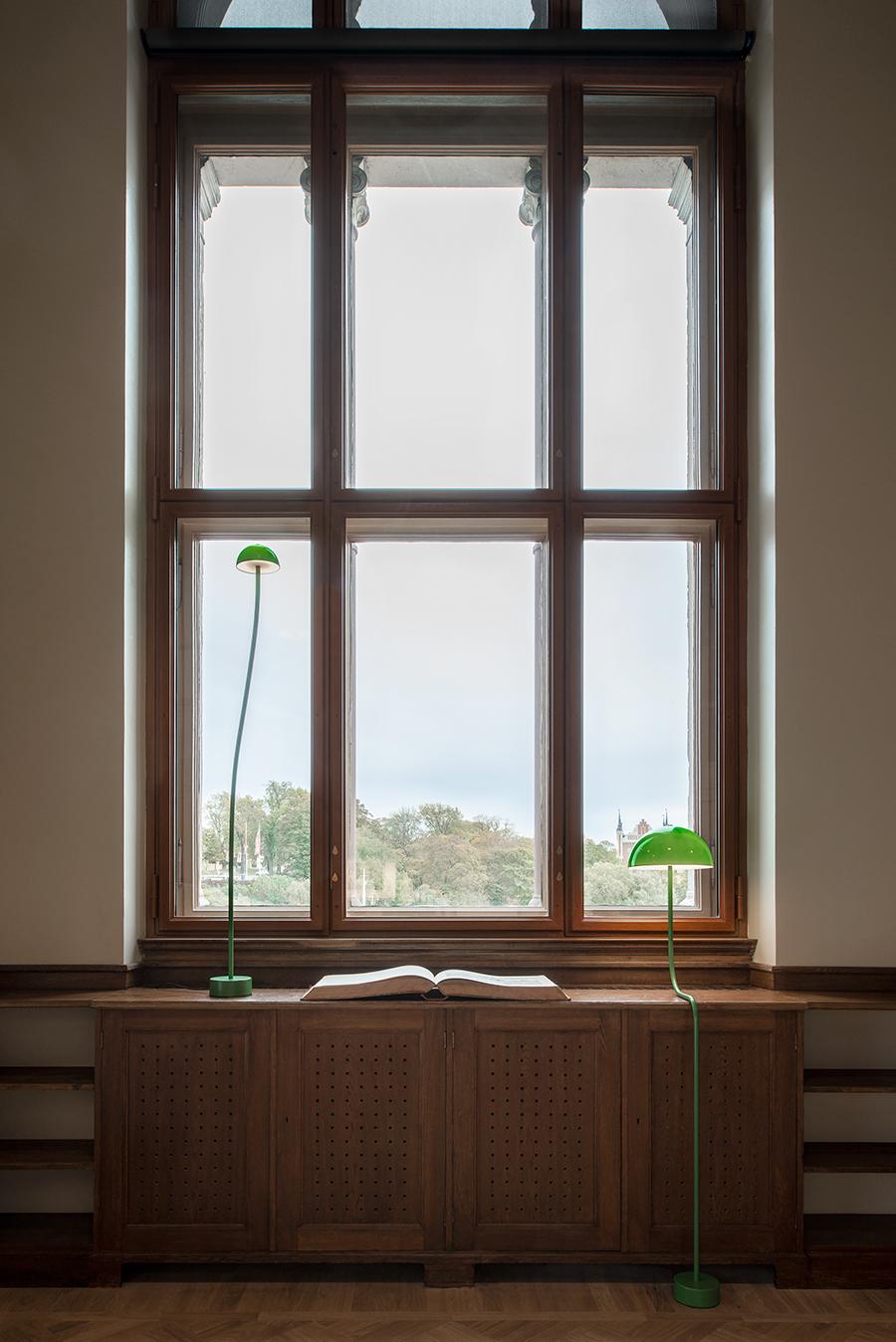 Local design studio Front reinterpreted the classic Clerks lamp – found in libraries and offices – to come up with a series of bright green, mushroom-like lamps. Some snake up a table with a resting curve; others reach up and dip just above a reading space. The lamp installations were produced by lighting brand Zero.
Local designer Monica Forster, as well, did a reinterpretation of her Sana chair, produced by furniture brand Zanat.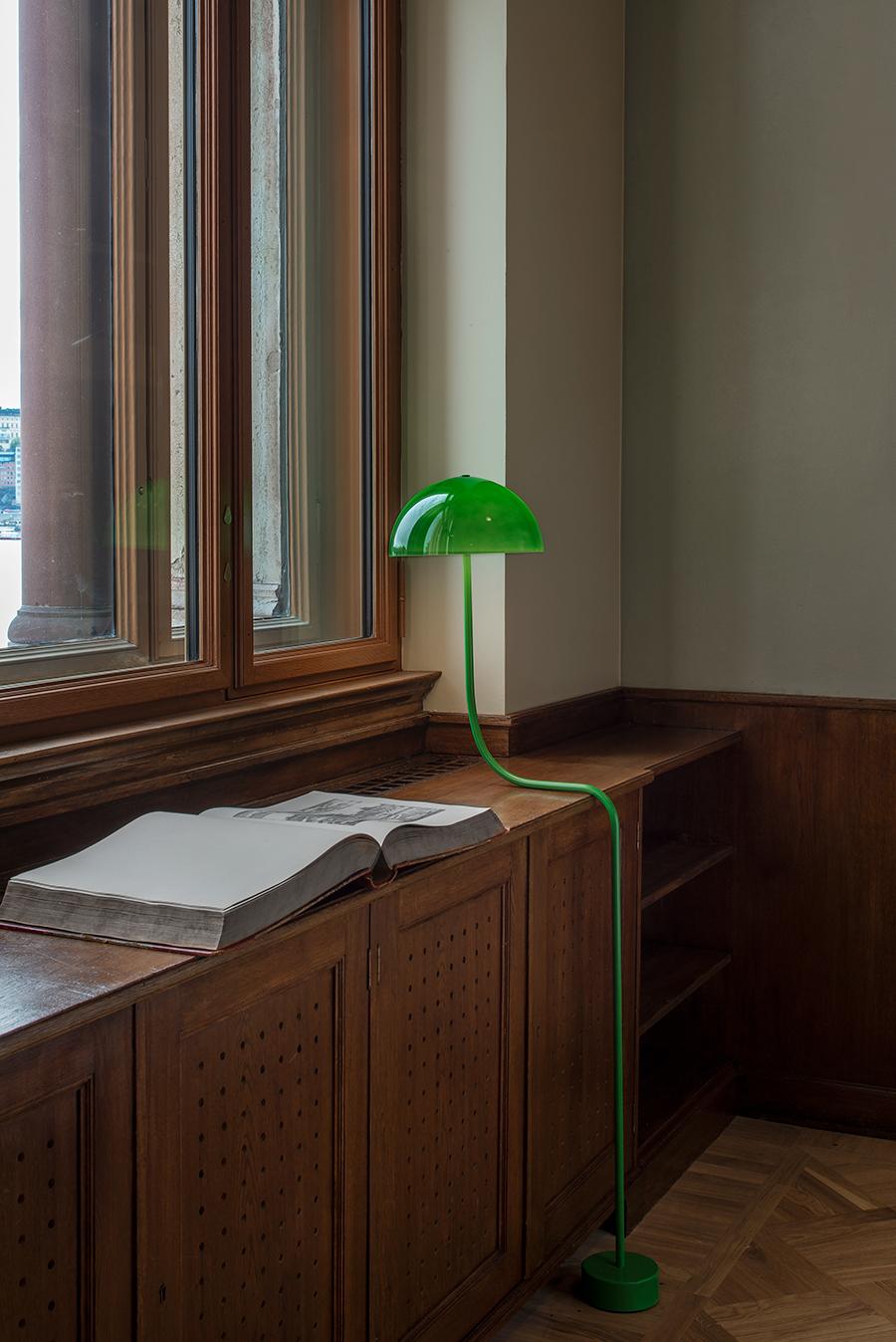 Olbers was also intentional about the materials used in her furniture designs, opting for carbon dioxide-positive materials such as hemp and seagrass – "fast-growing grass species that remove more carbon dioxide from the atmosphere than they add."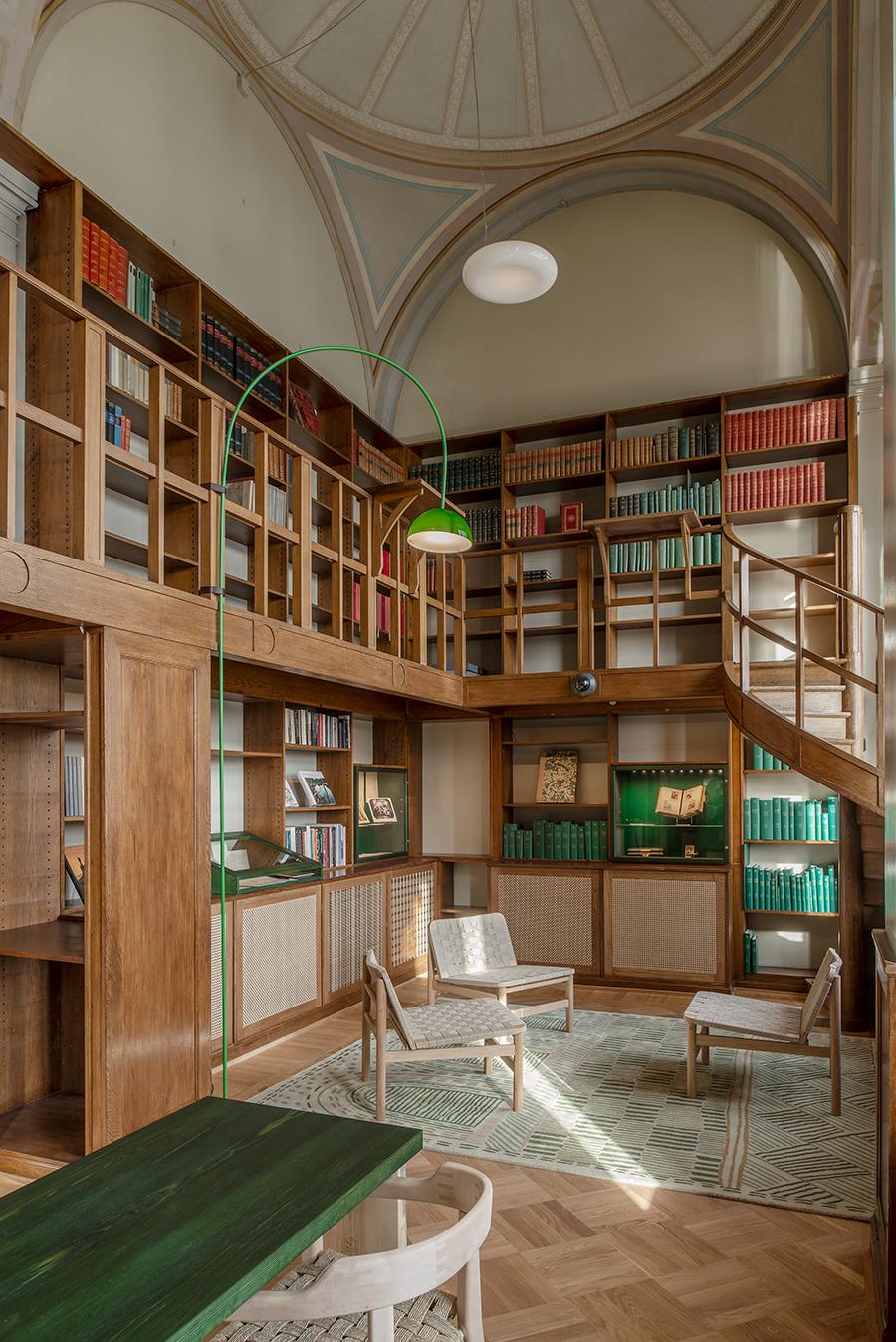 "If we are to reach the climate target with a maximum two-degree temperature increase, we must all help. I see this as an excellent opportunity to show how we can choose right when we buy furniture," says Olbers.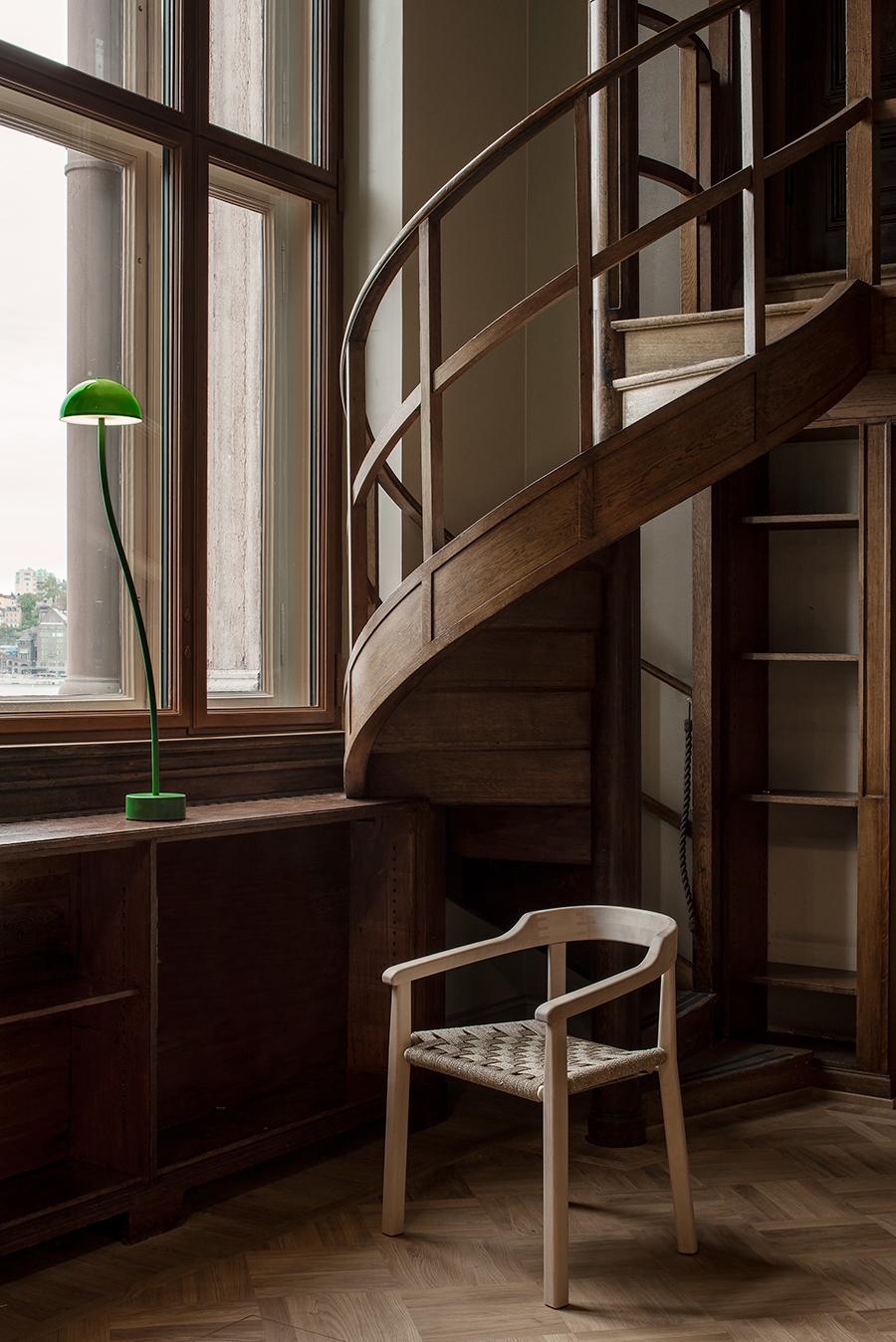 Sustainability has long been a value for Olbers as a designer. "Sustainability and product lifecycles are key concerns and core values that I strive to incorporate in my work," she says. "Those concerns can translate into using recyclable and reusable components, thinking carefully of which materials to use, and of course, avoiding the use of harmful substances in production altogether."
Just as she has done for the Old Library.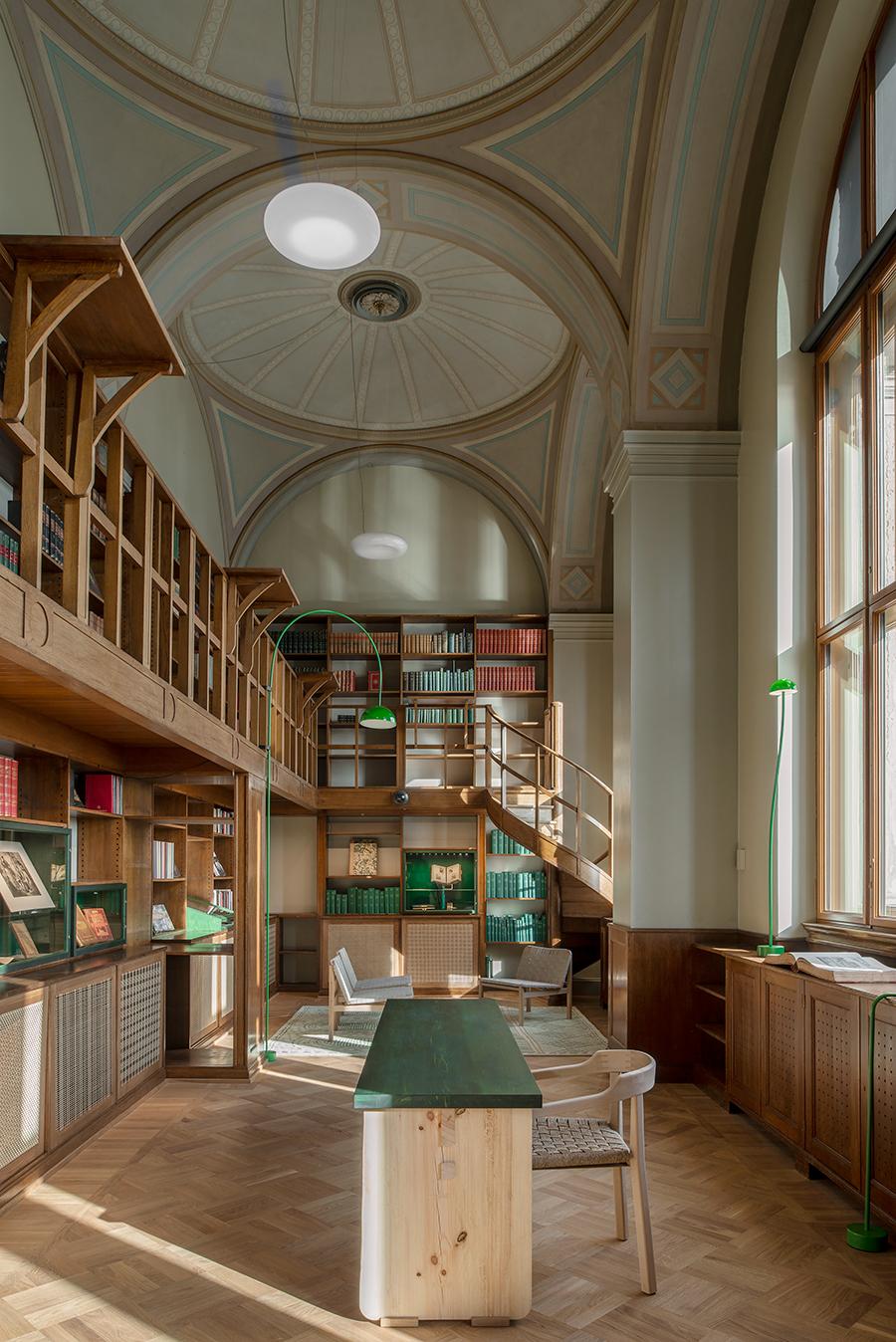 Photography by Andy Liffner
See more: Renowned Swedish Architect Transforms a Family Home into a Secluded Hideaway