It takes generations, sometimes even centuries, for a space to form character. How, then, does one go about injecting heart and soul into a place so freshly minted for moving?
Such was the challenge encountered by interior designer Amrita Khanna in designing the Wilkersons' new 2,000sqft abode in Tuen Mun. The brief was to create a home that felt warm and inviting, says the founding designer of Hong Kong-based studio Zip Code 888. They wanted a space that reflected their personalities and heritage, and for the design to seamlessly weave together their mementos and memorabilia.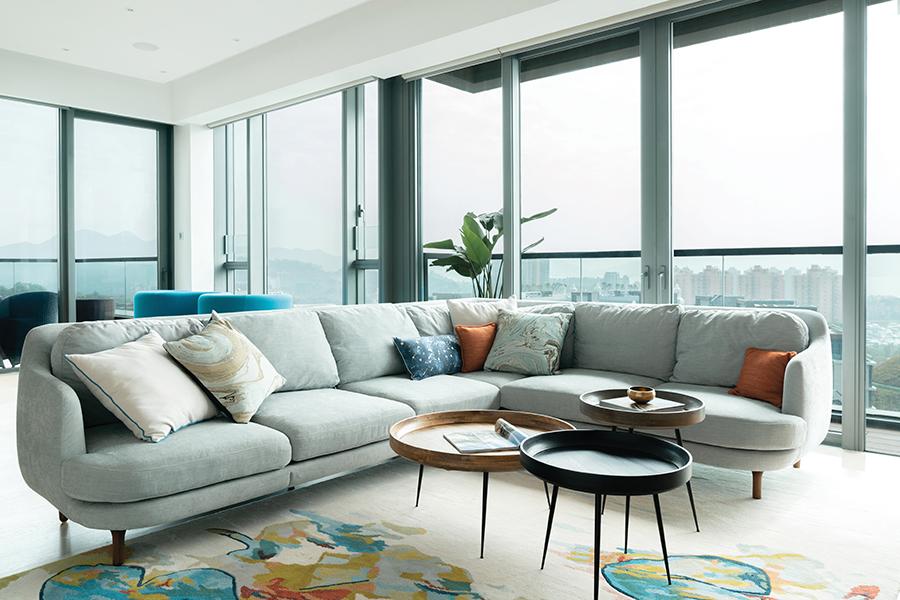 See also: Natural materials and a pastel palette imbue zen in this 2,000sqft Kowloon Tong home
Each relocating to Hong Kong in the '80s and '90s for work, Colin, a California native, currently works as an entrepreneur, while Andrea, originally from Malaysia, is a stay-at-home mom; they live with their two children and a pet dog. They have a few pieces with sentimental value that they wanted to integrate into the new space, explains Amrita. The couple also wanted high-quality pieces without seeming excessive.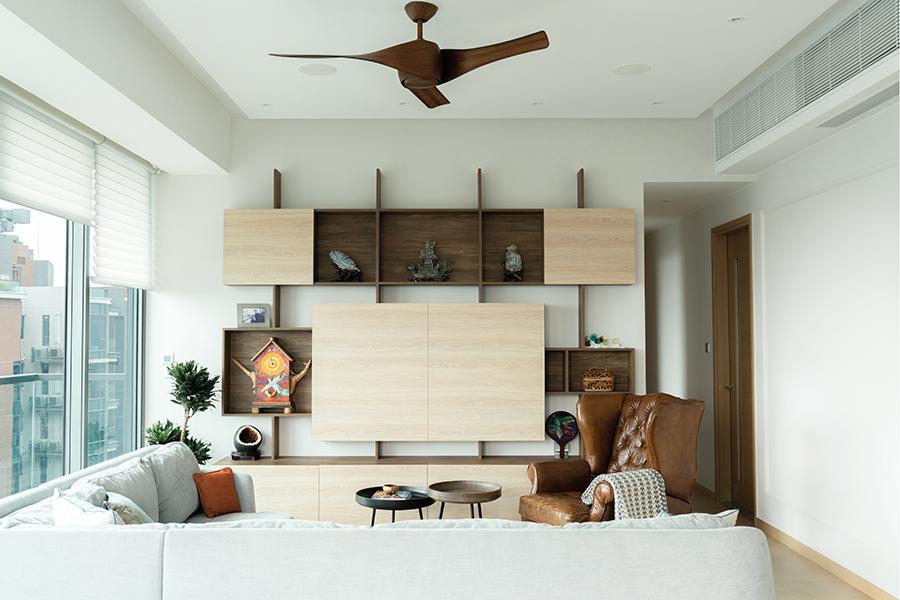 These requirements were put to paper over the course of five months, eventually resulting in the home Amrita describes as transitional, deliberate and inviting. It's a beautiful tapestry of contemporary, mid-century and vintage pieces, she says. It has an airy, uncluttered feel, and it makes you want to stay.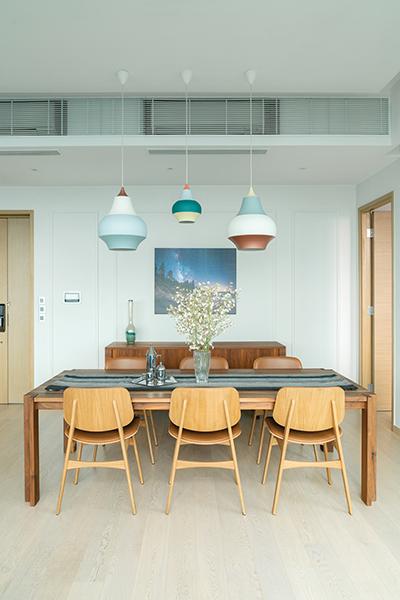 It helped that the Wilkersons were very hands-on, deferring to Amrita for the selection of individual pieces but otherwise knowledgeable about what they wanted. They were very decisive and clear, she says. These attributes – which are very rare – quickly gave me an understanding of what they were after.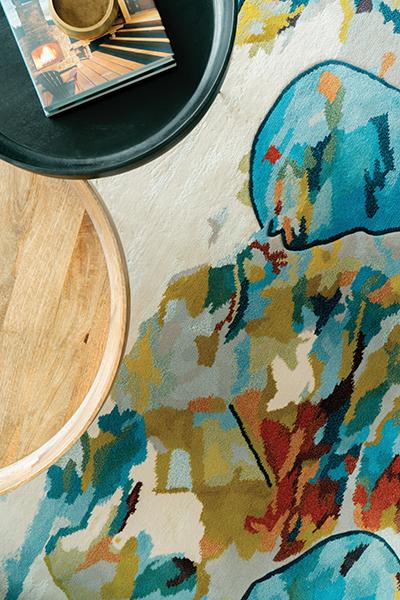 See also: Principles of wellness inform this sustainably designed, 1,730sqft show flat in Hong Kong's Clearwater Bay
The Wilkersons were also familiar with Amrita's style prior to the project, having seen samples of her work online. They appreciated our use of colour, texture and pattern in unifying the homes of past projects, and were keen to experiment with that aspect, she explains. An example of this comes to life in the living room, where a Zip Code 888-designed carpet makes a colourful statement sans distraction, while harking back to other hues in the room, particularly in the bold blue clover leaf sofa designed by Verner Panton and the pastel Louis Poulsen Cirque pendant lights in the dining area. I love how the custom wool carpet ties the living space together – the result of Mr. Wilkerson's choice of poppies as the theme, because it reminded him of California, and Mrs. Wilkerson's request to increase the intensity of the colours.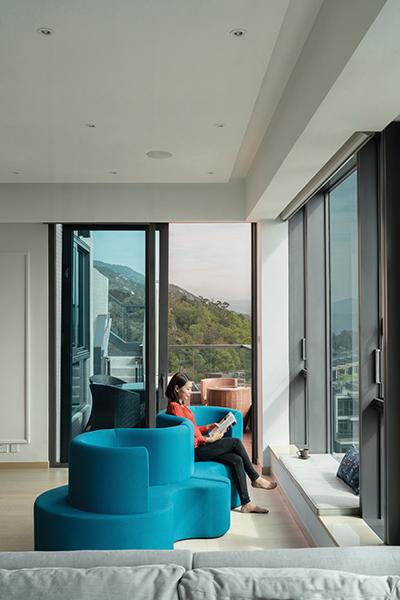 Home to most of the old pieces, meanwhile, the master bedroom lent a different challenge: realising a fresh look in spite of the beautifully aged furniture, with the vanity, bed and night stands moved in from their old home. The solution lay in a Missoni Home wallpaper that softened the edges of the dark wood. It had the magic needed to transform the room into a tranquil, welcoming space that unified it with the rest of the home.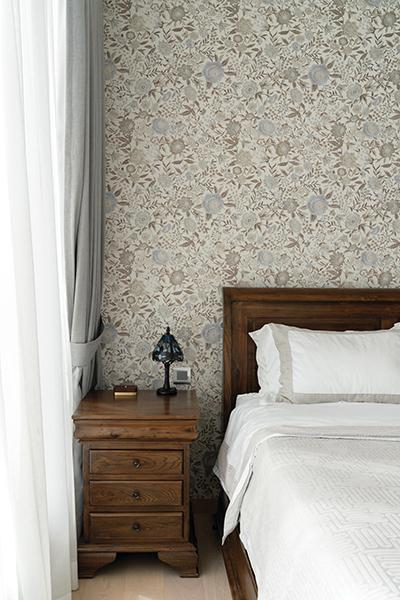 See also: Functional minimalism shines in this 850sqft Hong Kong residence
It may not be as charming as a heritage building, but the Wilkersons' home has a charm of its own – in old pieces finding their place in a new space, and the new space, while staying contemporary and true, evolving as needed to complement the old. It's always rewarding to be able to marry pieces a client already has with new designs we plan to bring into the home, concludes Amrita. It offers a sense of layers curated over time and speaks to the homeowners' character.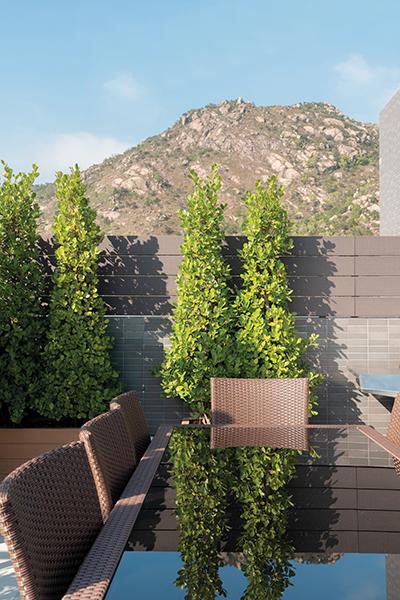 A version of this article appears in our January 2019 issue.
The post A Celebration of Contemporary Flair and Vintage Aesthetics in Tuen Mun appeared first on Home Journal.