When one envisions a bachelor pad, images of either monotonous blacks and whites or posters-filled, pool-table equipped game rooms usually conjure.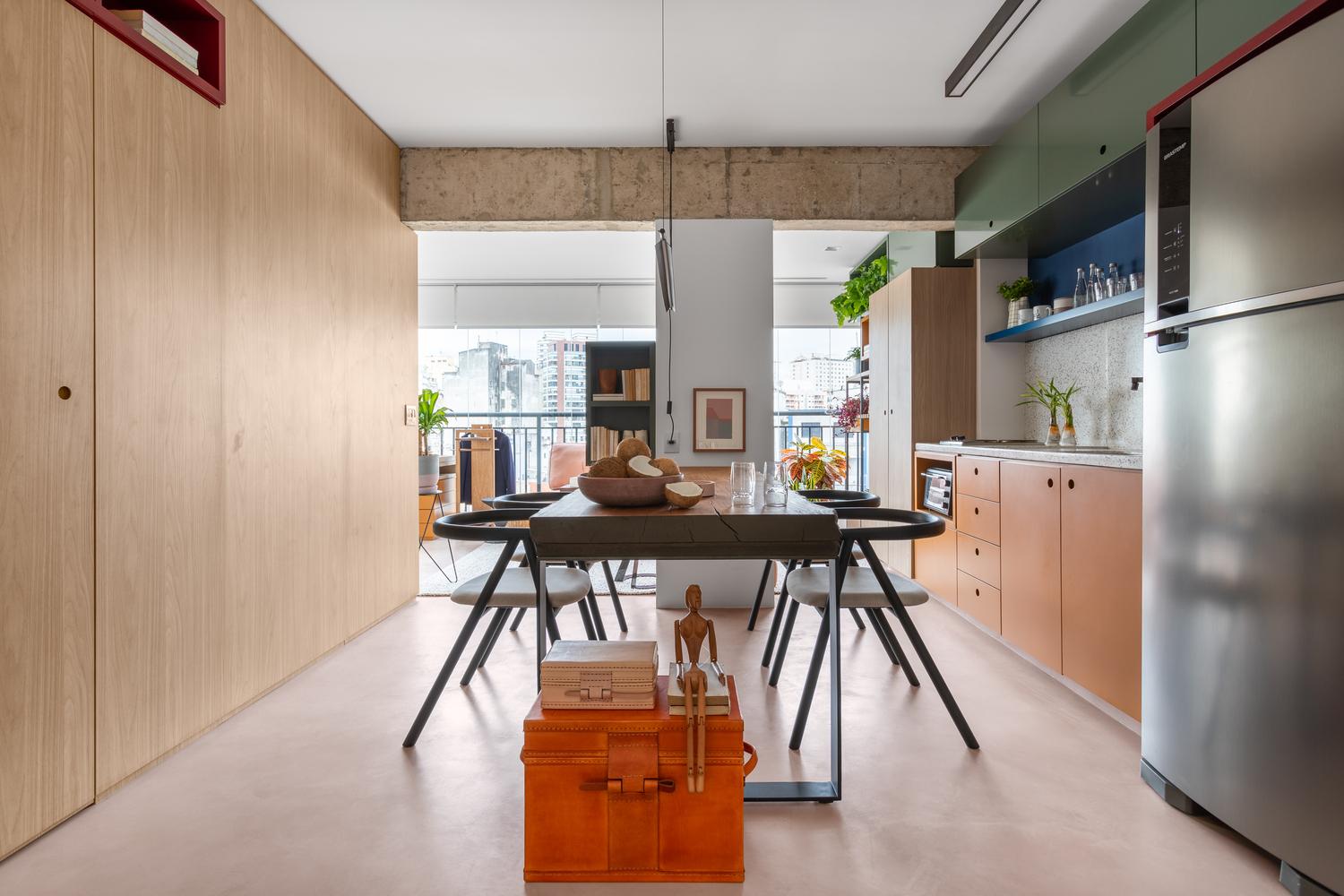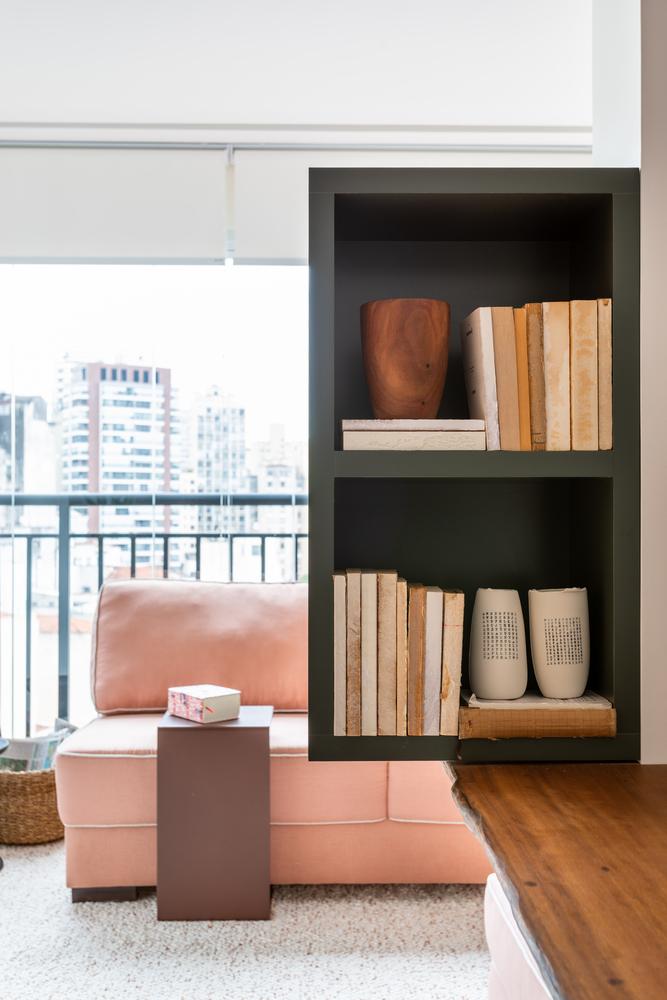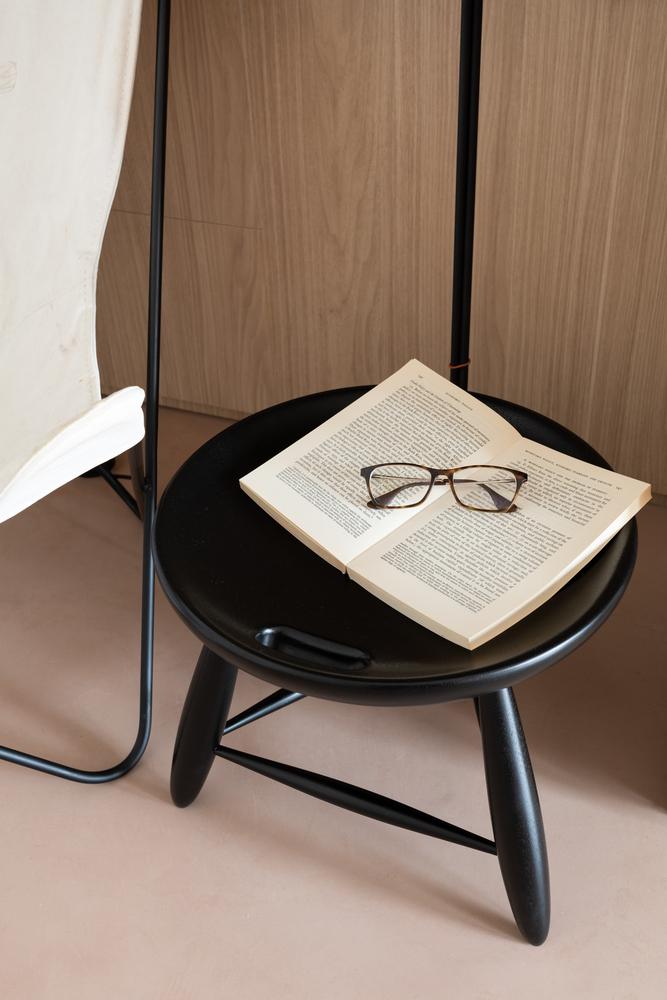 Yet when a dapper and well-travelled gentleman – who is also an avid reader – purchased his very first home in the vibrant district of Santa Cecilia in central Sao Paulo, he was determined to create something different: a stylish home that is truly reflective of his cultured lifestyle and hobbies.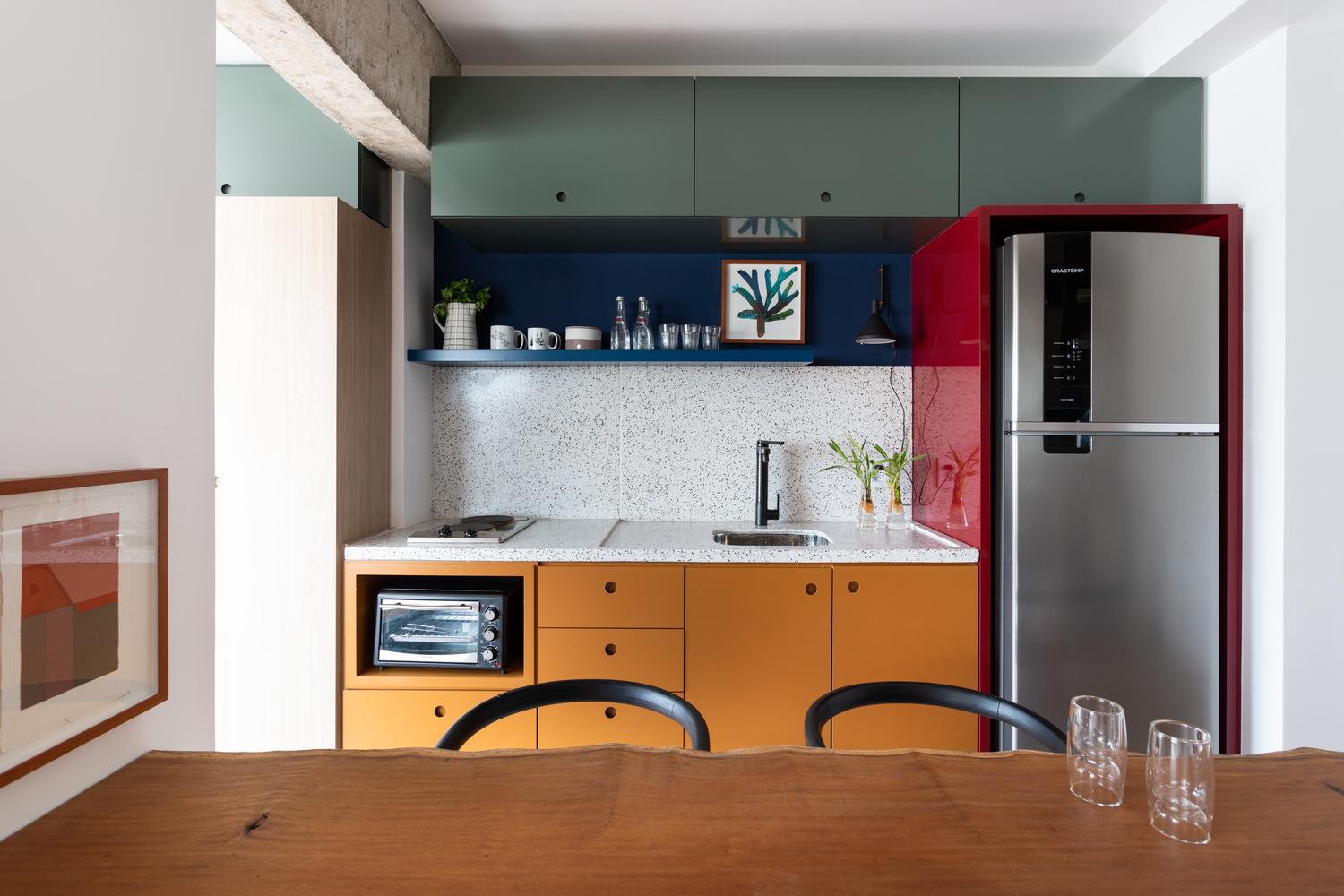 To design this, he enlisted the team at Renato Mendonça Arquitetura to create this characterful haven within a 484sqft apartment. He only had two main requirements in mind, with the first being that the colour palette had to capture his worldly adventures.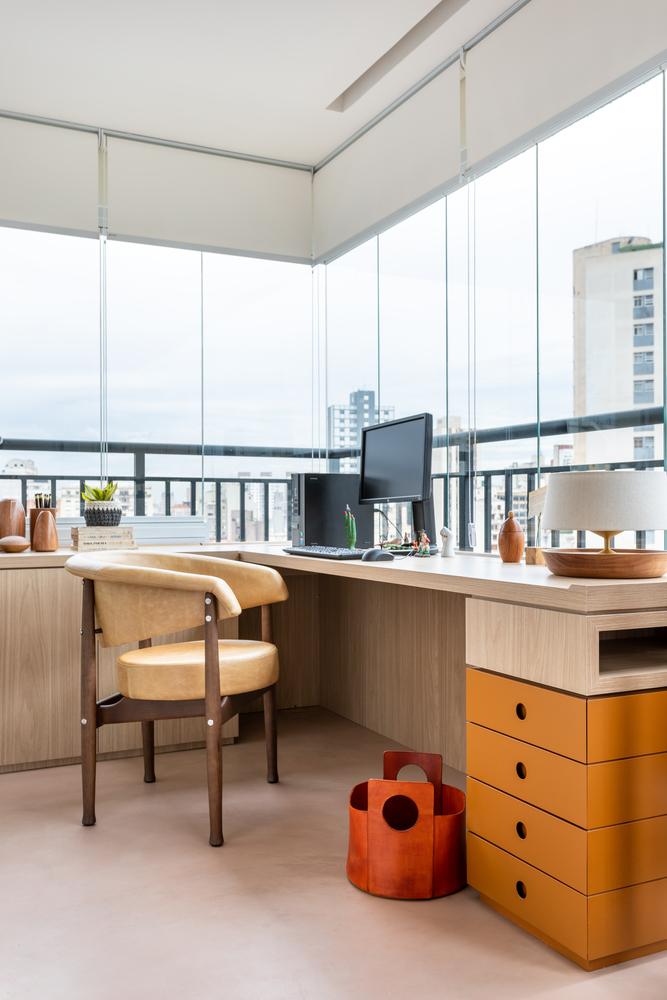 Inspired by the Abaporu carvings that he collected through the years during his travels around the world, he then developed a bespoke series of colours with the team that became the anchoring elements of the home, splashed across the space from the cabinetry to couches, flooring and throws, are pops of greens and oranges, accessorised by more subtle hues of blushes and browns.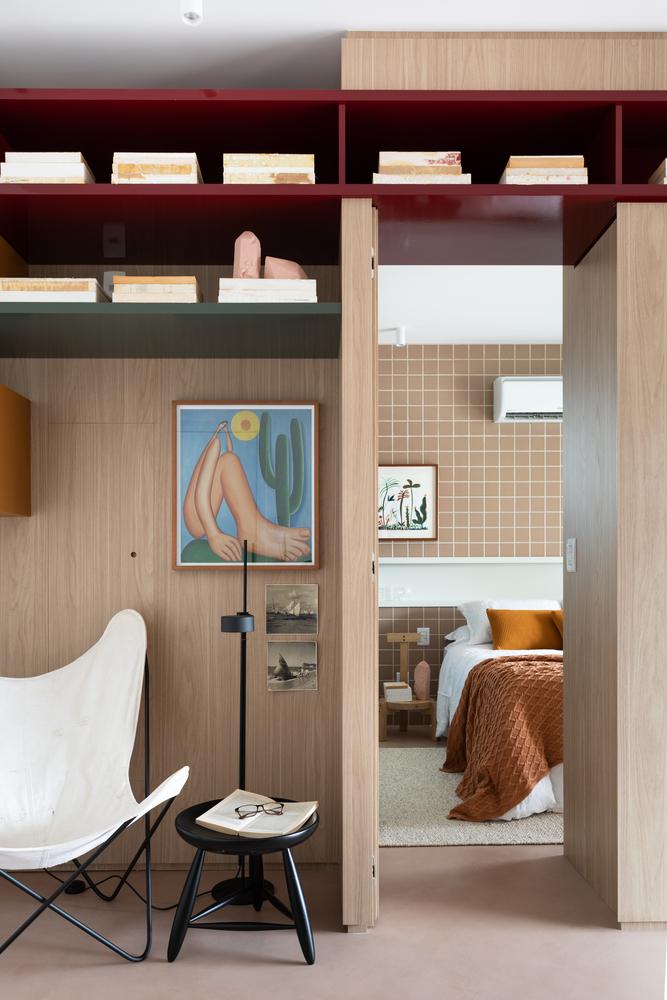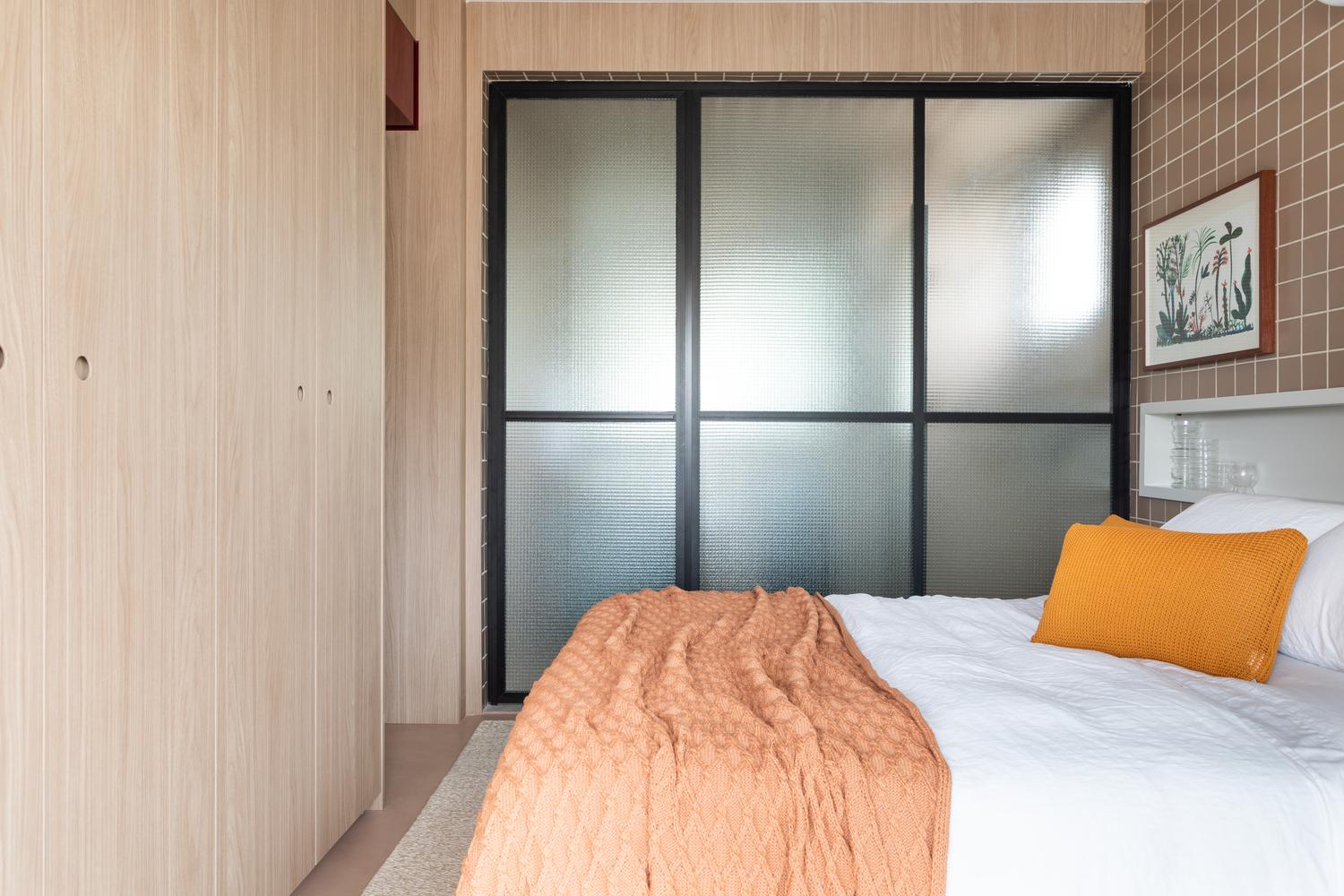 Secondly, he wished for the home to be a cosy environment that feels expansive and open, yet is safeguarded by a sense of privacy. As such, the design team gutted down all the interior walls of the unit – including the bathroom wall – to create an interior that is a totally unobstructed, well integrated space, where one area flows organically into the next.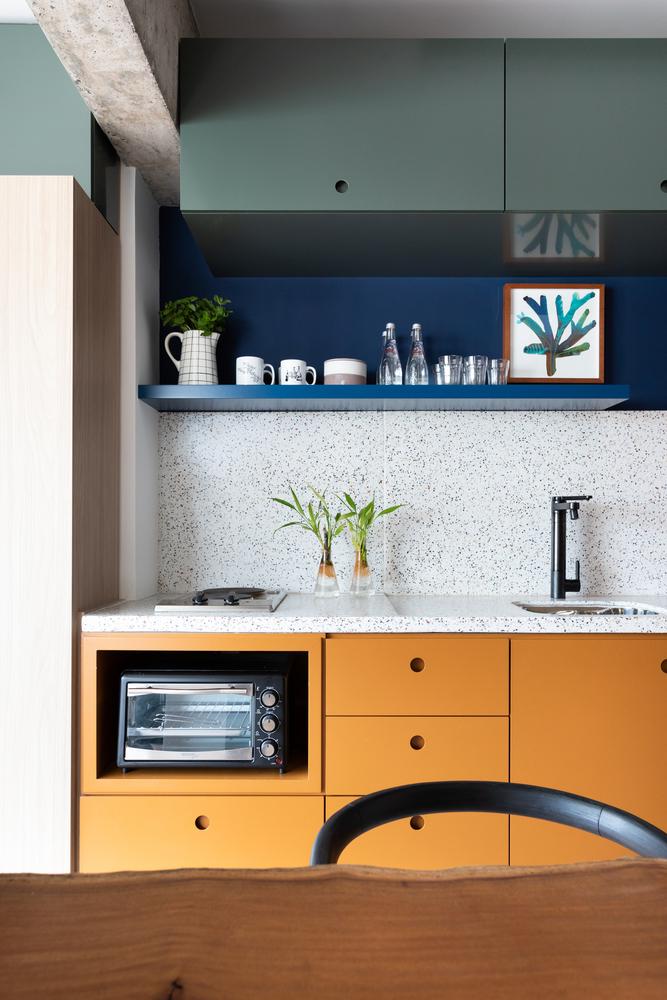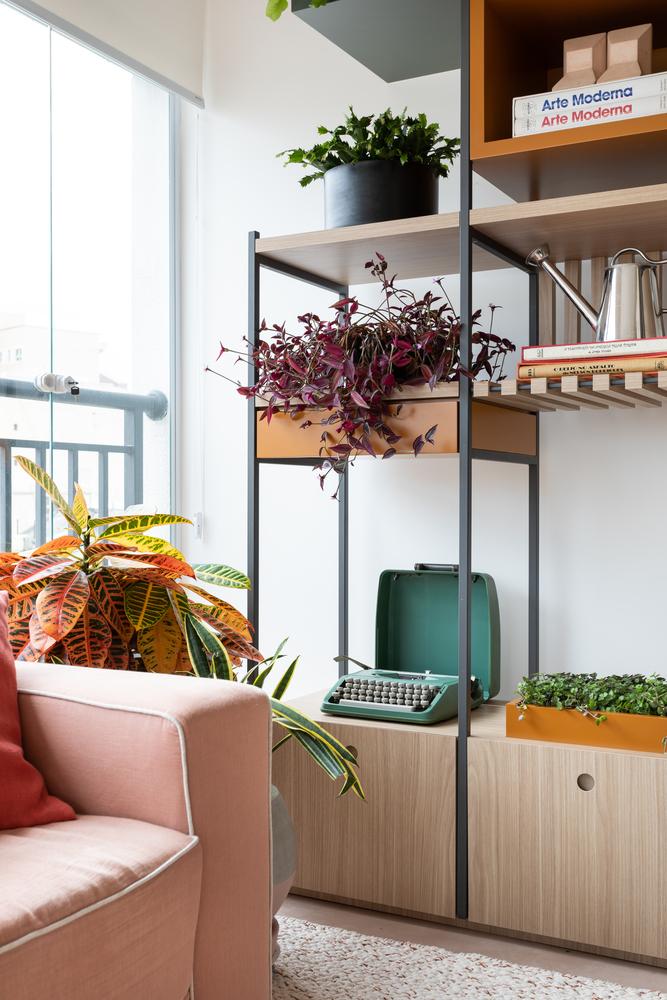 In the replacements of concrete walls are half transparent glass doors that separate the bathroom and bedroom, and sleek wooden panels that delineate the dining room and bedroom. This architectural arrangement not only increases the size of the bathroom by many inches, but also works to bring in much better natural light.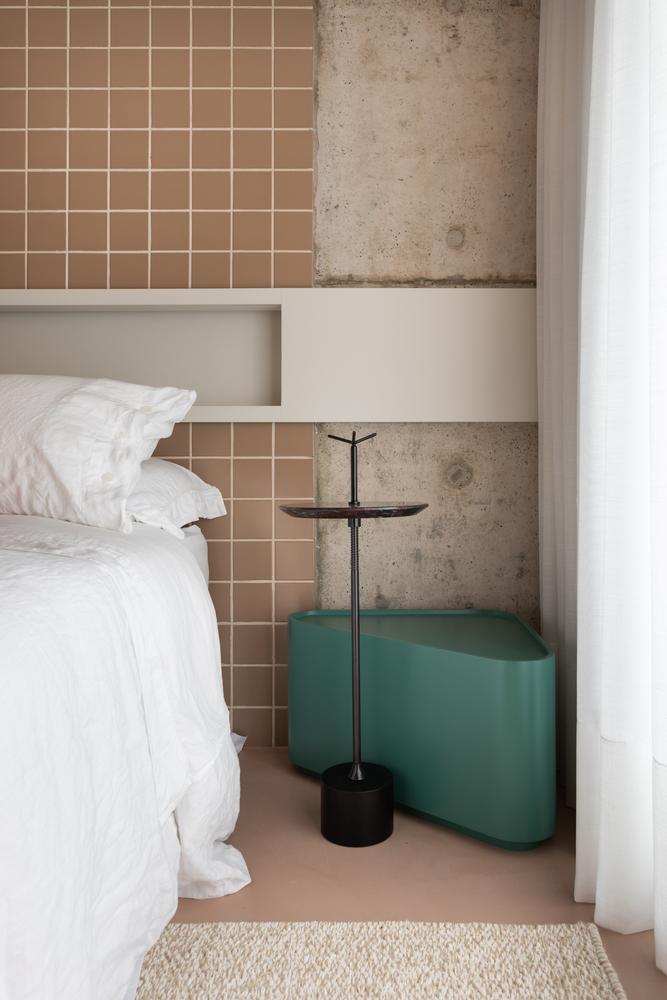 Crafted in a specially selected rose colour that injects the home with a playful personality – a visual sense of freshness that is rarely seen in typical bachelor pads – a cement flooring is employed throughout all rooms of the home to achieve a sense of unity.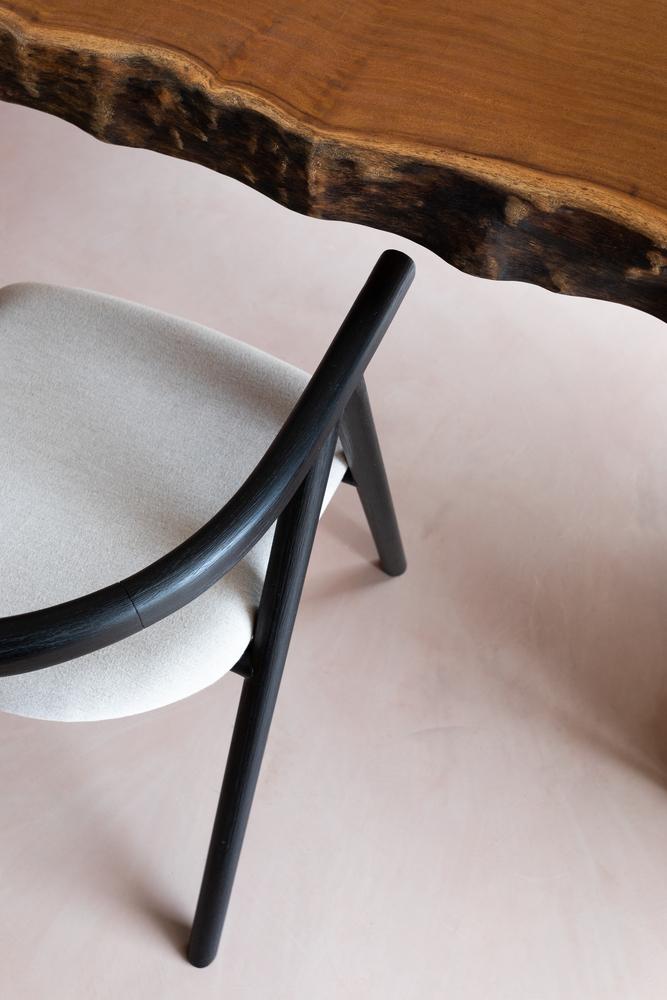 To balance the feminine touch brought on by the pink floor, the team paid more attention to the furniture and opted for a sleek aesthetic with a touch of industrial feel. A rustic dining table is paired with black chairs, industrial-style lamps, canvas armchairs and various black metal details.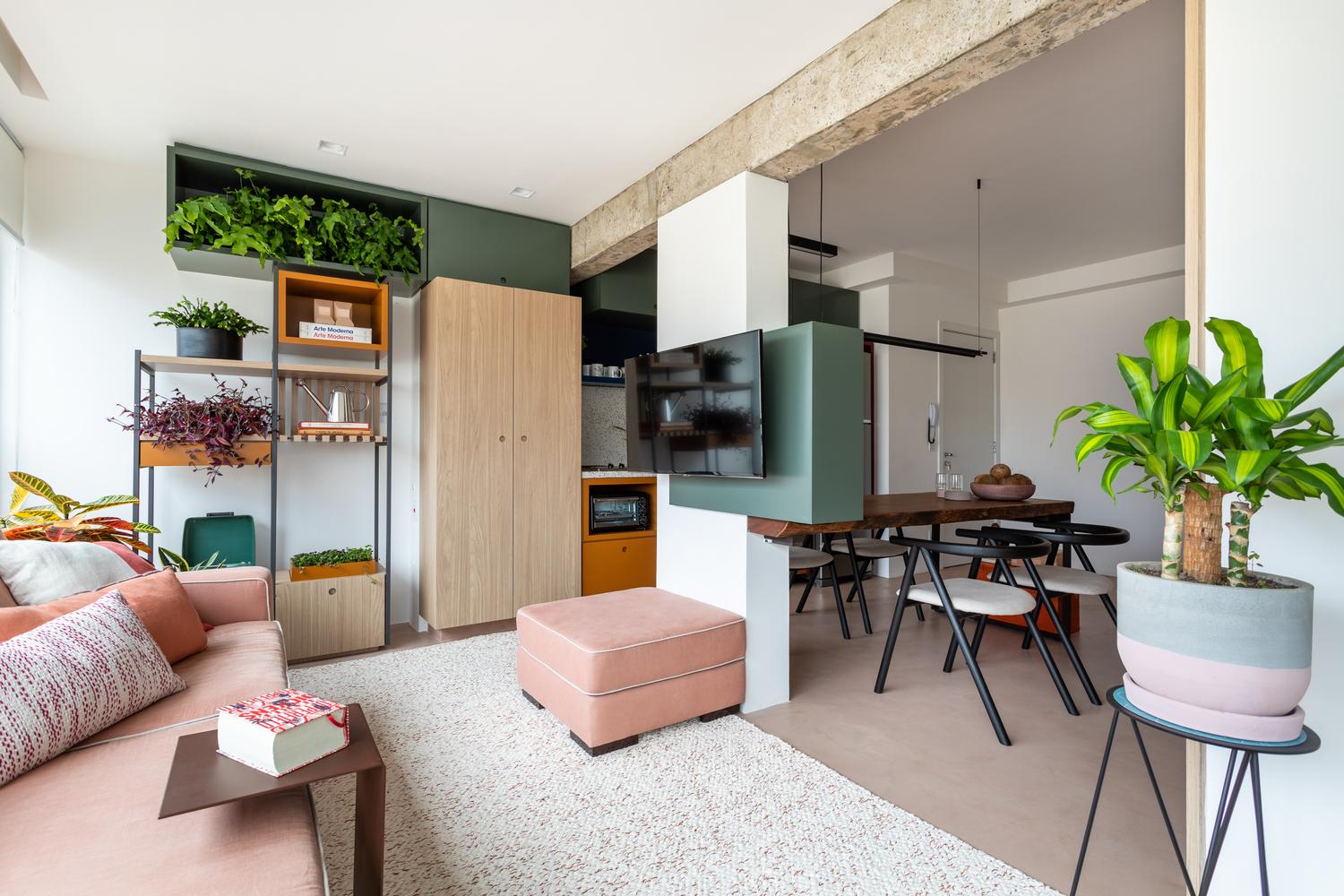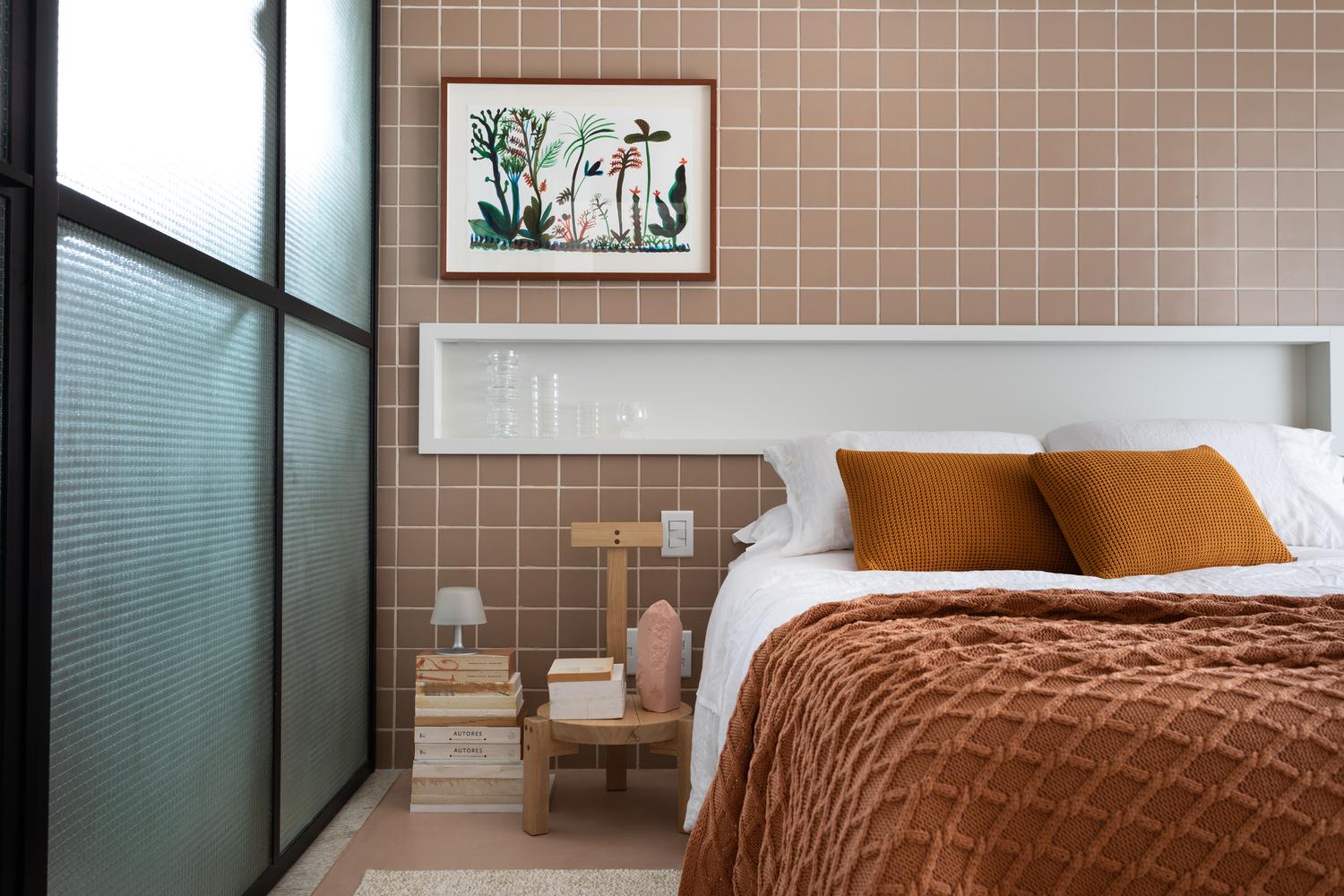 The tiling in the bedroom is an extension of the bathroom tile, visually merging the two spaces into one. The walls, floors and ceilings of the bathroom are covered with delicate earthy-coloured finishes, while the Itaúnas granite basin placed in the centre features an irregular multi-faceted shape, giving the bathroom a sense of design.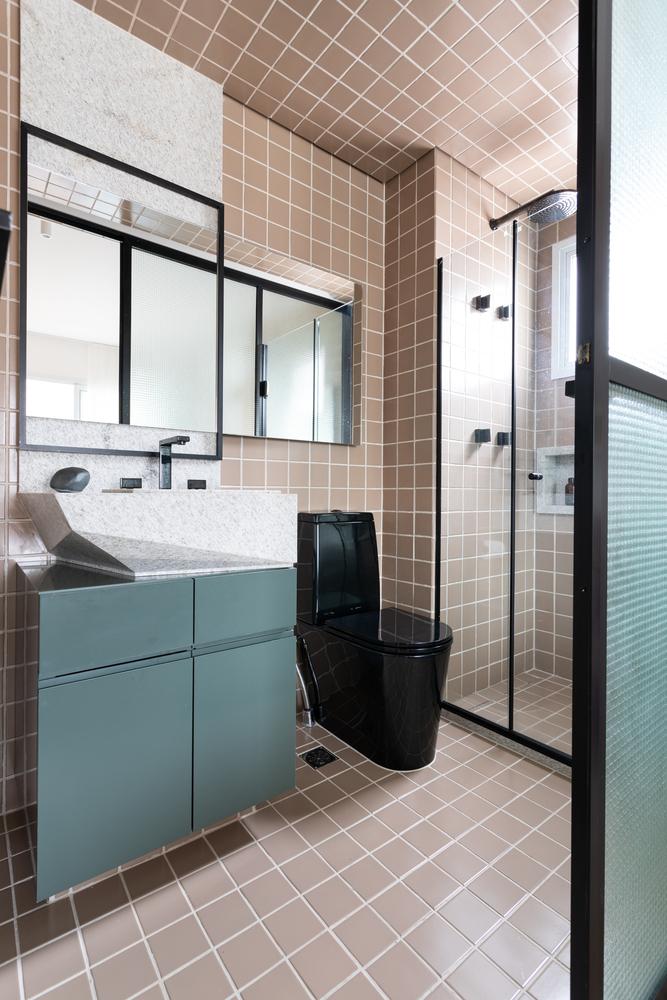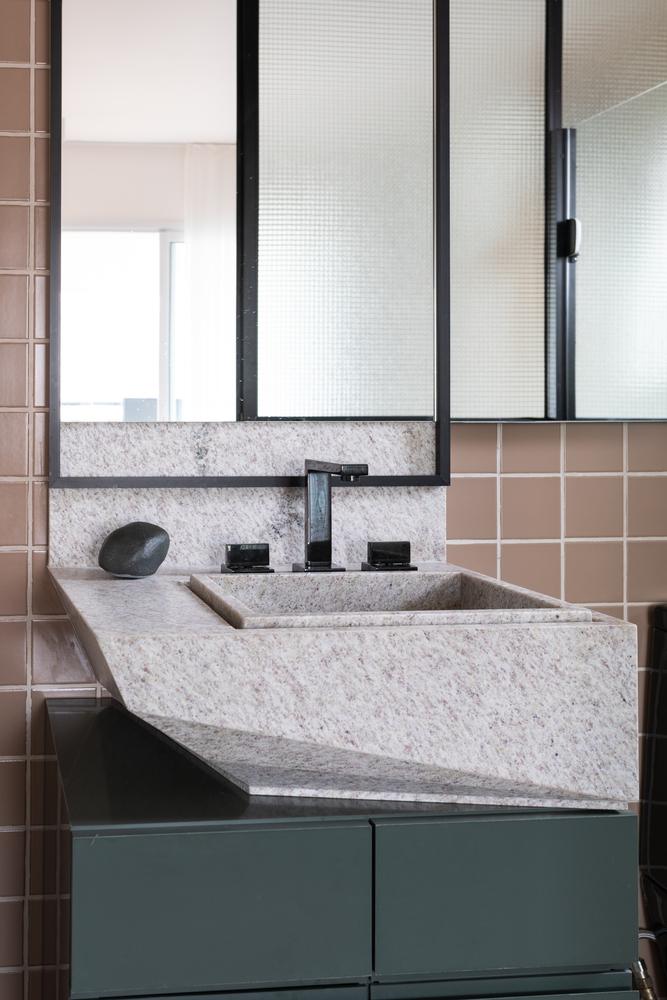 Interesting, the balcony also functions as the homeowner's unique office, allowing him to peruse endless inspiration while admiring the city view.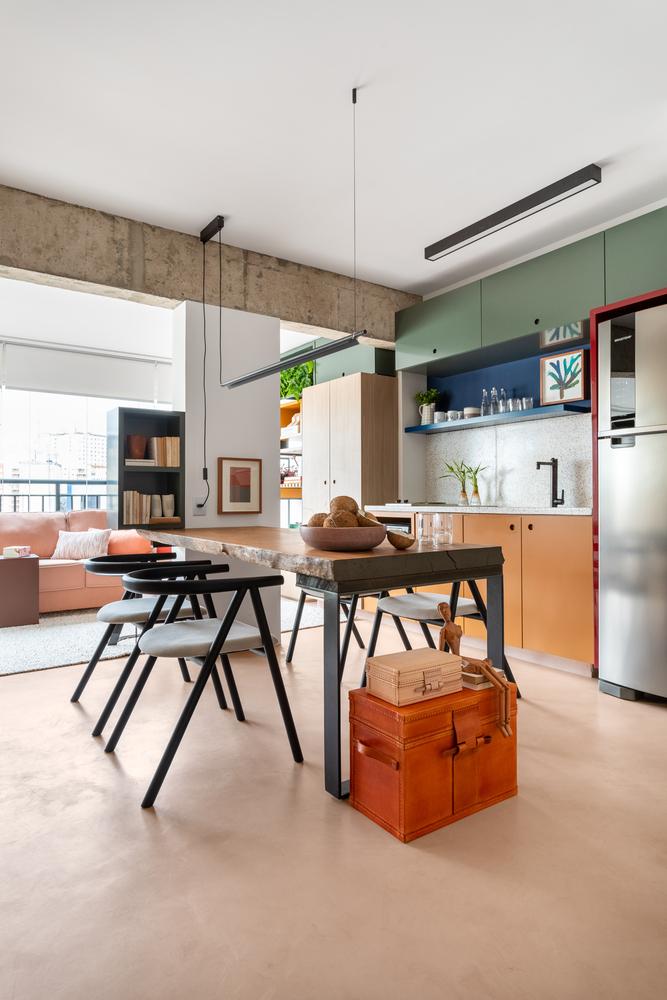 Photography by Lufe Gomes