From the romantic to the playful, the elegant and the easefully everyday, these enviable outdoor dining spaces add an extra dimension of wellbeing and charm to the lifestyles of the homeowners who relish spending time in them.
1. Technicolour Cool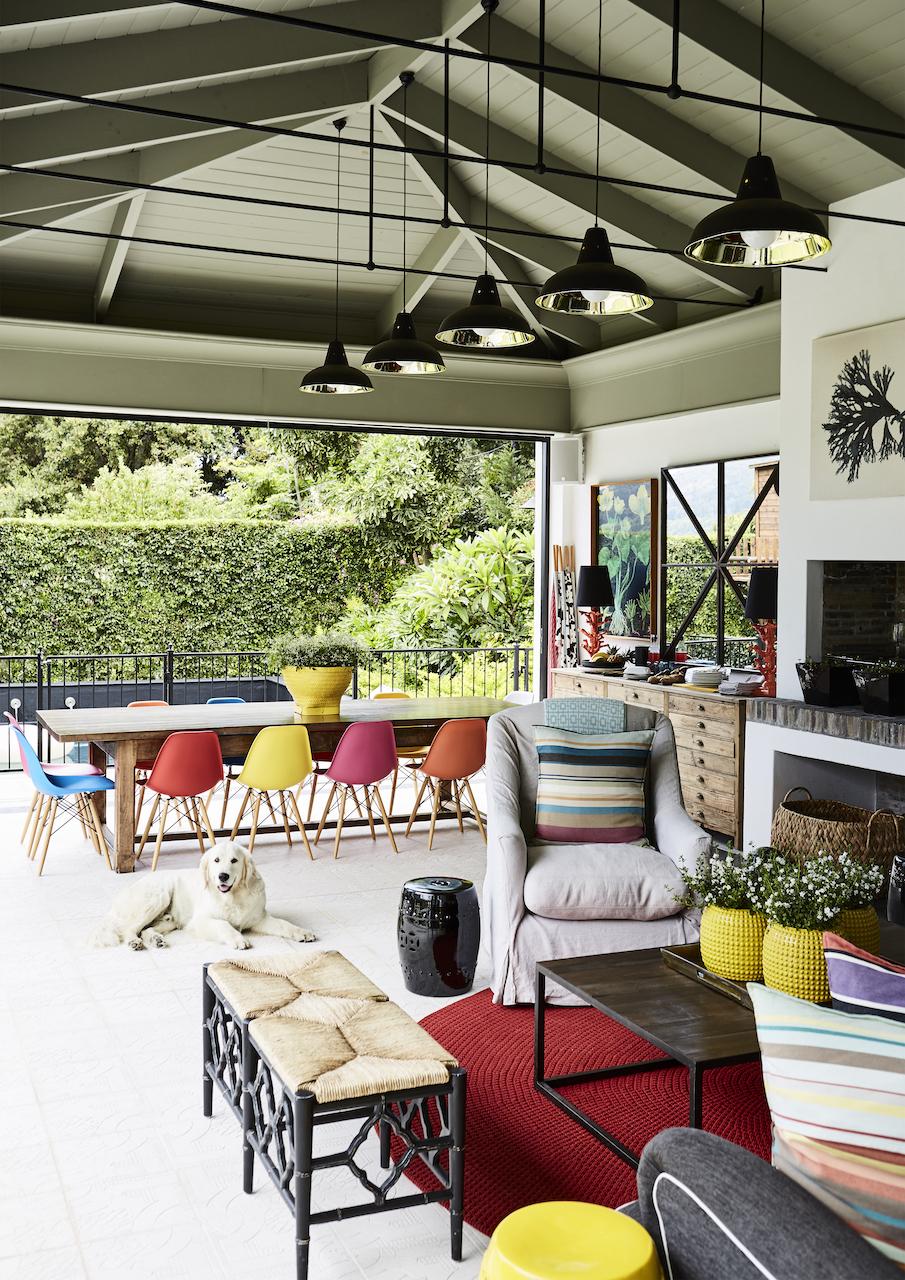 This boldly colourful, extensive veranda really is an "outdoor room": it includes both dining and lounging areas, and via the use of glass folding doors on two sides, can be closed up during more inclement weather – or completely opened to the elements in the summer months. It adjoins a compact, formal garden and an inviting swimming pool, and as an added bonus, the views from the space are spectacular.
Interior designer Kim Stephen who loves to use bright colours in her work – chose a custom-made terrazzo floor for this patio that is inspired by the tiles used at the world-renowned Oyster Box Hotel in Durban, South Africa.
2. Desert Dreaming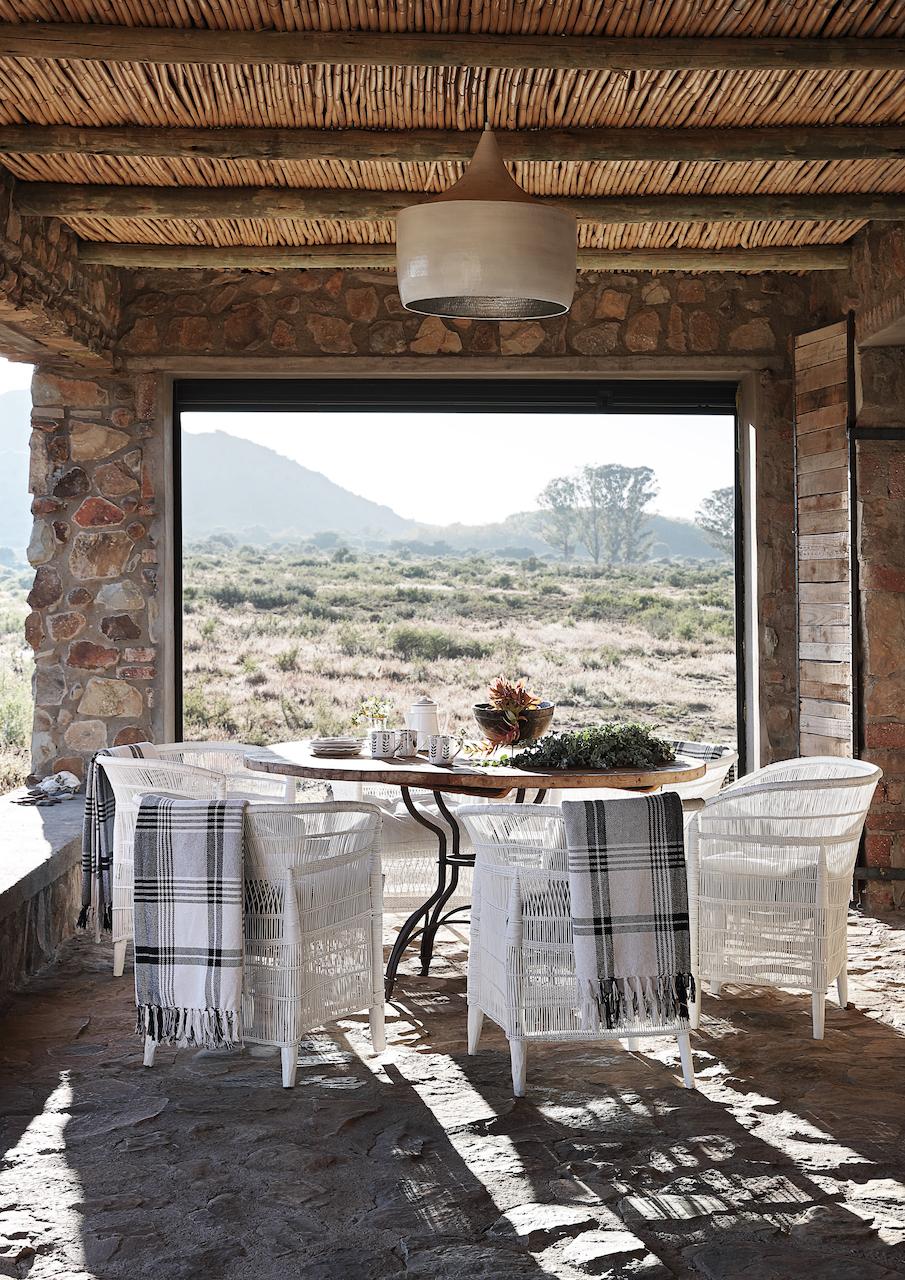 "The Karoo landscape heightens the senses because there's no clutter," says the homeowner and creator of this contemporary farmhouse-cum-holiday home. "There's a simplicity there – openness and a sense of freedom." All these elements are heightened in this outdoor dining space, which is glassed in on one side to protect it from strong prevailing winds while still allowing its users to enjoy the expansive vista.
Classic wicker Malawi armchairs Classic wicker Malawi armchairs (from Amatuli) are painted in white lacquer for a crisply luxurious touch, and the black and white checked throws come in surprisingly handy when the sun sets and the semi- desert climate turns instantly chilly.
3. Heritage Haven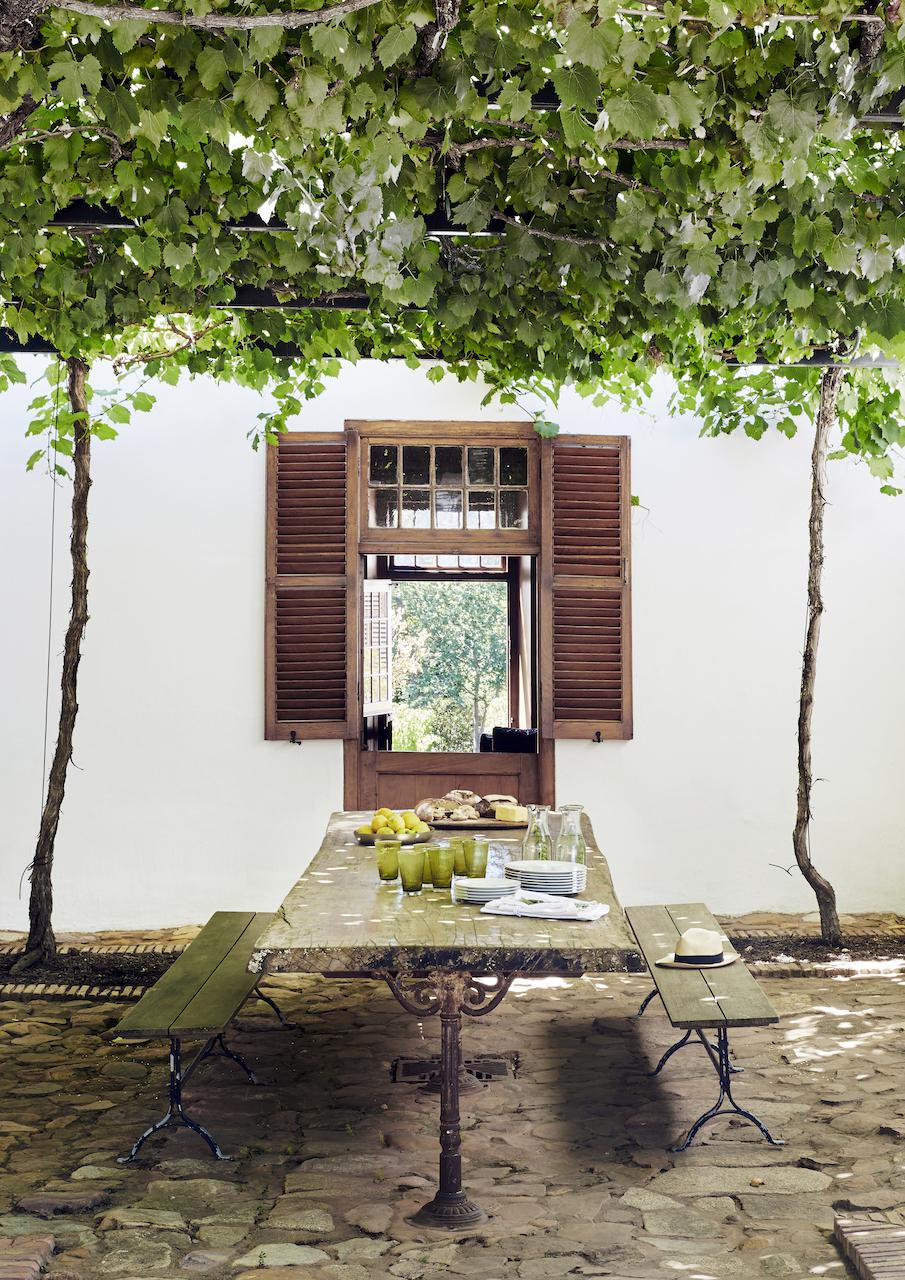 Summer lunches with the family are regularly taken in this alfresco dining area, which is set in the courtyard between the living and kitchen wings of a storied homestead on a Cape wine farm. Shaded by a vine-covered pergola that ensures the space is sheltered from the intense summer heat – and fills it with dappled, green-tinted light – this dreamy space is redolent with heritage elegance.
When it comes to decorating outdoor areas adjacent to a house with a rich history, it's essential to source furnishings that feel as authentic as possible: the well-worn vintage wood and cast-iron table and chairs seen here are the perfect case in point.
4. Perfect Symmetry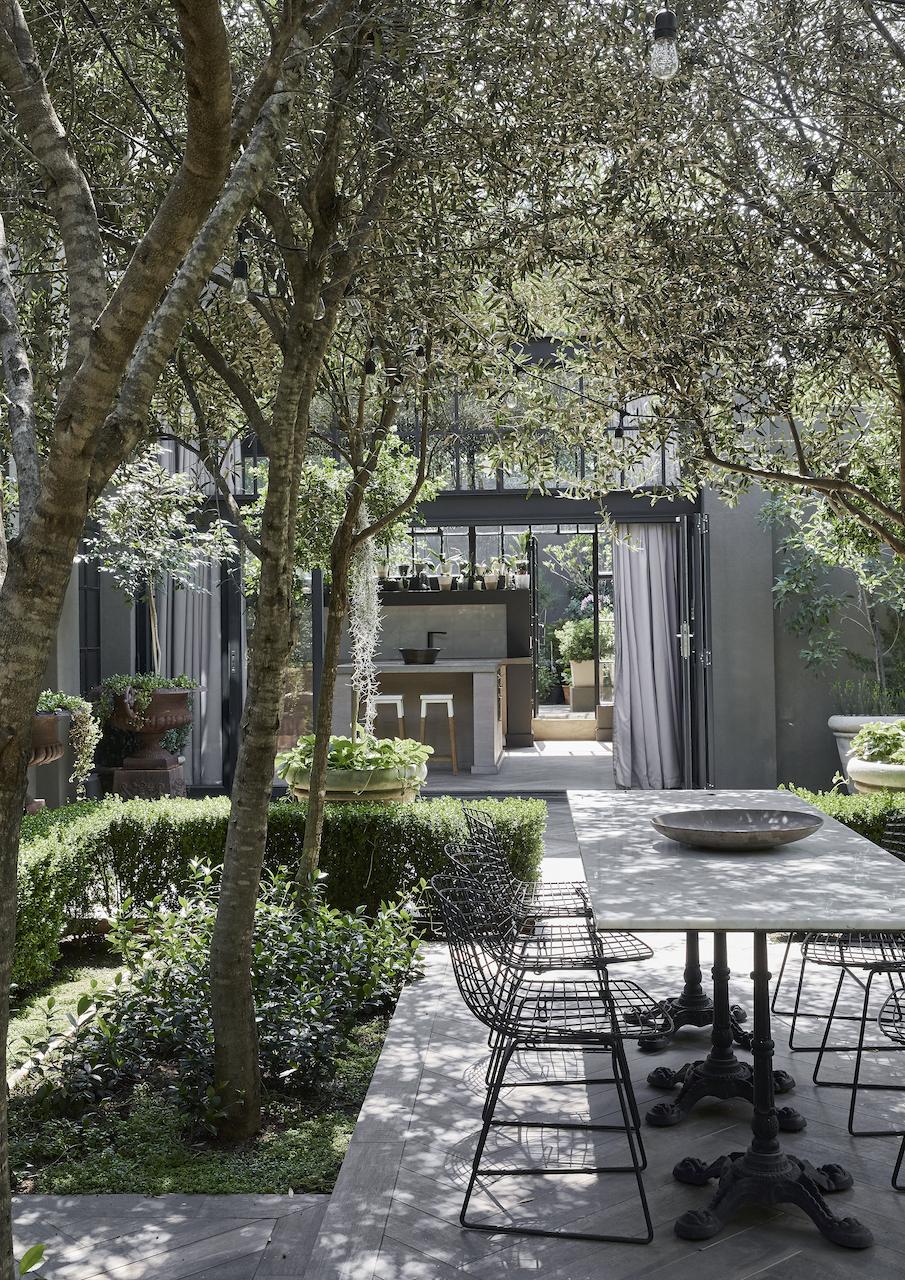 The dark exterior walls of this suburban house work wonderfully to emphasise the lush greenery of the garden, while the formality created by the box hedges and olive trees gives it a timeless quality. The symmetry of the planting means that in spite of being located outdoors, this space really does feel rather like an "exterior room". And when the air is scented with lavender and a family of quails quietly pecking at garden pests close by, the hours simply melt away.
Sleek Harry Bertoia dining chairs – a set of vintage originals that one of the homeowners inherited from her grandfather – are every bit as smart as their setting, while the marble table top is mounted on a pair of classic Parisian café table bases.
5. Case In Stone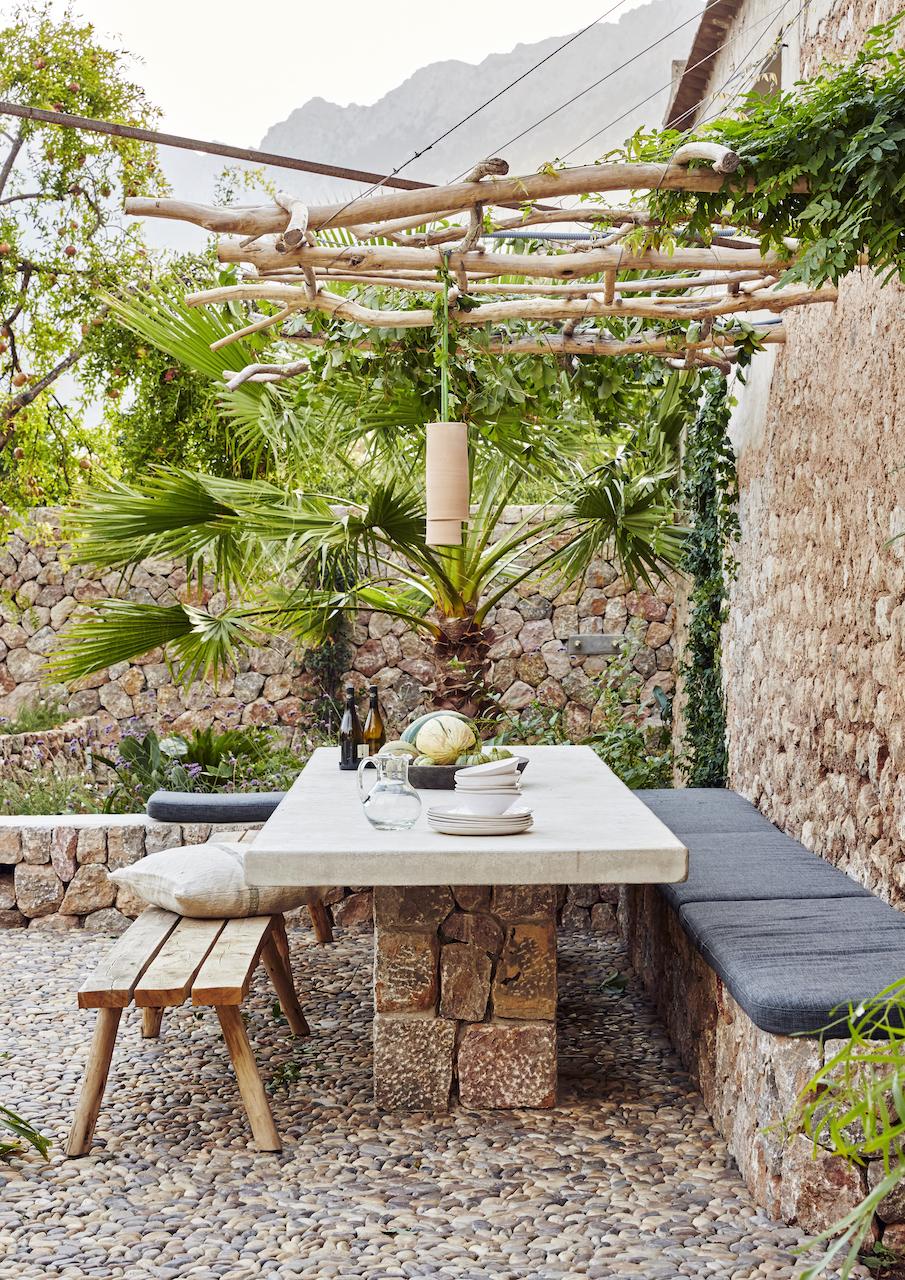 At this Mediterranean holiday home, the outdoor living area is a study in texture: natural stone, poured microcement, timber, river pebbles and a variety of vegetation come together to create an integrated and welcoming space. For alfresco eats, a large cast concrete built-in table is provided, which its designer says will "weather and age so beautifully – in ten years' time it will look even better than it does now".
Additional visual interest comes from a blend of seating options – there's both built-in stone with upholstered seat pads, and a rough-hewn wooden bench – plus a handcrafted wooden pergola above the table that supports more burgeoning plant life, and handmade ceramic tubular lights for after-dark illumination.
6. Good To Gather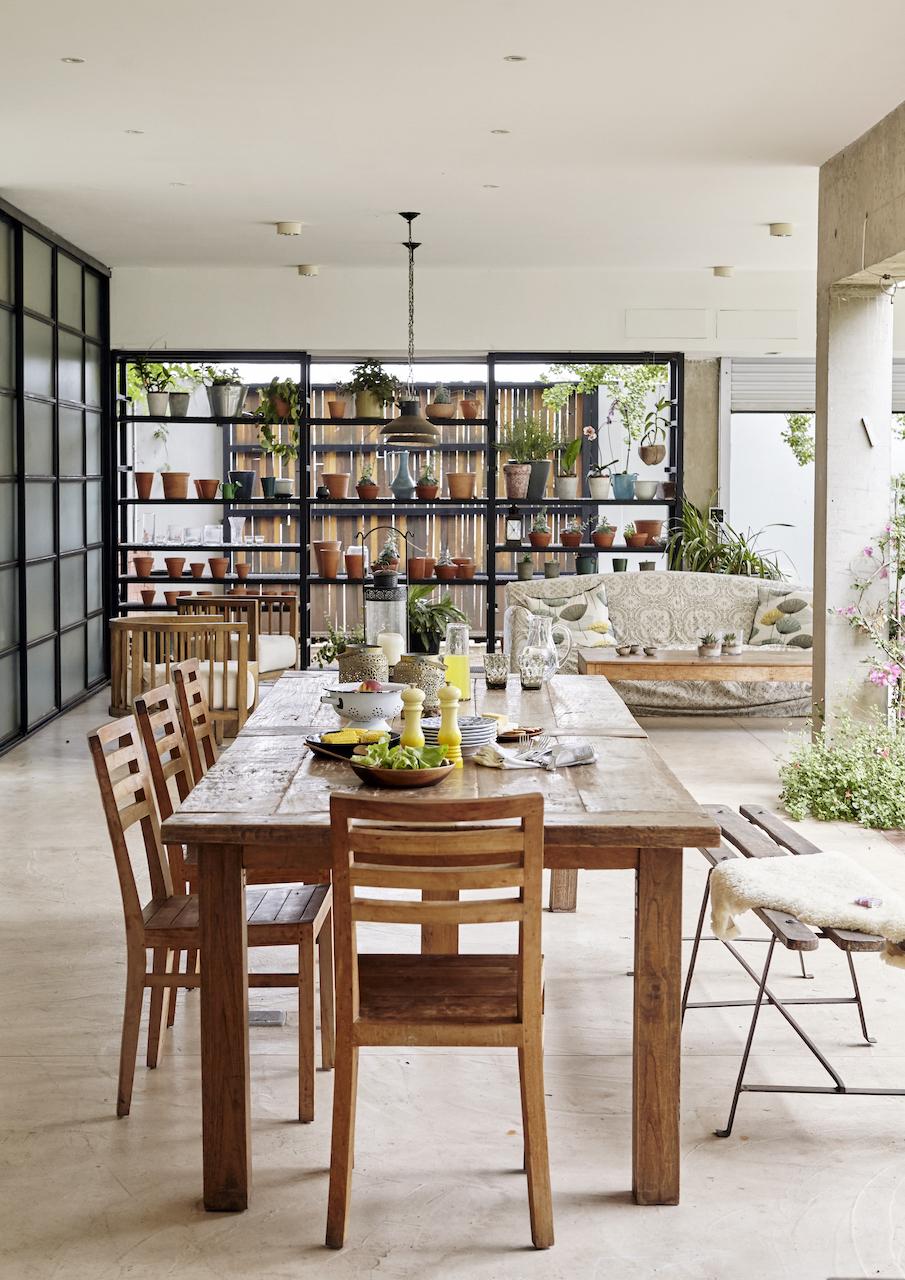 In a climate where year-round outdoor living is very much an option, this large covered patio is in constant use by the homeowners. It's a much-used entertainment area too, with spaces set aside for both dining and lounging. A clean-lined dining table is paired with a mix of simple wooden chairs and a slatted bench, making dining arrangements easy to reconfigure depending on how many guests need to be accommodated.
Making this outdoor space feel even more intimate and room-like is the custom- made shelf-cum-screen – created by Anatomy Design – which holds a fresh mix of pot plants and collectable ceramics, at its far end.
7. A Vine Time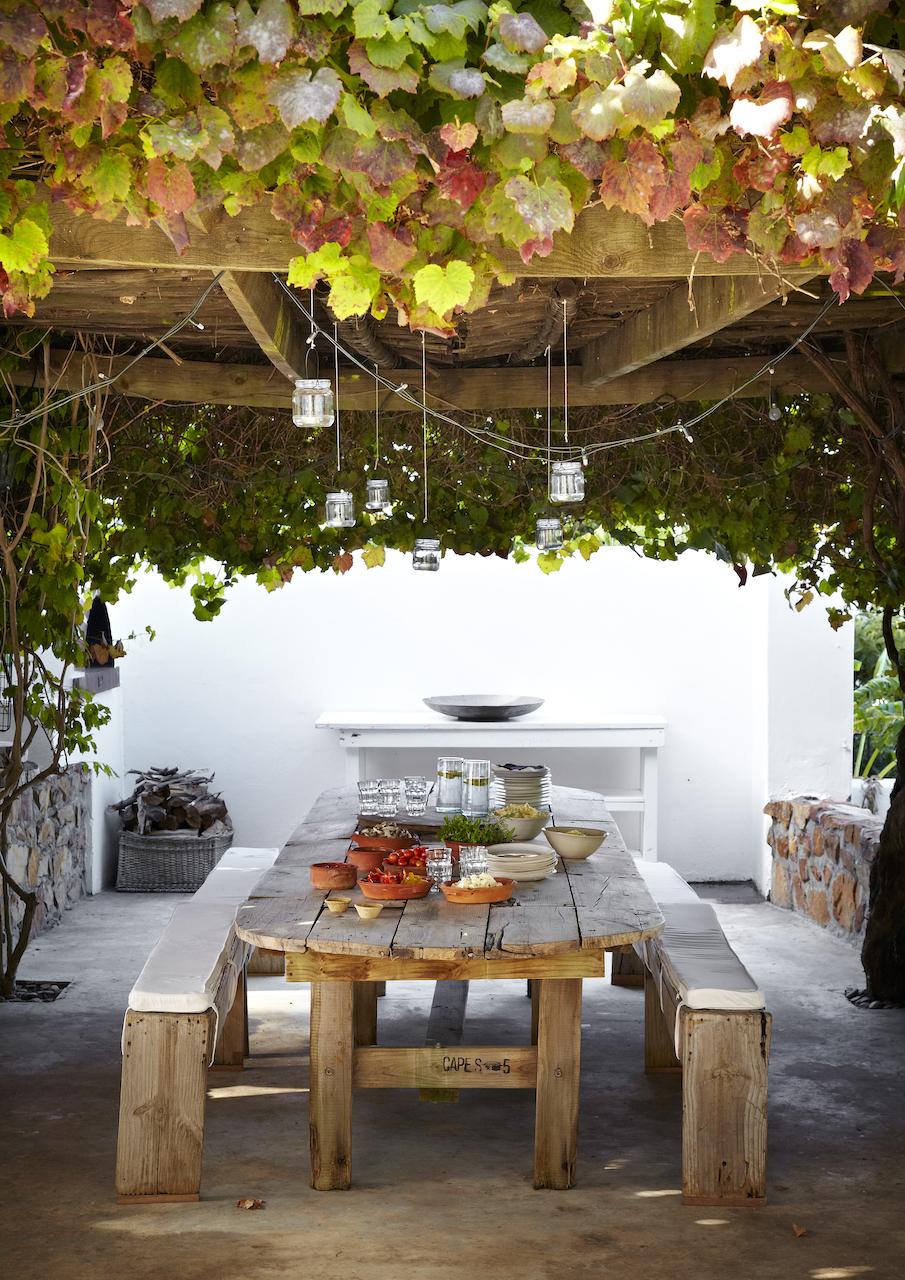 The stylish owner of this historic villa says its outdoor living area – which features a swimming pool as well as this delightful vine-covered gazebo – is like "having an extra room". And located close by is a wood-burning oven that's as perfect for pizza-making as it is for a long, slow roast. Situated at the heart of a large, lush garden that includes mature trees, water features and vegetable boxes, this space is all about rustic charm.
This simple table and benches were made by the homeowner's husband using upcycled wood from a renovation project, and can easily be reproduced by a good carpenter. Glass preserve jars filled with candles provide illumination at night.
8. White Light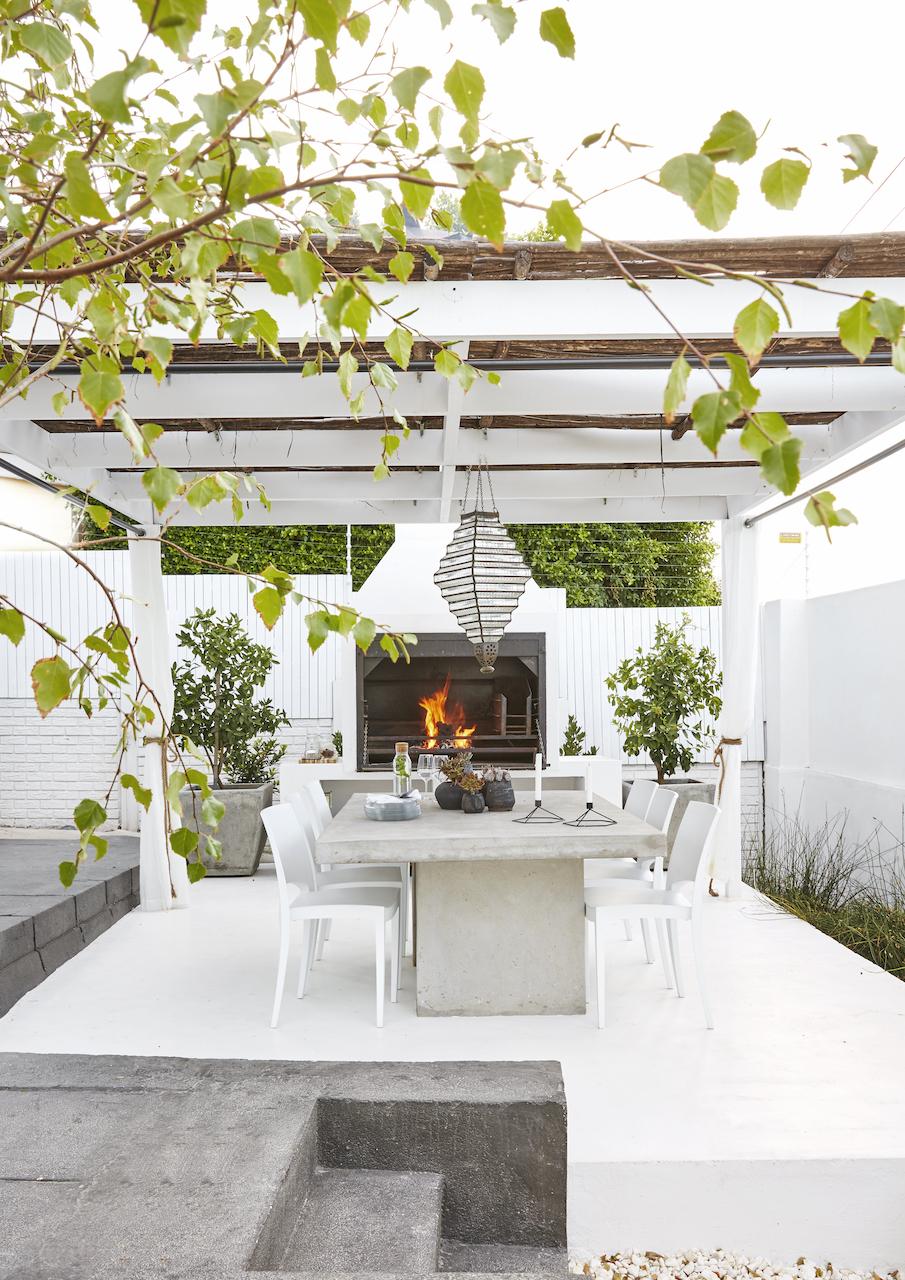 This formerly forgotten urban backyard was transformed into a sun-splashed, terraced garden – and outdoor cooking and dining area – that has since been the setting for many a party on weekend afternoons. Its renovation, which was accomplished on a strict budget, included adding a built-in barbecue and creating a shaded dining zone. Painting the floor a crisp white has also added to the box-fresh feel of the space.
The built-in concrete table will age well – and pair with seating of a variety of styles as the owners choose to ring the changes in future – while the simple current dining chairs and a smart monochrome pendant light fitting finish off the casual feel perfectly.
9. Tree Tops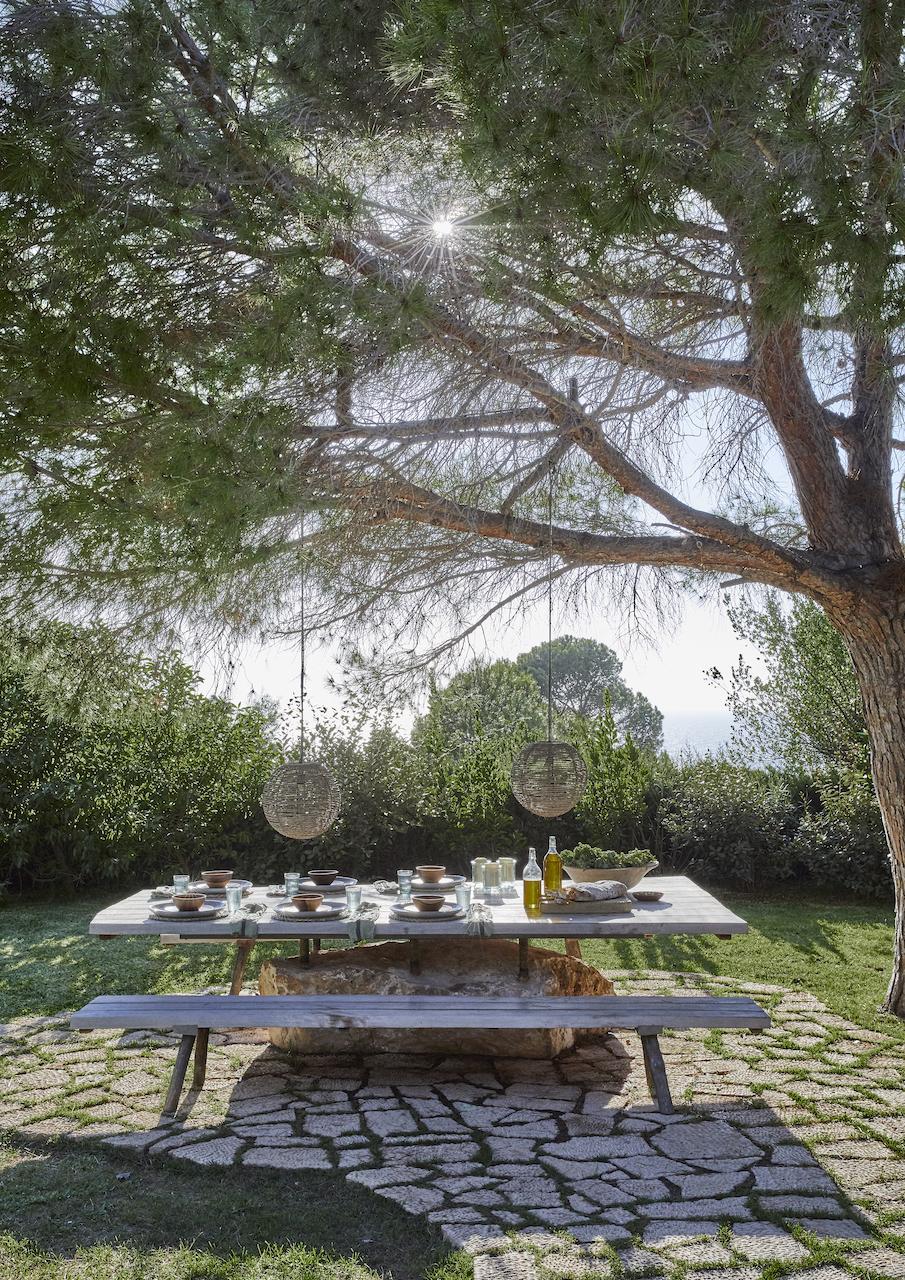 Tucked discreetly away behind a stone wall in a lush, landscaped garden, this island holiday home is a perfectly private retreat for its celebrity owners, who love to linger over meals in this outdoor dining area. The tranquil scene is completed by a pair of pendant lights sourced by the homeowner and hung from the branches of the tree that shades the space during the day.
The statement dining table was created by More Design, who also renovated the property. Cofounder Oro Del Negro says, "We found this magnificent rock while excavating the house's foundations, and kept it to "float" a teak wooden top onto it."