Art Basel and Art Central are due to descend on Hong Kong in the next two weeks, bringing with them a heightened frenzy of art buying, selling and appreciation. However, with most of the headline action confined to within these two heavyweight occasions, it's easy to forget the hum of activity that takes place apart, in hotspots across the city. We've rounded up 8 notable satellite events happening concurrently that add all the more depth to the art-going experience.
See more: What to expect at Art Central 2018
Expanded Portrait Compositions by George Condo
This exhibition holds special importance as American contemporary artist George Condo's first solo show in Hong Kong. Taking place inside the Maritime Museum and presented by Skarstedt and Sprüth Magers galleries, the exhibition will be comprised of 8 new canvas paintings and 5 new works on paper that display the artist's unique method of integrating myriad techniques of drawing and painting into singular artworks.
Hong Kong Maritime Museum, 27 March – 6 April
Déjà Vu by OSGEMEOS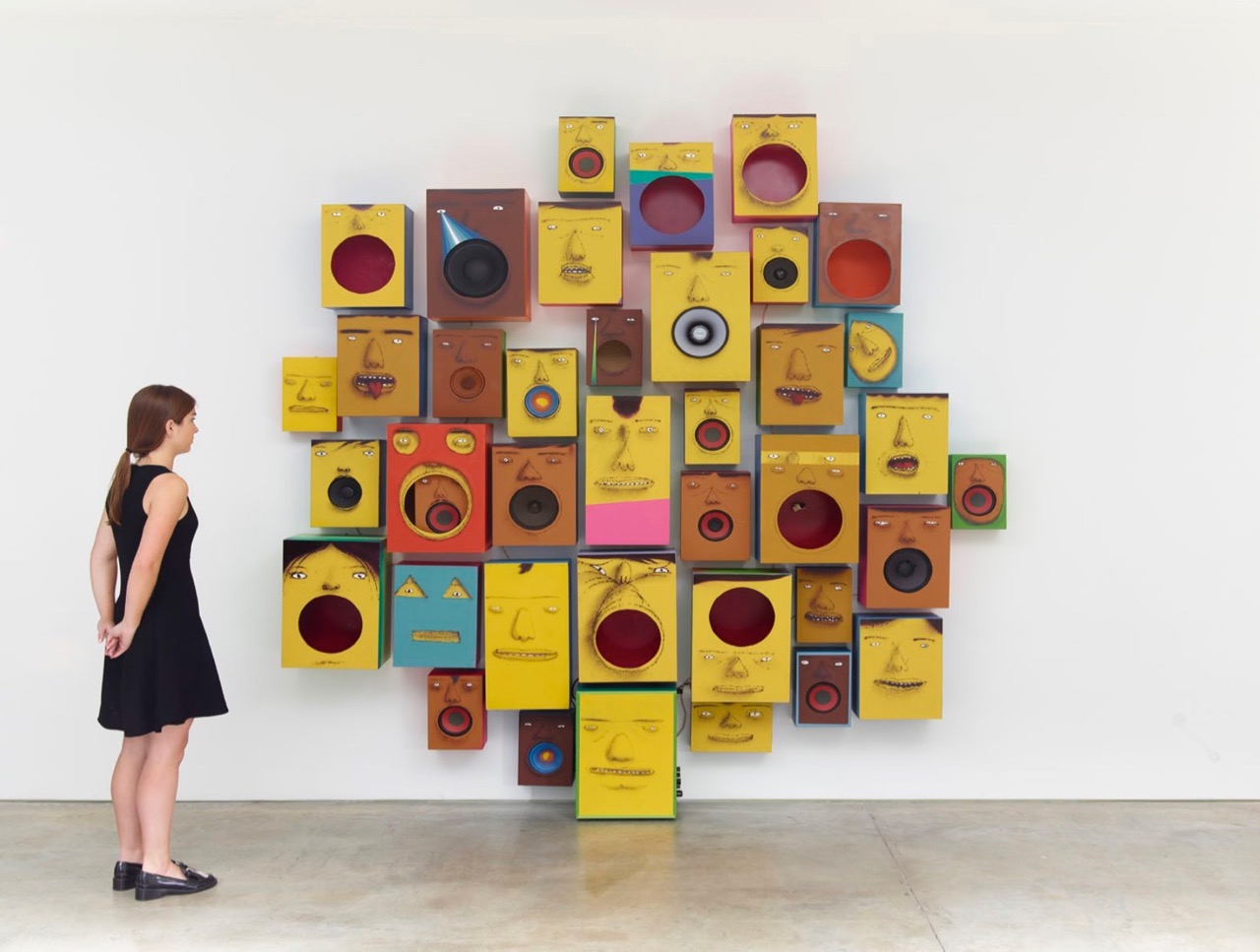 Brazilian street art duo OSGEMEOS will also be hosting their first solo show in Hong Kong at the Lehmann Maupin gallery. Best known for their large-scale, hip-hop-influenced murals decorating public spaces across Europe, South America and the U.S., twin brothers Gustavo and Otavio Pandolfo are presenting a body of work this time around that encompasses a fully immersive, dreamlike space that pays tribute to the golden age of hip-hop with a mixed media sound installation.
Lehmann Maupin, 26 March – 12 May
To An Infinite Ascendence by Hsiao Chin
Known in Asian art circles as one of Taiwan's most important post-war artists, Hsiao Chin's vibrant, abstract compositions seamlessly incorporate Eastern metaphysical and philosophical theories into Western artistic sensibilities. His latest show takes place at 3812 Gallery and pulls notable works from Hsiao's body of work since the 1960s. Predicated upon art as meditation, expect a calming and, if you're lucky, transcendental experience when absorbing the artist's celestial forms.
3812 Gallery, 16 March – 12 May
LOVE Long by Robert Indiana
American pop artist Robert Indiana's LOVE sculpture in New York City is without a doubt one of the most iconic sculptures the world over, and a variant will be on display at the Asia Society as part of the LOVE Long exhibition. Along with 7 other works by Indiana, the show also encompasses works by eight Asian artists and collectives, curated by Dr. Miwako Tezuka as an investigation into the power of language and its tenuous connection to images.
Asia Society, until 15 July
Spiral Scratch by Jim Lambie
Turner Prize-nominated Scottish artist Jim Lambie presents his largest floor installation to date, and possibly in all of Hong Kong over the next two weeks, in the form of Spiral Scratch. Spanning the entire floor space of the Garden Court atrium in Pacific Place, the ambitious piece combines two of Lambie's previous works – The Strokes and Shaved Ice – into an installation that is comprised of coloured ladders rising out of a cross-hatched monotone floor pattern, making for a slightly surreal spatial experience that interacts with the flow of public movement.
Pacific Place, 19 March – 8 April
Miwa Komatsu at Whitestone Gallery
Having been identified as an up-and-coming artist for several years in the Japanese art scene, Miwa Komatsu and her otherworldly Guardians series are due to make a splash in Hong Kong with the young Nagano native's first solo show in the city. Incorporating dynamism into her works through live painting, Komatsu's depictions of traditional Japanese spirits and ghosts are imbued with an otherworldly mystique, reflective of the artist's seemingly heightened sensitivity to the supernatural realm.
Whitestone Gallery, until 1 April
Standing on the Edge of the World by Sean Scully
Best known for his distinct abstract compositions of layered horizontal lines, Dublin native Sean Scully brings his artistic investigation of the essence of 'edges,' and of the relationship between the built environment and nature to an exhibition titled Standing on the Edge of the World at the Hong Kong Arts Centre. Curated by Alfredo Cramerotti, the show is comprised of both large scale canvases and small works on paper, as well as supplemental photographic prints.
Hong Kong Arts Centre, 28 March – 29 April
Contamination by Antoine D'Agata
The CHARBON art space in Wong Chuk Hang is featuring the work of Magnum art photographer Antoine D'Agata this month. Titled Contamination, this solo exhibition explores the various underworlds that D'Agata has documented for the past 30 years, providing a no-holds-barred look into the darkest depths of the human psyche as told through the medium of photography.
CHARBON art space, 30 March – 25 May
The post 8 satellite shows not to be missed during Hong Kong Art Week 2018 appeared first on Home Journal.