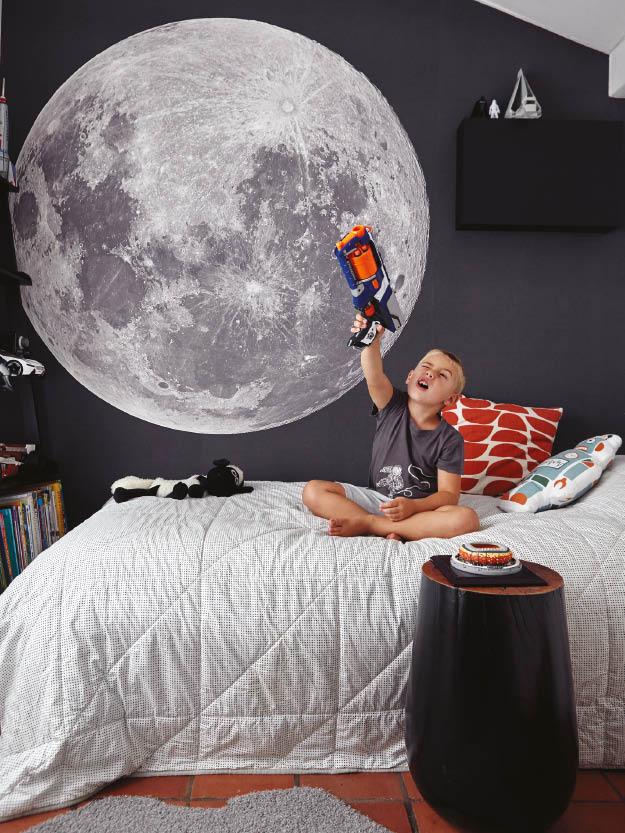 1. TO THE MOON AND BACK
A child's room does not have to be elaborately or expensively decorated to be inspiring. Something as simple as an oversized map of the world, a ceiling filled with glow-in-the-dark star or dinosaur stickers or an XXL moon decal is enough to spark big dreams in little people.
IDEA: Throw something quirky into the decorative mix – an unusual light, a patterned or textured rug or unique side-table (in this case a carved and painted tree stump).
Don't shy away from a darker palette in a child's bedroom. Particularly in the case of a smaller space, moody shades such as charcoal, inky blue and deep forest green will impart a cosy and restful atmosphere.'

Select shelving and storage that allows easy access for kids to their toys and books as well as affording them an opportunity to display favourite items.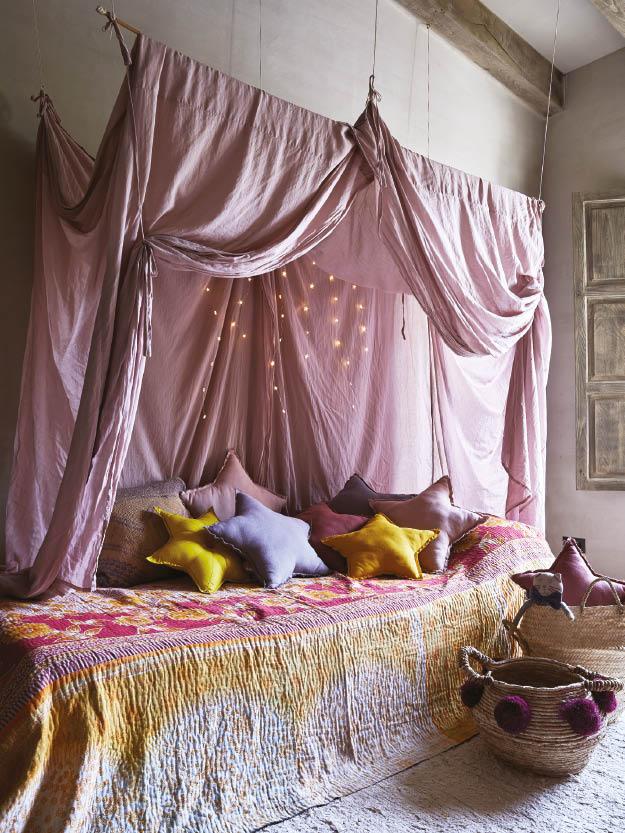 2. SWEET DREAMS
Kids will be kids and that means the customary 'but I'm not tired' grumble. An inviting bed should help even the odds in your favour. A rustic ceiling-hung structure made from latte poles and linen transforms a bed into a magical den. Don't forget the fairy lights (battery-operated is always best for a child's room).
Child-friendly doesn't have to mean childish. In this space, the bohemian bedding and simple daybed-inspired configuration will remain timeless as the child grows, eliminating the need (and expense) of continuous redecorating. Changing the look as kids mature is easy to do with accessories such as scatter cushions, lamps and cheerful art.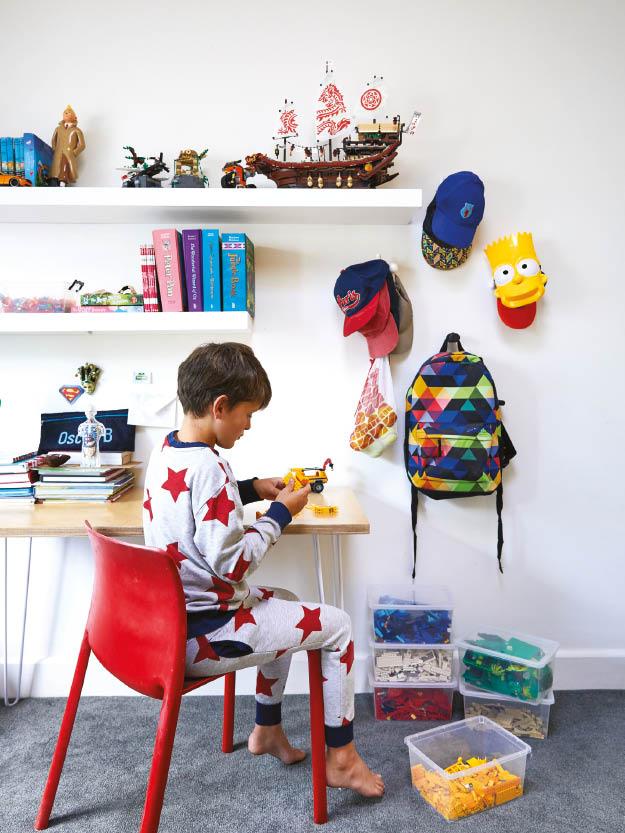 3. STORED & ORDERED
Make a design feature out of toys, figurines and books by leaving them on display – a great way to reflect the little occupant's personality.
IDEA: Wall hooks keep any space tidy and make a feature out of cool peak caps, character masks and school backpacks.
Chunky floating shelves are well suited to a kid's bedroom as well as small areas where floor space is at a premium. Place the shelves slightly asymmetrically for a more playful appearance.

Pay careful consideration to furniture in a child's room – a lightweight, piece such as this hairpin leg desk looks appealing to a child and has a contemporary character that will grow with them into the teenage years. A fun plastic-moulded chair adds a pop of colour.

Clear storage boxes are invaluable in keeping playthings together and make the contents immediately identifiable to kids.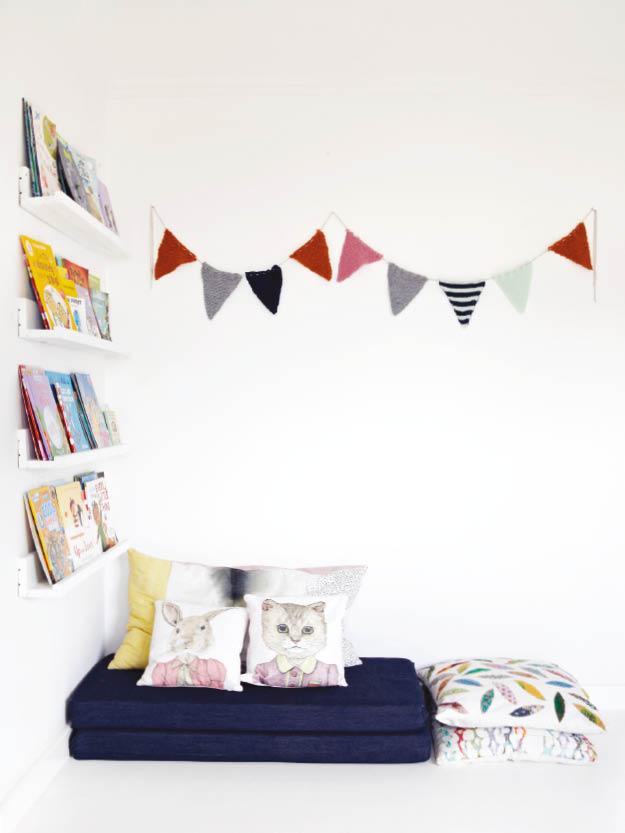 4. BOOK NOOK
Take inspiration from children's library displays and include front-facing shelves – ready made or bespoke – in your child's bedroom or play area. This is an especially sensible choice for young readers who rely on visuals rather than words to seek out their favourite books. The bonus is you can make a decorative feature of attractive book covers.
IDEA: Wooden spice racks are a clever and cheap substitute for floating shelves. Give them a coat of paint before mounting on the wall.
Here, simple floating shelves have been made from upcycled wooden planks. Leave them white or paint in bright shades for a pop of stimulating colour.

Encourage their reading habits by establishing a cosy corner for kids to lounge around. Denim-covered foam mattresses make for inviting floor cushions that are also hard-wearing enough for rough-and-tumble play or can be moved outside onto the grass for a spot of peaceful cloud gazing.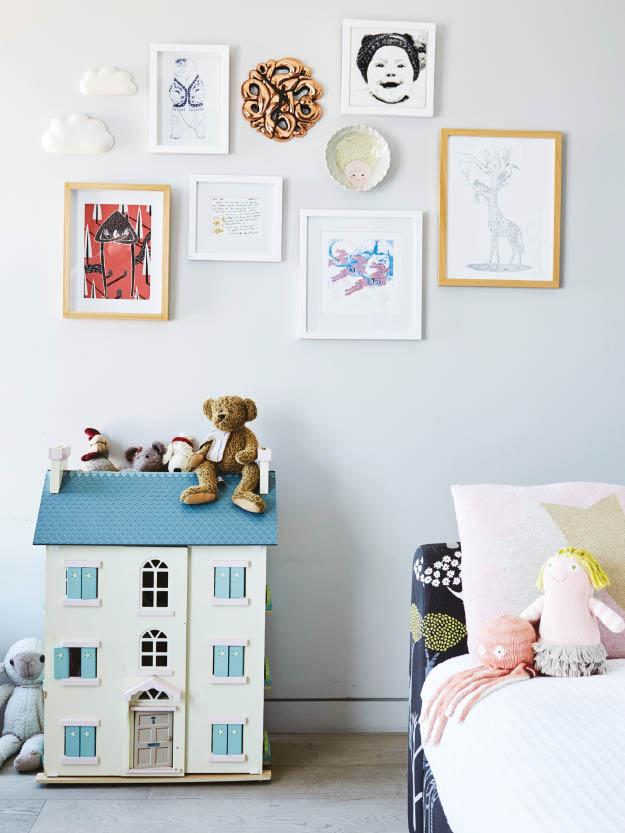 5. STATE OF THE ART
A gallery wall is creatively stimulating and engaging – the perfect finishing touch for a stylish kid's habitat.
IDEA: Don't shy away from more grown-up fabrics and striking patterns in a child's room – the floral print and black background of this upholstered bed, for example, adds a touch of sophistication and will not need to be replaced in later years. The dark fabric also acts to visually anchor the light-filled, pastel hued space.
A gallery-wall can include framed prints, pretty plates and ceramics, decorative tiles, lettering and symbols, eco-friendly trophy heads, fairy lights or battery-operated marquee lights as well as postcards stuck up with washi tape.

On a budget? Scour the Internet for free-to-use printable imagery as well as vintage advertising or graphic-, contemporary- and classical works of art that would suit a child's room that is in the public domain.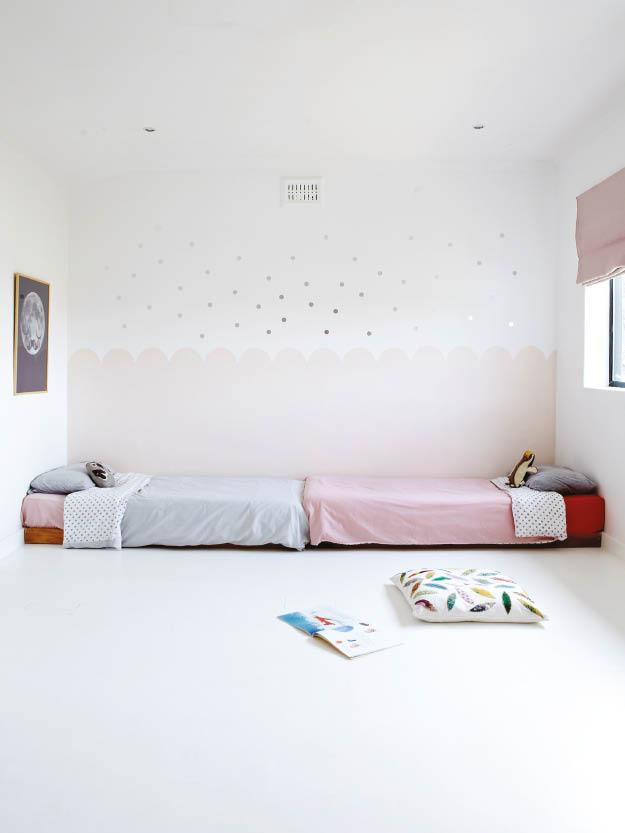 6. SEEING DOUBLE
Whether your kids share a bedroom out of choice or necessity it usually translates to double the clutter so aim to keep things pared-down and practical without feeling austere.
IDEA: Children love being on the floor – whether it's to roll around, do handstands, or set out their playthings. Always try and leave them enough floor space to do so.
Toe-to-toe beds will enhance a sense of comfort as well as independence.

A low-level bed is safe for kids and easy to climb in and out of. These beds have been raised slightly off the floor on utilitarian bases made from sanded and varnished builders palettes. As well as preserving the life of mattresses, putting the beds on palettes gives the room a more finished, thought-through appearance.

A two-tone wall featuring a minimalist mural in a calming pastel tone adds character, while polka dot wall decals brings the fun and sparkle.

Plain mix-and-match bedding that plays with the colour blocking trend looks super modern. Layer for interest with patterned scatter cushions and wall prints.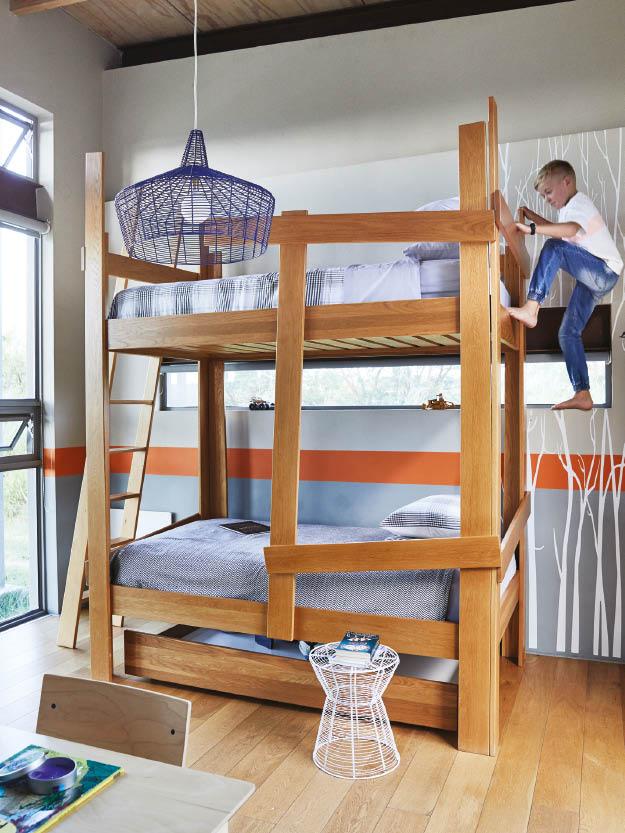 7. SOCIAL CLIMBER
A bunk bed is a win-win – kids love the idea of sleeping on one and parents benefit from the functional use of floor space and built-in storage.
IDEA: Clip-on task lights are a flexible choice for bunk beds, give kids a sense of security and will hopefully encourage lengthy reading sessions.
If you are having a bunk bed specially built, adapt the format by incorporating a built-in homework desk and book shelves.

Don't be afraid to steer away from a predictable kids' colour palette. If you are opting for hues that integrate with the rest of your house, be sure to add pops of colour and graphic elements such as wall decals or posters.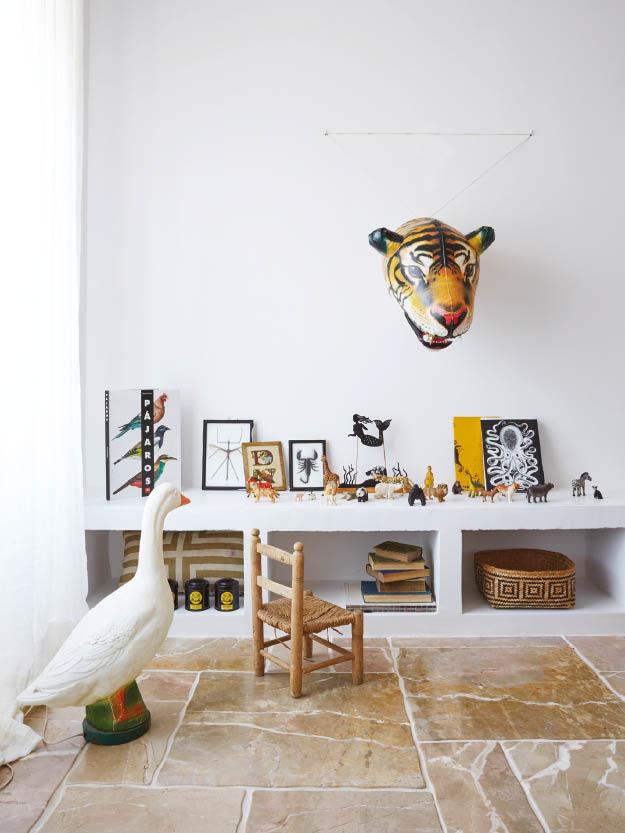 8. EASY TIGER
Children love a place to belong, particularly in traditionally 'adult' spaces such as the living room or study. By allocating them a corner of where the grown-ups hang out makes them feel valued and respected – not to mention allowing you creative license in introducing quirky, playful elements.
IDEA: Whimsical elements such as decorative (cruelty-free) trophy heads, cool art prints, oversized figurines and miniature furnishings will signify that this area is a kid-friendly zone.
Create extra space for storage and the display of kids' paraphernalia (as well as yours) by integrating shelves, surfaces and nooks into your architecture or use floating shelves, storage cubes and industrial lockers as quick-fix solutions in existing spaces.

Baskets, cute storage containers and boxes are perfect for keeping small toys, stationery and playthings in check.