With a successful trading business under their belt, Andy and Karen, an adventurous couple residing in Tai Po, enlisted Hong Kong-based interior design firm Hintegro to realize their sought-after private escape. Hintegro's founder and interior designer Keith Chan expresses, "the couple's wish was to surround themselves with some of their favourite journeys around the globe in order to create a private respite they can return to every day."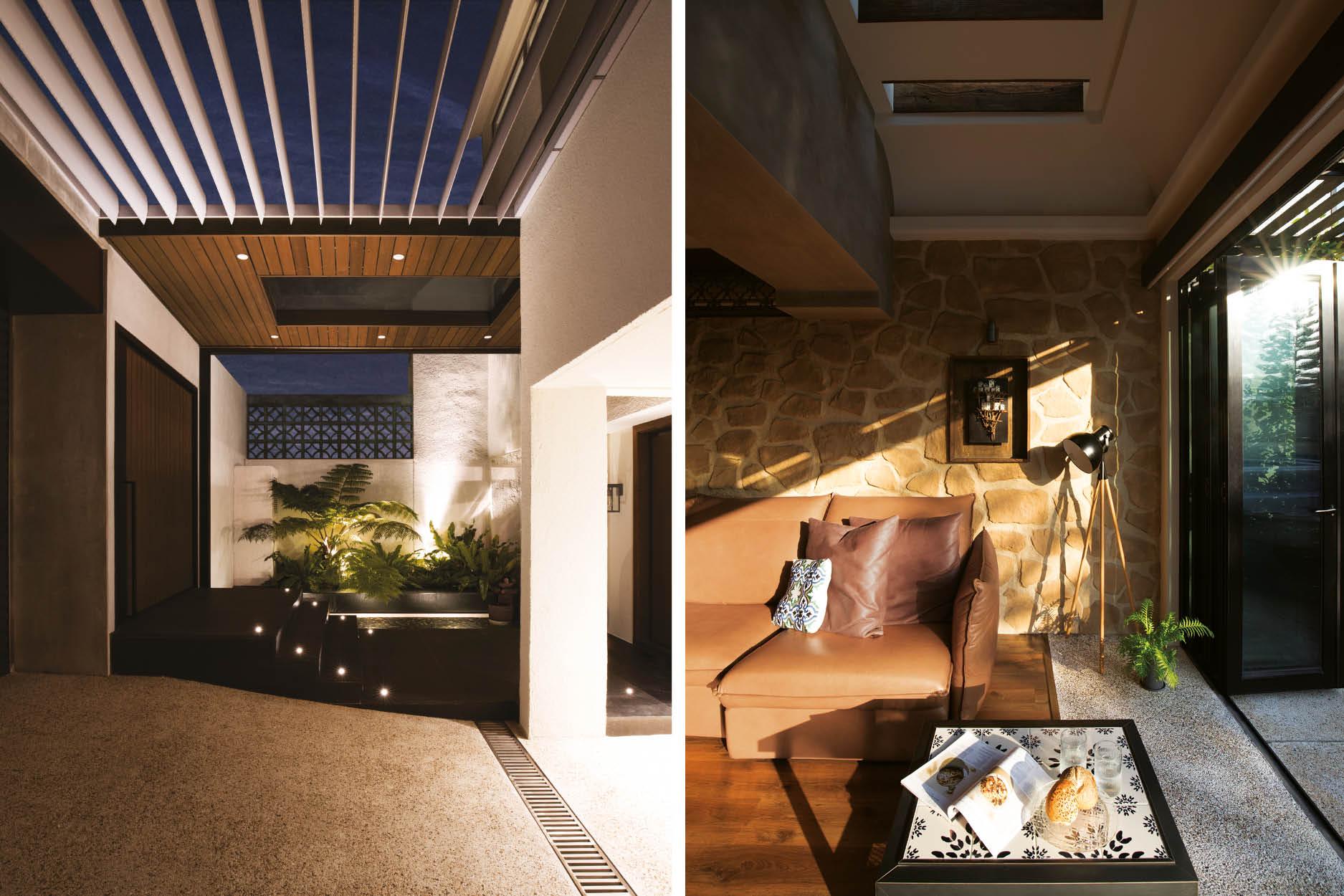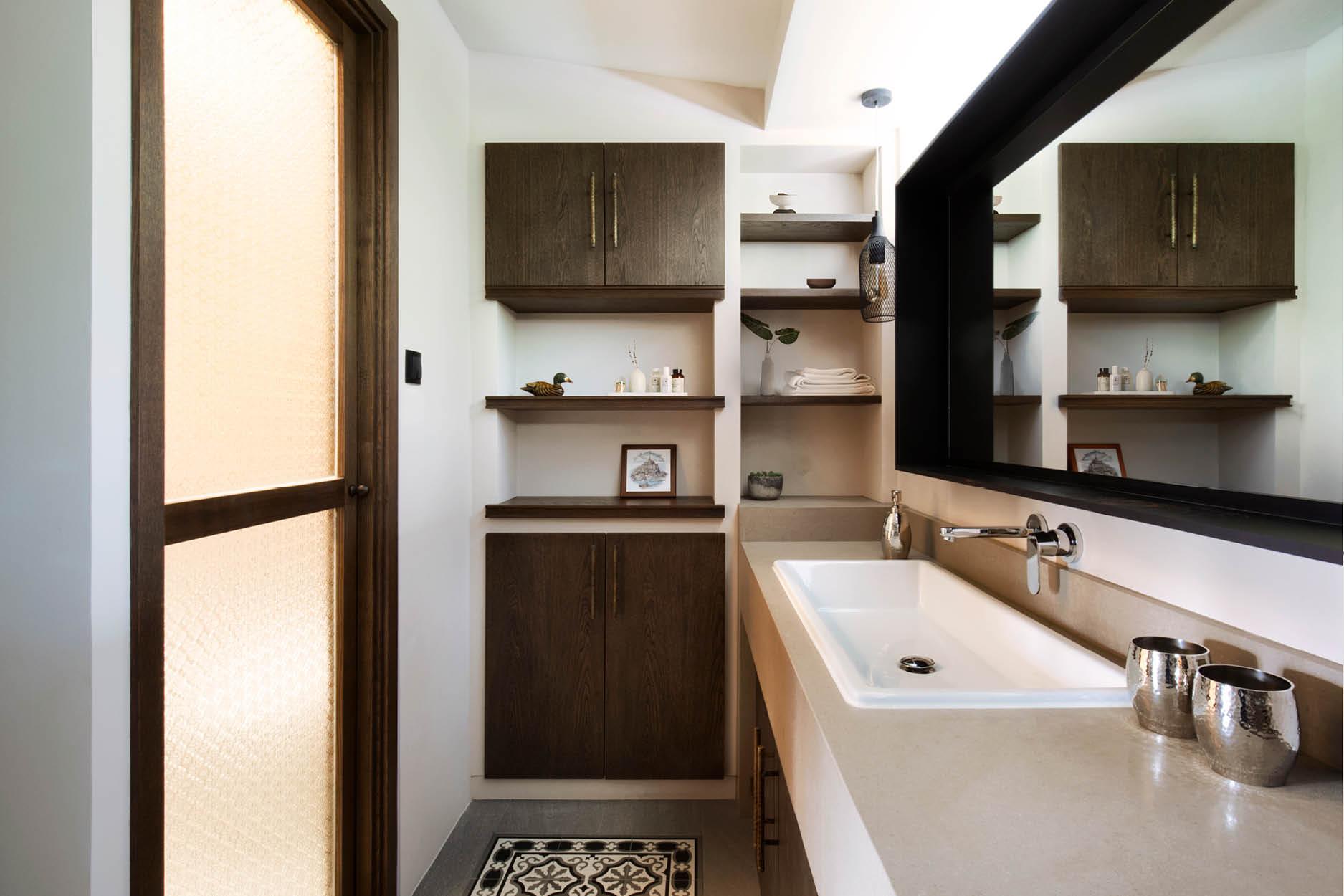 While Andy wanted to achieve a fantastical vibe that he and Karen experienced in places such as Morocco and Southern Italy, as well as incorporate aesthetic details they obtained from trips to Spain, Portugal and Japan, Keith decided on a nature-inspired approach to tie all the elements together and create an exotic refuge. "The homeowners adore raw textures and imperfect beauty made possible through meticulous execution," Keith continues. "We also carefully interweaved touches of rustic European flair that are reminiscent of their travel experiences throughout the residence." A decorative scheme composed of materials such as cement, stone and metal became the natural options to create Mediterranean flair in this liveable yet refined retreat. Scroll through the gallery below (Photography by Keith Chan) to experience the design: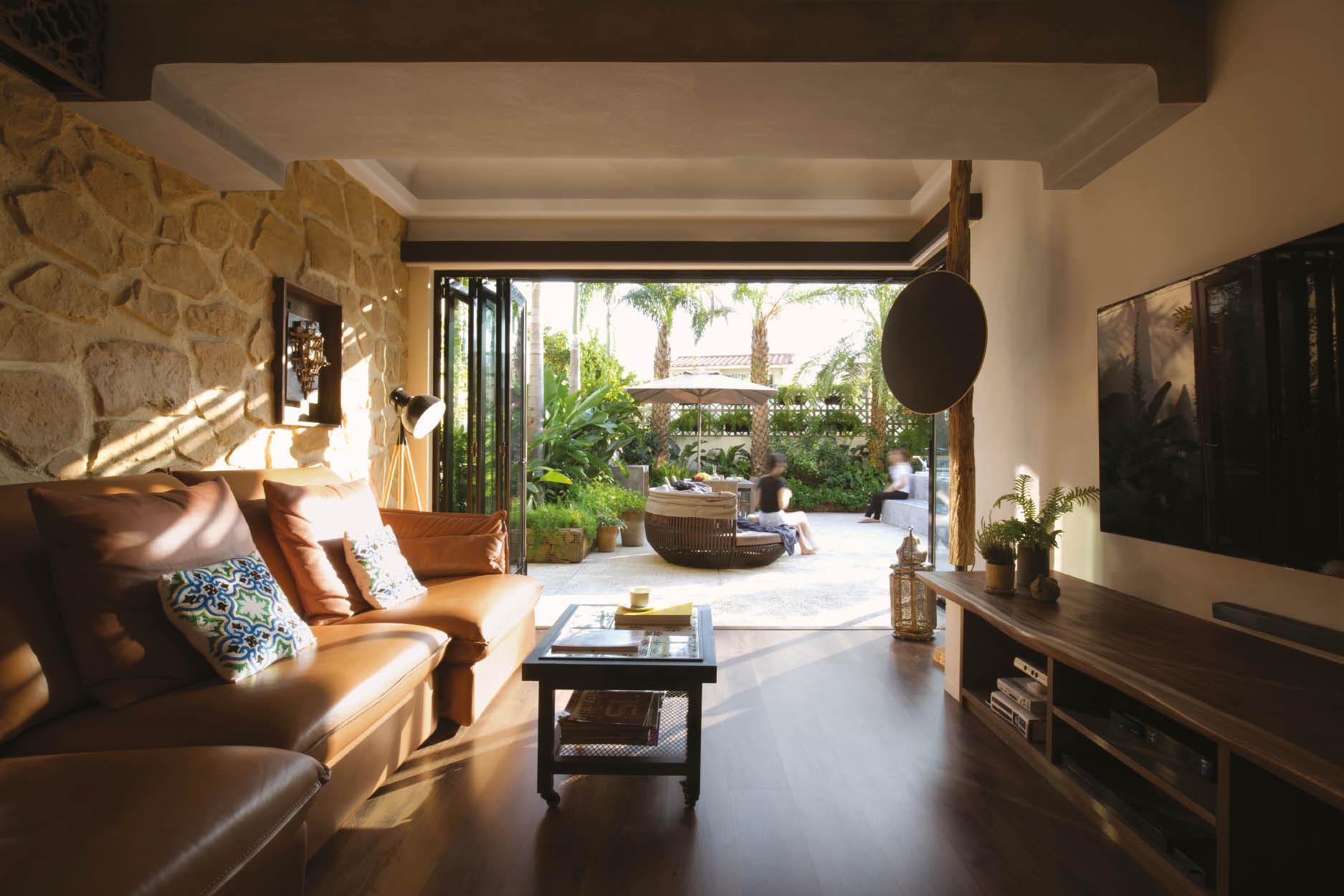 A sense of arrival is achieved through the swivel main entrance that instantly transports all visitors entering to a land afar. "We felt it was important to create a transition between the usual bustling reality and their hidden sanctuary that leads you through a fishpond, as well as a compact front garden dotted with large ferns and subtropical plants." the designer explains. This is particularly satisfying as Karen has since shared the front garden is Andy's favourite spot to look up at the stars, reflect and watch the fish swim.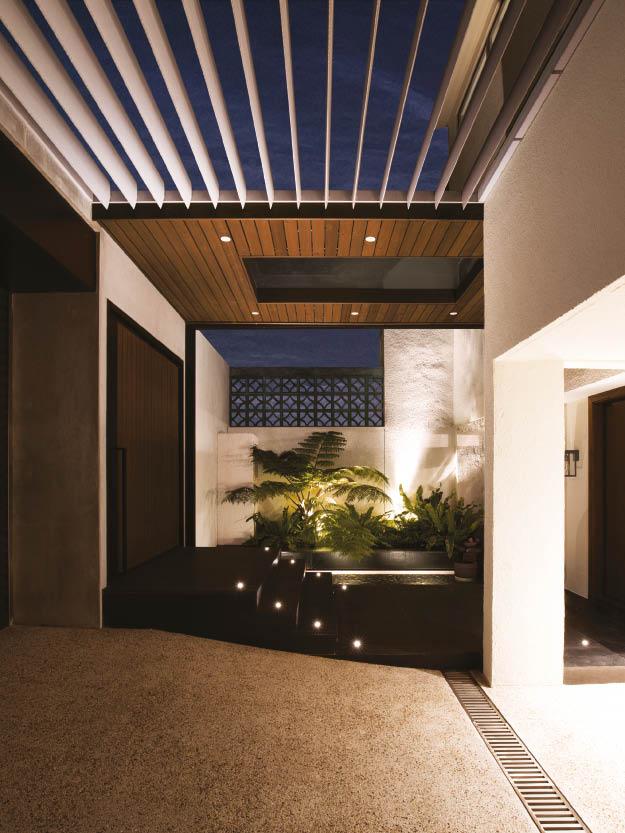 Adding a subtle punch to the home are diversified materials and objects of interest sourced from around the world: a handcrafted copper basin made in Hong Kong, reclaimed old ship wood from mainland China and Portuguese-inspired ceramic tiles from Macau.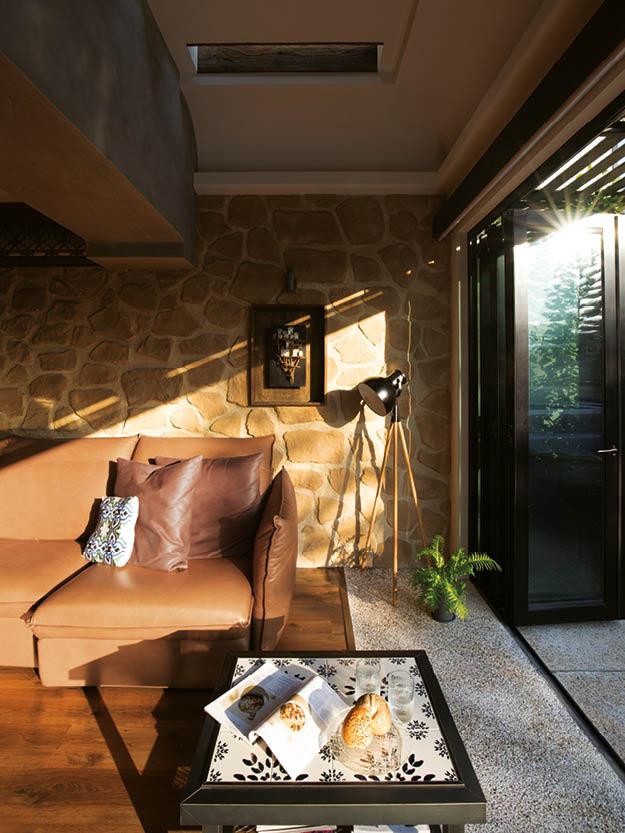 A decorative scheme dominated from a neutral palette and natural materials successfully blurs the boundaries between the transformative dining/living area and an outdoor garden.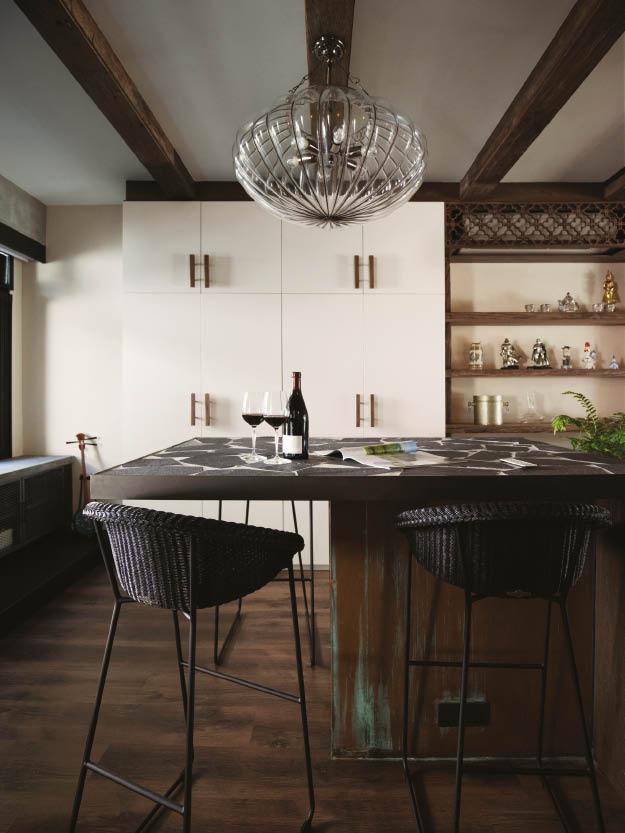 Enhancing the organic appearance, the living area features a distinctive ceiling lined by elm beams, and behind the sumptuous sofa is an exposed stone wall that adds authenticity to the entire atmosphere.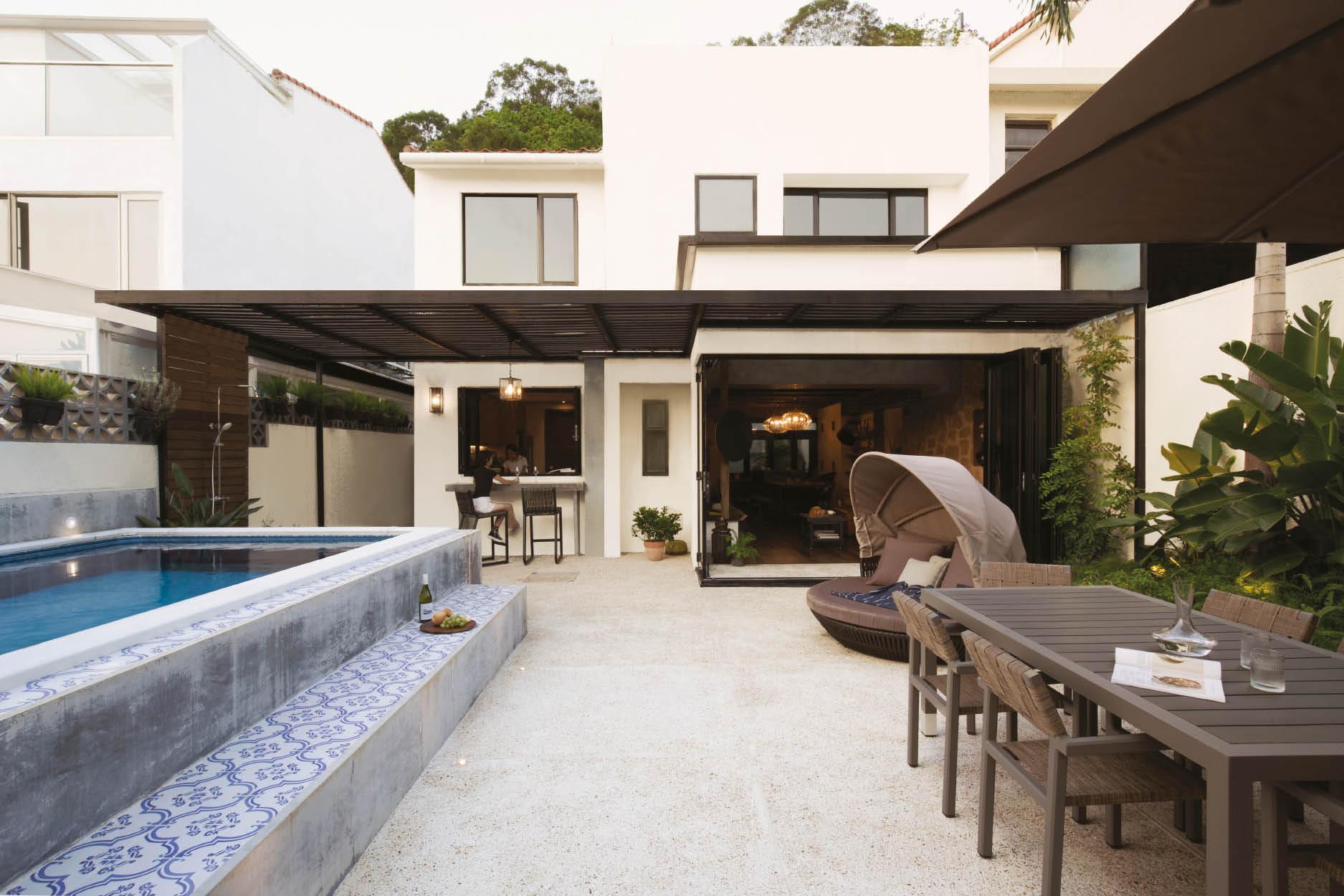 Passing through a retractable screen door, you will be greeted by a serene haven perfect for barbeques and al fresco dining. An innovative piece of aquatic fitness equipment is placed at the bottom of the swimming pool to create 'an endless treadmill' for discerning exercise buffs.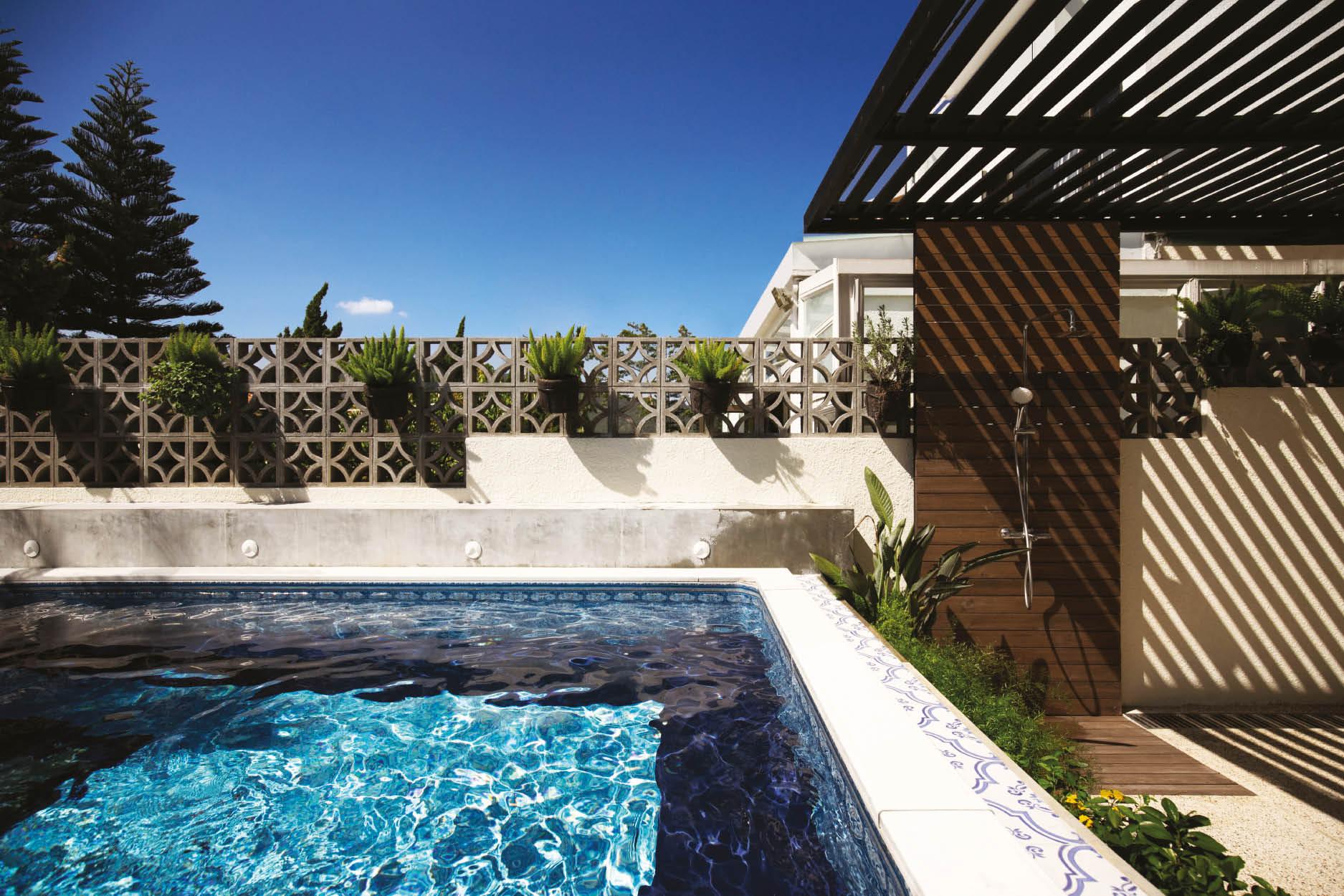 While the residence feels open and airy with a swimming pool and an outdoor barbecue area, the designer has carefully curated organic dividers to ensure utmost privacy.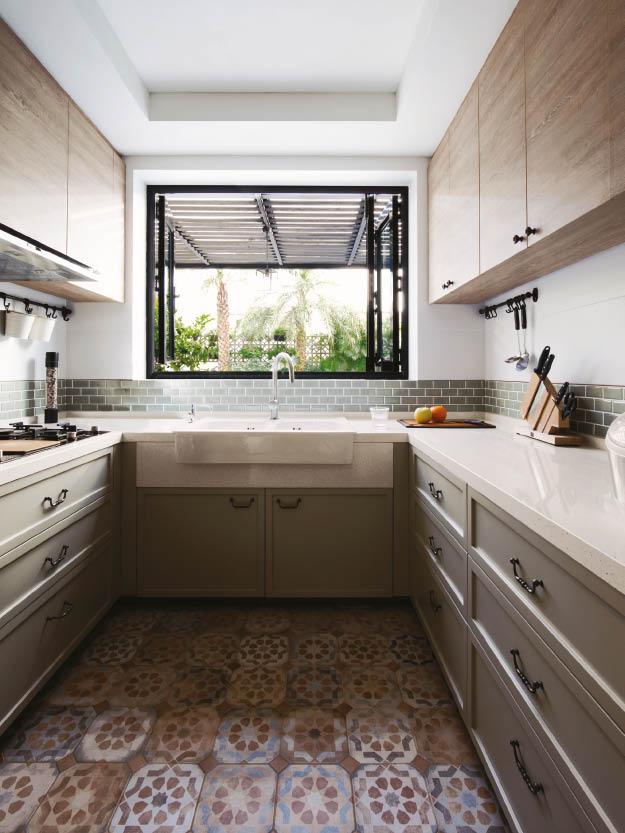 Blessed with abundant of natural light, each room and corner of the house gives a feeling of spaciousness and is served as a bridge to connect with the nature.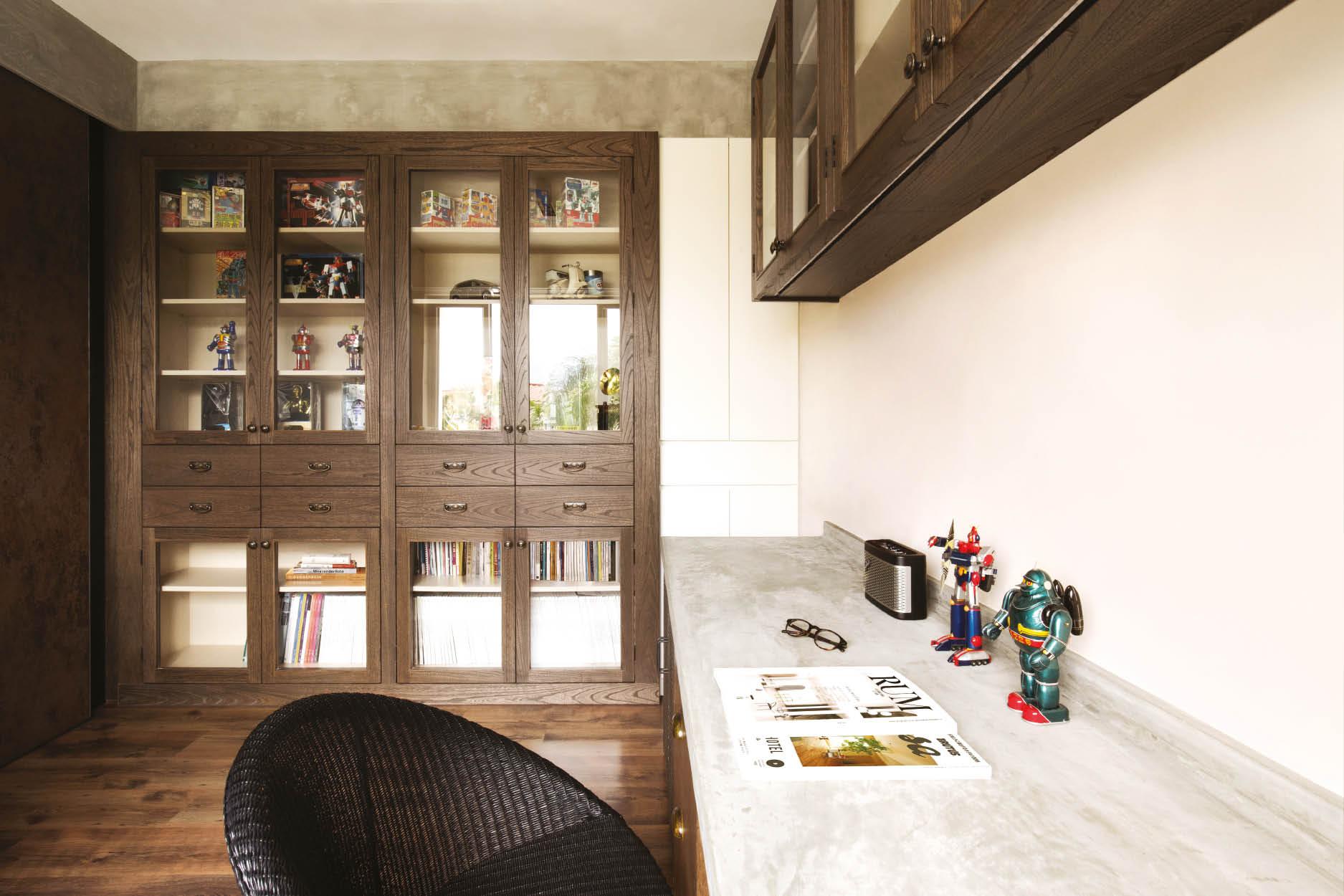 Meanwhile, generous sized windows have been installed throughout the three floors to bring in natural scenery and sunlight, as well as ceiling fans in favour of air conditioners which the couple found obstructing.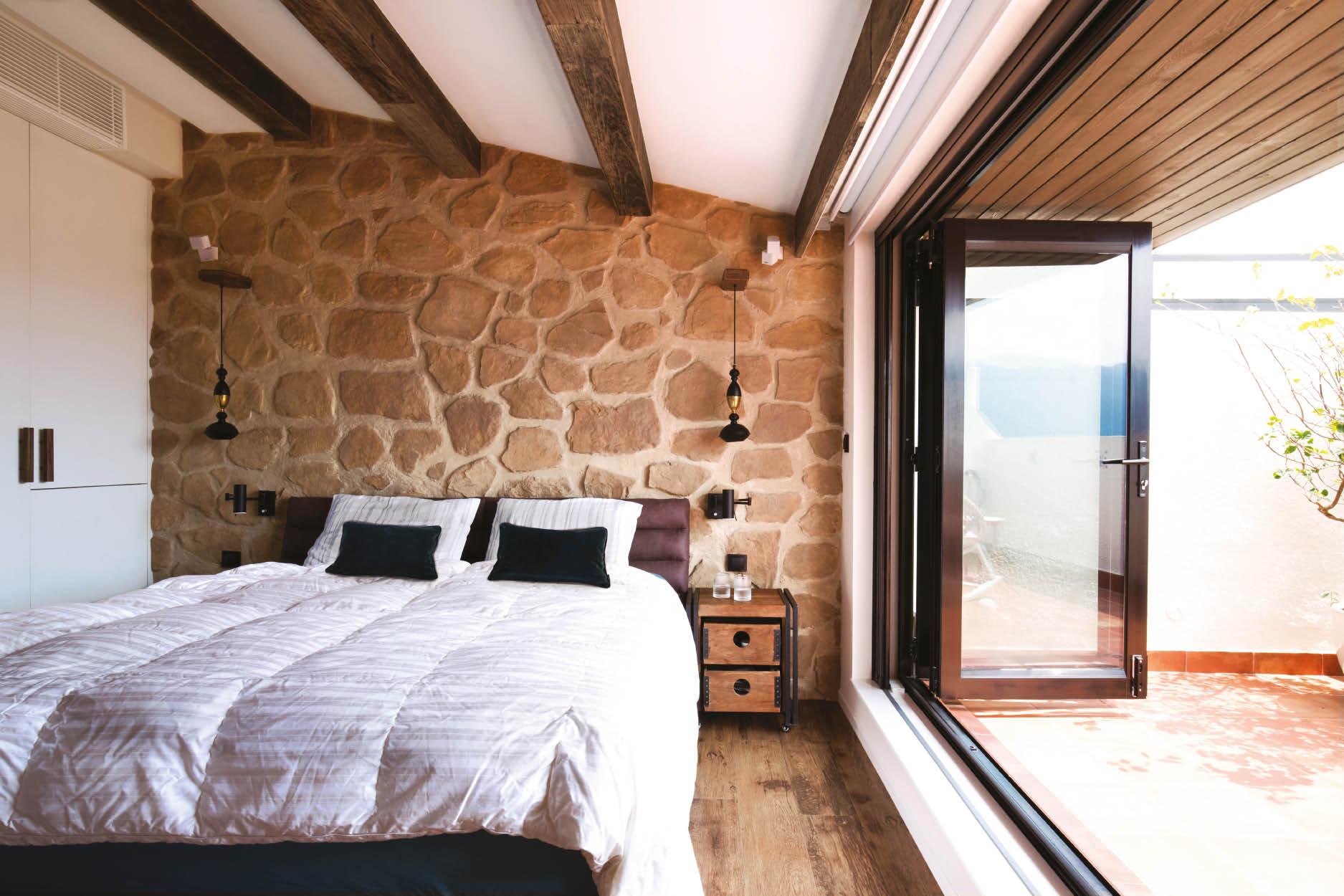 Apart from outfitting the abode with selected appointments from brands such as TREE, Jacco Maris Design and Markslöjd Sweden, Hintegro has custom-designed and built the bar in the dining area and the concrete desk in the study.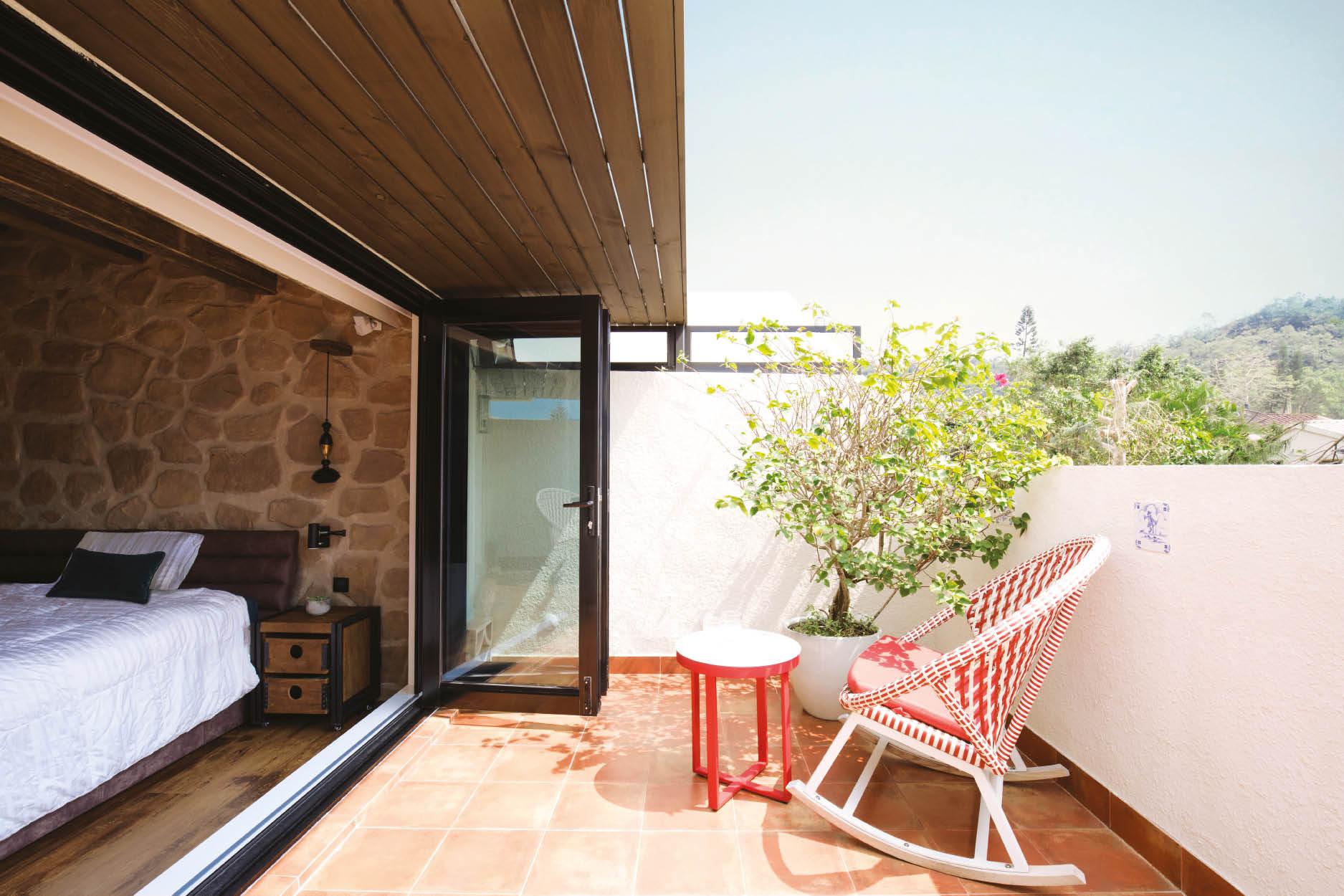 Taking one step further, the designer took this project as an opportunity to honor Hong Kong's exceptional craftsmanship as seen in the sophisticated copper fixtures dotted here and there.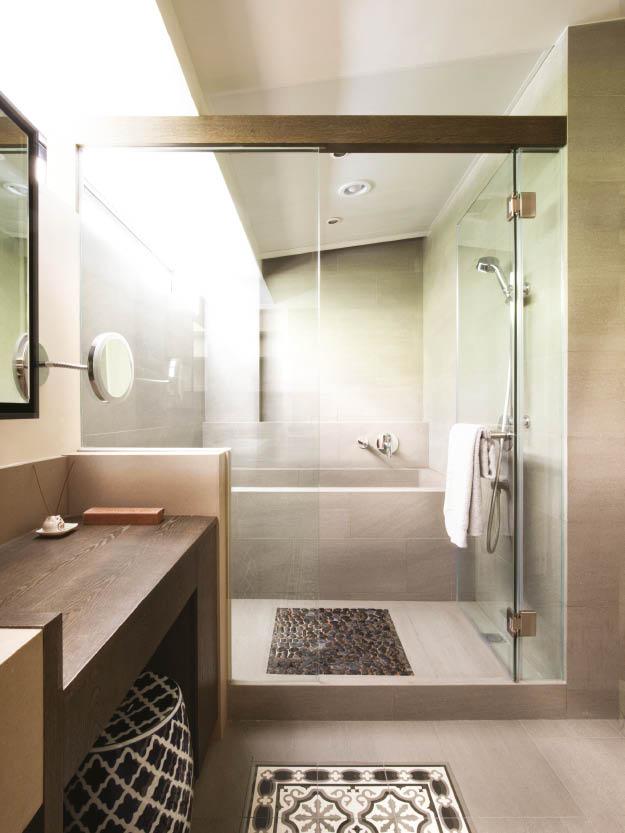 The idyllic retreat is not only a manifesto to reflect the couple's affection for travelling, but also their appreciation towards the city they call home.