Someone once said that Vaporwave is a modern form of Renaissance, with a sense of surrealism that enjoys the present, with a touch of retro and futuristic psychedelia combined, making it seem detached from reality.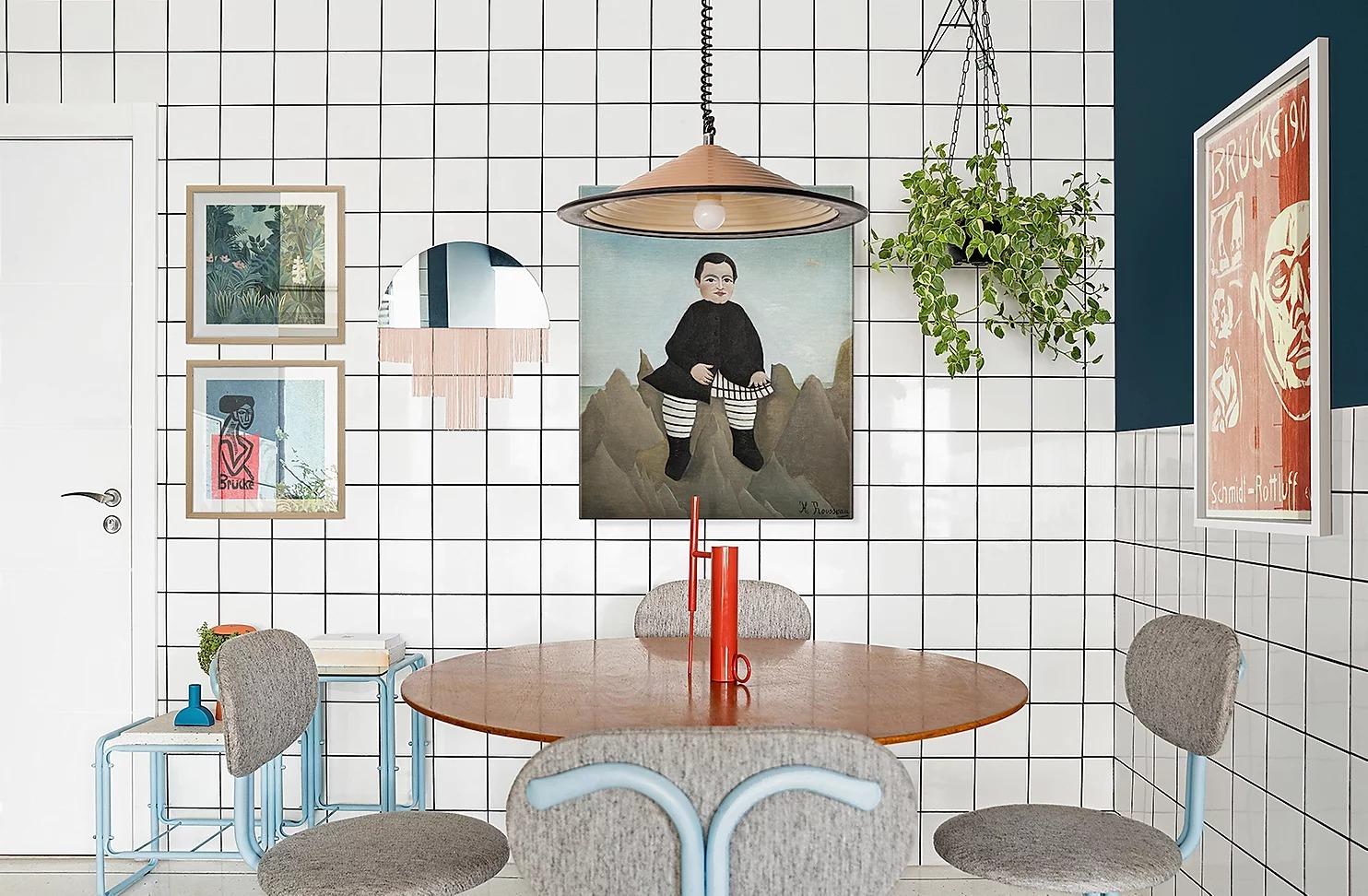 The Vaporwave wave that emerged in early 2010 focuses on American and Japanese pop culture elements in the 1980s and 1990s. It is a reflection on the phenomena of capitalism, consumerism and globalisation. It also shows retro-futurism - nostalgia for a prosperous society. Vaporwave designs tend to use a lot of pink tones, combined with American imagery (like the movie Miami) and some outdated elements to create a visual effect that combines retro and futuristic technology.
FM House, a design company in São Paulo, Brazil, took Vaporwave as inspiration for this 775-foot space, adding modern-style furniture and bright colours to create a unique home.
Scroll through the gallery for tips on emulating the Vaporwave look (Photography by Felipe Lopez):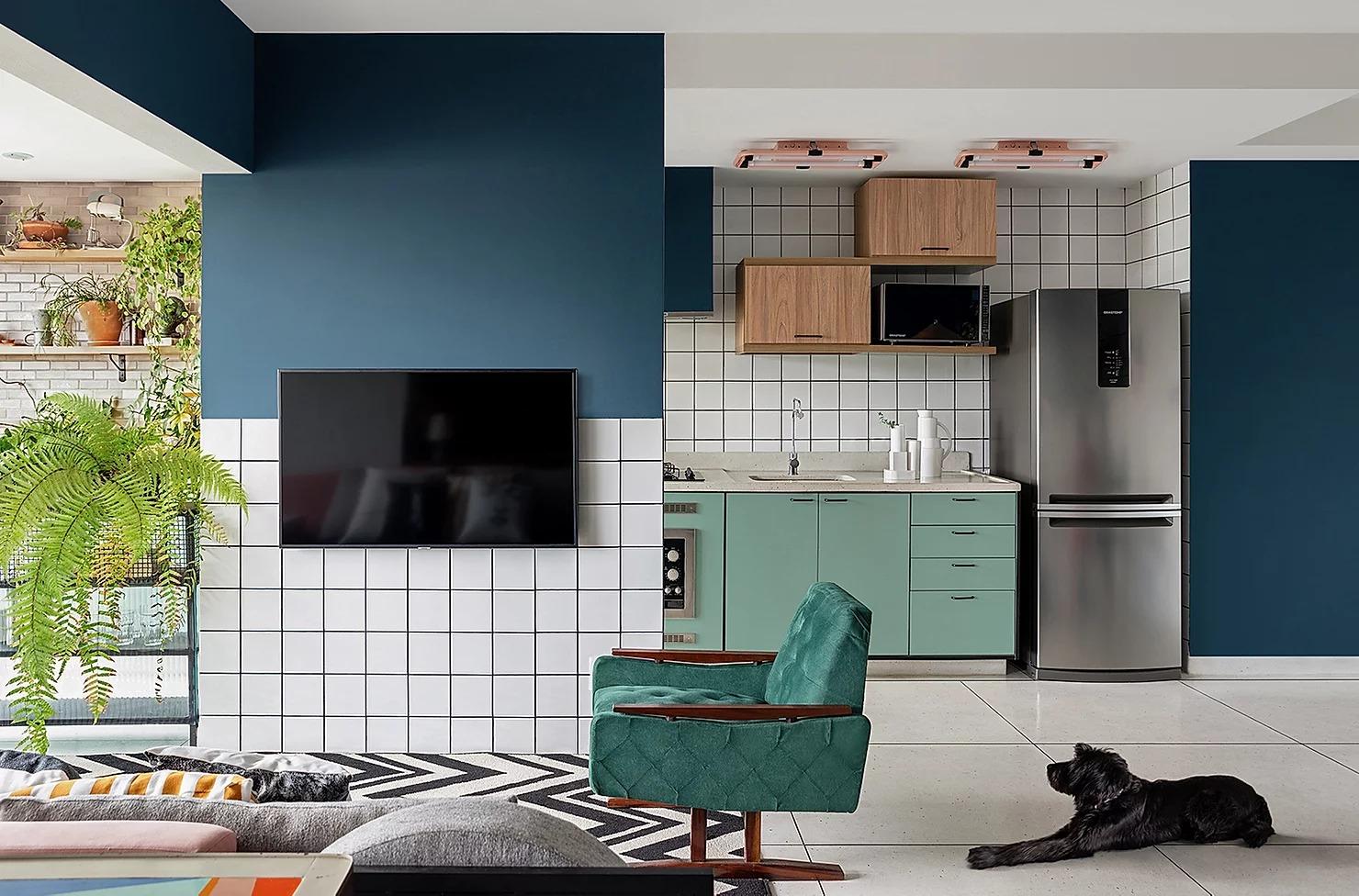 Tip 1: Combining retro elements and colours
Nostalgic square tiles form the main structure of the space, and combined with a calm blue tone, the overall space evokes a retro and modern feel.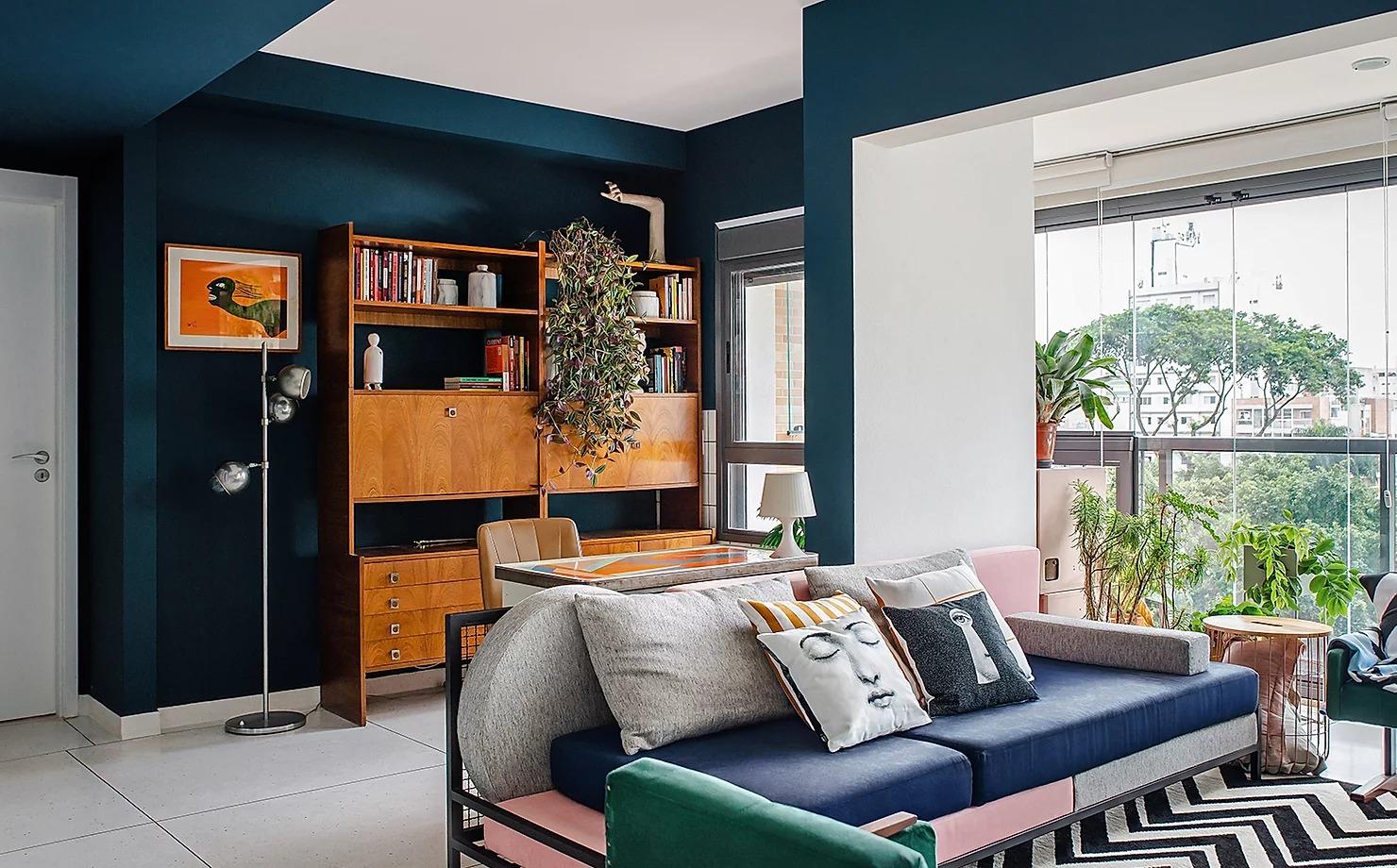 Tip 2: Psychedelic colours as embellishments
To create a comfortable and tranquil atmosphere, azure blue walls are combined with off-white granite floors and then decorated with bright, colourful sofas and carpets, so that the space is imbued with the nostalgic atmosphere of the 80s-90s.
Tip 3: Tropical elements
In the other corner of the living room, green single seats are used with a large number of green plants, to depict an American tropical atmosphere.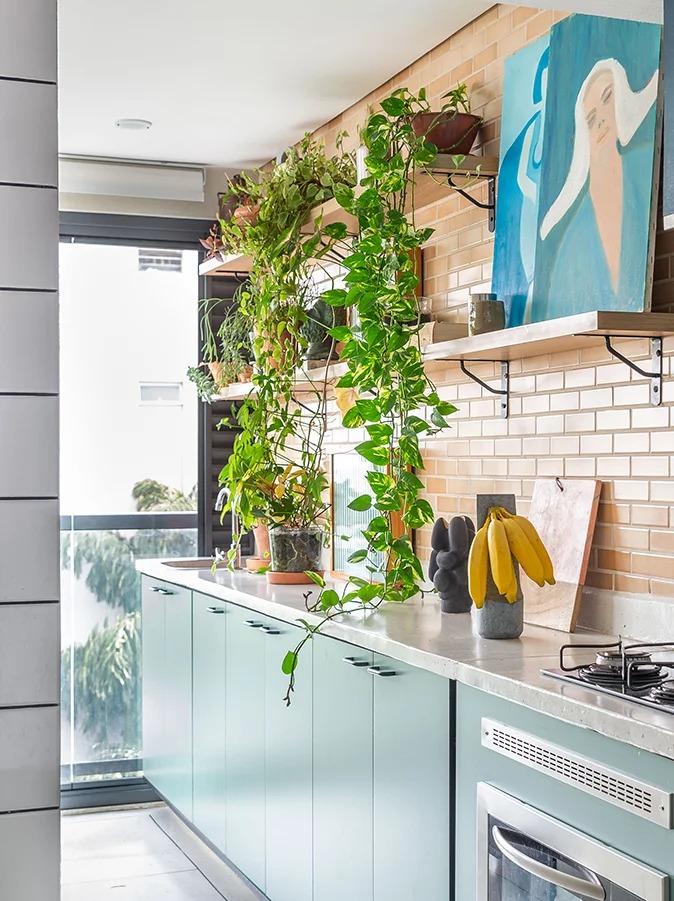 Tip 4: Pink linings
Continuing the retro tile elements, pink-orange tiles are used in the kitchen space, lined with mint green cabinets and decorated with vibrant green plants to freshen up the space.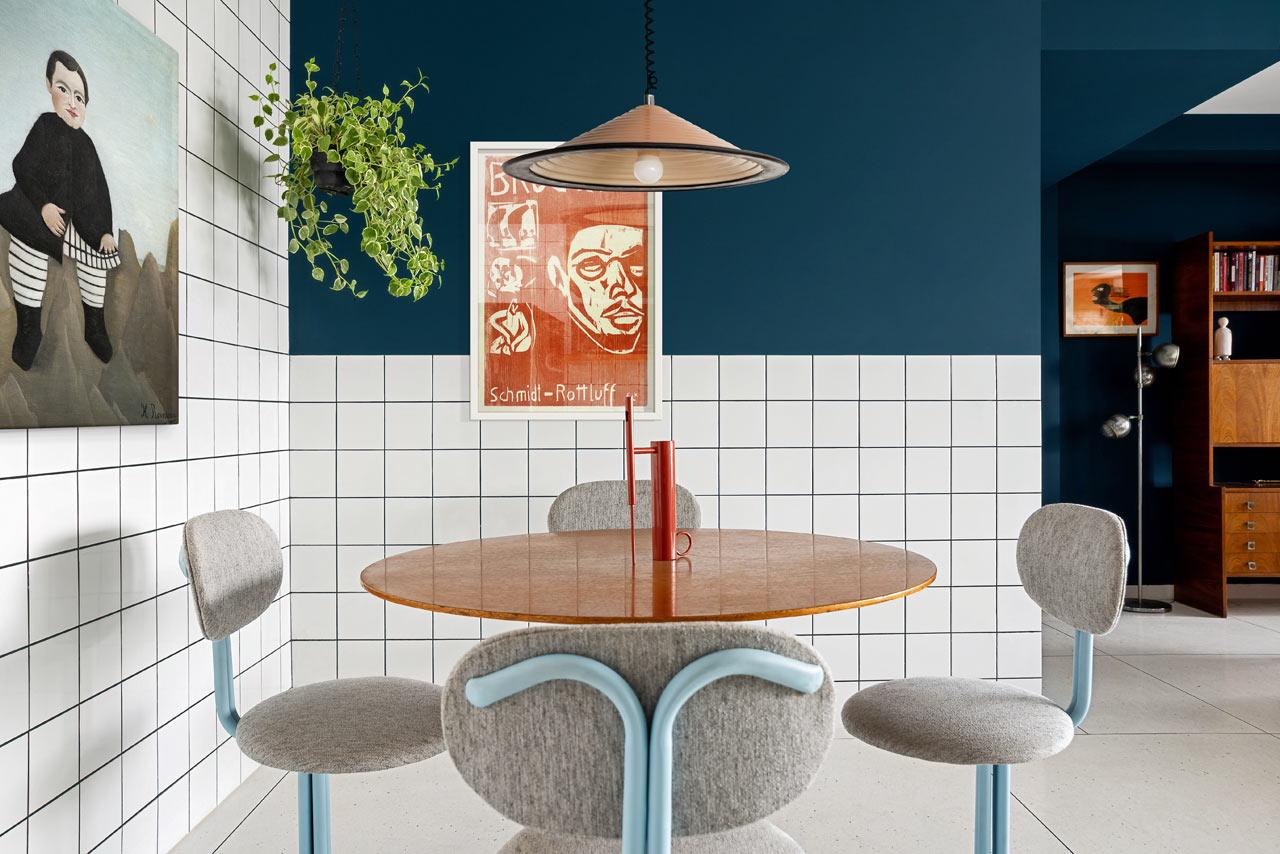 Tip 5: Make good use of second-hand furniture
An important element of Vaporwave is retro-futurism. Using second-hand furniture, lamps and murals to complement modern contoured seats and ornaments can reflect its spirit.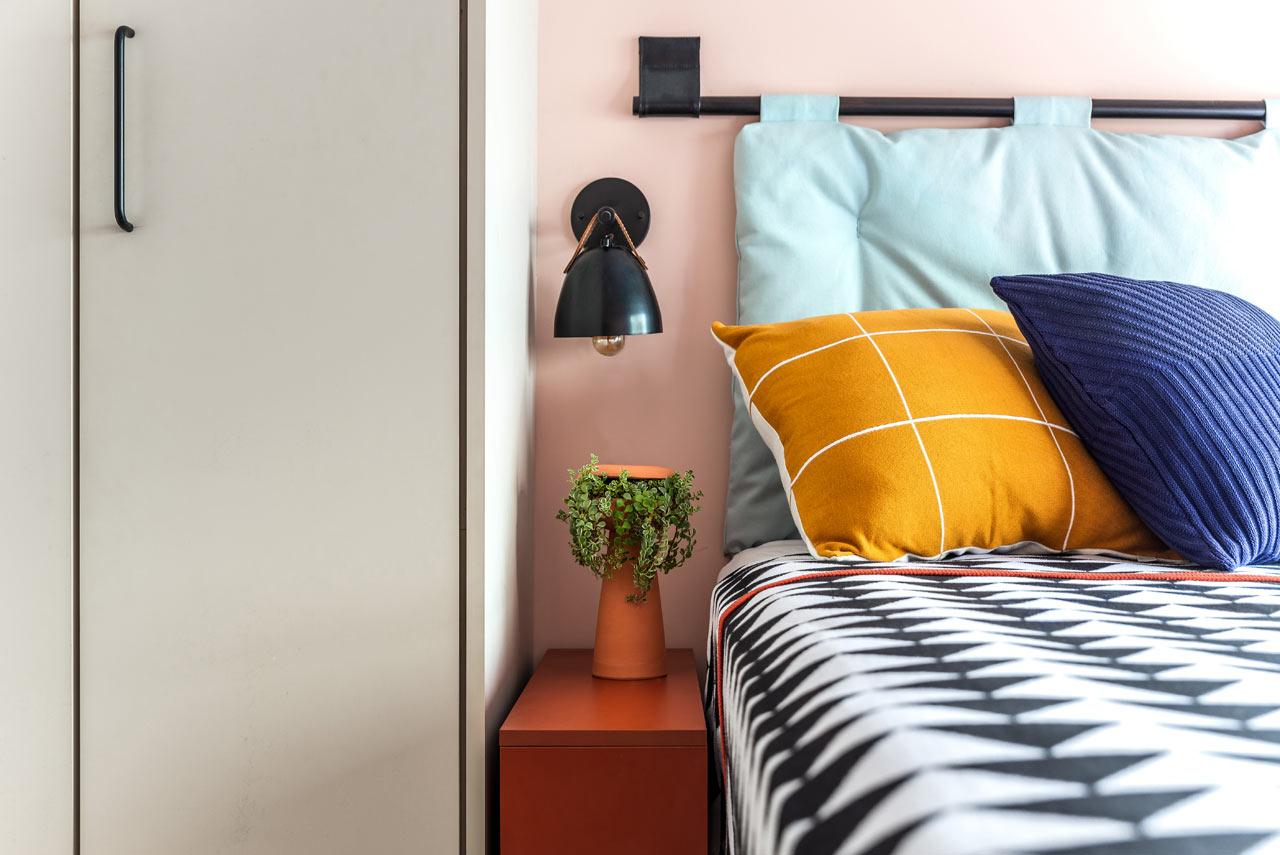 Tip 6: Geometrics
Matching pink walls, light blue bedside cushions and geometric figures can reflect the nostalgia of the 80s as the bright contrasting tones to convey a touch of romance and charm. The creates a harmonious atmosphere without being too oppressive.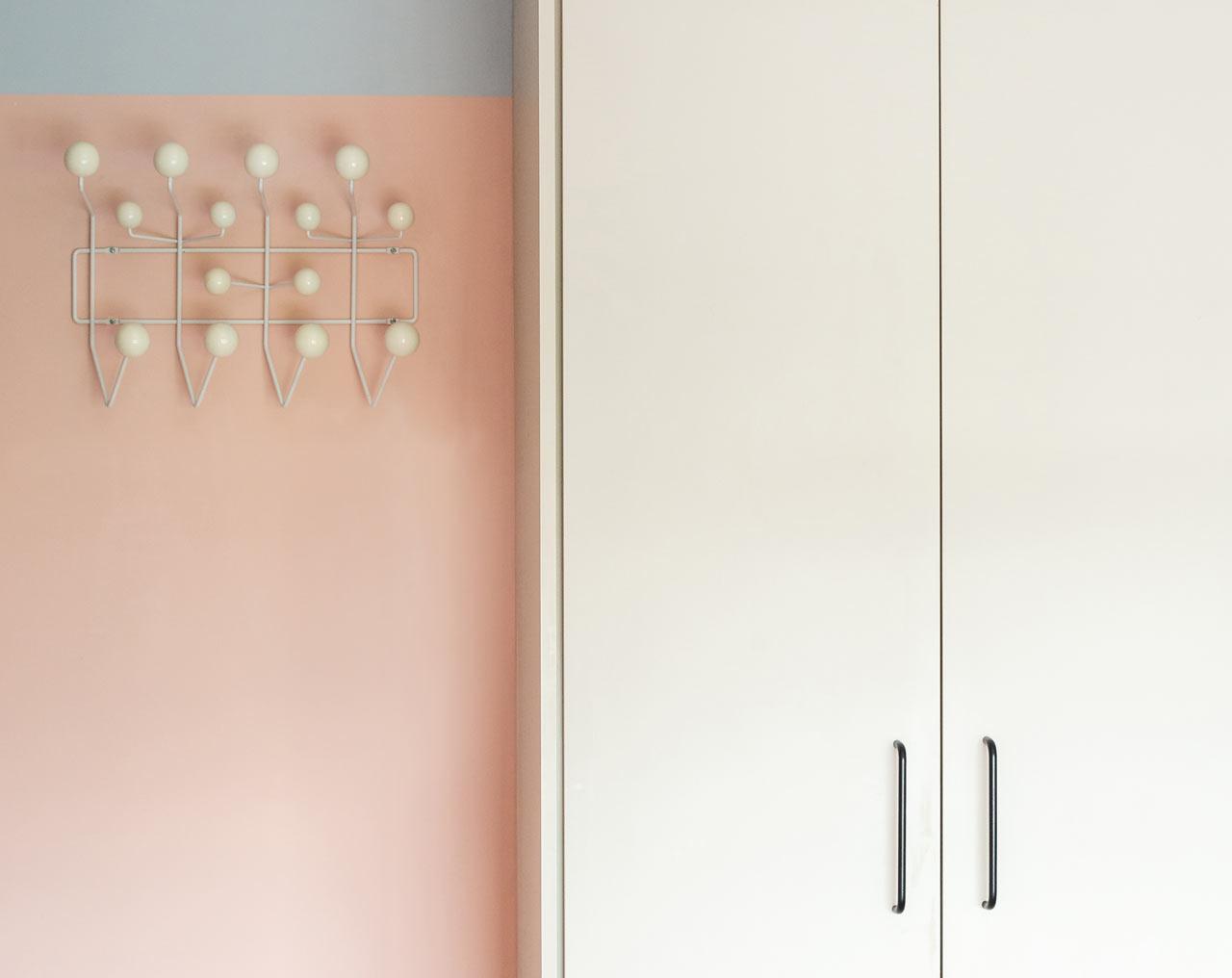 Tip 7: Echoing styles
To make the overall space look too fragmented, the bedroom walls are also used alternated colours of pink and blue to create a soft and comfortable feeling for the space.