Making his name as the director of art cinema features and short films such as Sons, Mother, 881 and 15, Royston Tan is one of Singapore's most promising filmmakers.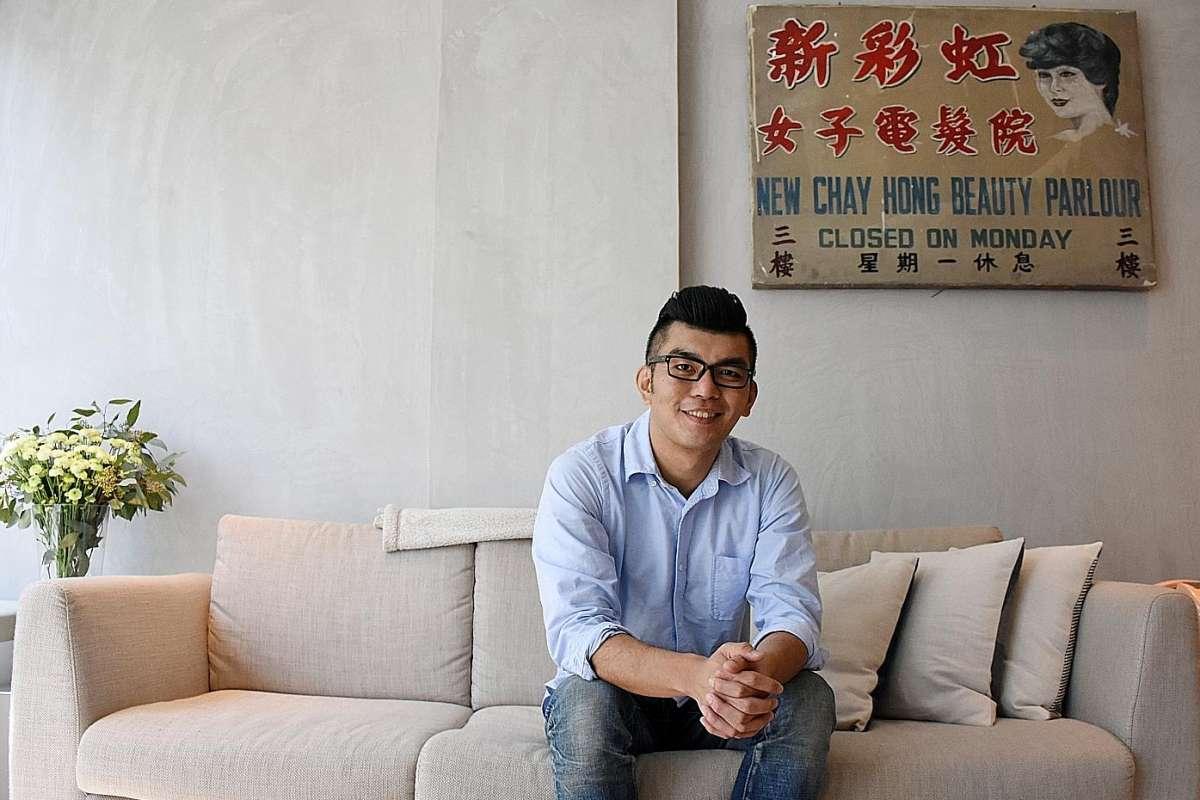 Befitting of his works which are often tinted with nostalgia, his 124 sq m double-storey condominium unit in Serangoon is scattered with vintage furniture and cinematic paraphernalia. This is a complete transformation from the original space, which came with glossy marble floors and modern fittings.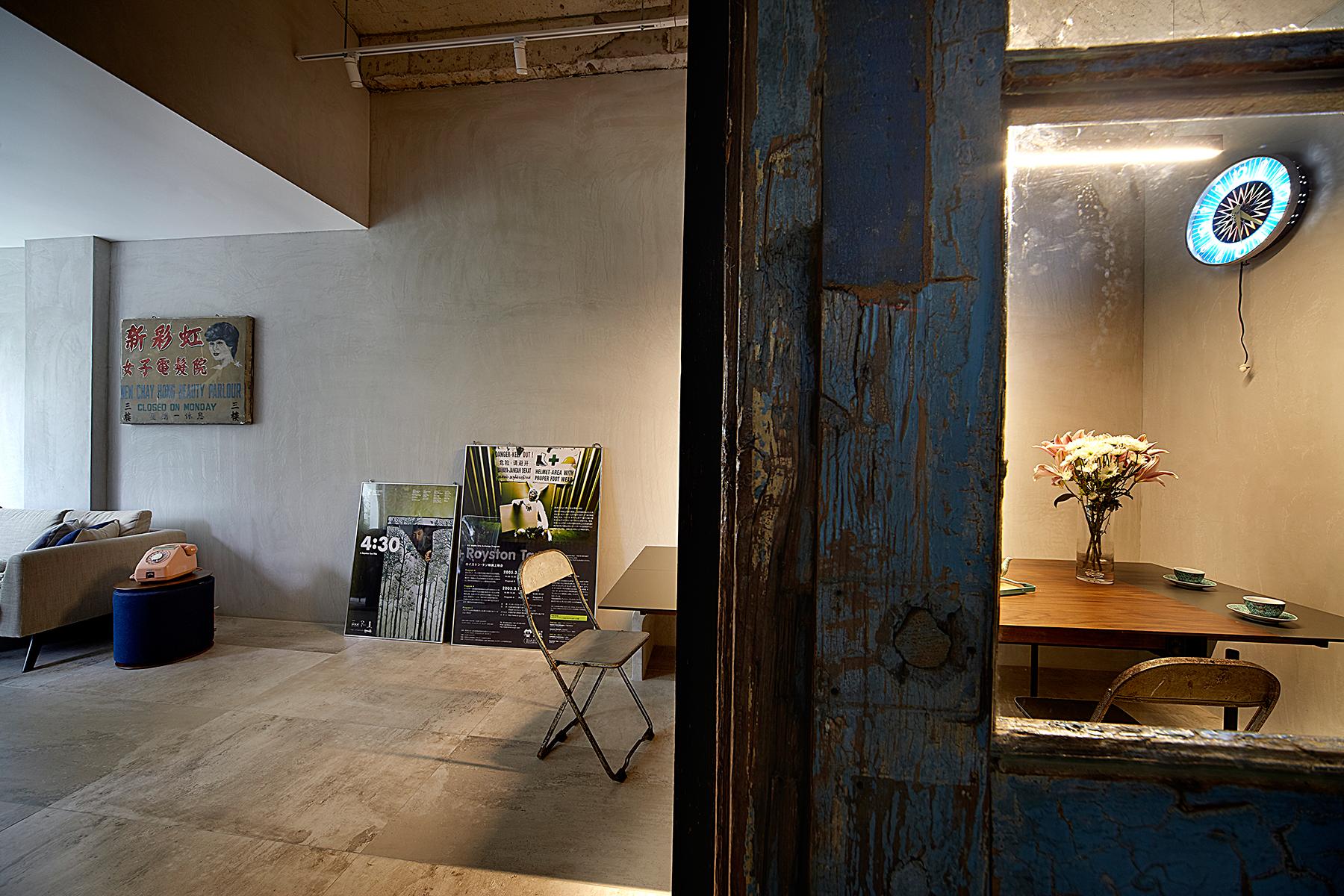 Contrary to what most people would want for their new homes, Royston worked with Singapore-based interior design studio Free Space Intent (FSI) to redo the apartment such that it fits his collection of old-school artefacts that he has kept from his filming locations over the years.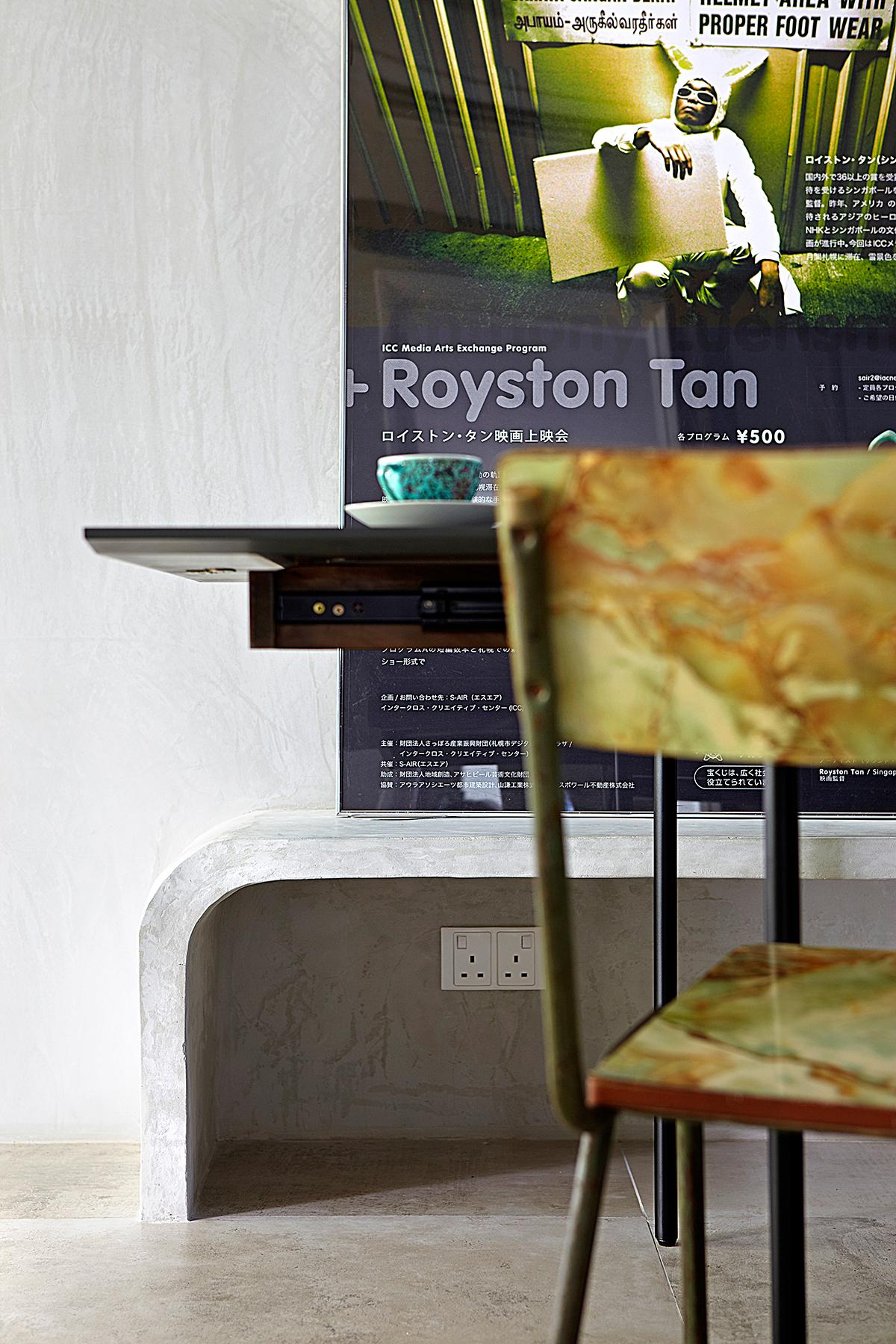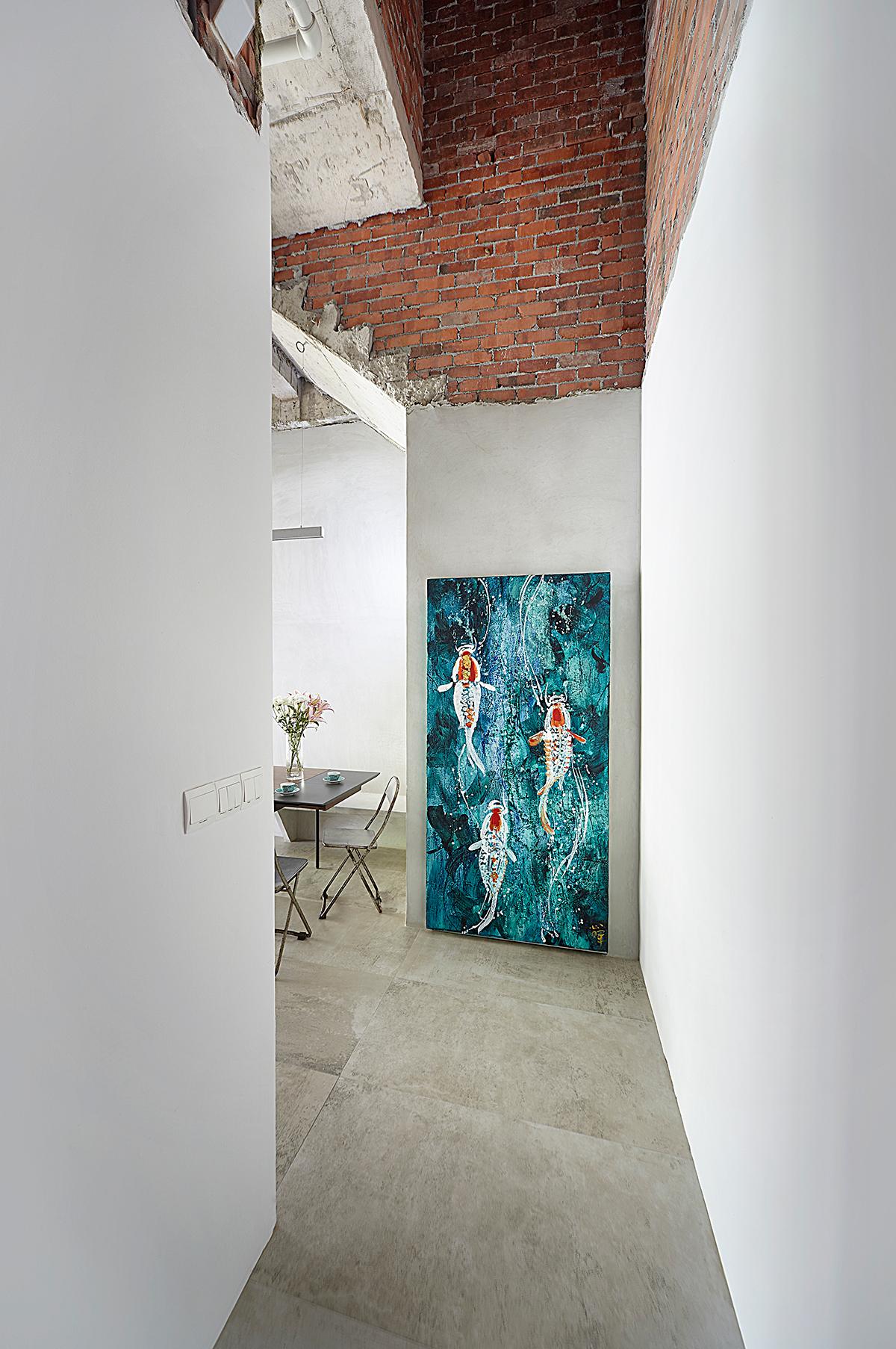 "The surroundings definitely doesn't match the furniture he brought. I joked that I'm trying to make his new place look old," principal designer and founder of FSI Raymond Seow laughs. "So what I did was to deconstruct whatever I was given, hack down everything and rebuild the flooring and walls with concrete and cement."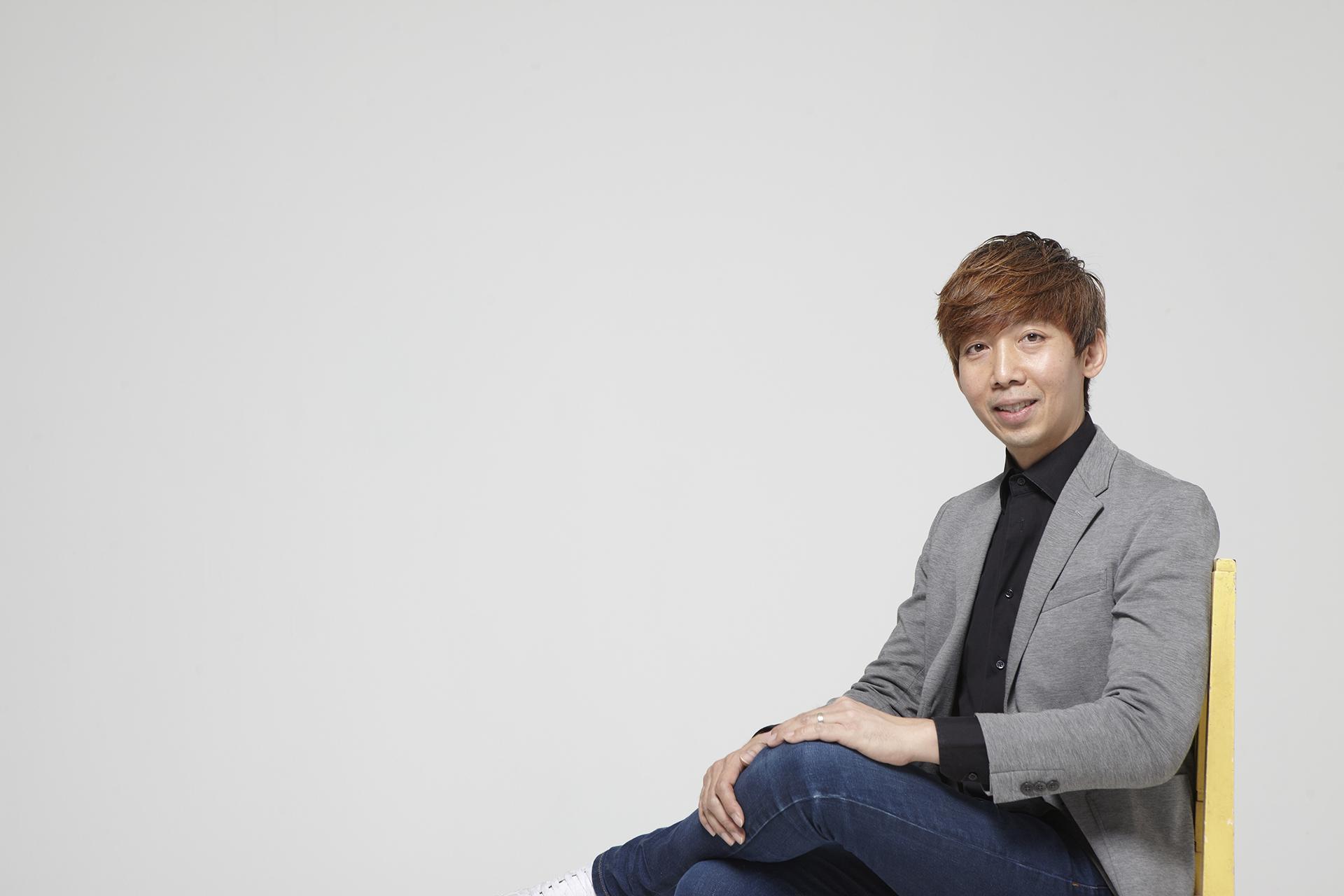 Scroll through the gallery below to see more of the history that Royston's home holds: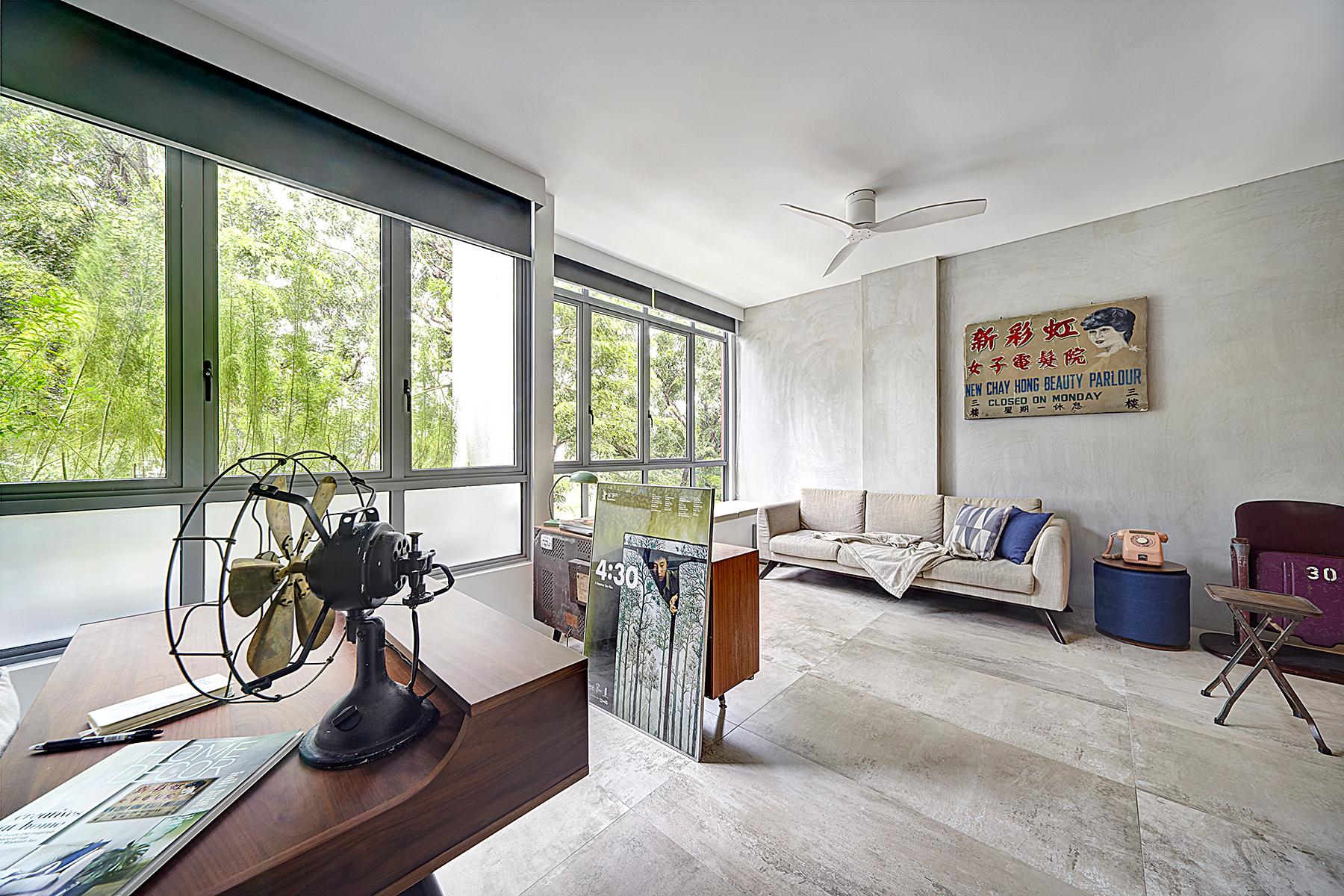 While the original unit was a far cry from the vision of Royston's ideal home, it was the view from the living room, a flourishing Angsana tree, that made him purchase the apartment. He had hoped that its leaves would rustle outside his window like they did when he was a boy growing up on a Lorong Chuan pig farm, the son of a second-generation pig farmer.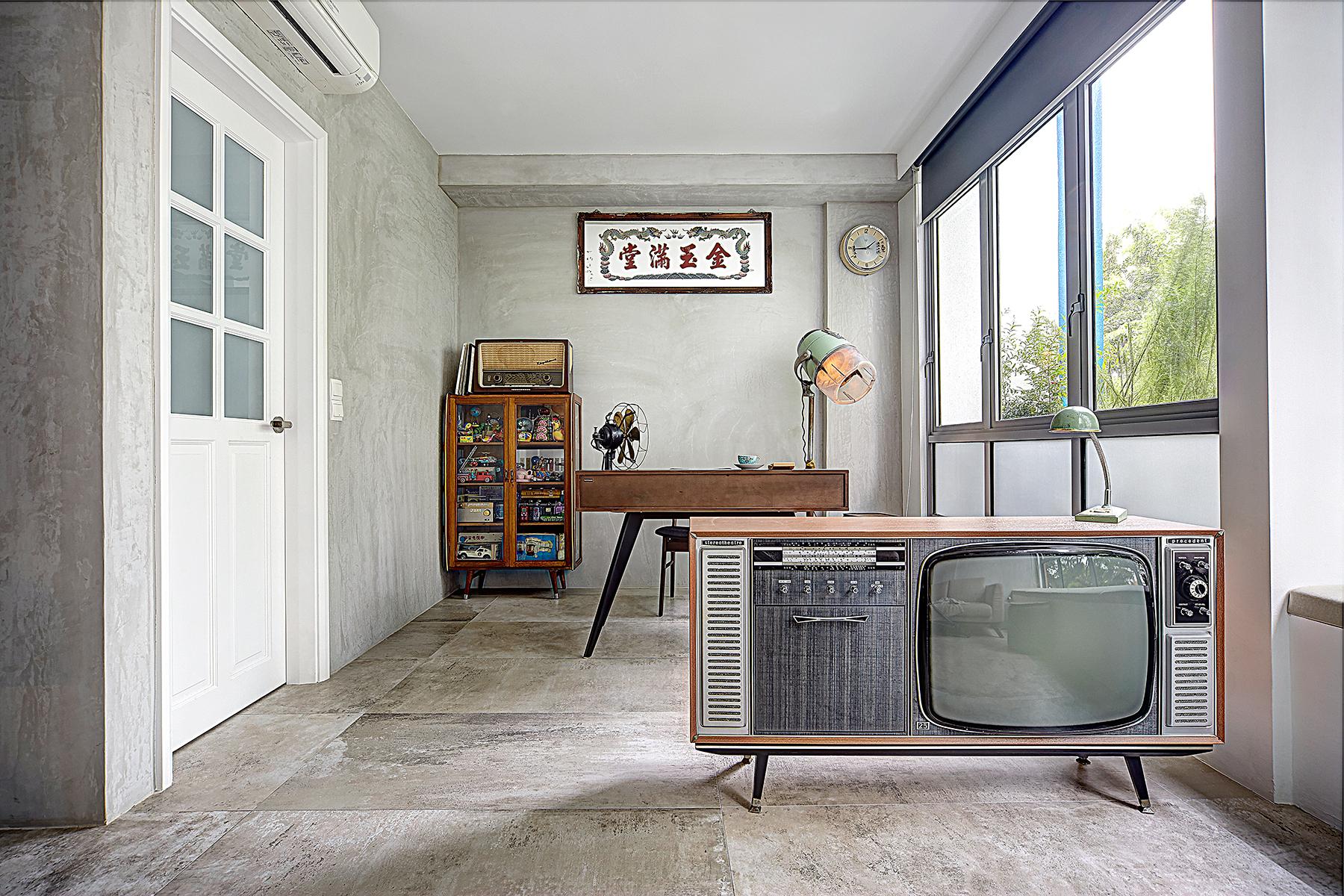 When Royston hits a roadblock, all it takes is sitting on the couch, watching the sunlight cast dancing shadows of the leaves across the floor, and listening to old records playing from the vintage Precedent TV console, to make him remember why he is making films in the first place.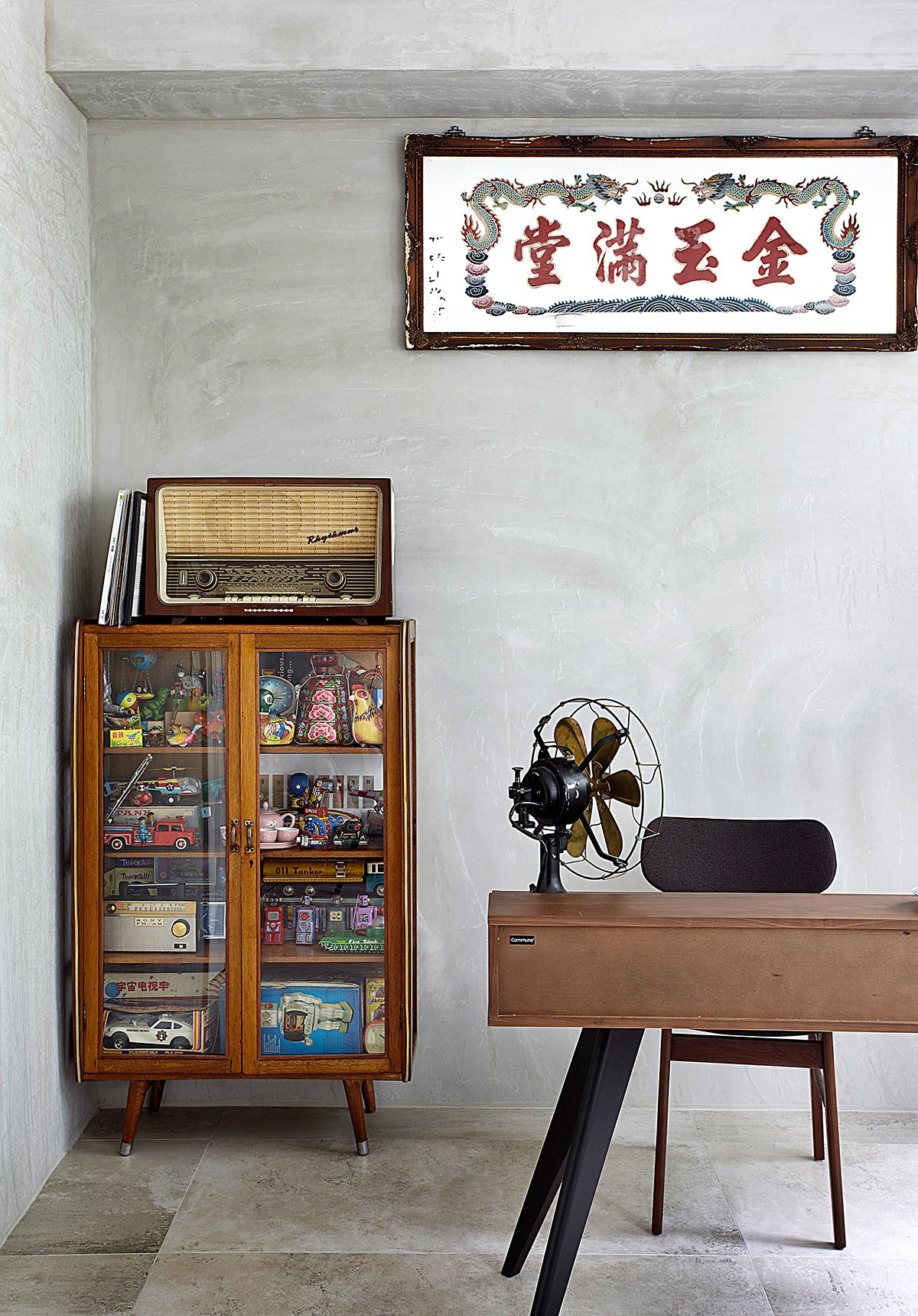 The signboard, a very popular Chinese inscription translated as "May gold and jade fill your house", was from an old coffee shop, gifted to him after he filmed a documentary there. The study table below is one of the few new things in the house, sponsored by Commune, along with the dining table and sofa.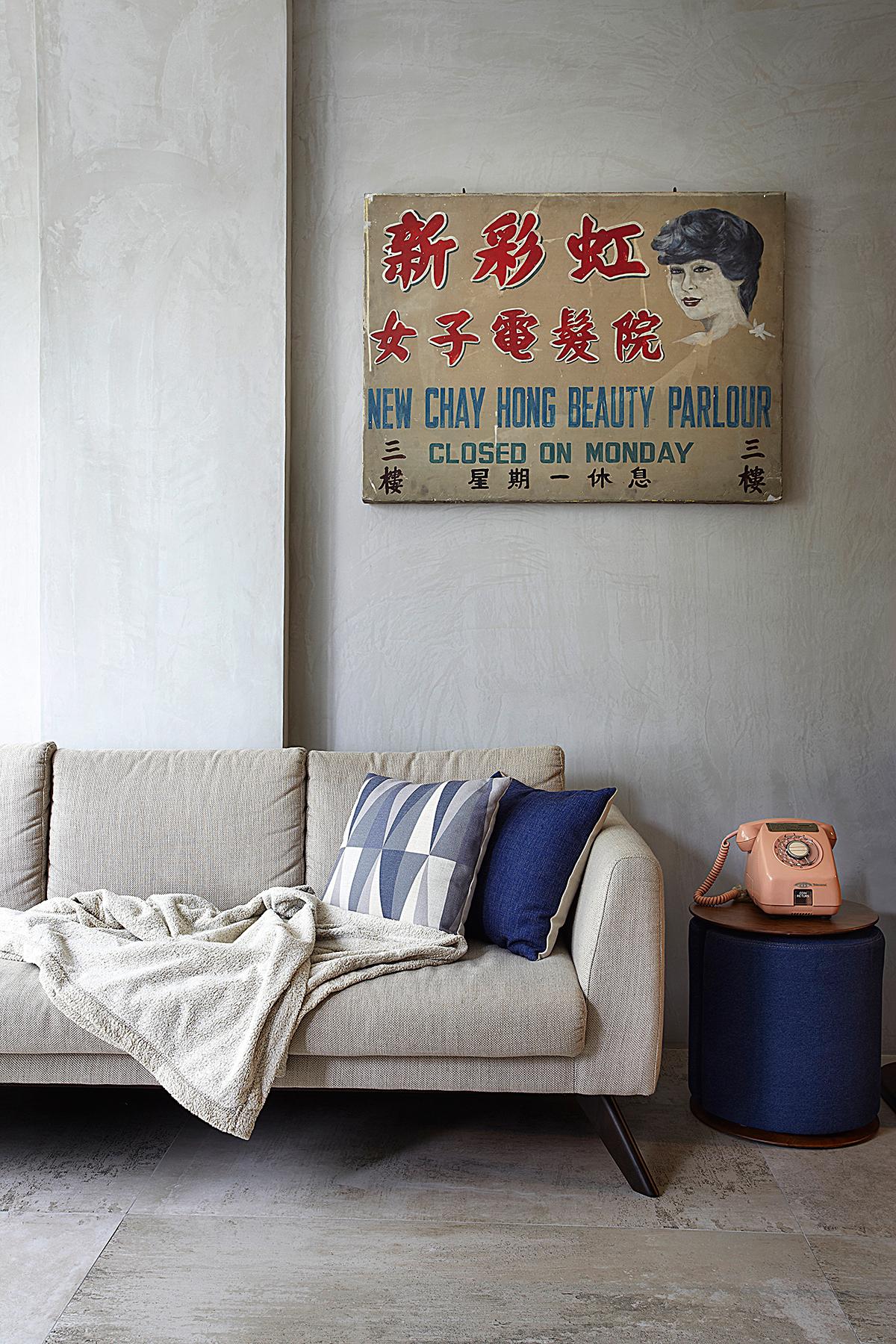 On the other side is another used signboard, given to Royston by the owner of Xin Cai Hong Hair Salon, which had been around since the 1960s. As a student at Zhonghua Secondary School, Royston used to walk by every day, and ended up filming another documentary, Old Romances in 2012.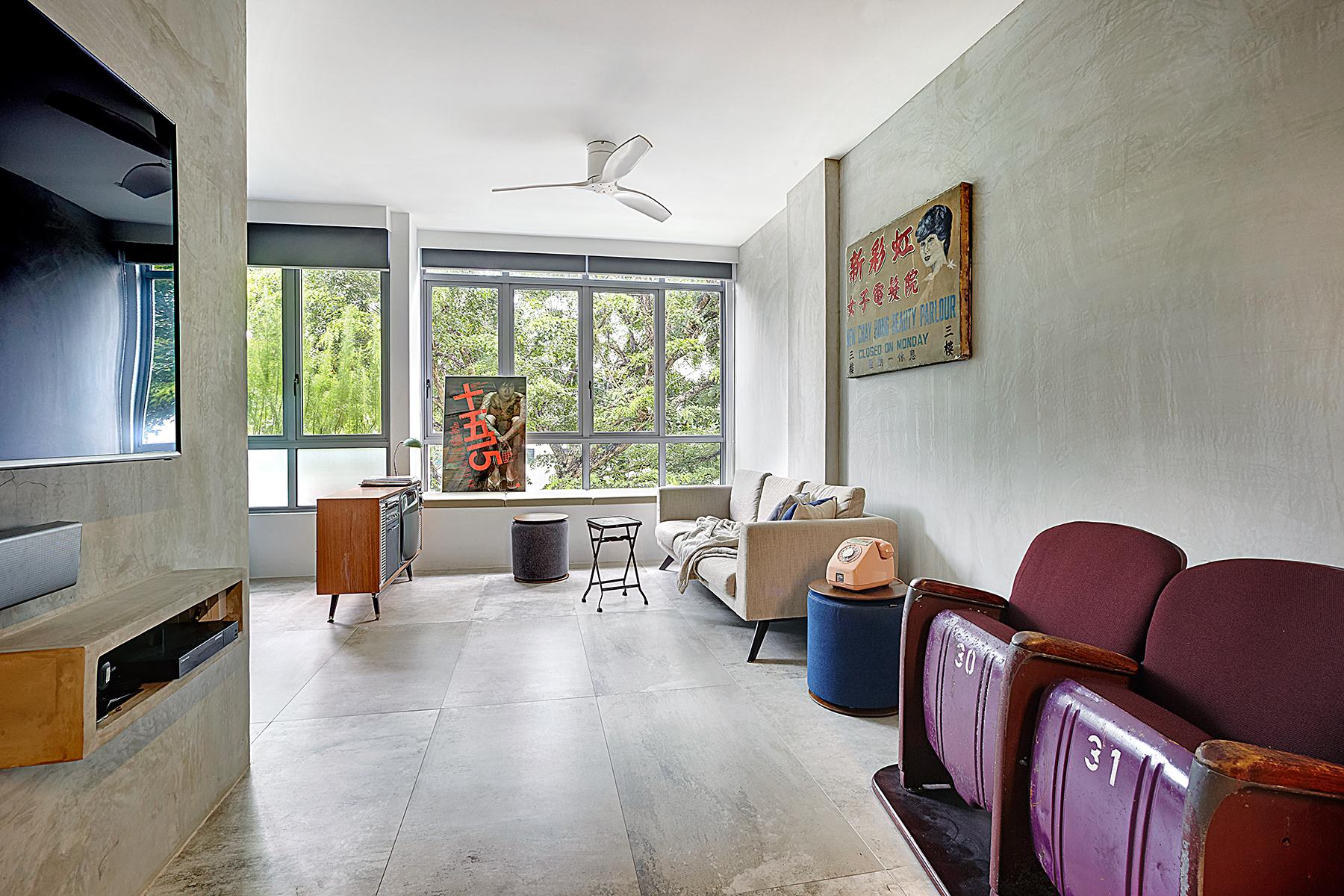 In the entryway, a pair of cinema seats from The Capitol Theatre, re-upholstered with their original 1940s fabric sourced by a friend in Bristol, is the oldest piece in the home.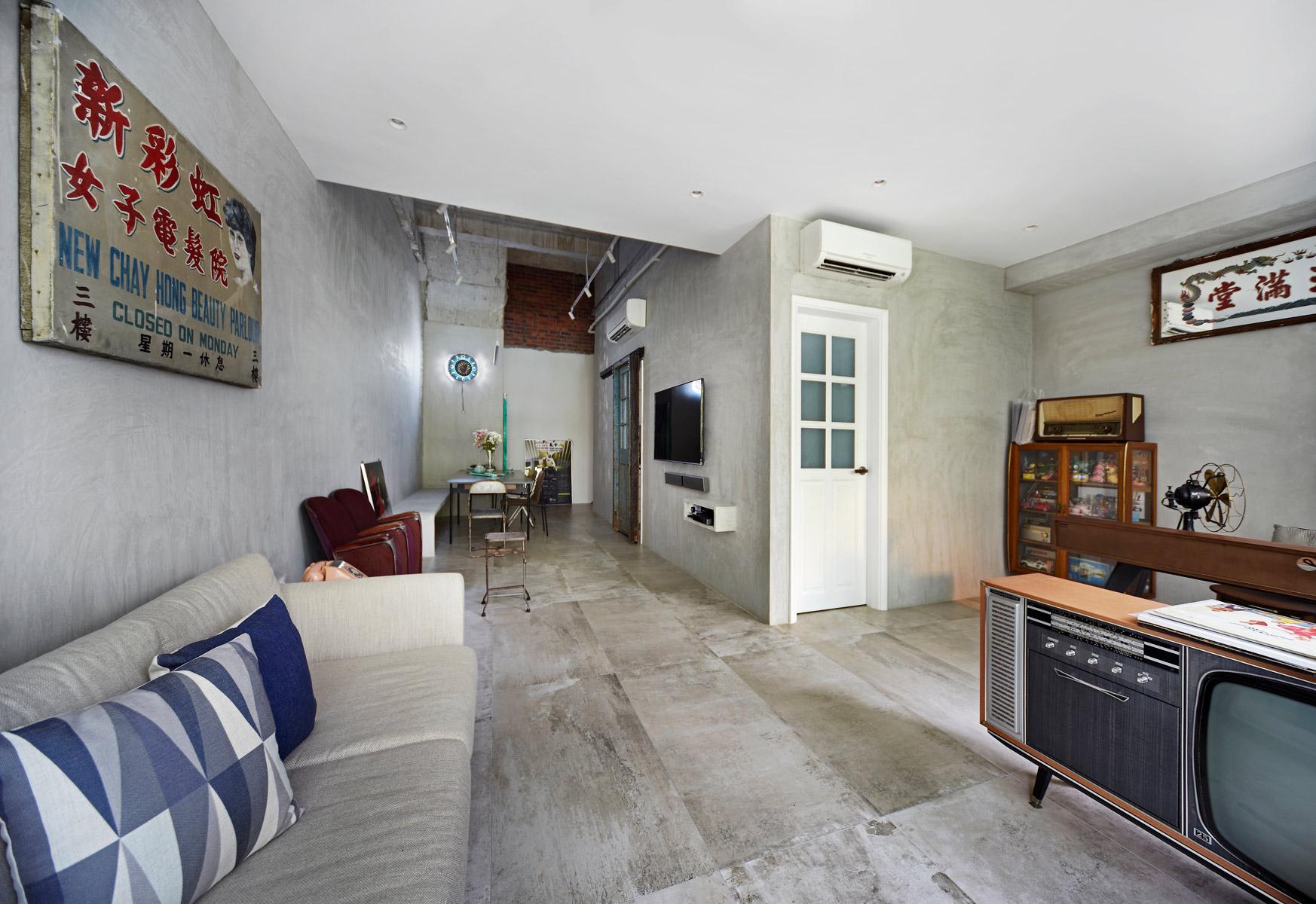 The lofty ceiling wasn't designed to be this way. When the team took off part of the ceiling to do some utility work, Raymond realised that it hides a high ceiling with a brick wall on the upper half. "We are not expecting to have this tall ceiling with a brick wall on top and so it is a pleasant surprised for both of Royston and I," recalls Raymond. "I think for a lot of my designs, there is planning but we play along with what we found along the way so there's a lot of story behind such projects."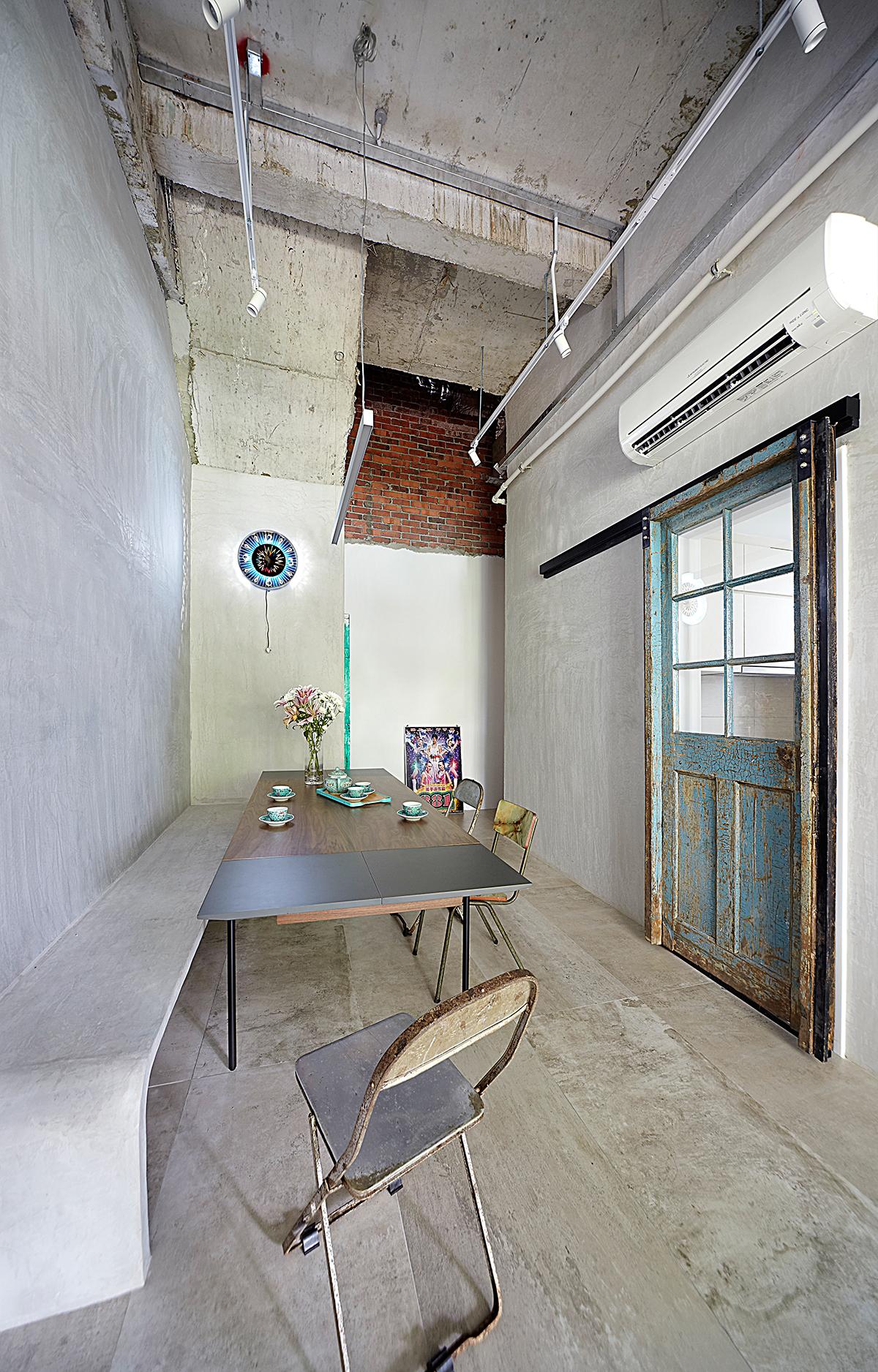 A weather-beaten door, originally from Shandong, China, was installed along sliding tracks to close off the kitchen. Raymond says that this door, along with the false windows above the bed in the master bedroom are Royston's favourite pieces of his collection that he said must be included in the home.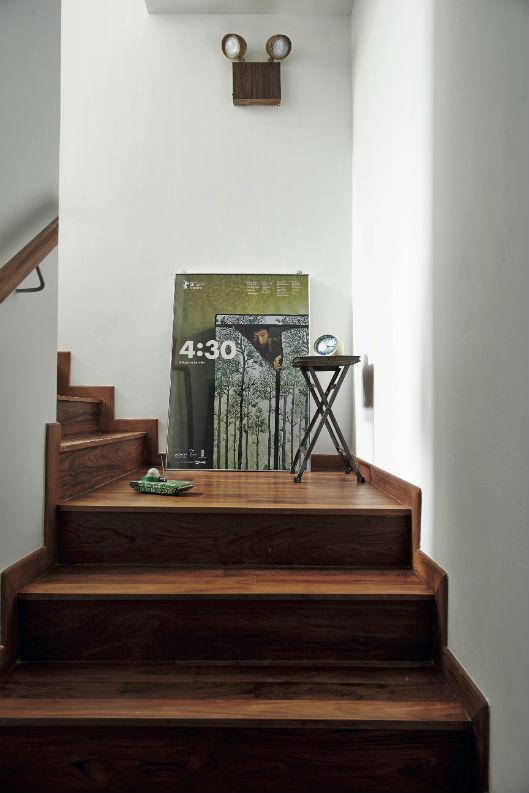 Needless to say, posters of films directed by Royston accompany the assortment of vintage decor and retro accessories throughout the house.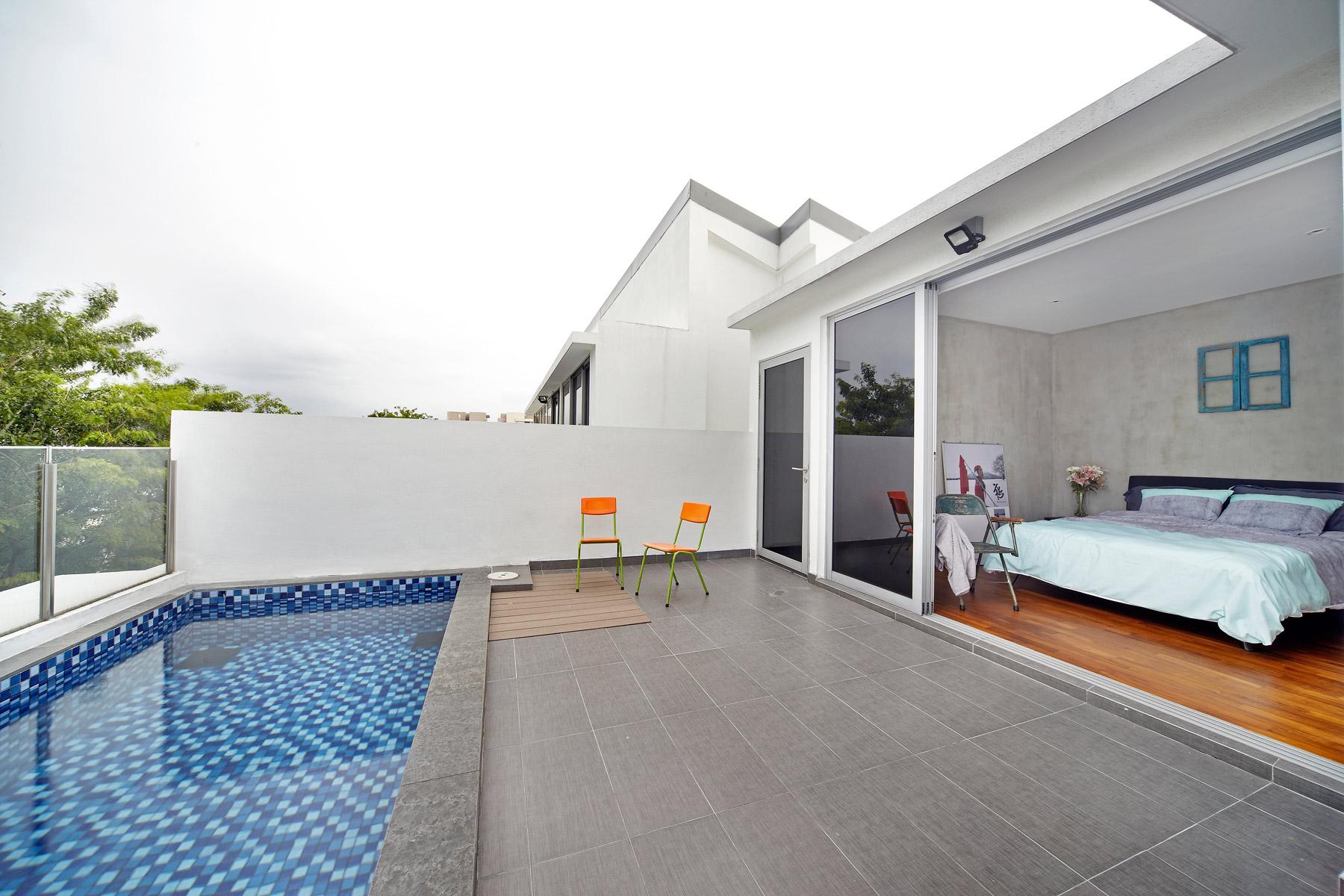 Located on the mezzanine, the master bedroom is furnished with just the essentials. As this unit is designed to be like a mini penthouse, it also comes with a private pool.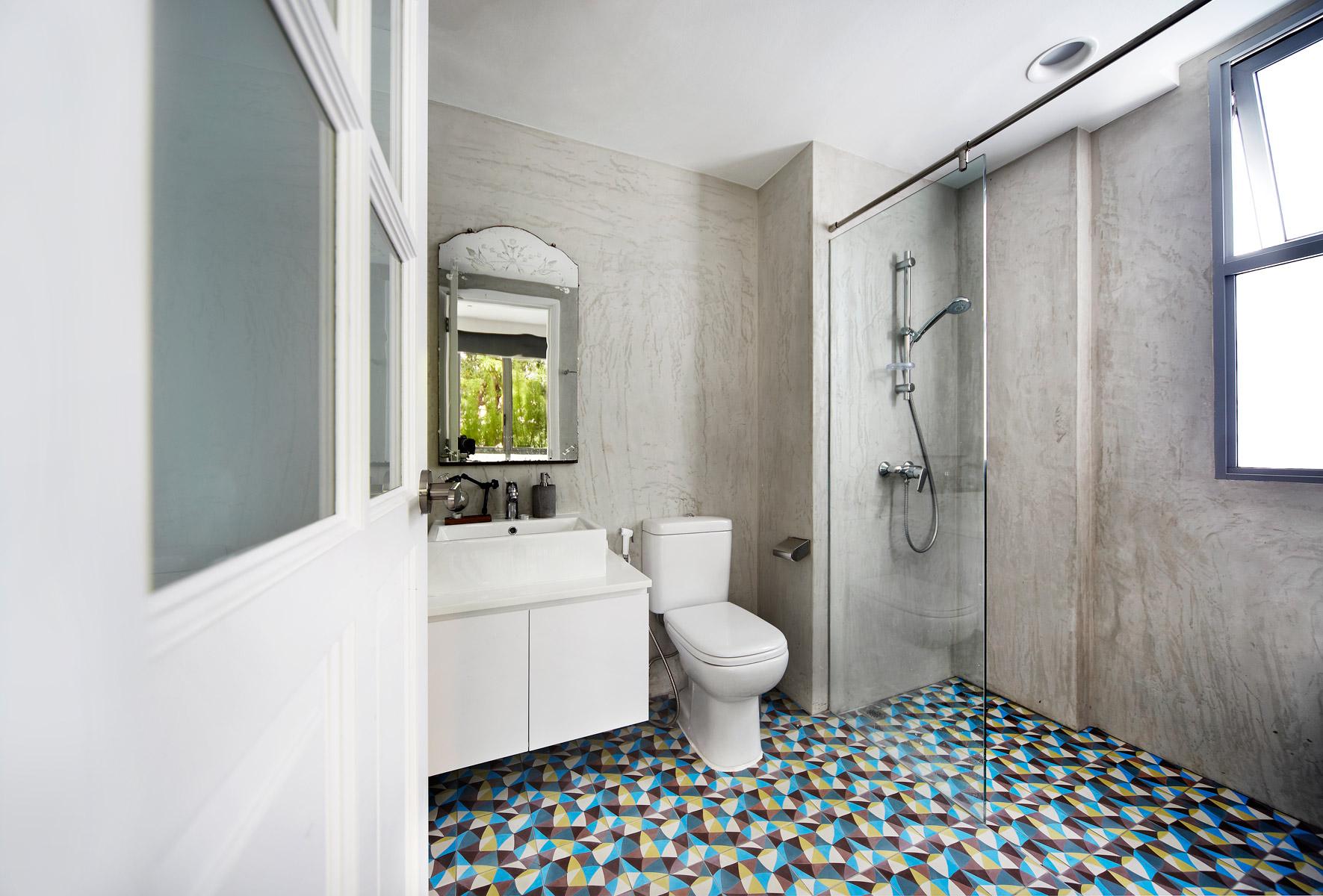 The colourful bathroom tiles are from An Huat Trading, one of Singapore's oldest tile shop which was established in 1975. "Initially I wanted to use traditional Peranakan tiles for the bathroom to look more wild as the rest of the house is grey and muted," says Raymond. "But Royston still wanted something a bit more modern, so we chose a contemporary version of the ceramic tiles."