Contemporary art from Africa is continuing unabatedly in seizing global attention.
The pivotal anchor event to experience art from Africa and the world? The Investec Cape Town Art Fair [ICAF], housed in the city with a diverse cultural heritage, outstanding natural beauty, and a fabulous wine and food scene.
The 8th edition of ICAF recently wrapped to much success, revealing a host of artistic delights that reflect on the notion of 'African roots'. Over three days, it gathered artists, gallerists, curators, and collectors from across the continents and beyond to look at what it means to be 'from somewhere. A third of the galleries showed for the first time while 40% hail from outside Africa. We recap all of the fun and best discoveries from that week:
TODAY HERE, TOMORROW THE WORLD
For this section, curators selected a cross-section of emerging and underrepresented artists from Africa and the Diaspora to shine a light on the talents of tomorrow of the art world. Works followed an ongoing theme of transformation and experimentation that address social and political issues.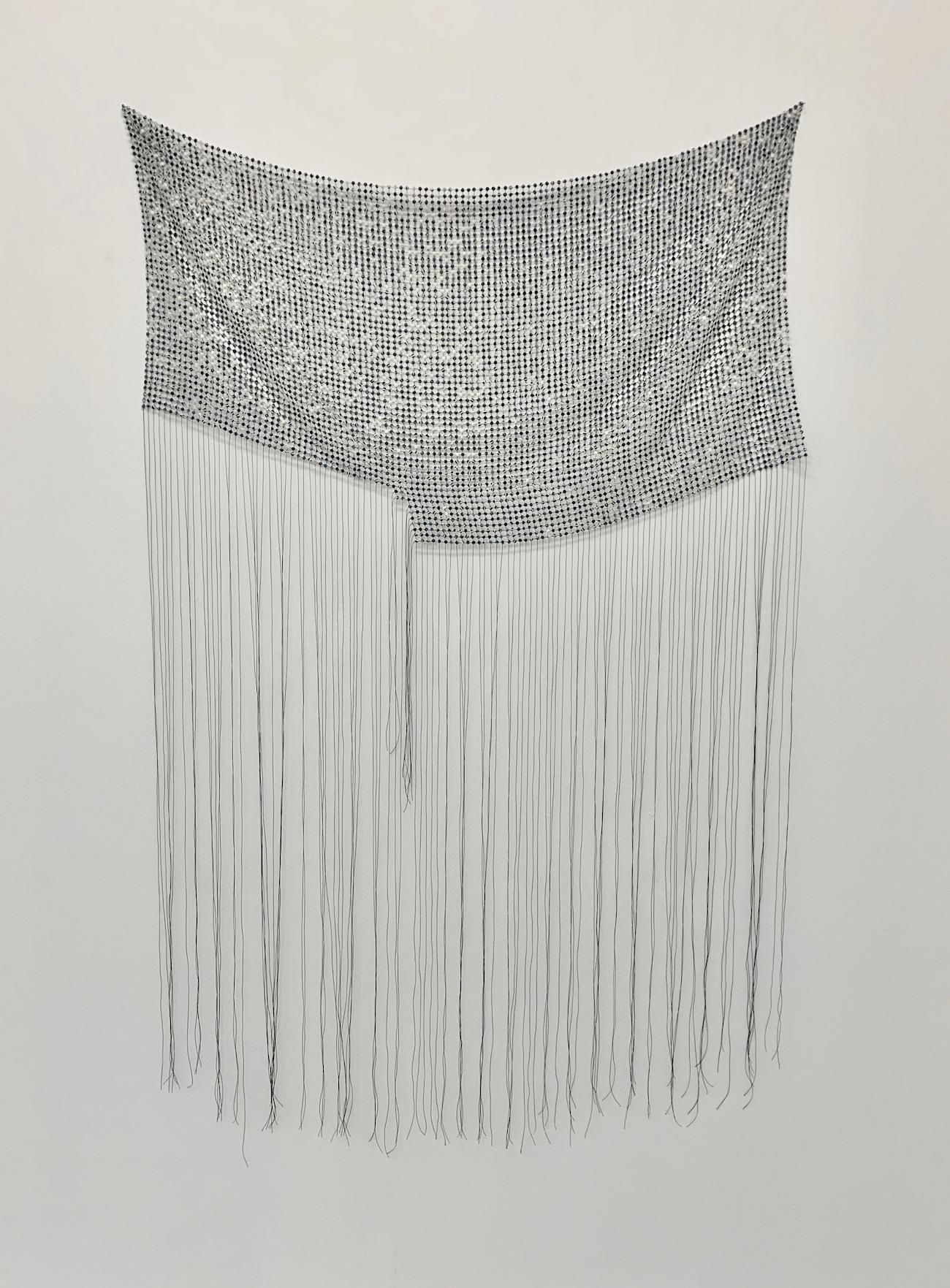 Highlights included South African Bonolo Kavula's represented by Suburbia Contemporary Gallery, which uses a densely layered approach to printmaking and sculpture. Her work is subtle and beautiful, she is definitely one to watch.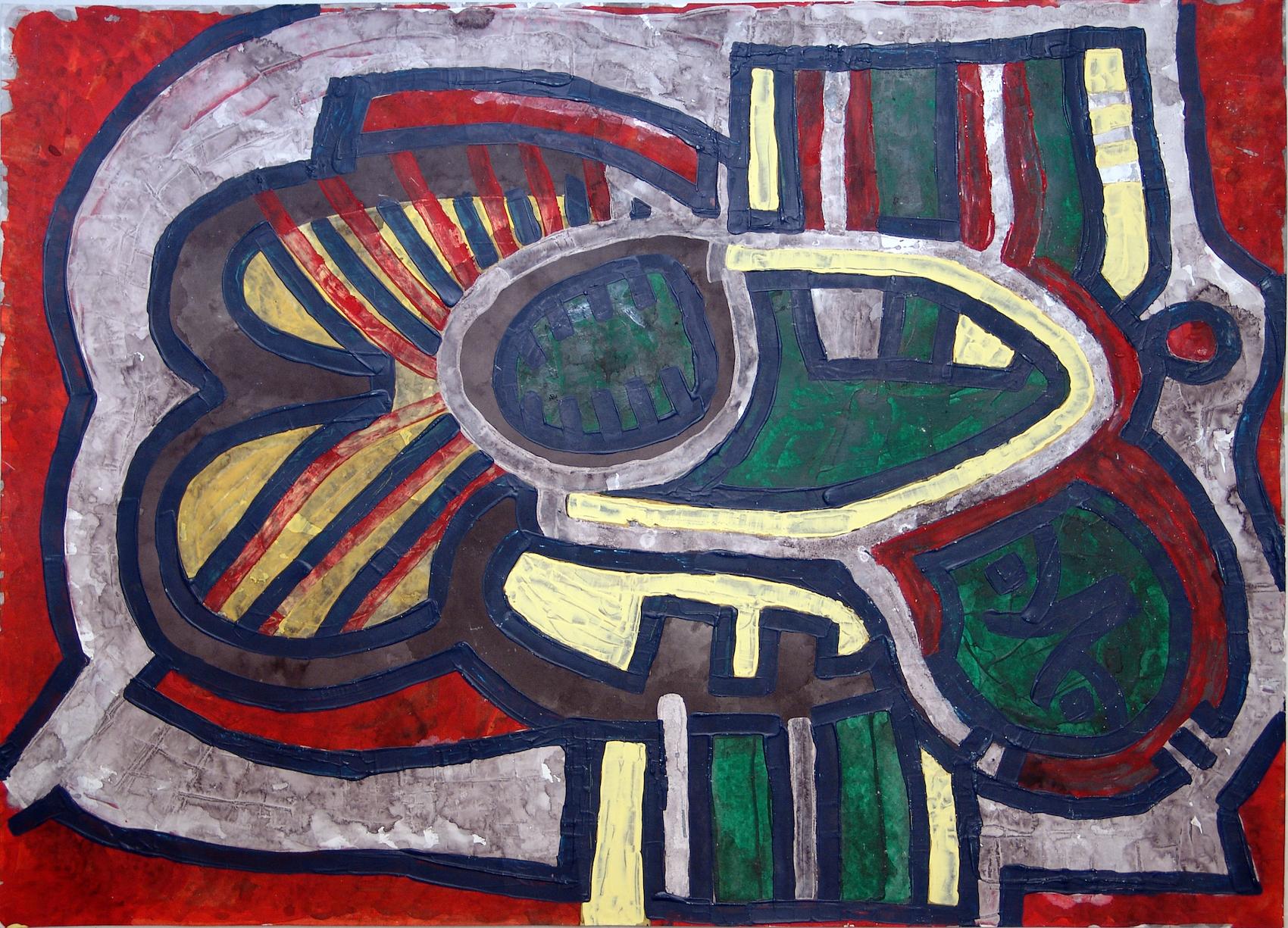 Also showcased are works by Mozambican artist Ernesto Shikhani (1934-2010), who made a significant contribution to contemporary African art during a time when freedom and independence were visceral concepts to many living in Mozambique in the latter half of the 20th Century.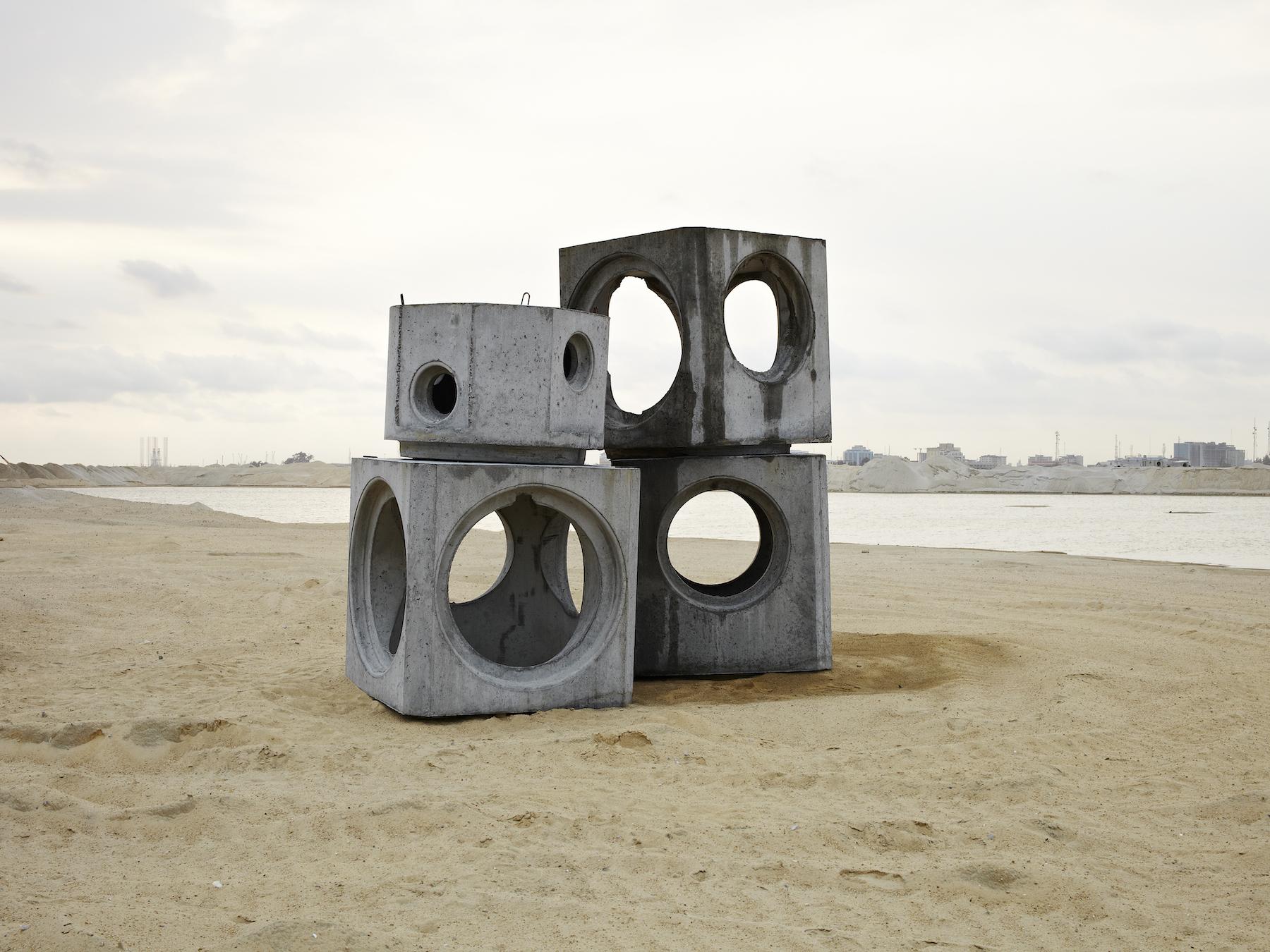 Côte d'Ivoire's Galerie Cécile Fakhoury exhibited the work of French photographer Francois Xavier Gbre. Gbre explores and revisits history, using the language of architecture as a witness of memory and social change.
SOLO
The third iteration of the SOLO section welcomed mid-career artists to show a more comprehensive selection of work exploring space as the thematic focus. The highlight of this section has to be Sungi Mlengeya, showing with Afriart Gallery. Sungi Mlengeya is a Tanzanian-born artist and painter whose professional career only recently took off after she left the corporate world of banking. Currently represented by AfriArt Gallery, common themes in her work are cantered around black women. Sungi sheds light on their stories, their journeys, struggles, accomplishments, and relationships with their immediate societies, with her stories included in the narratives.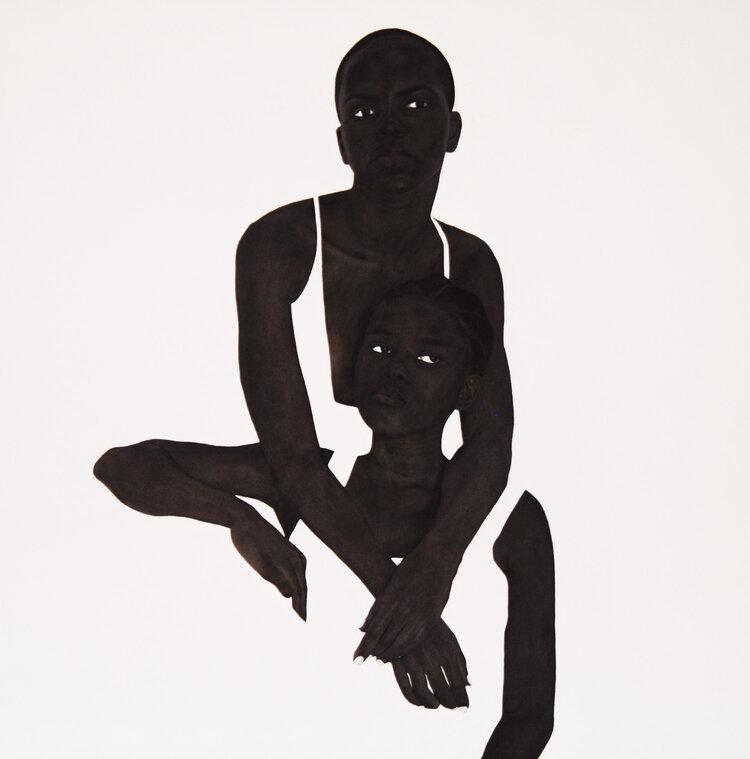 Her monochrome figures have the barest of highlights picking out their skin, while their clothes disappear into pure white backgrounds. They look both strong and vulnerable. It will be interesting to see where Mlengeya goes next with her art practice.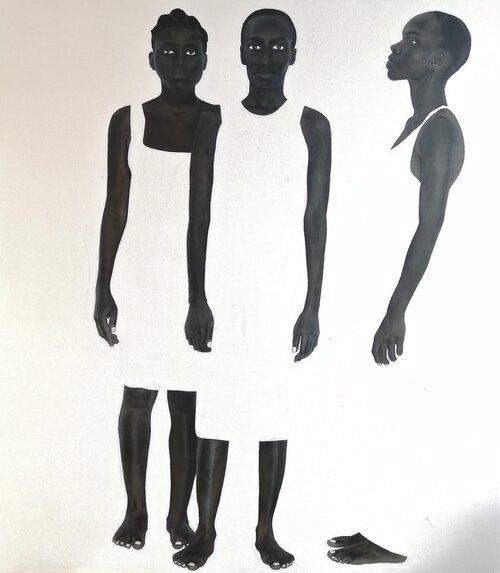 Salon Ninety-One presented a stunningly curated solo exhibition by Capetonian artist Kirsten Beets, who paints a place somewhere between the real and imagined. Her images show a sun-soaked, mythological notion of Eden, and the shifting relationship between people at leisure and the natural world all rendered in delicate detail.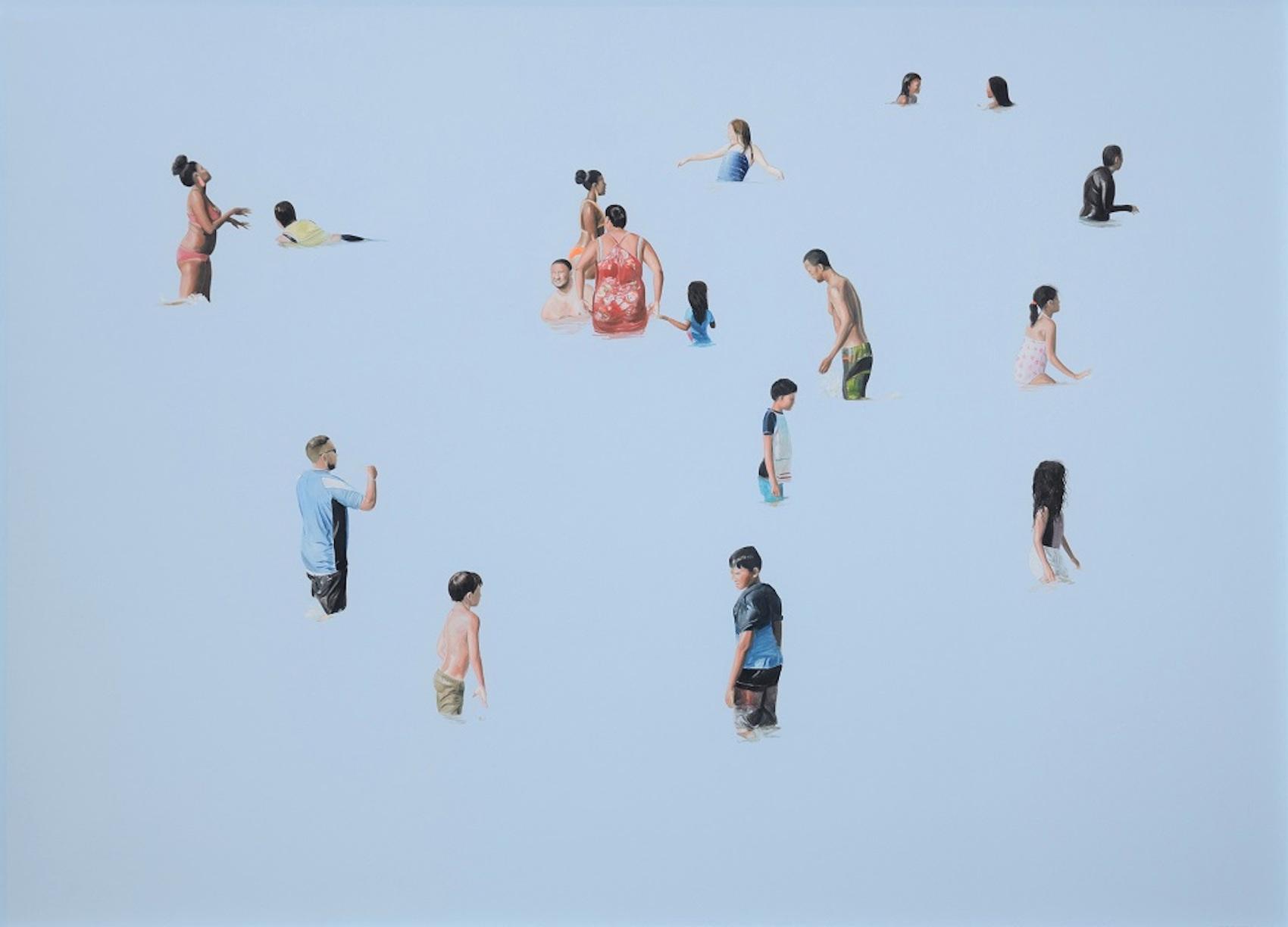 THE MAIN GALLERY
Everard Read Gallery represented artists from the United Kingdom, Europe, Nigeria, and the USA while retaining an impressive staple of Southern African artists. One of whom is Teresa Kutula Firmino. Her instantly recognisable collages of colourful boxed stage sets explore the trauma that her community has experienced and continues to suffer due to colonisation, civil wars, and present-day problems.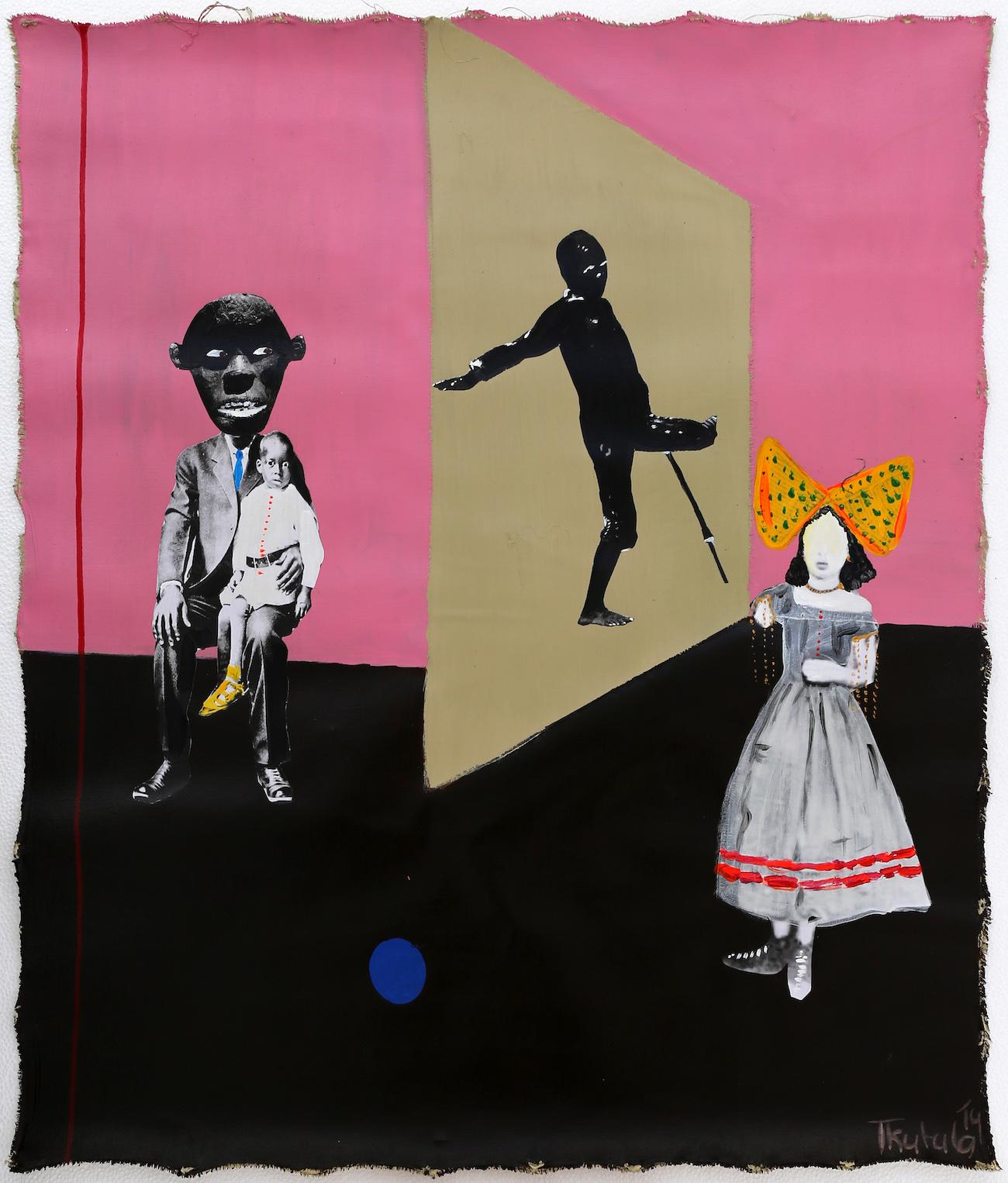 Blessing Ngobeni moved to Johannesburg at a very young age, where he experienced many hardships, from living on the streets to serving time in prison, of which he describes as "the usual South African story." He has since then built an exceptional and unique career in the South African art industry. He uses his expressionist paintings not only to overtly critique the current status quo but to ask uncomfortable questions about the African experience of the world.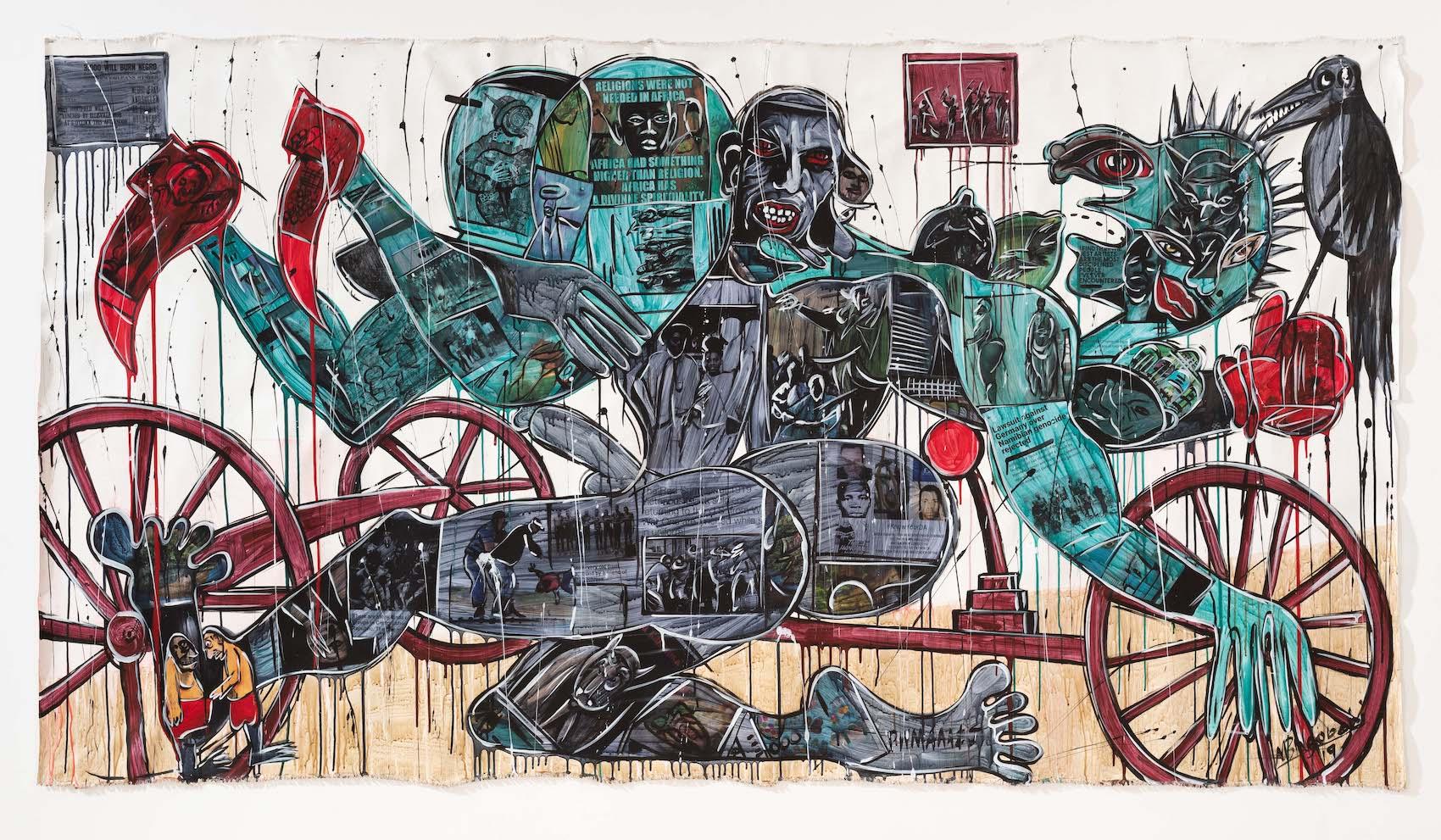 Visual artist Hugh Byrne lives and works in Cape Town, where he finds himself drawn to the city's lines, form, and structure. Currently focusing on paintings influenced by architecture and space, Hugh's previous work includes film, sculpture, and photography. His subjects are lines and shapes of buildings, shadows, roads, and other geometric structures within the city, simplified, abstracted, and painted in vivid colours to create something new.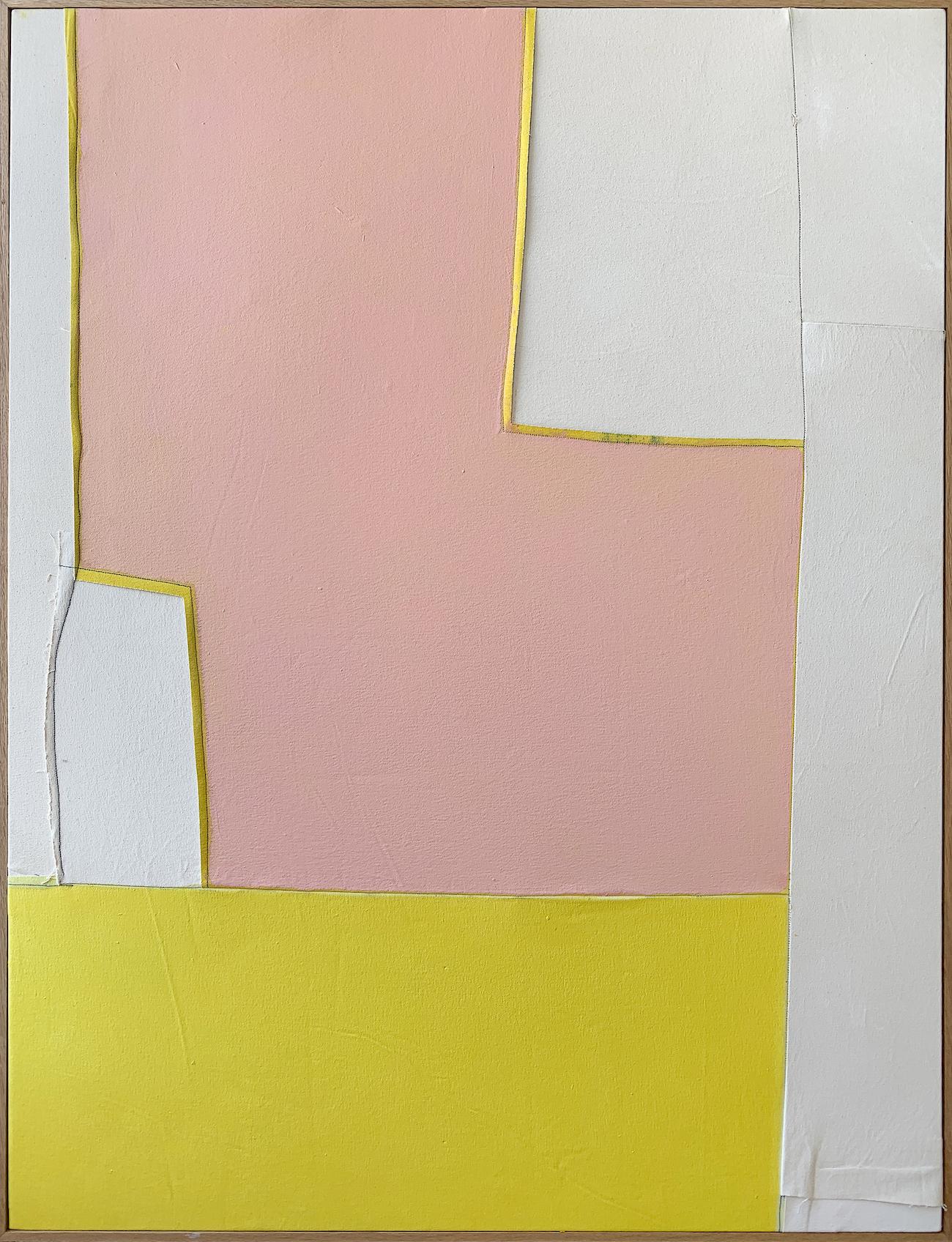 Cape Town and Johannesburg's SMAC Gallery exhibited work from artist Frances Goodman, choose tools of practice come from the beauty industry, namely fake nails which she uses in a seductively sinuous snake-like way, in drawing attention to popular culture definitions of female identity, extremes of consumption, aspiration, obsession, desire, and anxiety. Israeli artist Galia Gluckman now living and working in Cape Town was also on show with SMAC. Gluckman worked as a fashion designer in London, UK, and New York City, before returning to fine arts; her works 'adjustment,' and 'arrangement' are both unique pieces that show her fashion design roots.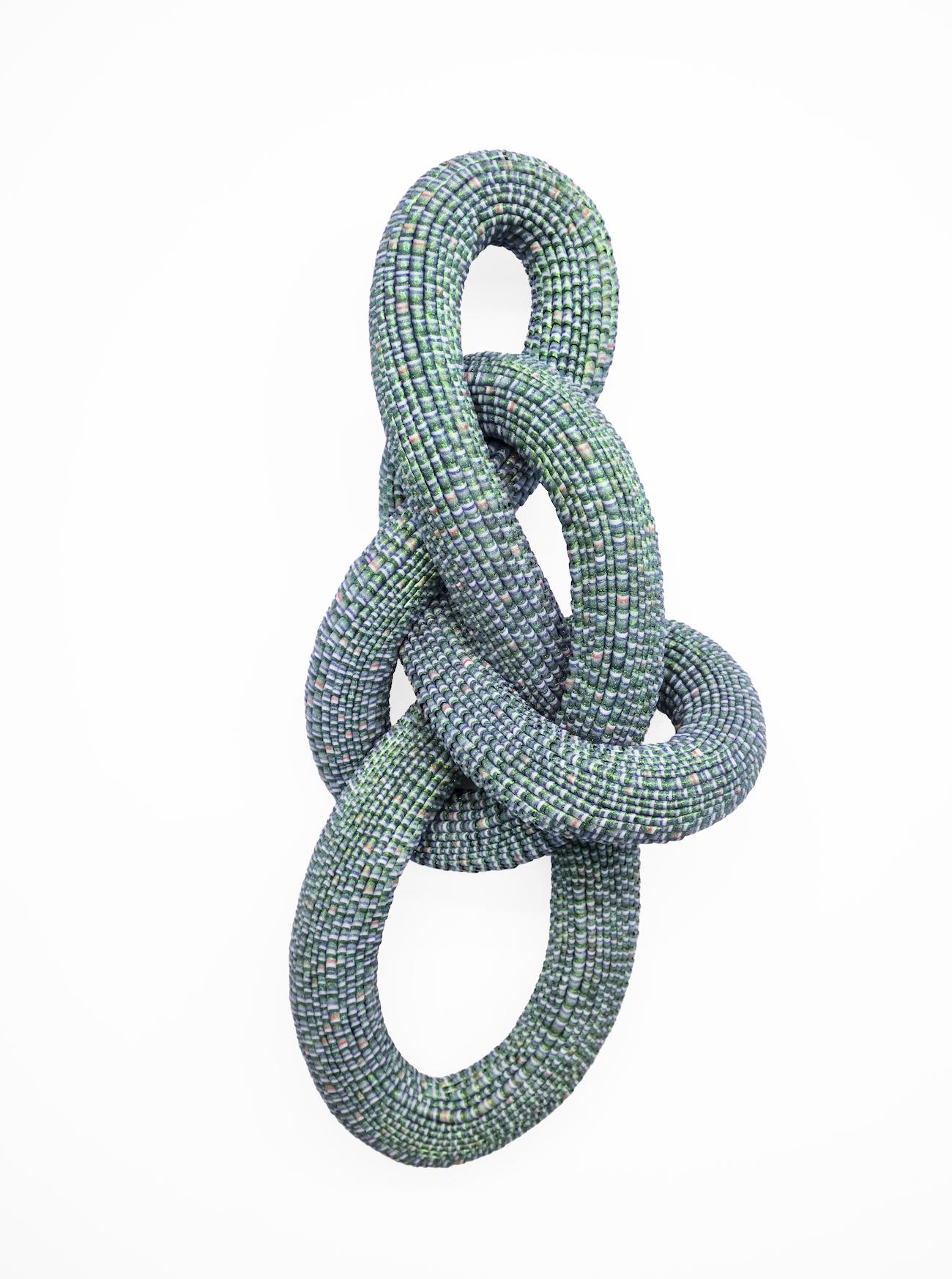 Elsewhere, October Gallery presented Alexis Peskine's extraordinary and compelling works made from nails, gold leaf, wood, and coffee, using digital processes first and foremost. The gold leaf and flat nailheads add depth; however, it is only on close up inspection that you see the nail profile is not flat.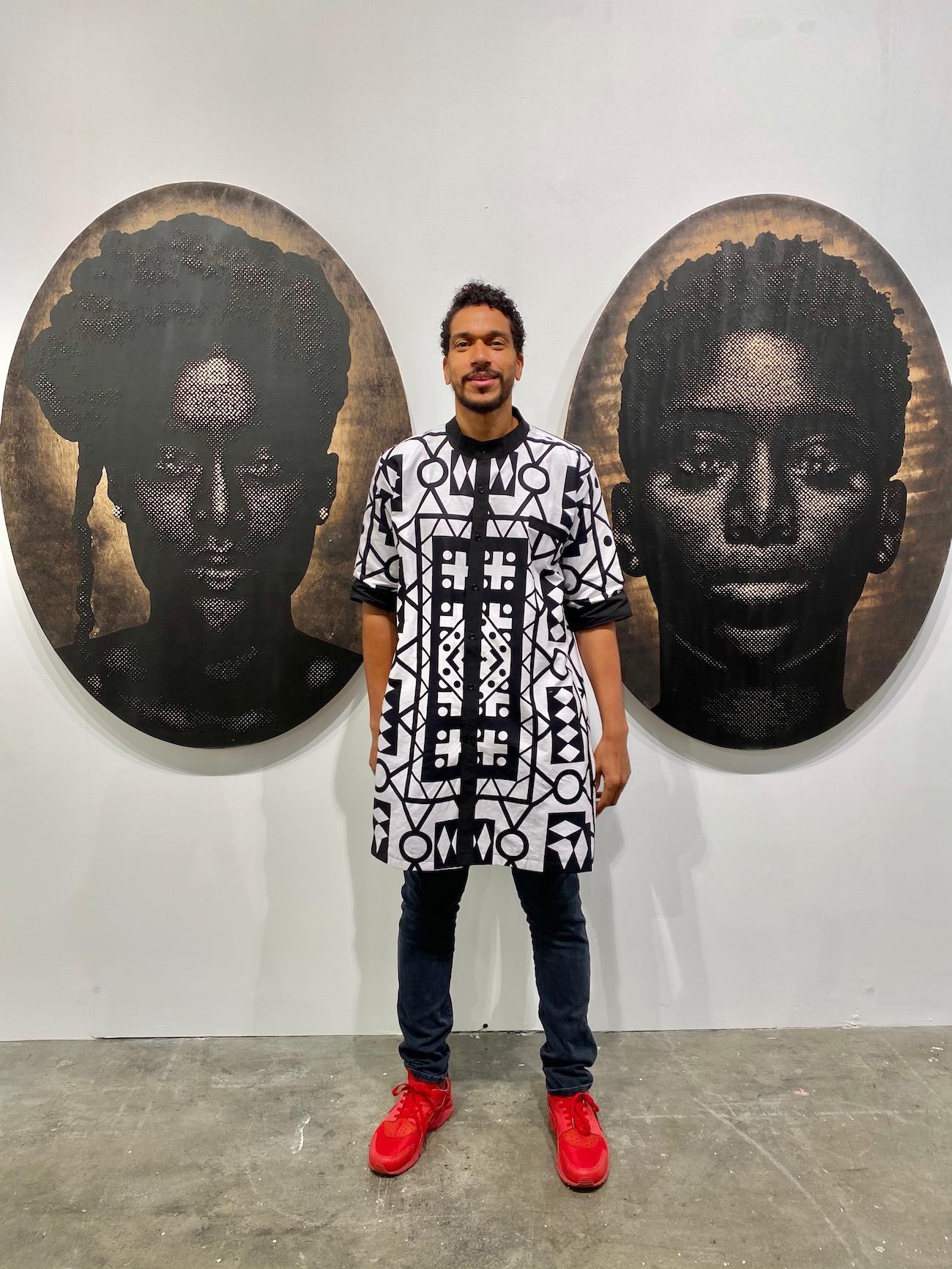 Christopher Moller Gallery showed work from Dennis Osadebe and Tony Gum. Nigerian mixed-media artist Dennis Osadebe (born in 1991) is best known for his contemporary, vibrant post-pop style and use of flattened planes and bold colour. He refers to his style as a "neo-visual" it is modern, bright, expressive, and provocative. His characters wear a helmet as a form of protection, shielding them from the harmful effects of the outside environment, they also lend a sense of anonymity, disguising their identity.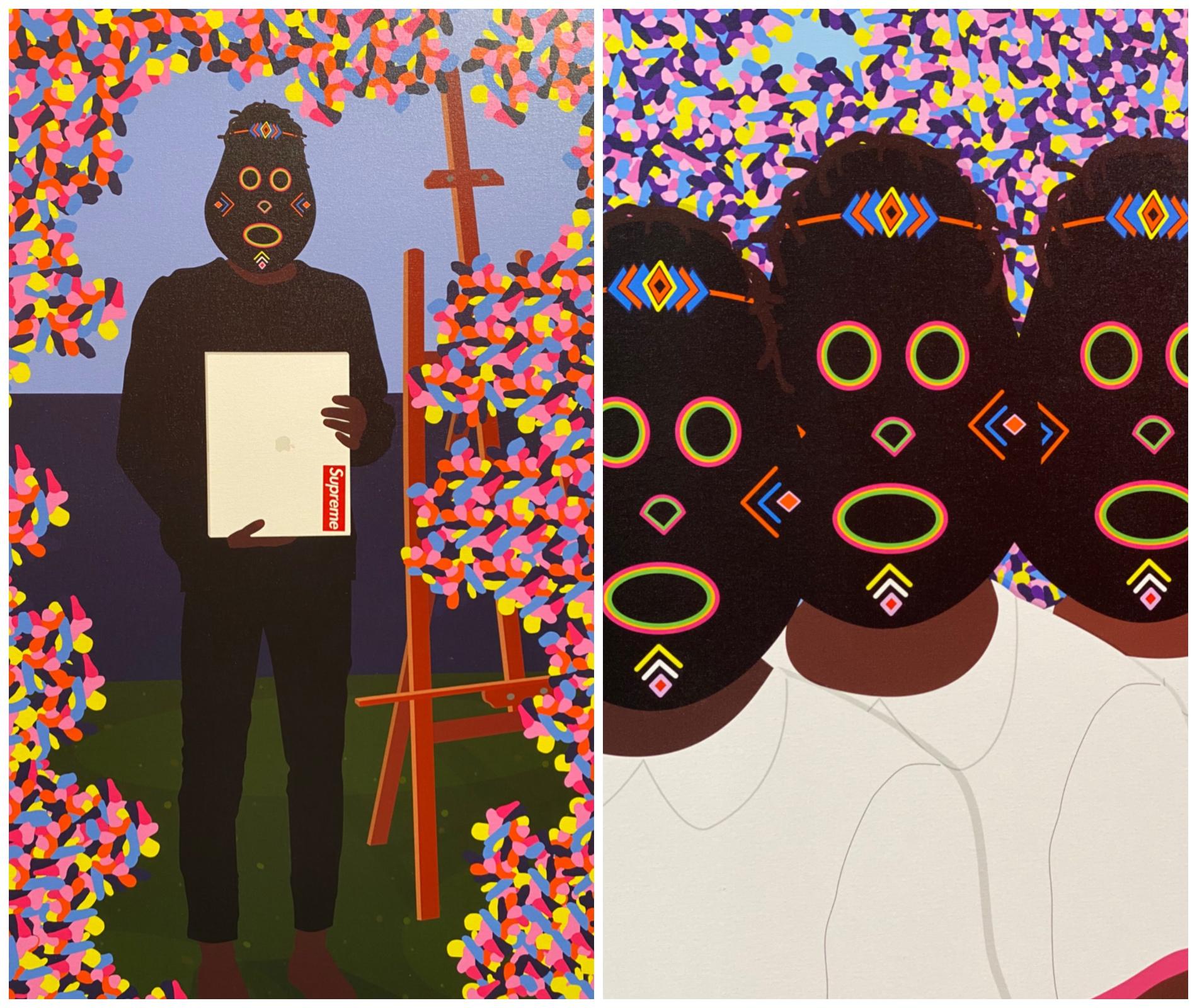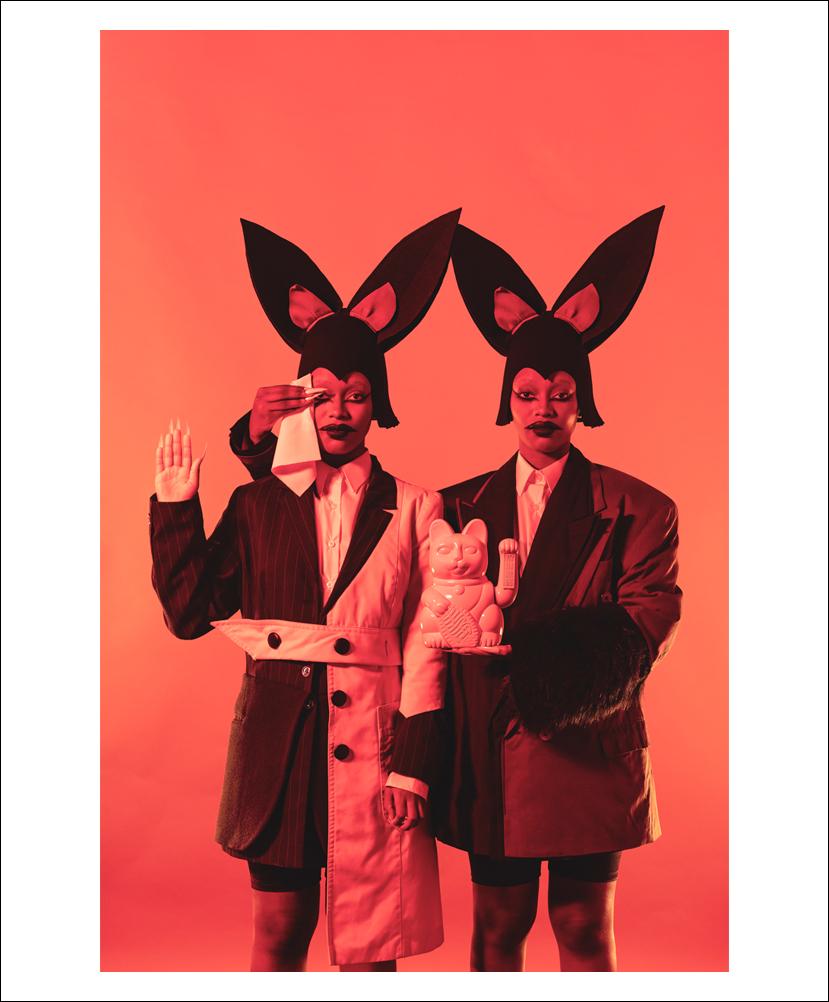 Established in 2004, Cape Town's WORLDART is a contemporary art gallery that represents artists with a contemporary urban aesthetic that includes Cape Town's Norman O'Flynn. He has a deep understanding and love of pop art, and his practice explores what it means in today's world. Meanwhile, Kilmany-Jo Liversage believes wholeheartedly in the power of colour. Her portraits intentionally blur the boundary between fine art and street art. At the Fair, we see her bold, colourful floral works.
What if the World Gallery [WITW] exhibited the work of South African Chris Soal. An award-winning artist who utilises everyday objects used and disposed of daily by millions of people around the world. His arrangement of toothpicks as a medium, engages the viewer on a physical level, encouraging a visceral reaction; some recoil while others have an overriding desire to touch them.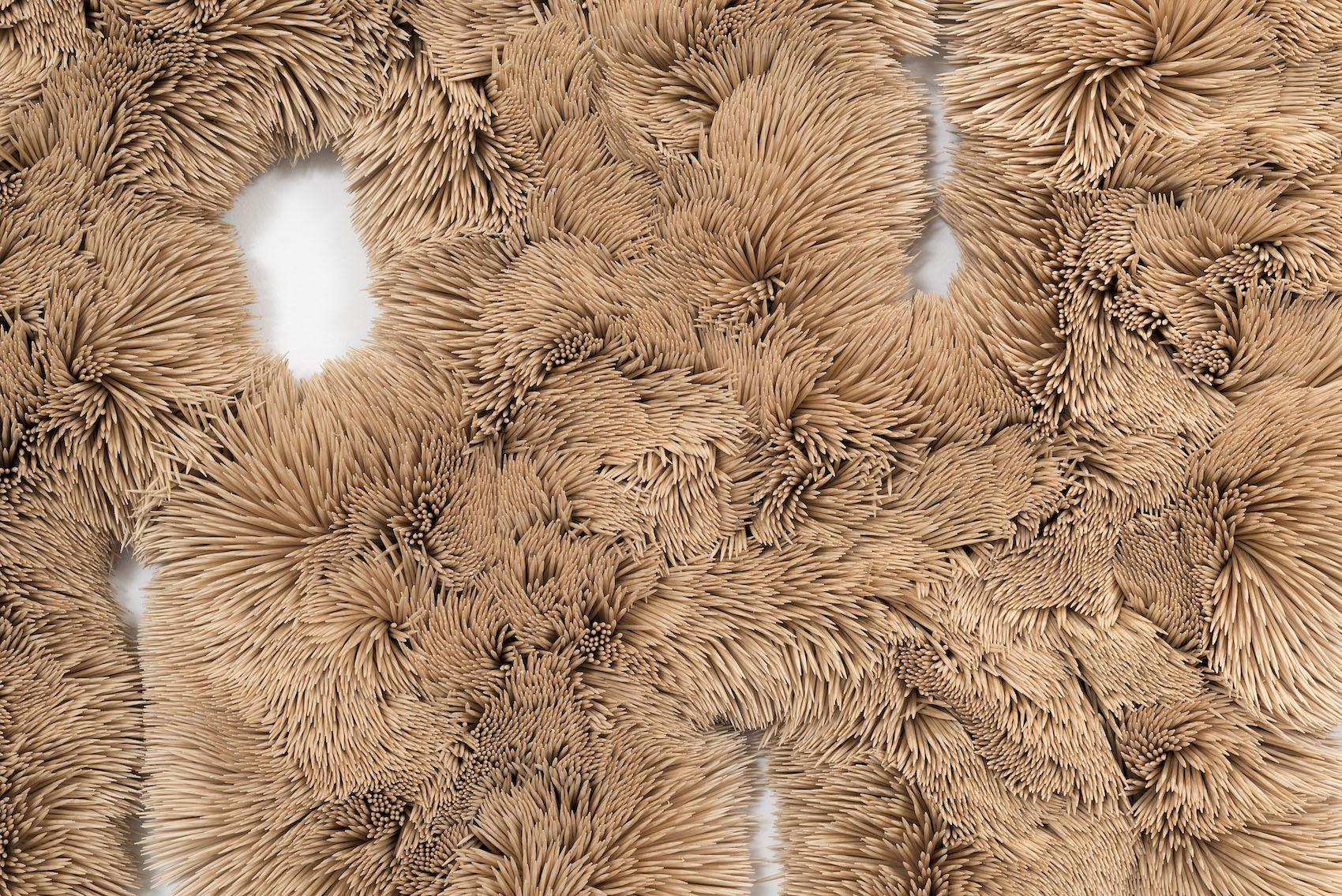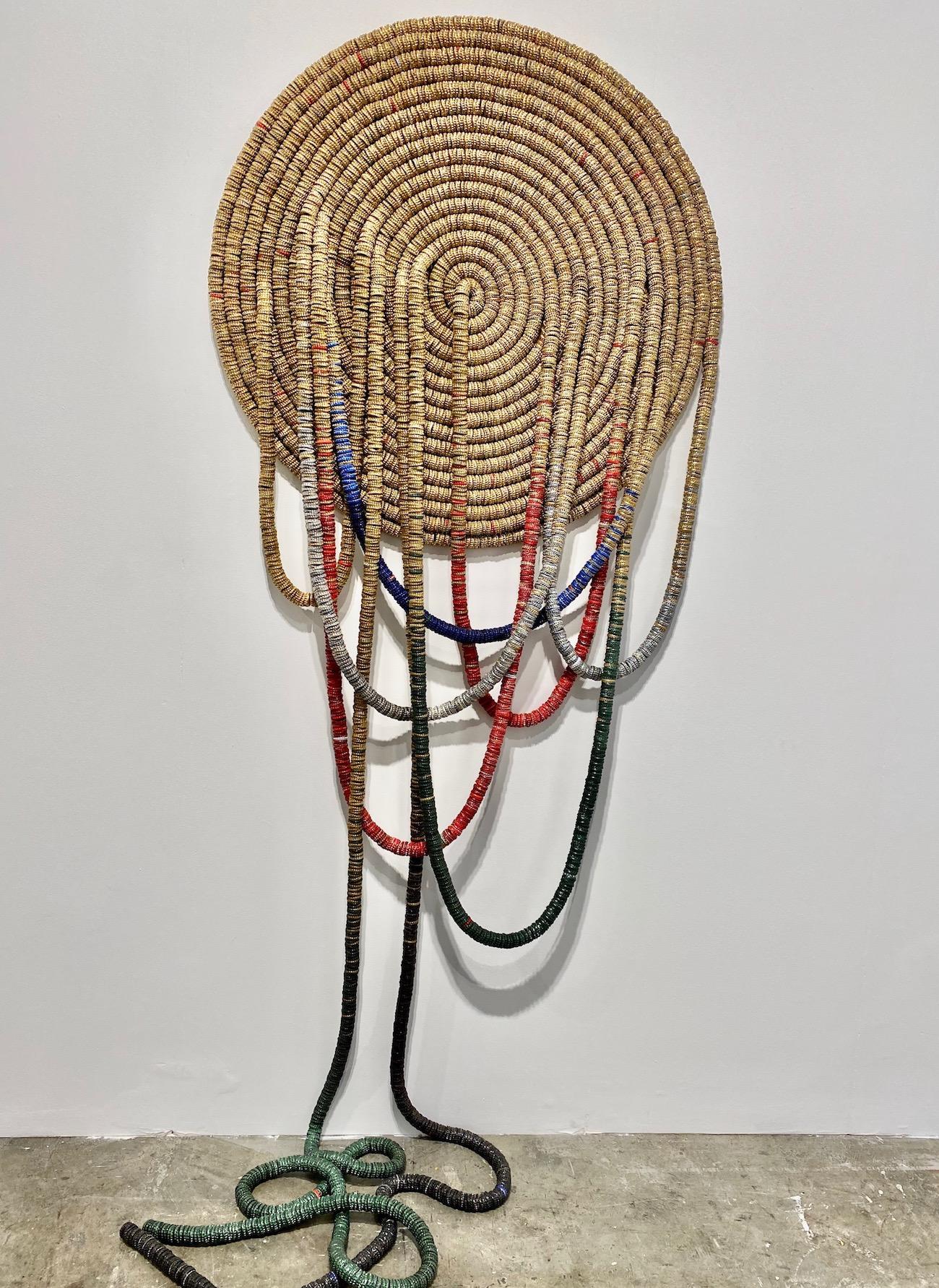 WITW also showed South African artist and lacemaker Pierre Fouché, and Athi-Patra. South African artist Athi-Patra practice spans the mediums of costume, performance, video, and photography. His playful visual imagery draws from a diverse range of cultural references, while his hybrid figures appear to exist in a surreal world.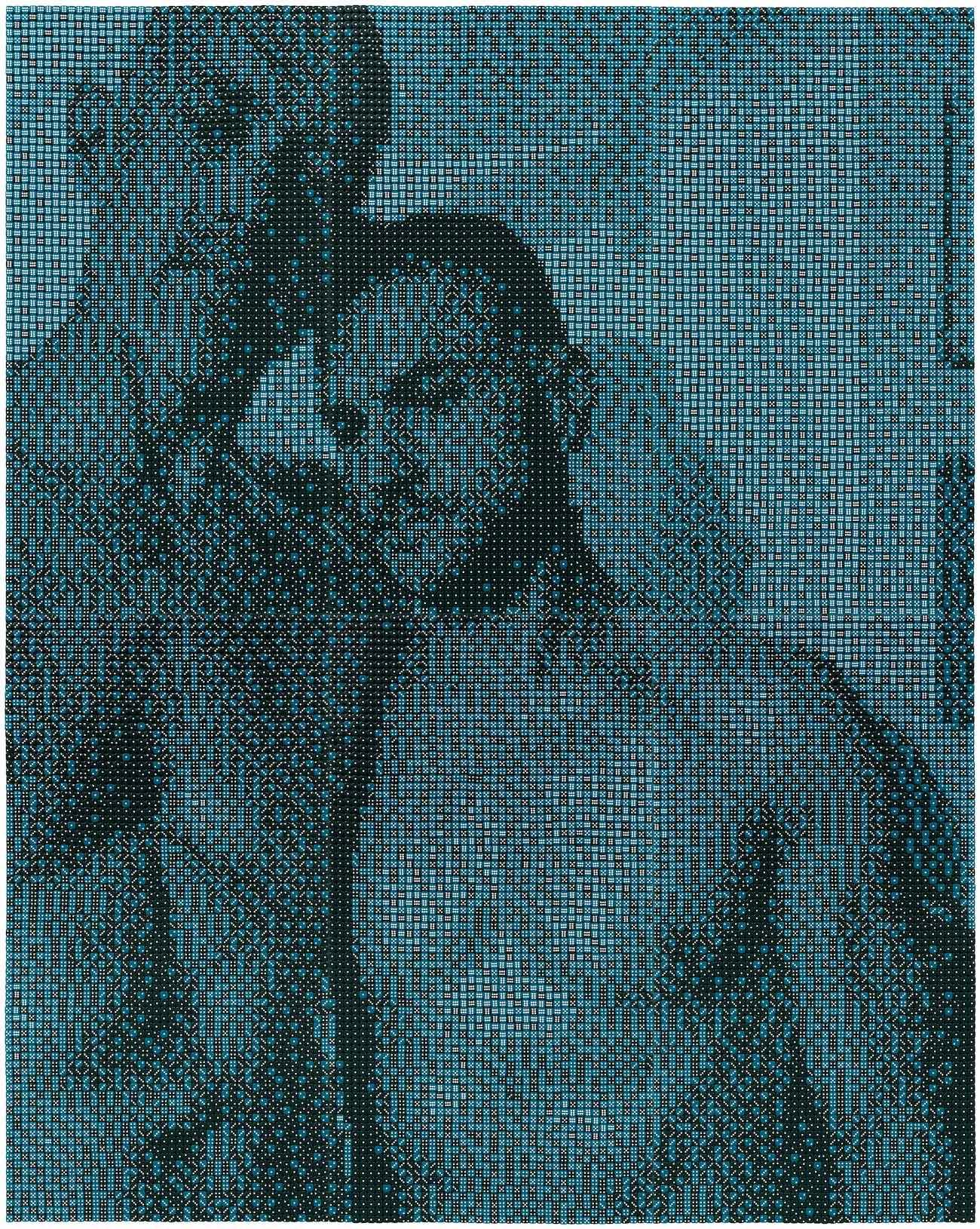 Dr. Esther Mahlangu, born 1935, is South Africa's national treasure. Known as Mam Esther, she has taken the structured geometric kaleidoscope and vivid complexity of Ndebele art to the world. Mam Esther was taught the skills of mural painting with her fingers and feathers, by her mother in her rural village in Mpumalanga. Just as her mohters, own mother had taught her. Since her ascension to global notoriety in 1989, she has brought a touch of South Africa to the world's attention.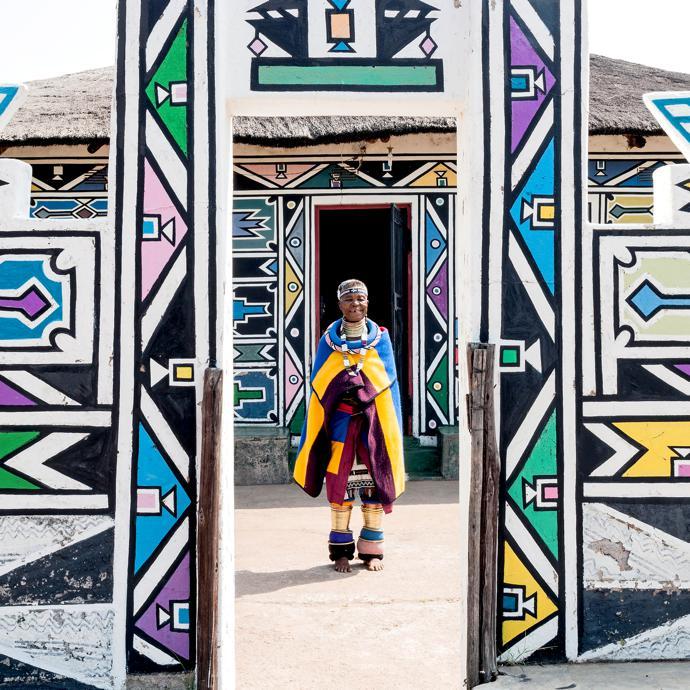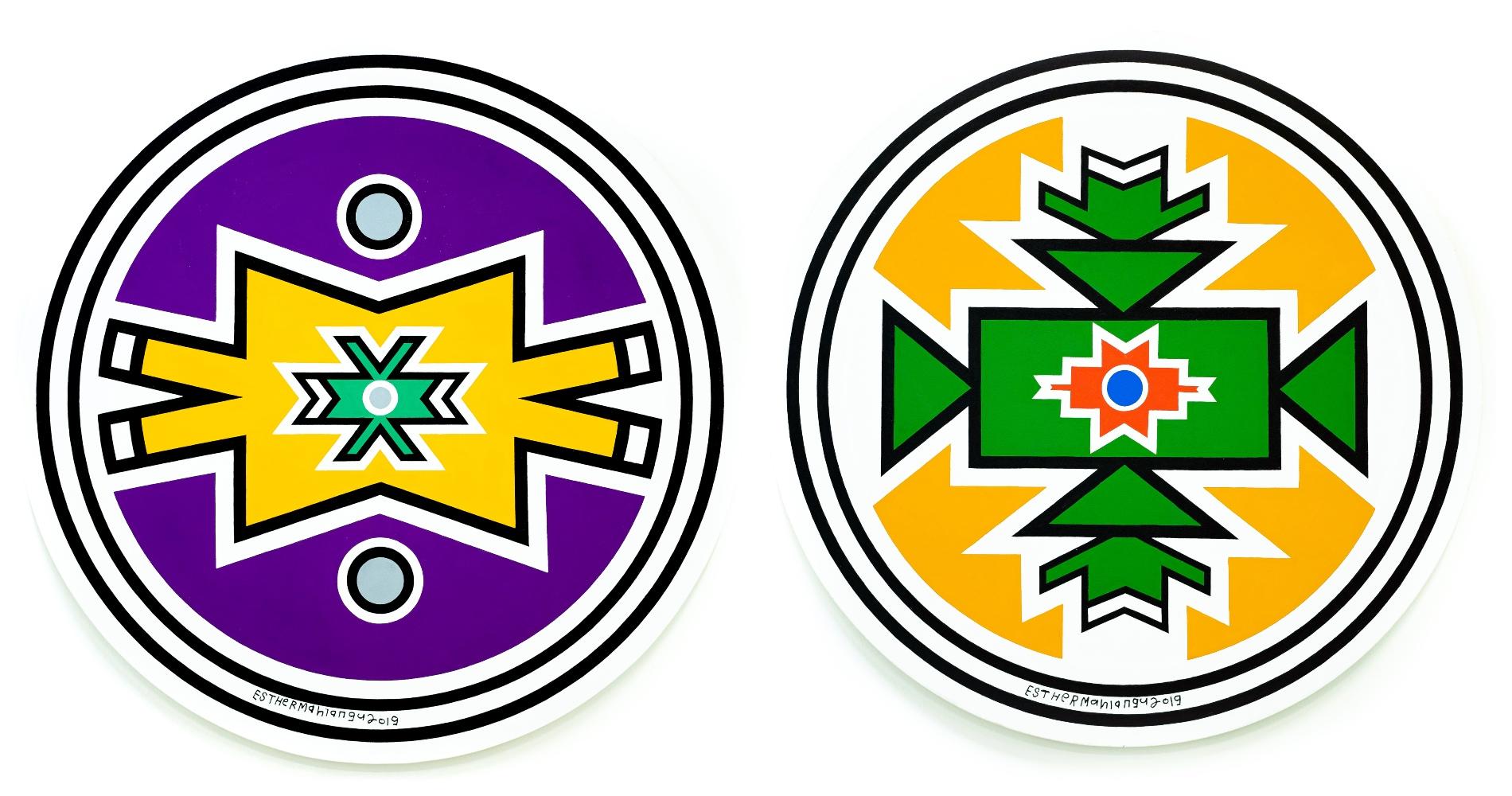 SOUTHERN PROJECT: SOUTHERN GUILD
Cape Town's Southern Guild makes it's debut this year with a special project that introduced visitors to works that border art and design, exhibiting the work of South Africa's leading designer-makers who push their work beyond every day to the realm of sculpture. Ceramicist Zizipho Poswa manipulates clay into the most incredible oversize vessels while Justine Mahoney's fantastical sculptures are deeply influenced by her childhood experiences growing up white in 1970s Apartheid Johannesburg.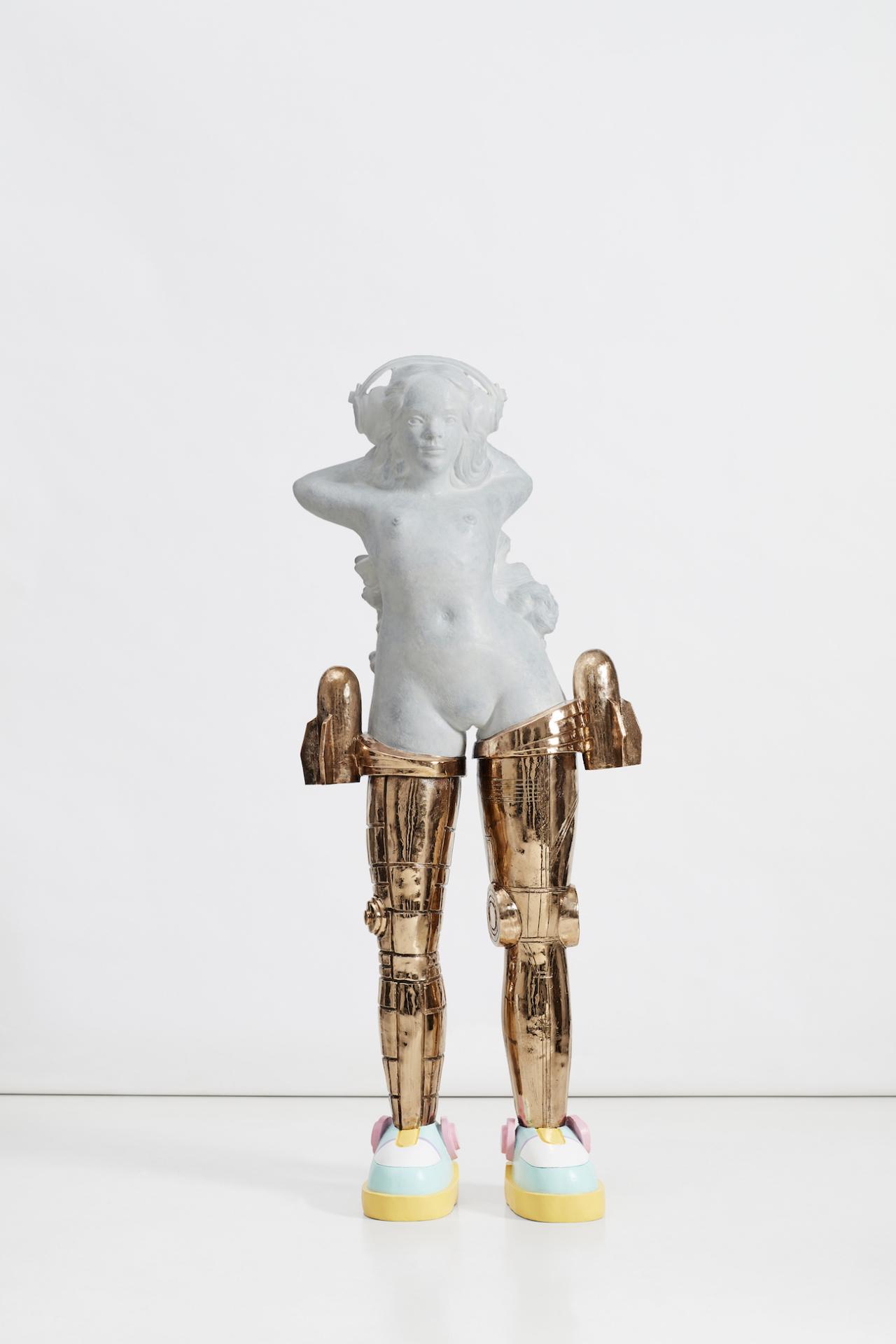 The ubiquitous after parties are the finale to a fabulous week in Cape Town, with still much to explore with ongoing shows at local galleries, the Stellenbosch Triennale and ICAF Street Art Festival, and Design Indaba that stretch on through March and the rest of the year.
Scroll through the gallery below to see more of the highlight works and artists from the fair (all images courtesy of the artist, gallery and Cape Town Art Fair; cover photo Belgian artist Antoine Rose, known for his aerial shots that rescemble abstract minimalist paintings):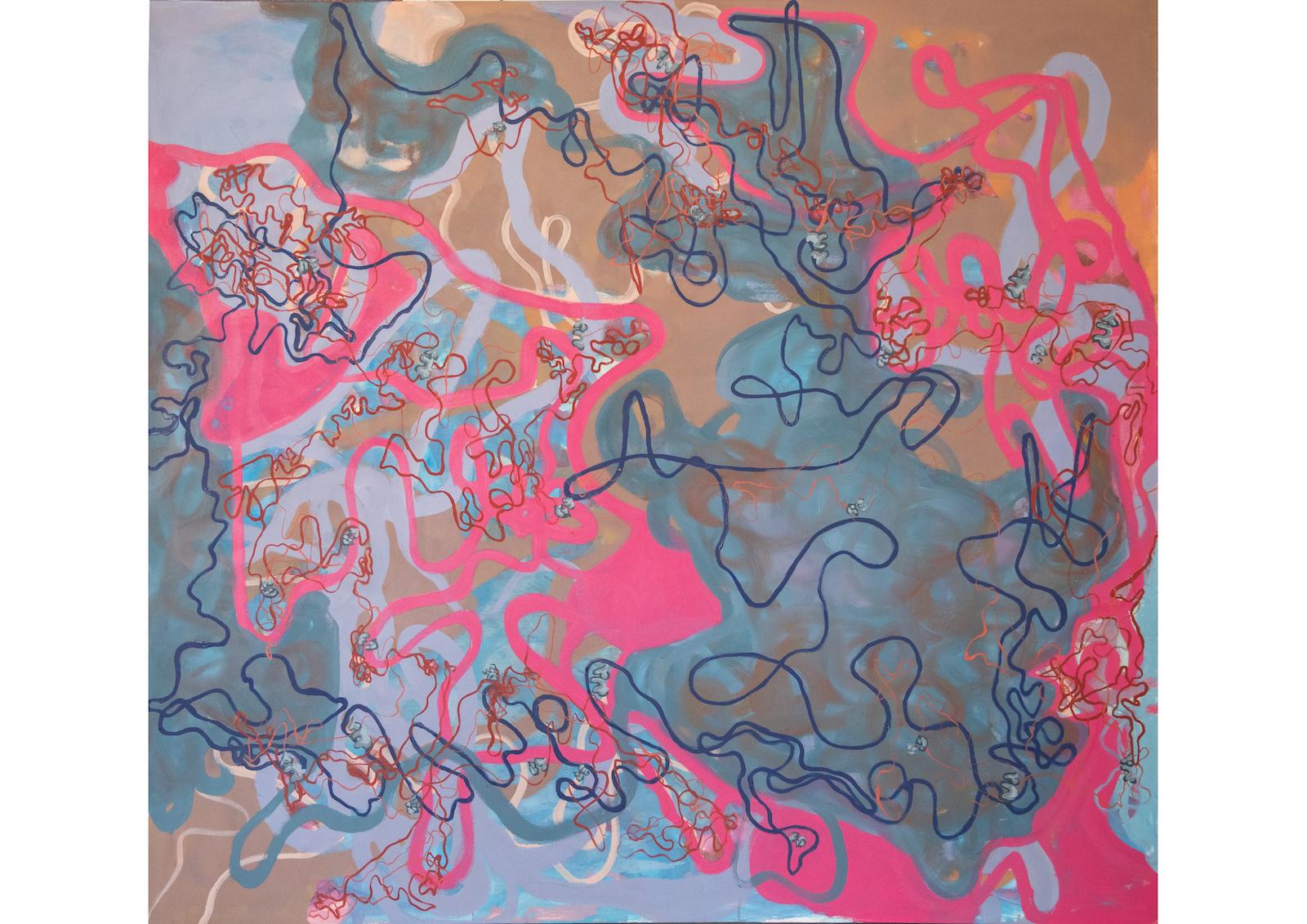 First Floor Gallery Harare is Zimbabwe's leading contemporary art gallery and educational space well known for launching some of the country's brightest international talents. This year they showcased the work of Amanda Mushate, who draws her inspiration from people around her to talk about relationships and how they affect society. Using mixed media, she paints and sculpts her happiness and burdens.
Amanda Mushate, Ngabangani bami but me not slay, 2019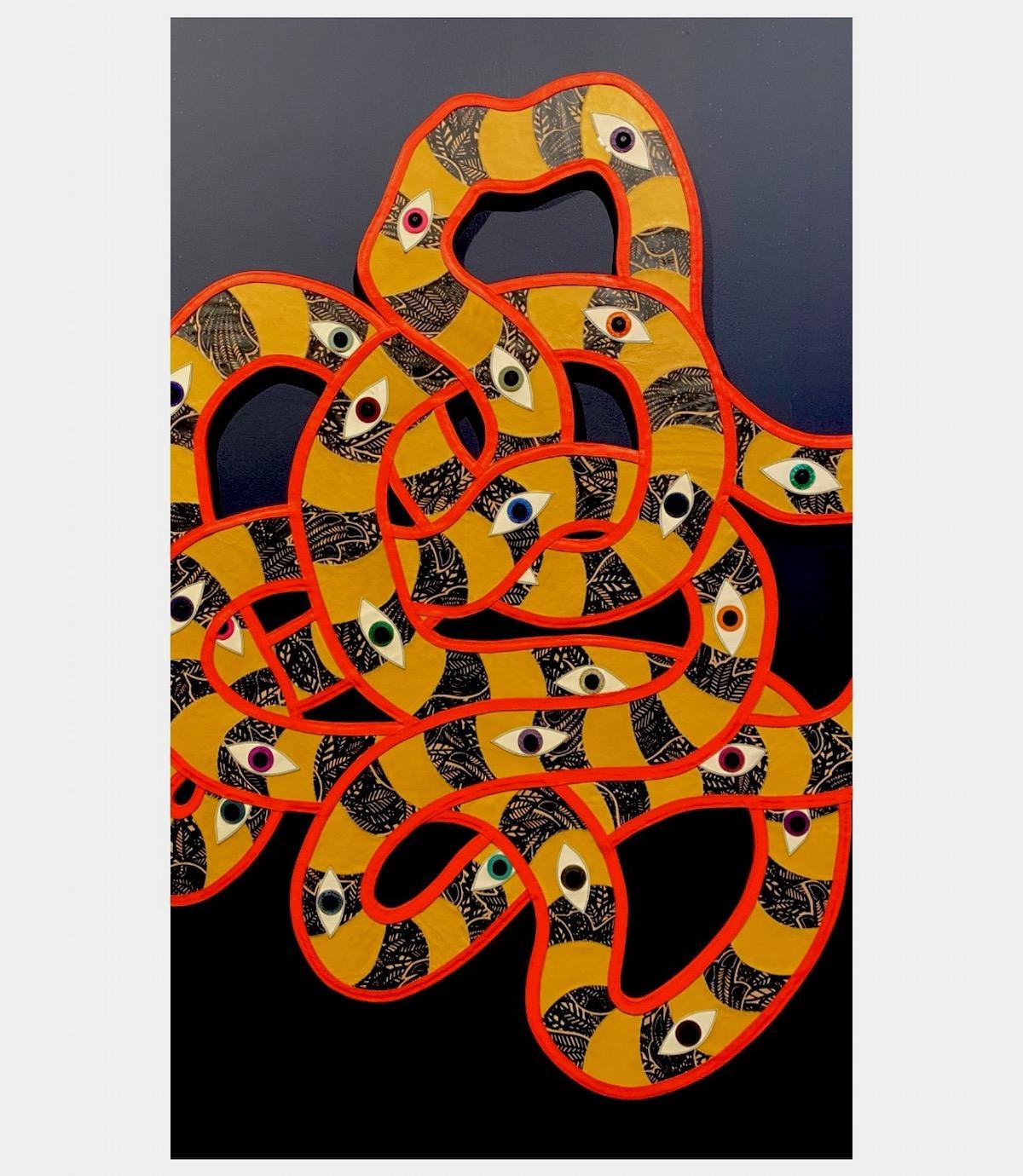 Salon Ninety-One presented Chloe Townsend's crazy leather snake, 'We're in this together'. A leather patchwork with appliqué detail was dazzling and very Instagram worthy.
Chloe Townsend, We're in this together, 2020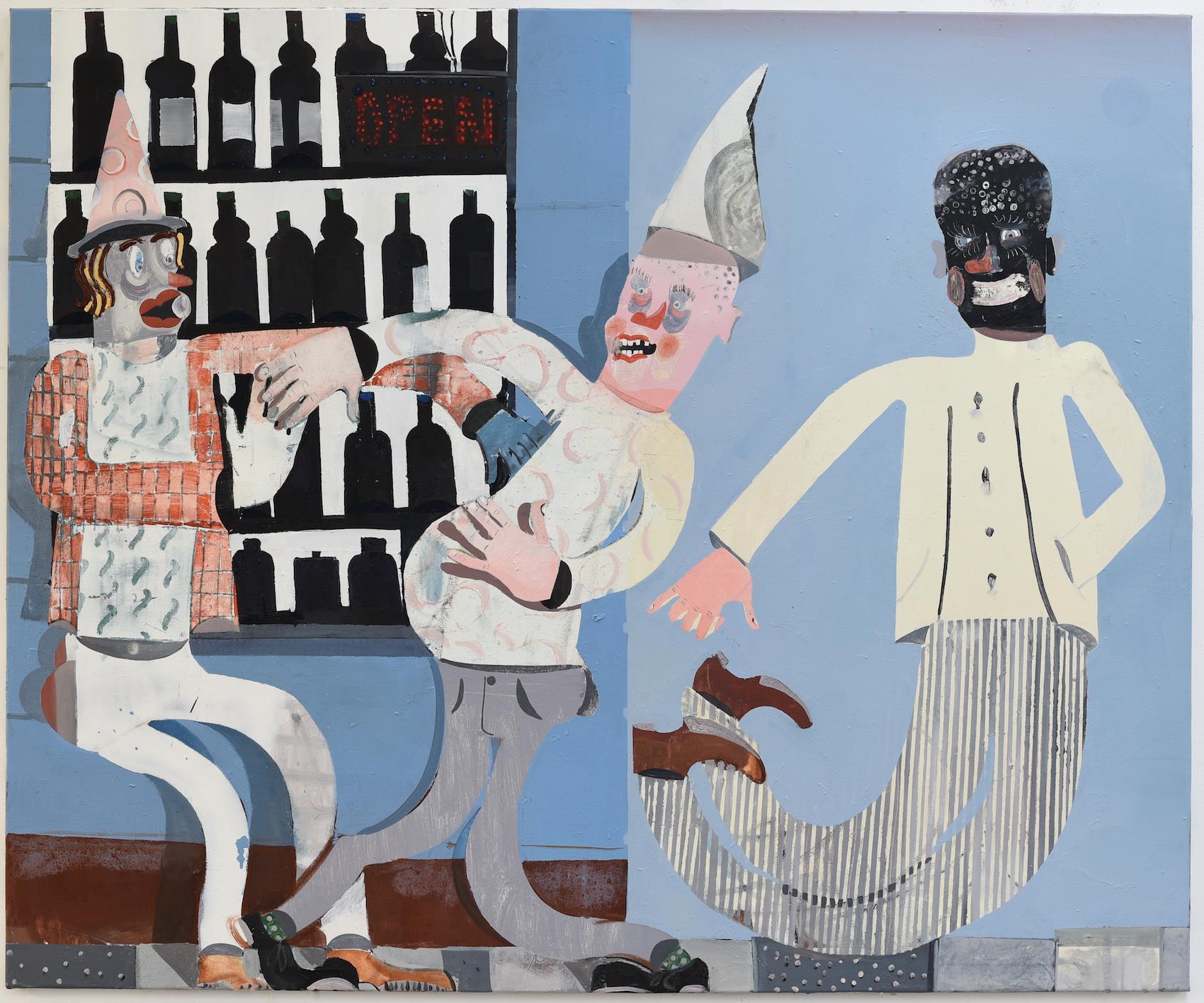 Belgian artist Pieter Jennes whose playful illustrative works were shown by Antwerp's Sofia Van de Velde Gallery. While Francisco Rodrigues da Silva, also known as Nunca, [meaning never in Portuguese], confronts modern urban Brazil with its native past in his bold and colourful graffiti style. Shown by Galleria Patricia Armocida, Milan.
A work by Pieter Jennes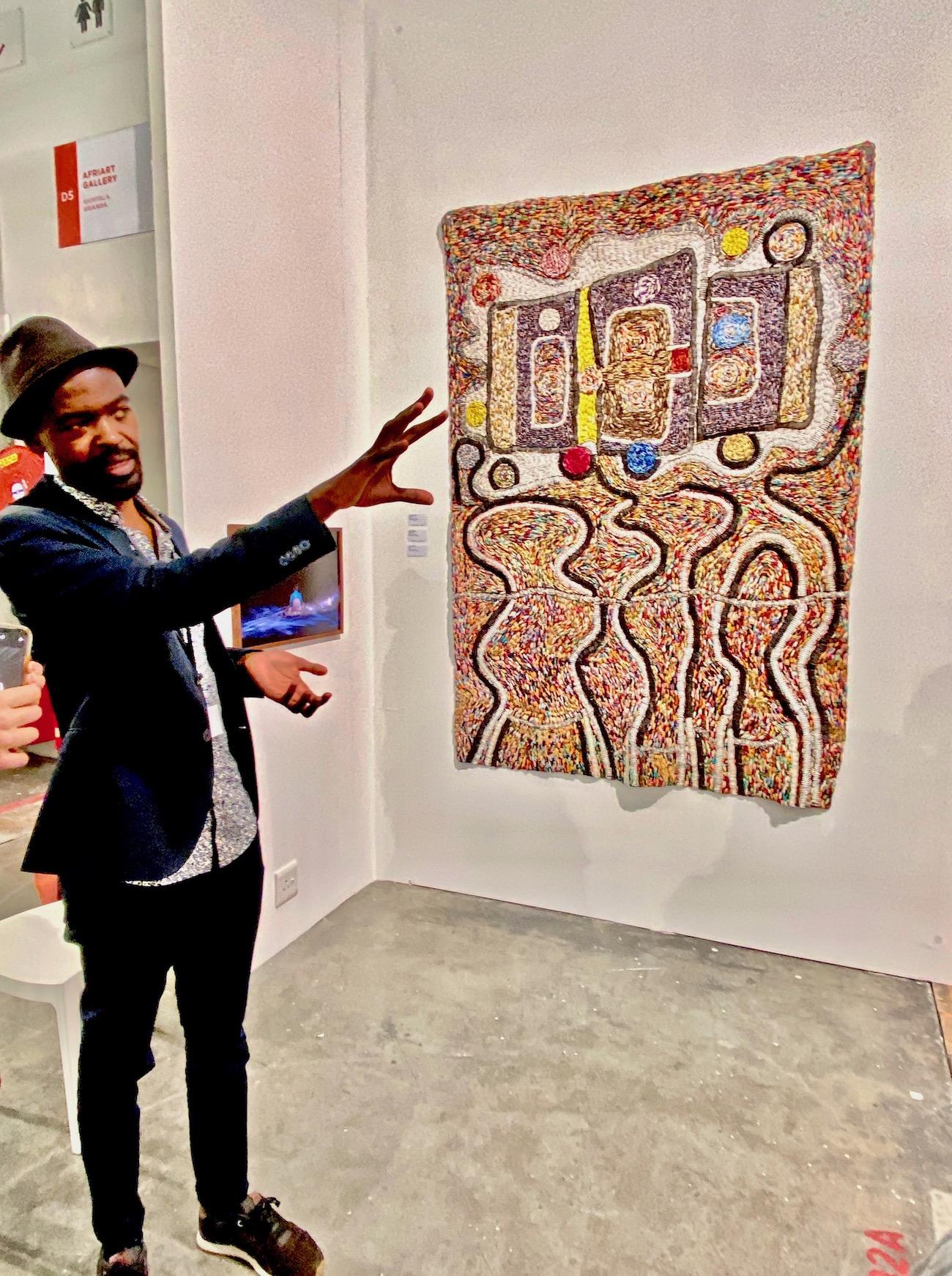 One of Sanaa Gateja's unique contributions to art is the innovation of recycling paper into beads. The paper beads have spread throughout East African communities providing a livelihood to as many as 50,000, especially women and youngsters earning him the nickname 'The Bead King.'
Paper Beads, Sanaa Gateja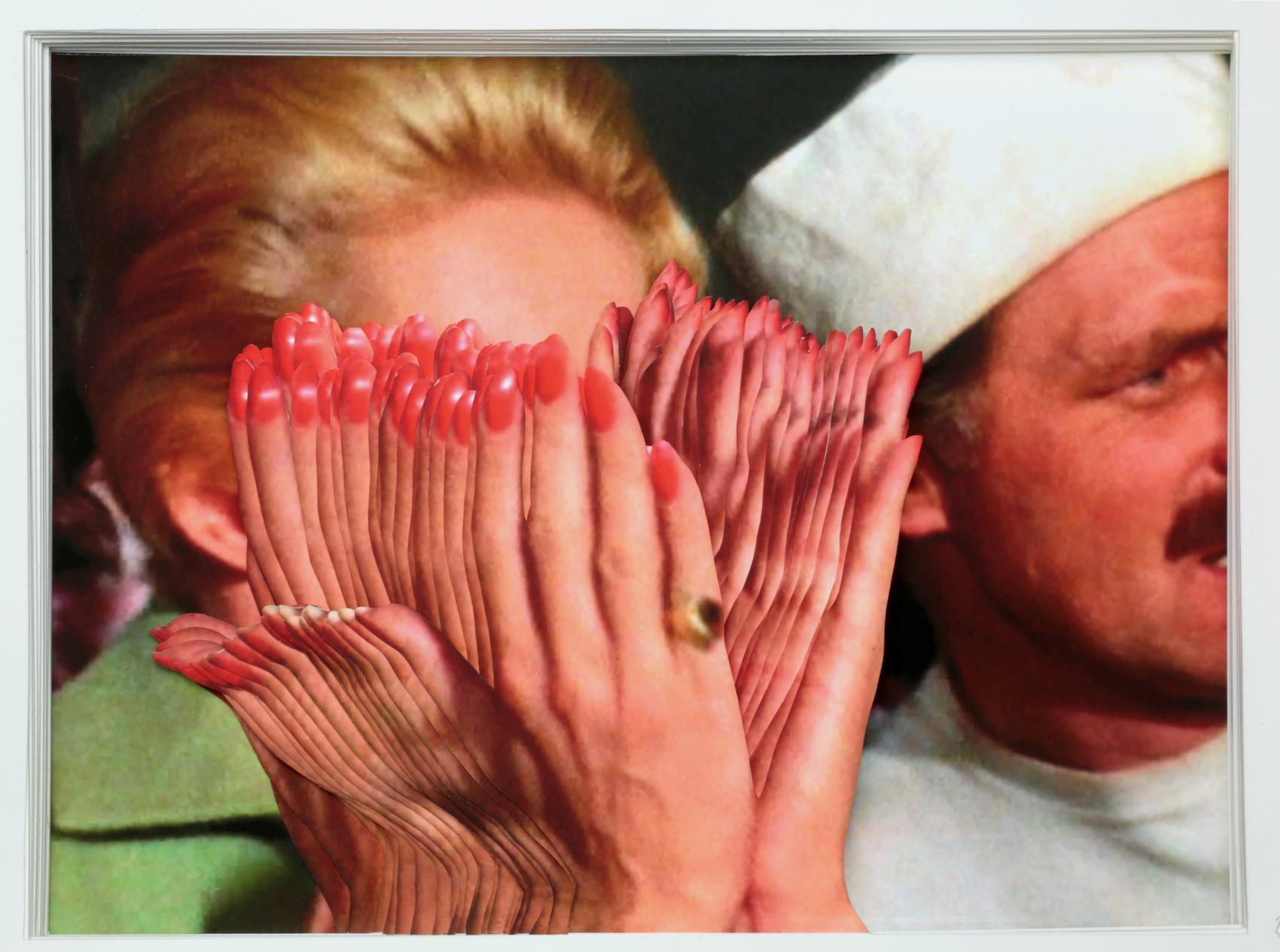 Galerie Raum mit Licht is based in Vienna is a contemporary art gallery that represents an ongoing engagement with both young and established Austrian and international artists. Showing at the Fair is Karin Fisslthaler's portrait of Tipi Hedren.
Karin Fisslthaler, Tipi Hedren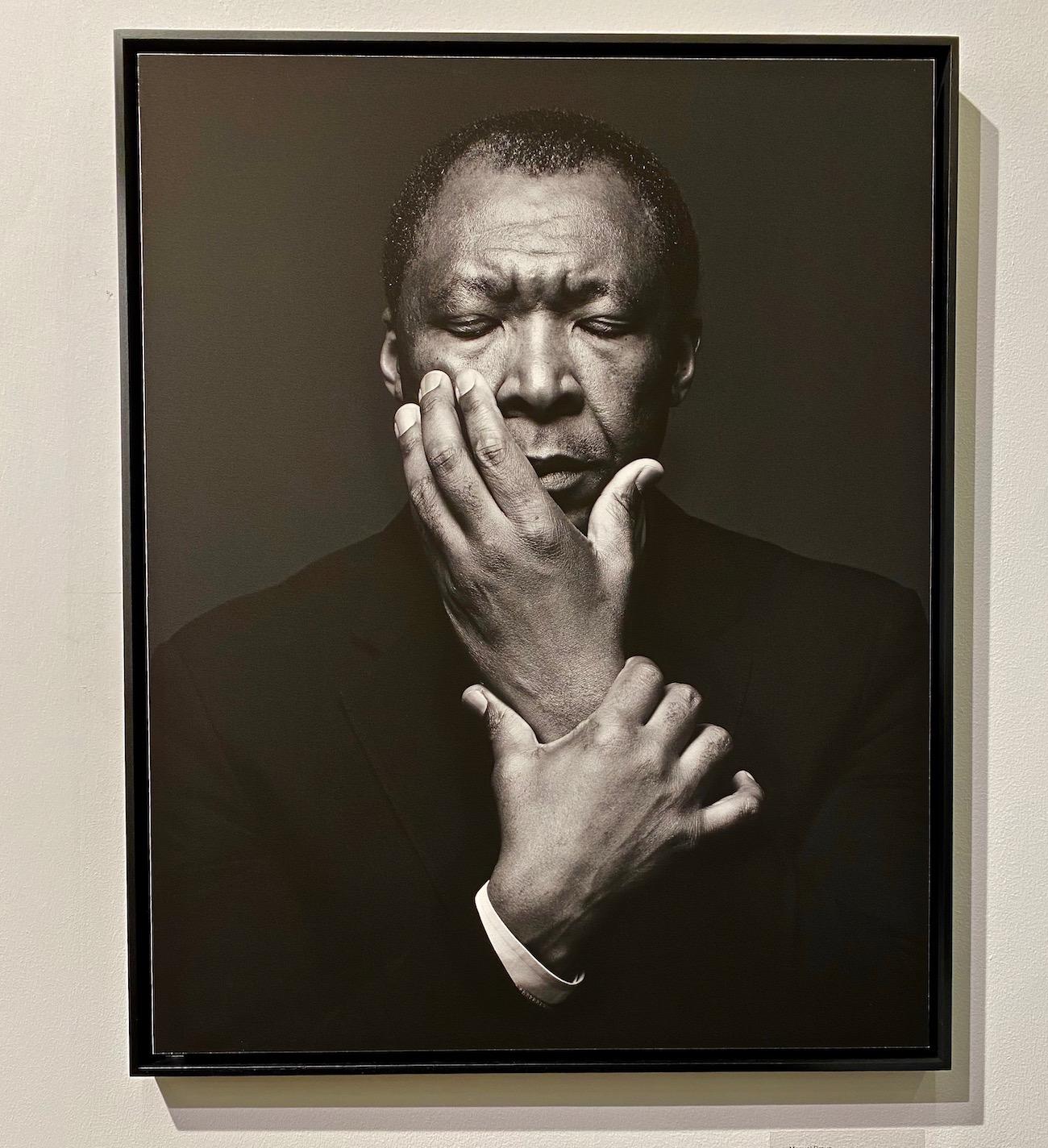 Manuel Braun is a Swiss Photographer living in Paris whose candid and beautifully soul-bearing portraits draw you into the emotion. Represented by Galerie Véronique Rieffel, Abidjan Ivory Coast Africa.
Manuel Braun, Portrait of Okwui Enwezorm, 2012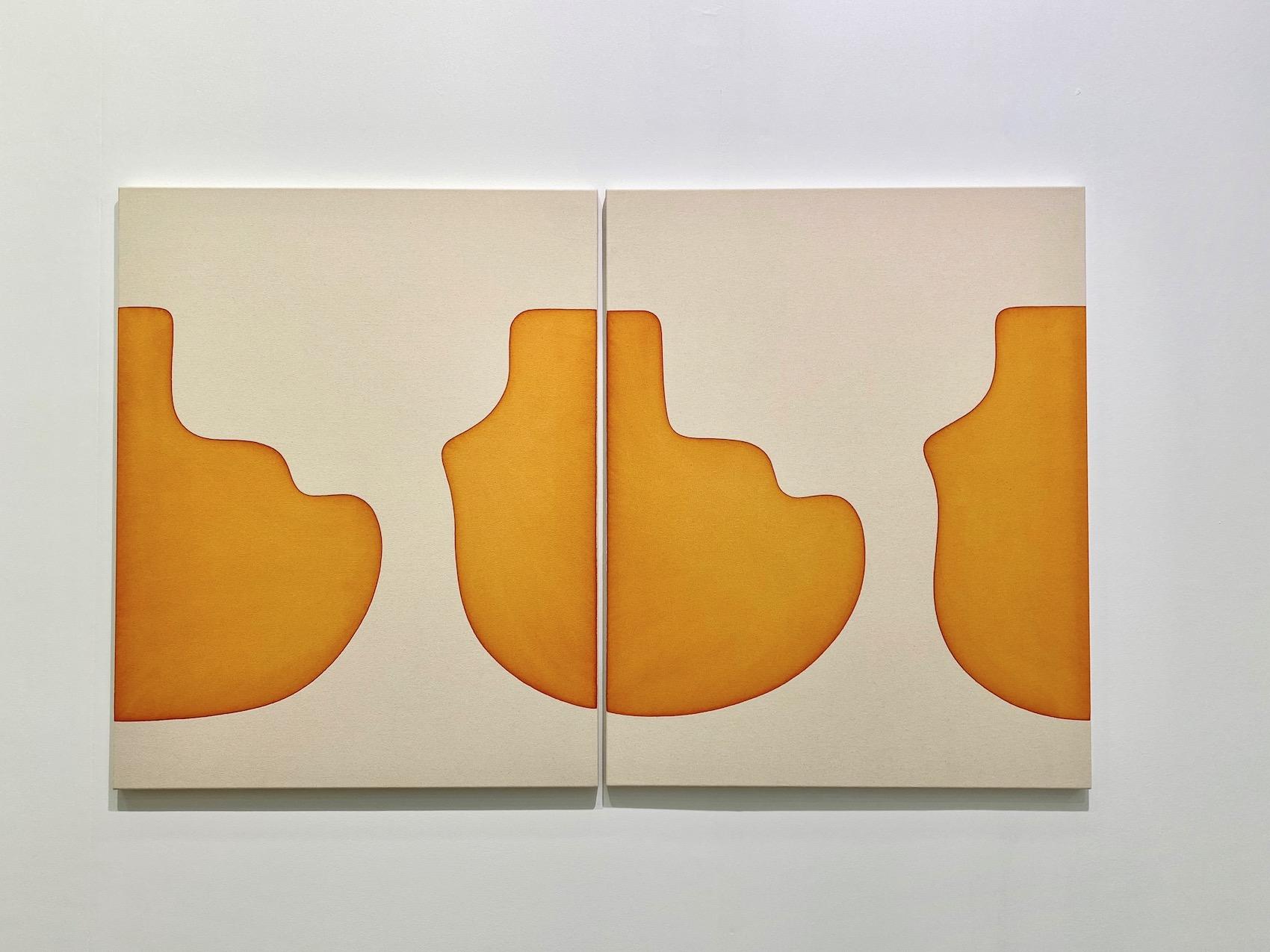 Brooklyn-based artist Landon Metz has garnered critical attention for his ability to imbue the language of abstraction with dynamism and a sense of movement. Shown by Eduardo Secci Contemporary.
A work by Landon Metz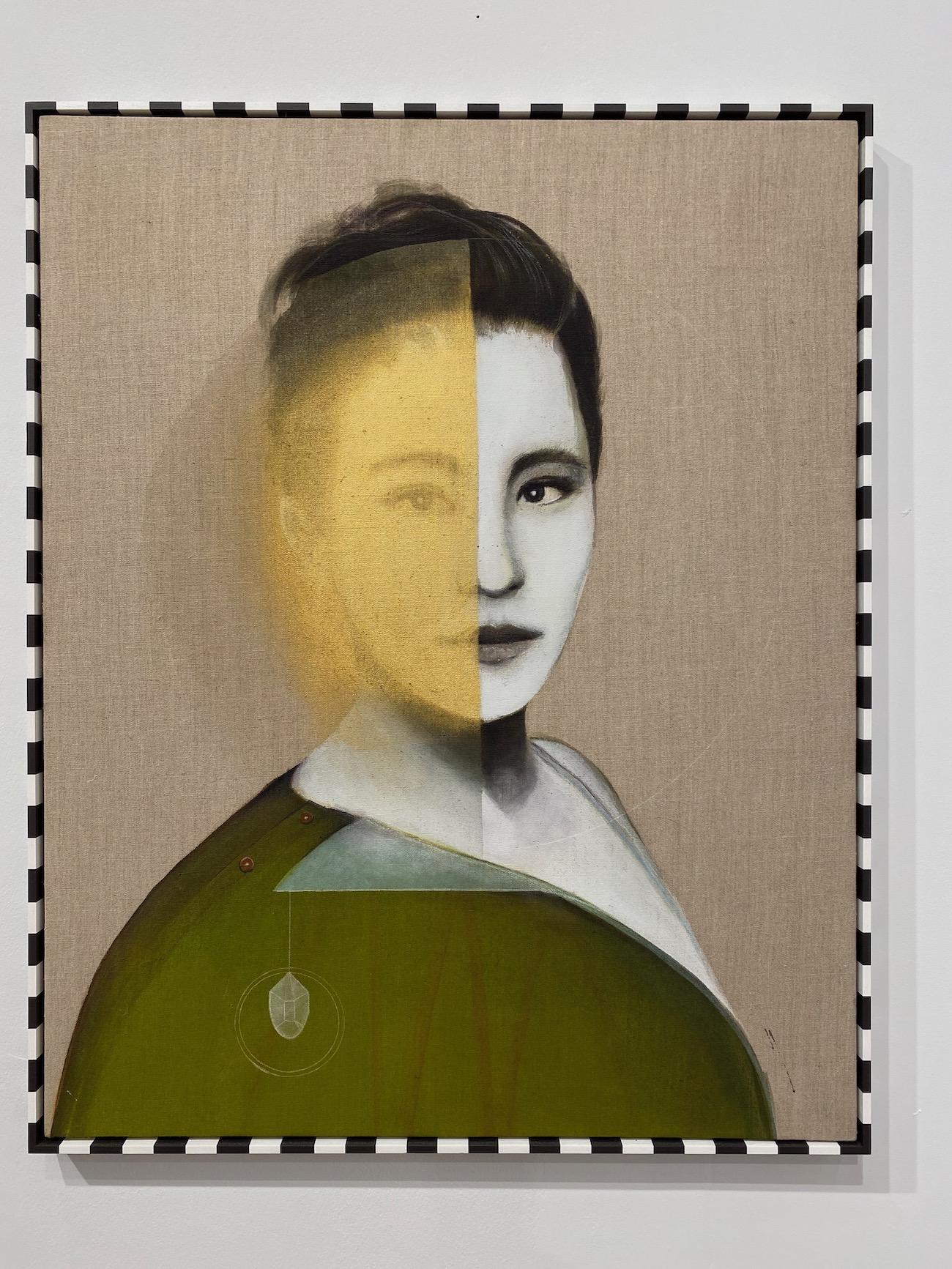 Berlin-based artist Matthias Bitzer takes a new perspective on classical modernism, combining portraits and geometric constructions, and the formal and thematic contrasts of abstract and figurative representation.
A work by Matthias Bitzer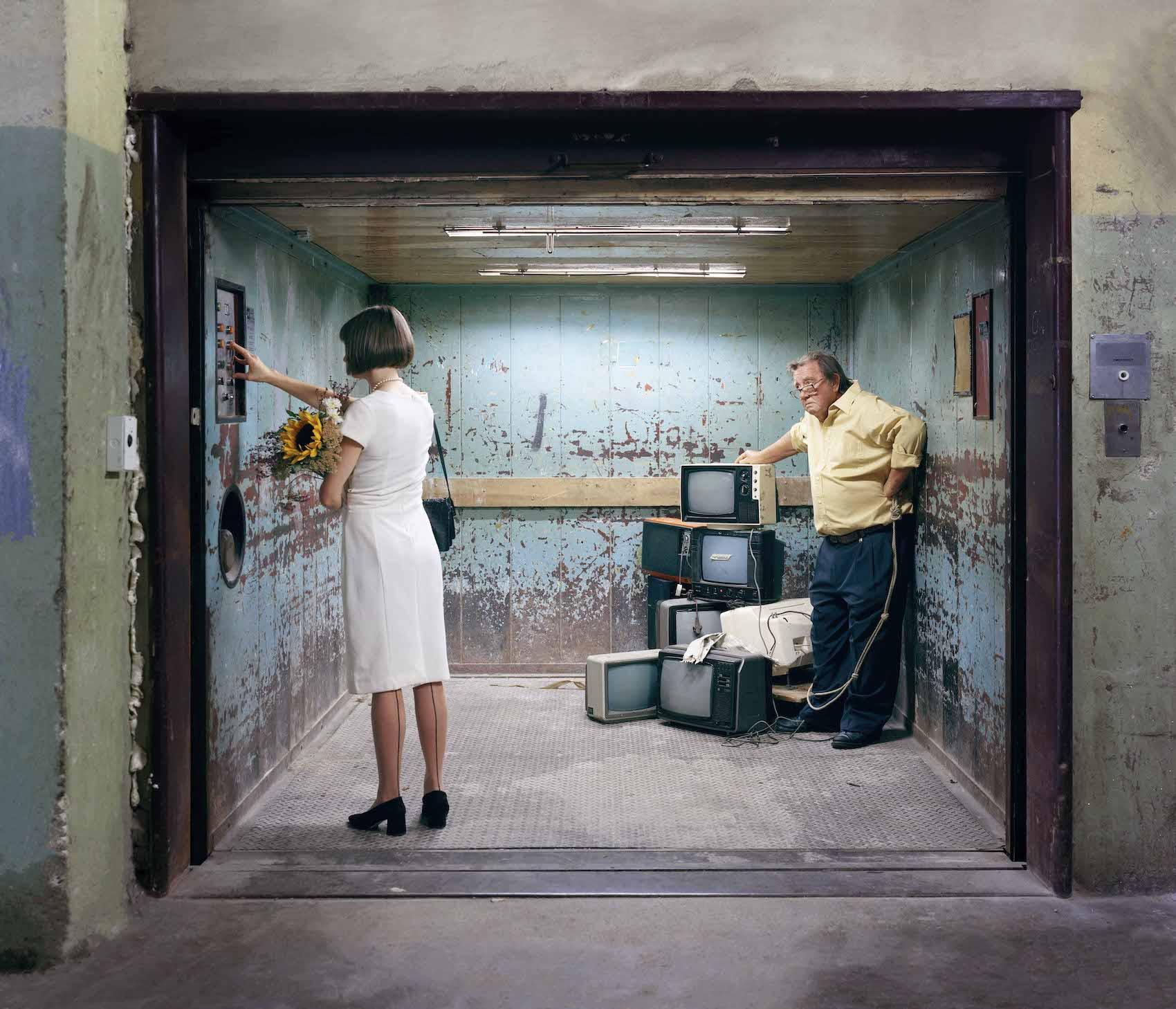 Johno Mellish creates photographic narratives from source material he finds in books, everyday life, the news, and from personal imaginings. He marks the time and the place but translates to something new and unexpected.
Goods Lift by Johno Mellish, 2019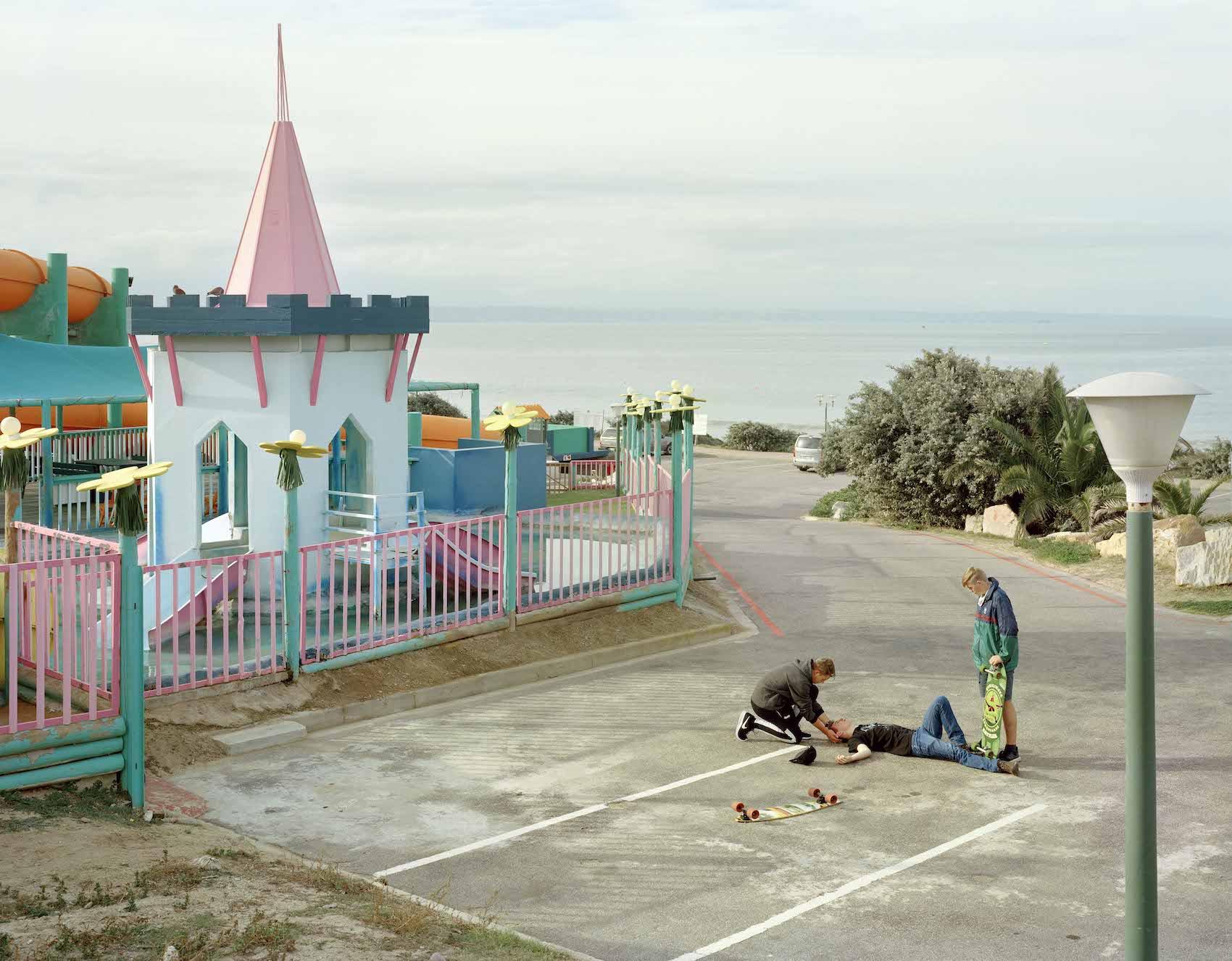 John Mellish's fascinating photographs will also be on show at THK Gallery, Cape Town, until the 28th March.
The Day That David Goldblatt Died by John Mellish, 2018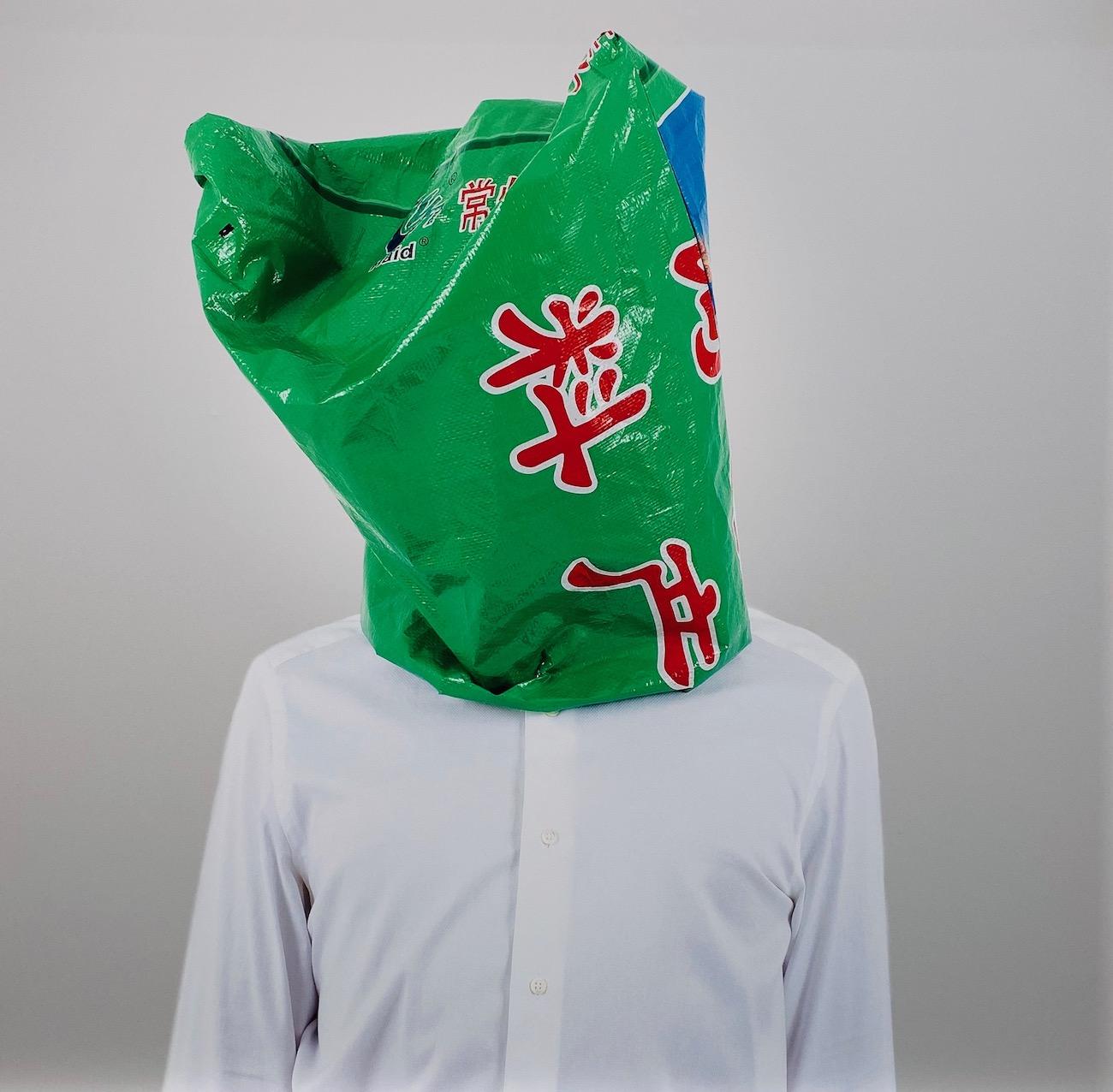 Apalazzo Gallery from Italy exhibited Edson Chagas, who was born in Luanda, Angola, in 1977, and now lives and works in Luanda, Angola. His images are more than merely "portraying" reality. The artist is interested in social issues and the relationship between time and space. Abstract but with a social context.
Apalazzo Gallery, Edson Chagas Oikonomos, 2018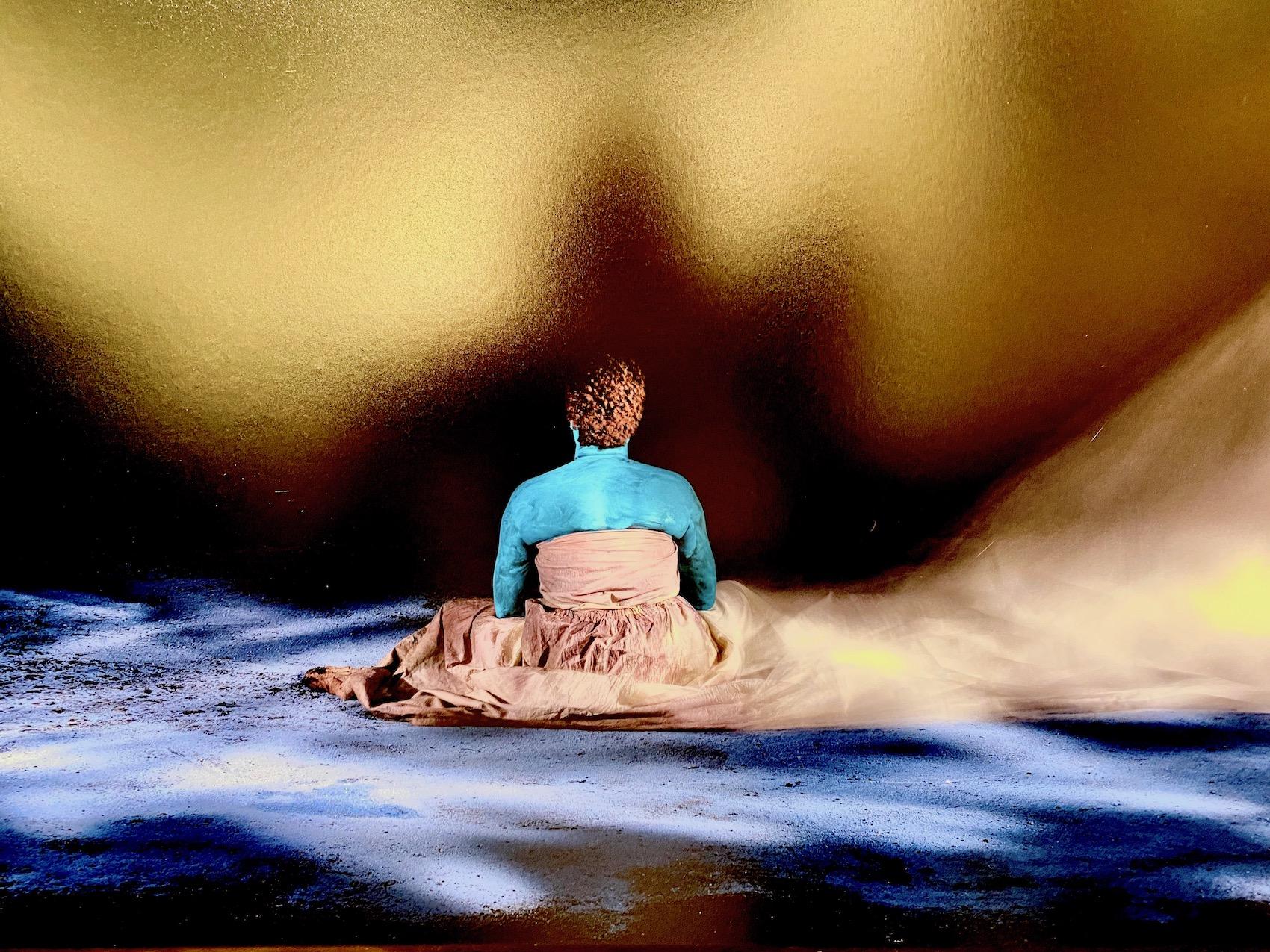 Stacey Gillian Abe's work is a mirror of her past memories as a young African woman and the continuous personal experiences within the community she inhabits. Her art probes unsettling narratives on the subject of identity, gender, spirituality, and cultural mysticism, including the past and present.
Stacey Gillian, Abe Indigogo #1, 2018