"Celebrate the idea that you don't fit in," Betsey Johnson once said. "Find your own fit. Stay unique."
The iconic American designer is no stranger to living wild and colourful – and owning every bit of it. Best known for her highly embellished designs that span fashion, jewellery and perfumes, she is also beloved for her signature messy tresses and the cartwheels that she does to conclude her fashion shows.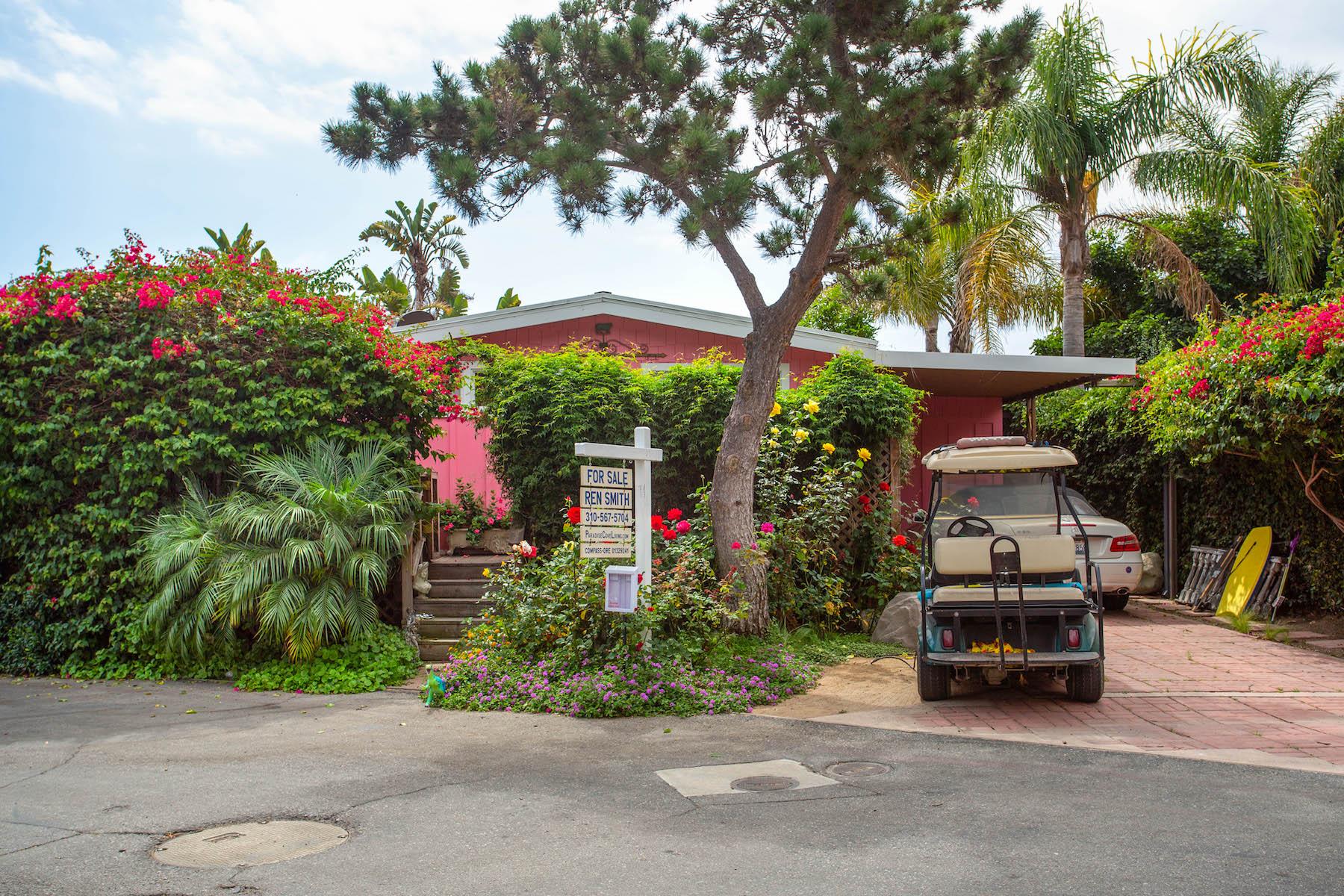 A glance at her hot pink mobile home reveals the same daring whimsicality that inundates the Betsey Johnson DNA. Located within Paradise Cove, steps away from Malibu and considered by some as the most glamorous mobile-home park in the United States, the charming home-on-wheels is an explosion of bright colours, cheerful decor and treasures that Betsey has collected over the years.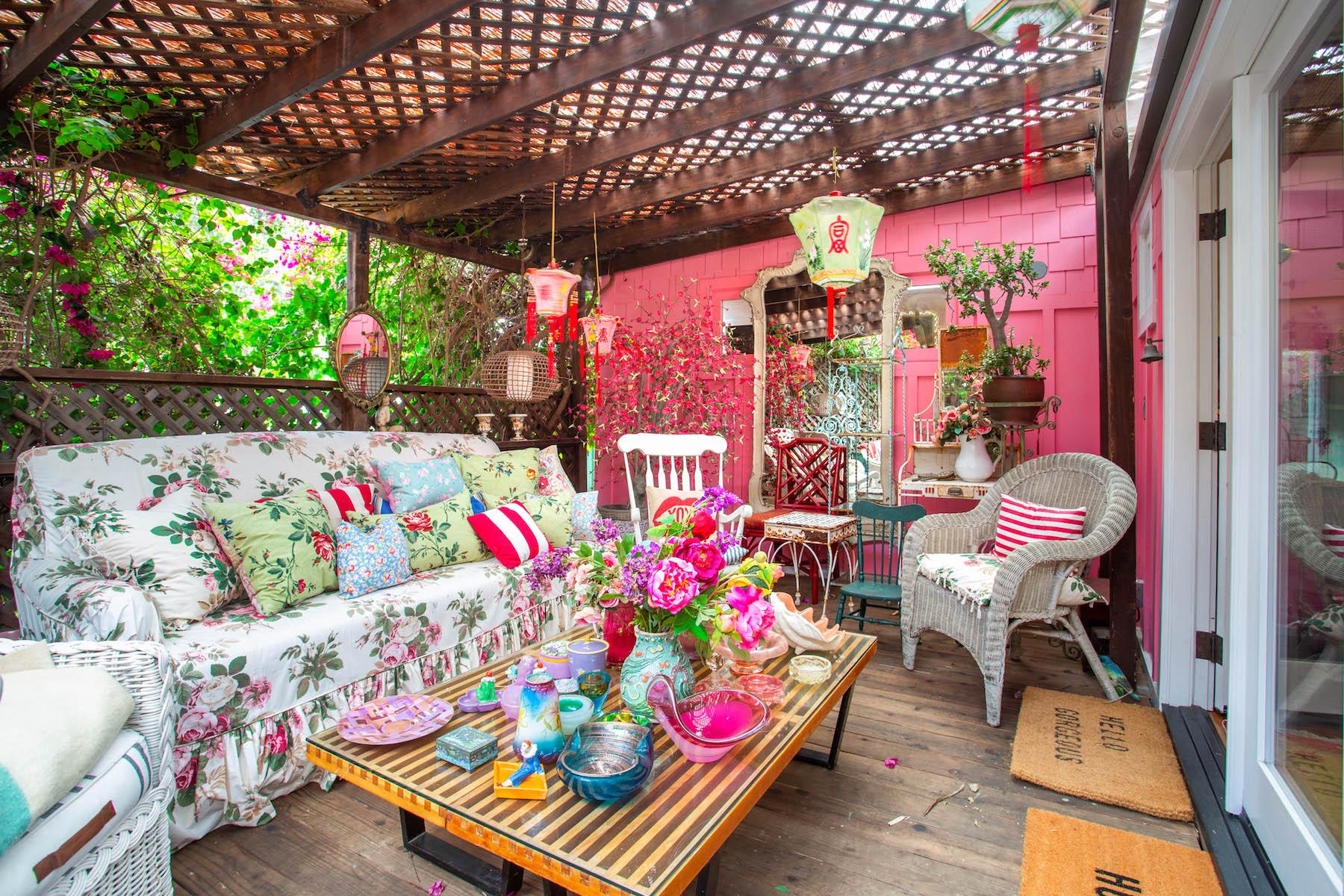 Betsey moved into the home in 2016, and immediately injected the 1,503sqft, two-bedroom two-bath space with her signature stamp of bright, rich aesthetic – starting with the unmissable hue of salmon pink that she splashed all over the exteriors.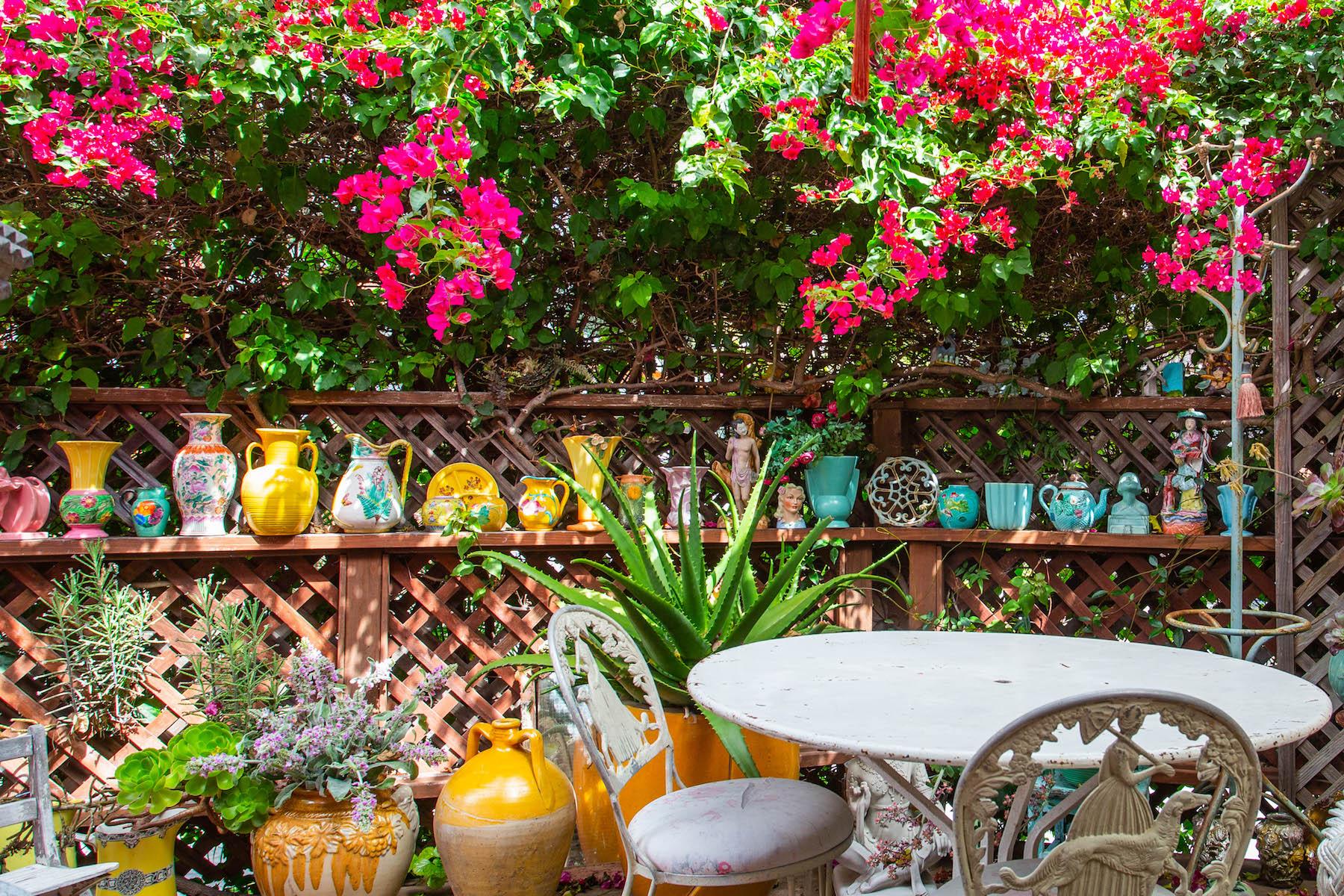 "I've always been inspired by the Beverly Hills hotel and any pink house," she said. "Painting it pink was happily shocking to the neighbours."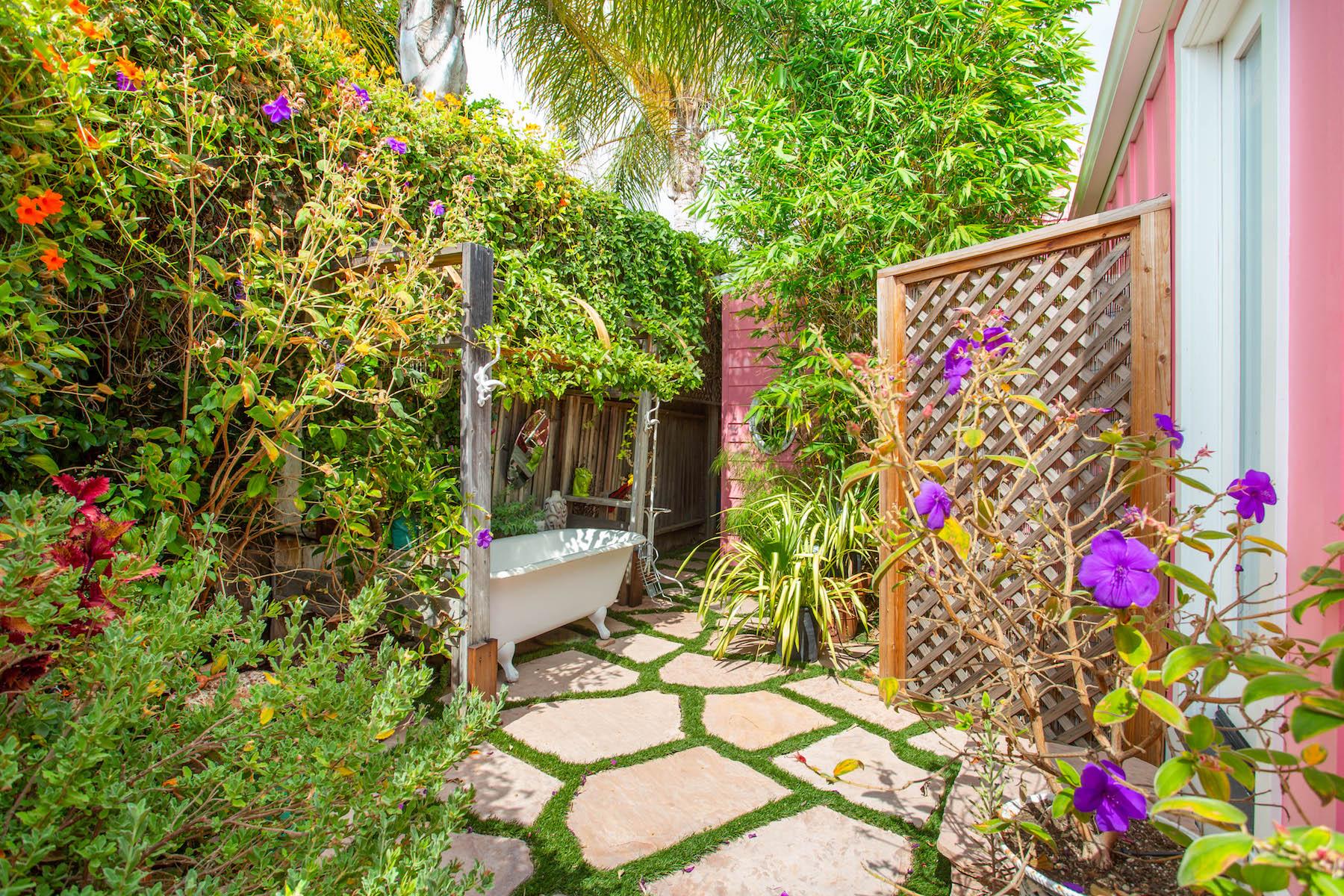 Another quality she sought to bring to the home is a sense of privacy, which she achieved by creating a canopy that is a combination of tall fencing, blooming tropical trees and shrubs that frames the home. Built into it is a pergola-covered outdoor living area, under which vibrantly patterned couches, charming dining table and chairs, and a series of porcelain collectibles can be found. She has essentially transformed the back garden into a verdant paradise, in which she loves to entertain friends.
The home enjoys such a high level of privacy, in fact, that there is a clawfoot soaking tub right out on the terrace enclave, which is among Betsey's favourite features of the home.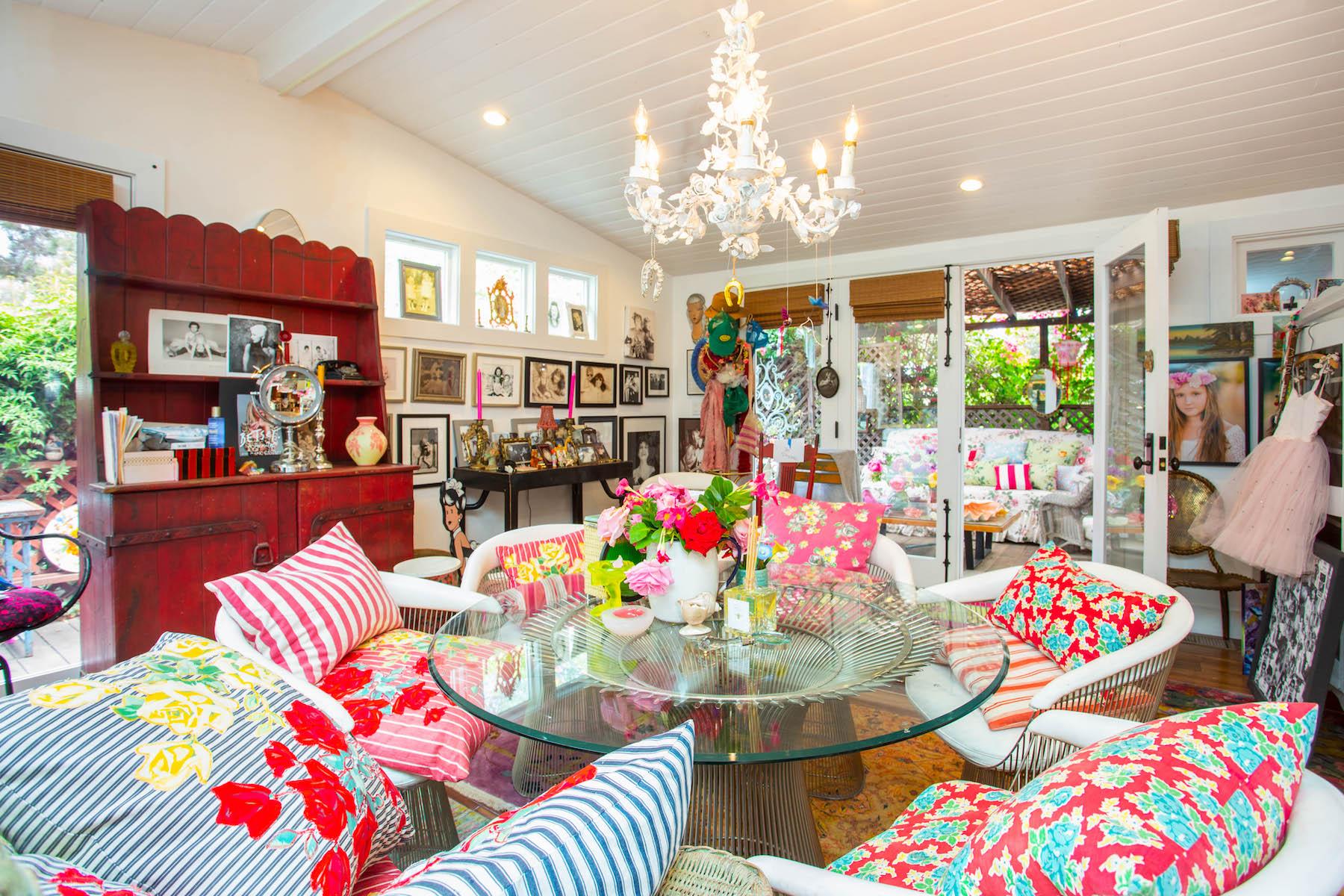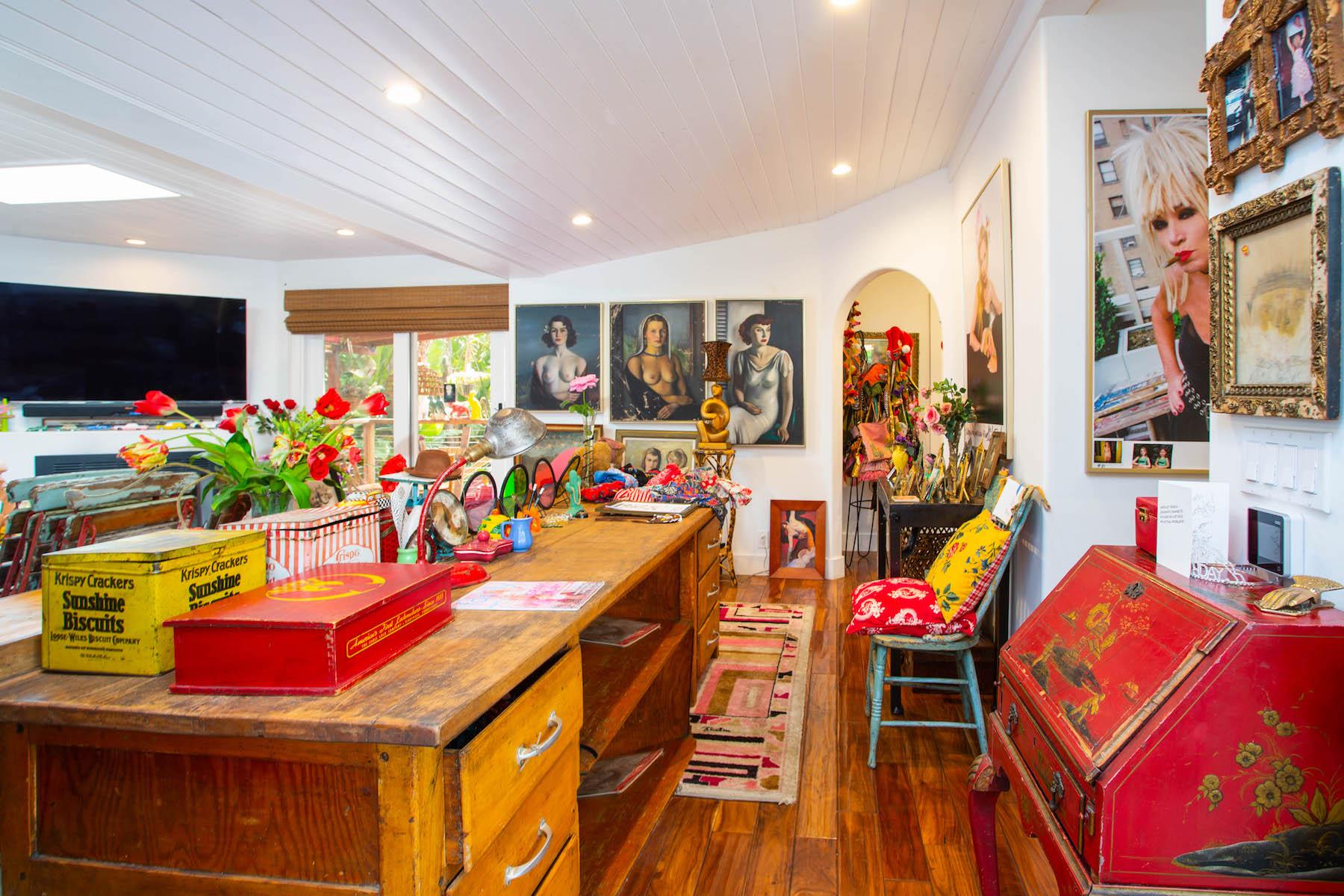 The same radiant character extends into the open living and dining area, which is a treasure trove of multicoloured upholstery, an eclectic collection of artworks and self portraits, whimsical antiques and accessories. The rooms are bright, large and airy, with a built in fireplace and a nearby double-sized master bedroom that is swathed in a bright cheerful hue of yellow.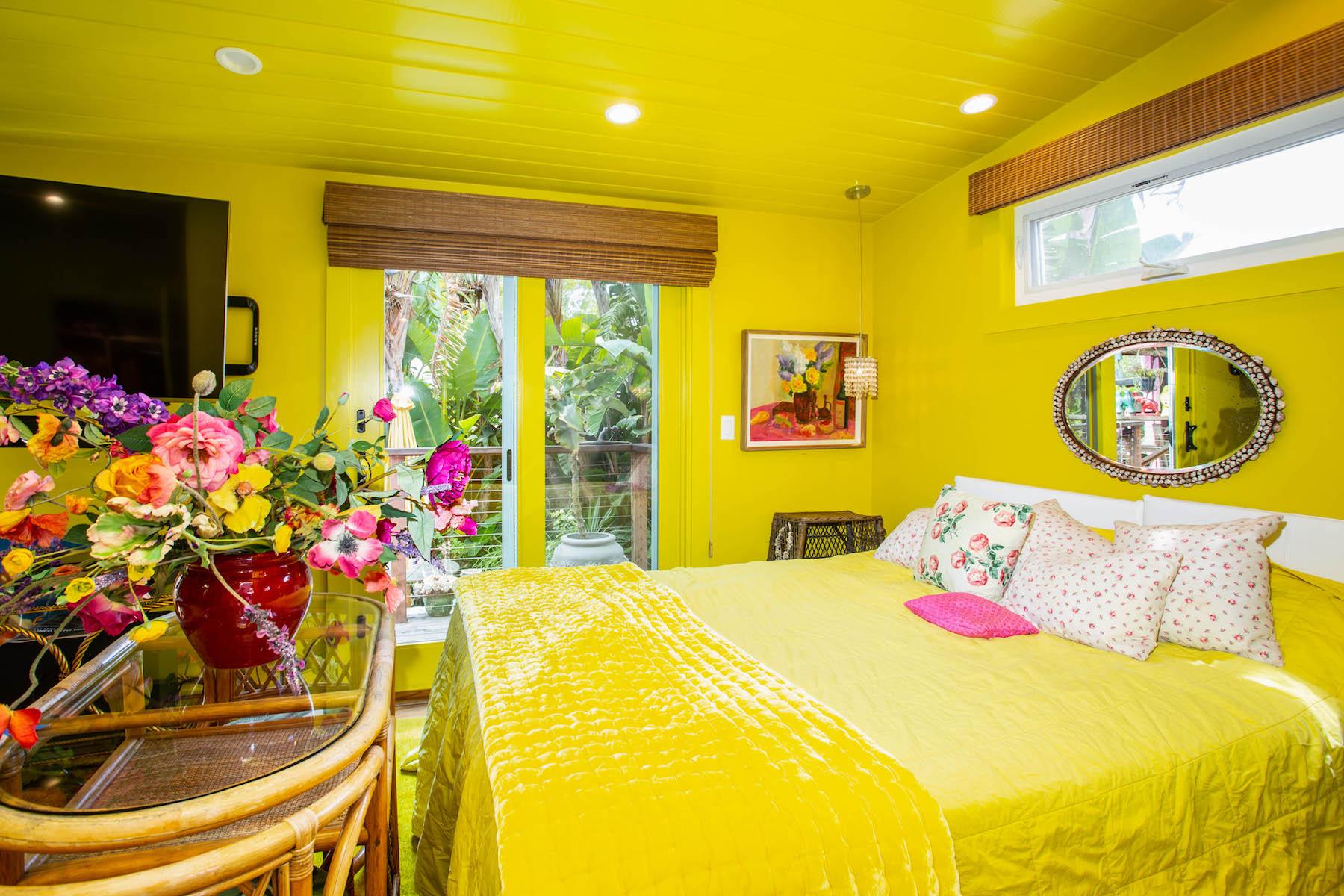 A lush turquoise adorns the walls of the other bedroom, while the bathroom offers a sensibility of calm and serenity with its white marble floor and wall tiles. Of course, in signature Betsey fashion, she packed it to the brim with characterful accents such as lush embroidered towels, beautiful wall art, and a tiny bright yellow cushioned chair.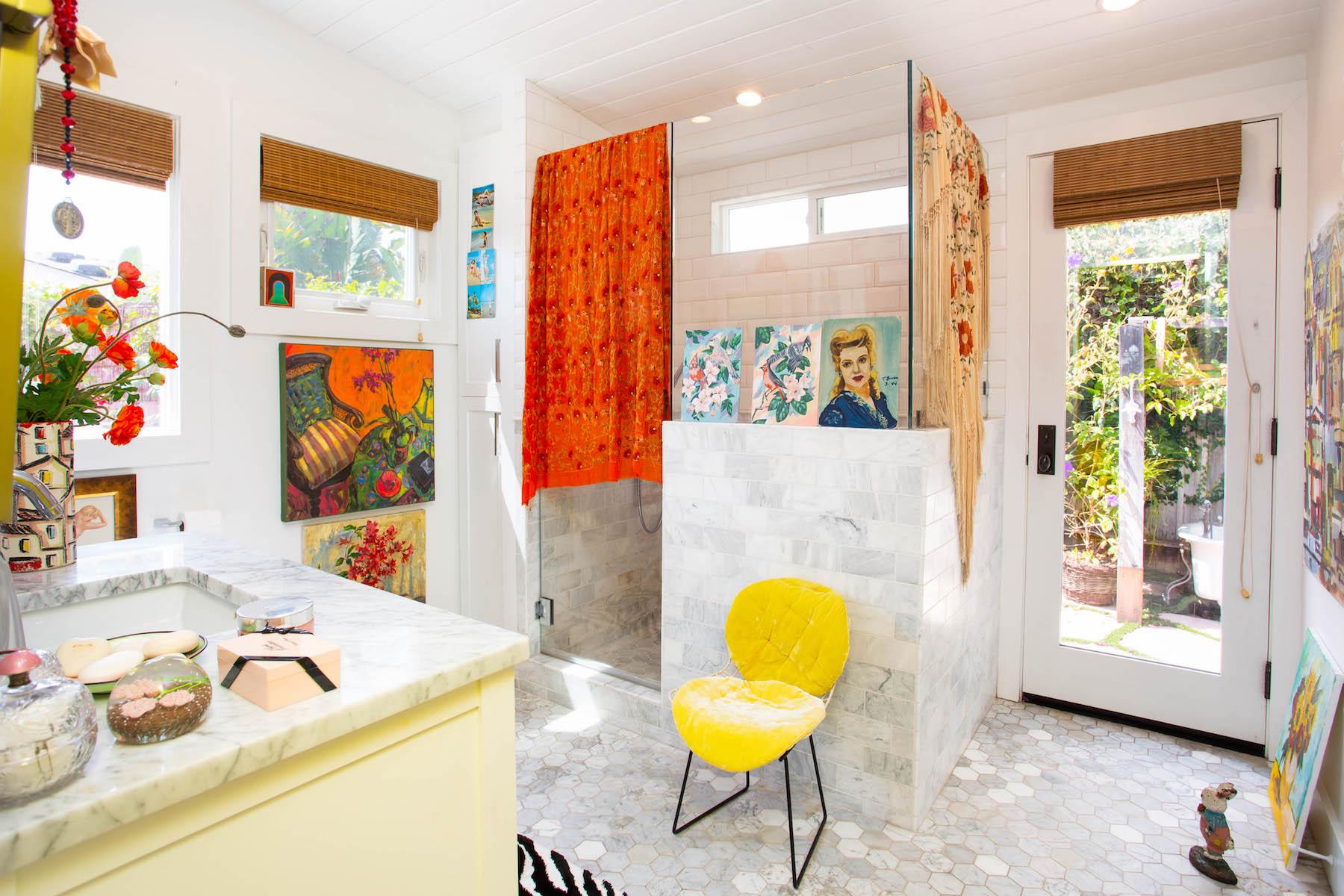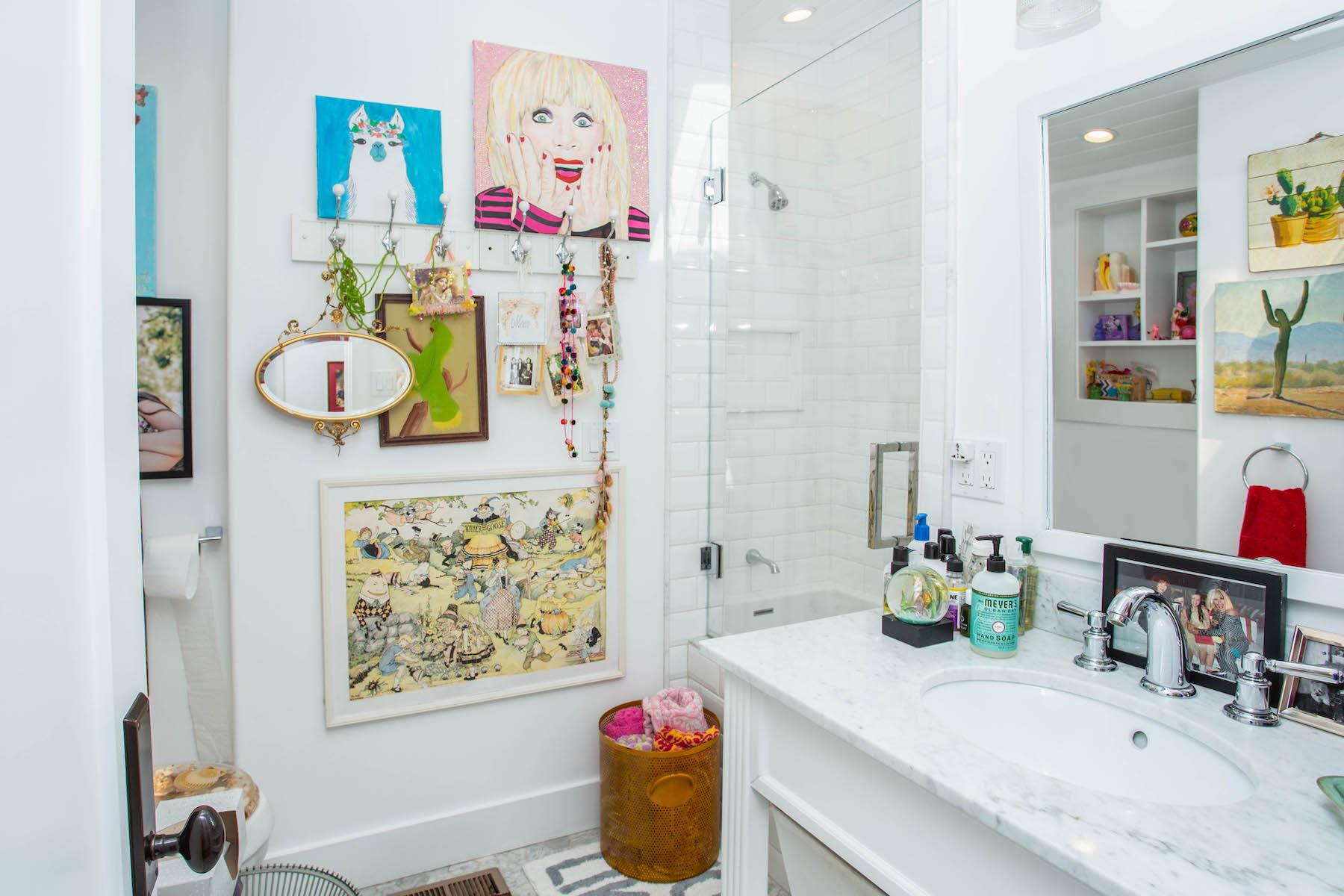 Charming French doors open up to the outdoor terraces from almost every room, and from which you could get a glimpse or two of the throngs of celebrities such as actress Minnie Driver and British model Liberty Ross, who can sometimes be seen putting around on their golf carts in the area.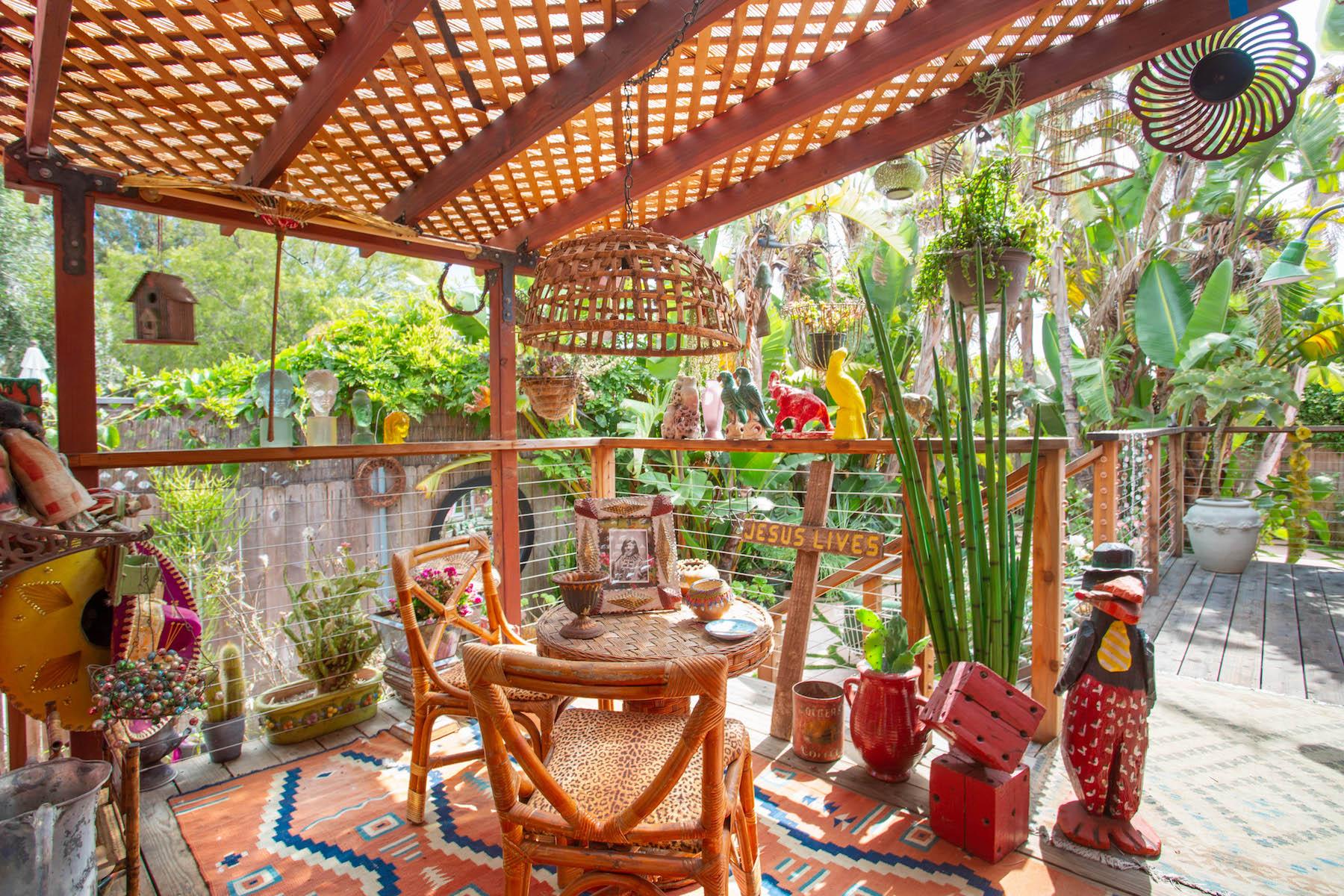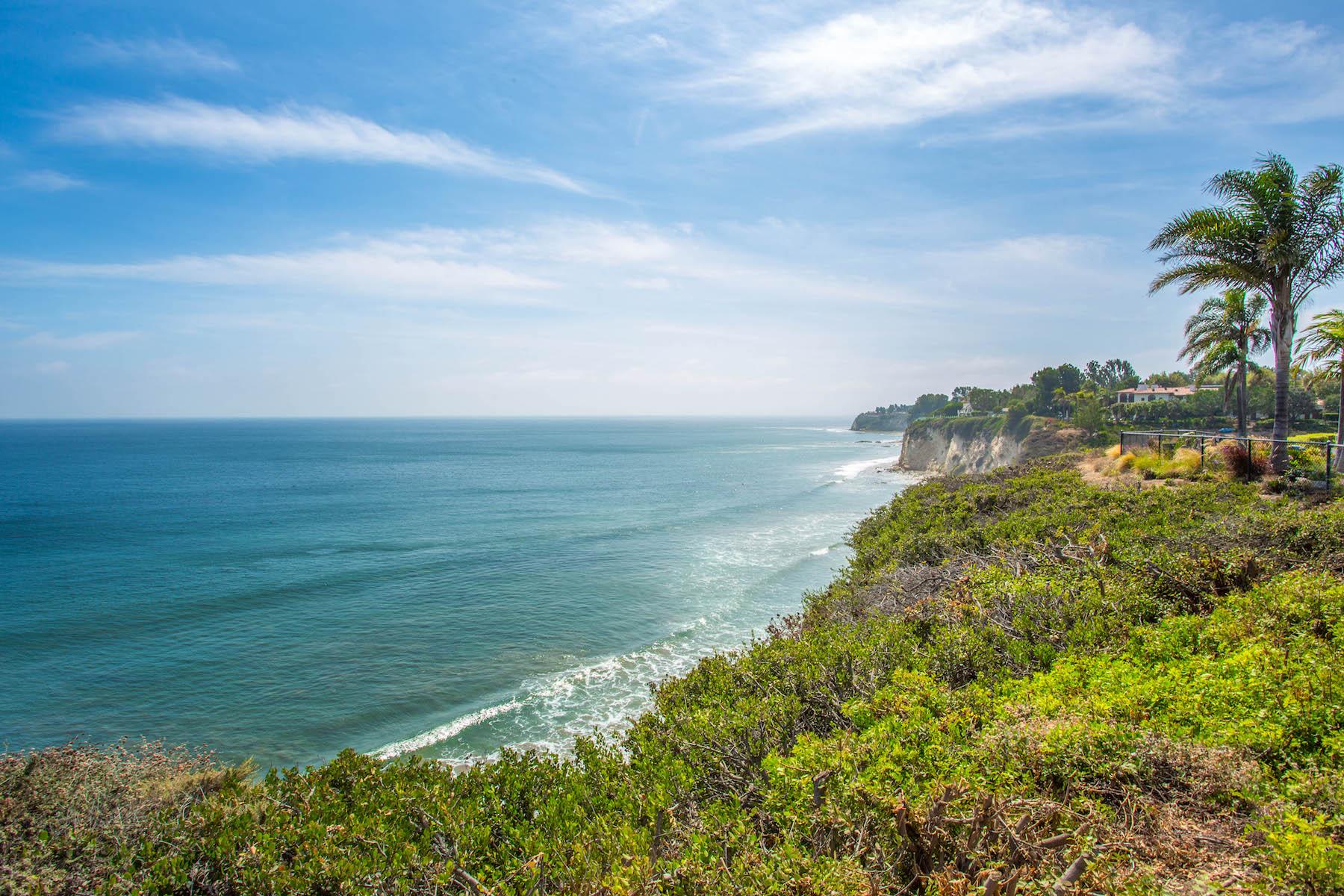 See also: Colours of the Sun: 9 Decorating Tips for Fashion Lovers