Natural dyeing is having a renaissance. No wonder – with more attention being paid to the sustainability of textiles as well as a resurgence in personal gardens, it is a perfectly natural pairing.
One of the predominant voices in the natural dye conversation is Kristine Vejar, author of The Modern Natural Dyer and owner of A Verb for Keeping Warm. Both a store and a community centrepiece, A Verb for Keeping Warm occupies a 1,700sqft space in Oakland, just a few miles from San Francisco, and plays host to a wonderful array of naturally dyed, brightly hued yarns and fabrics.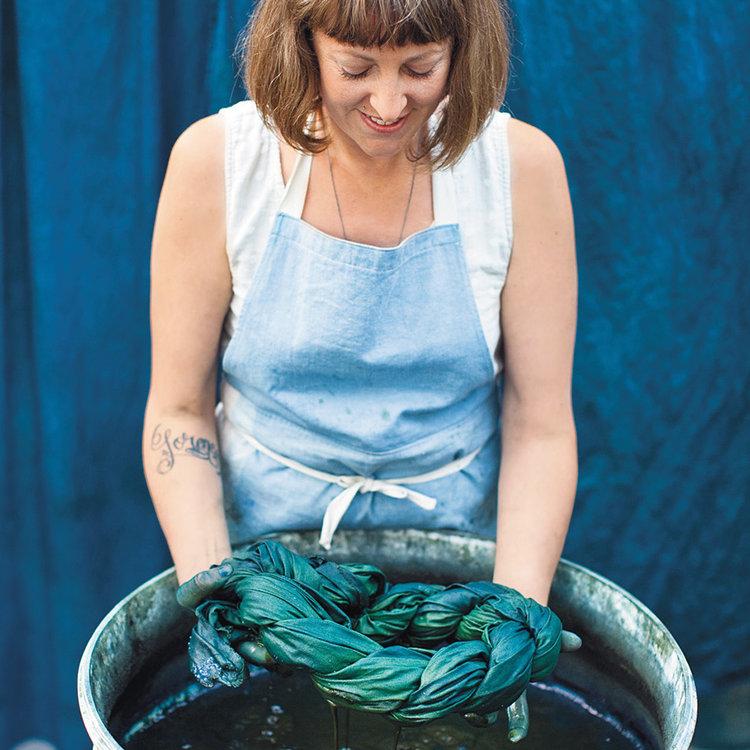 Kristine and her team also use their brick and mortar space to hold various workshops ranging from eco-printing – using fresh leaves and flowers to print on fabric or paper – to household natural dyeing.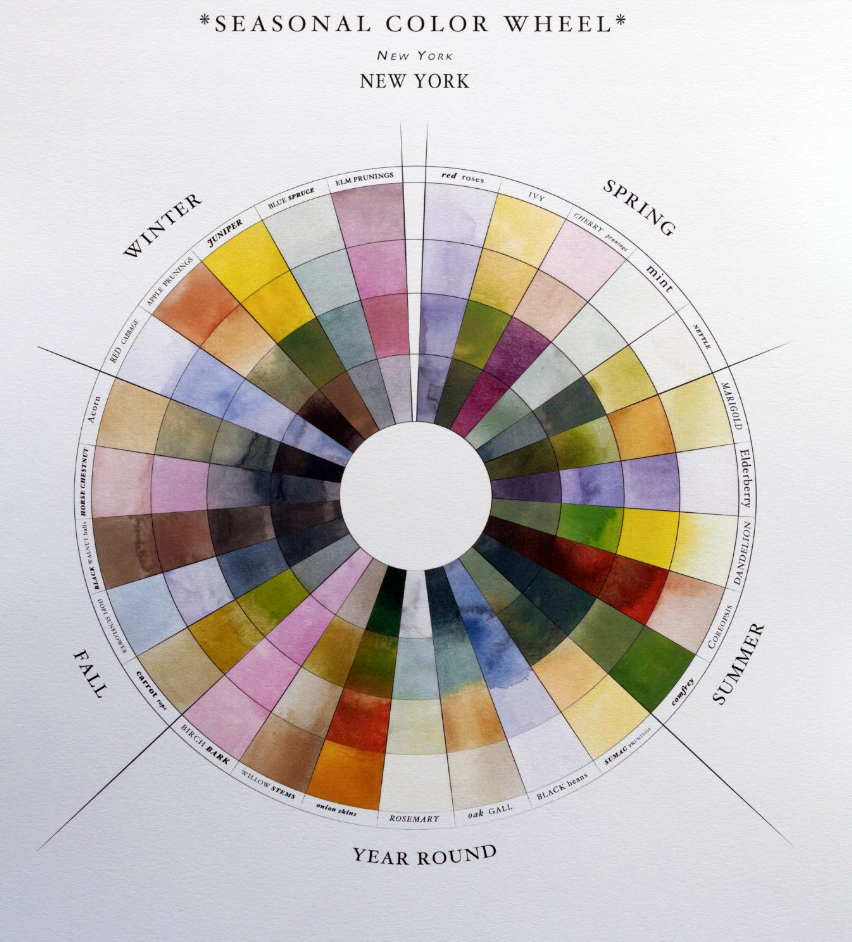 Serious or professional dyers will be keen to note that natural dye extract produces the most exotic and consistent colours. Meanwhile, historical dyes such as cochineal, indigo, lac and madder are all available in refined forms and can be easily and quickly used for a piece of fabric.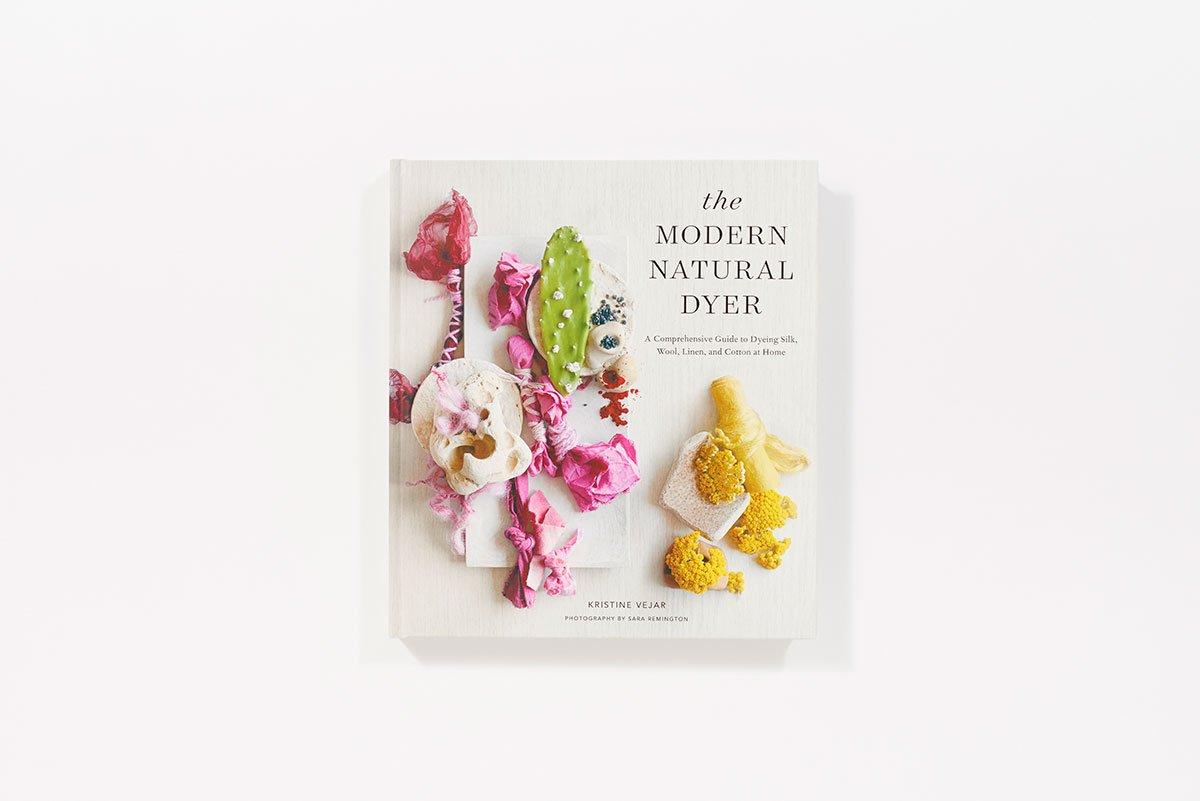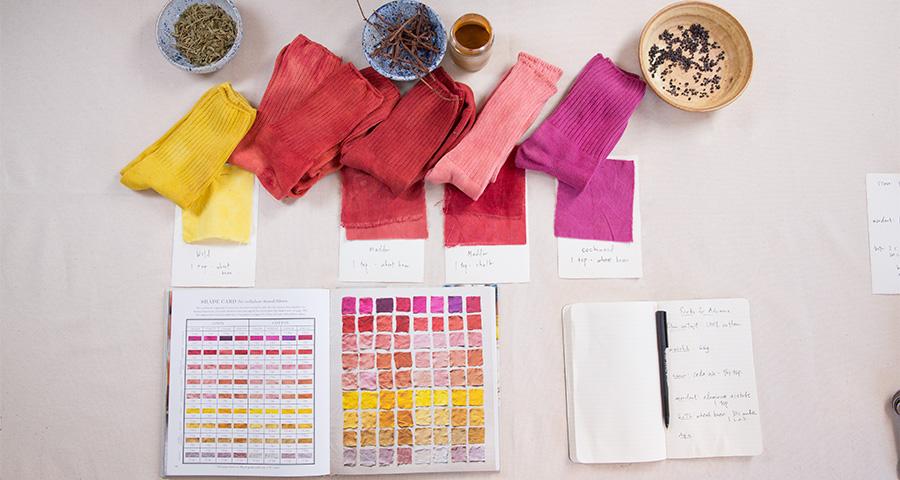 Although it is becoming increasingly popular to plant a dye garden with flowers and plants specifically cultivated for their dyeing capabilities, you can also effortlessly tint with a number of household pantry staples, such as turmeric, onion skins or the ever-popular avocado pits.
Over in the UK, natural dyer and designer Rebecca Desnos has made waves for her easy to follow colour recipes that can easily be replicated at home.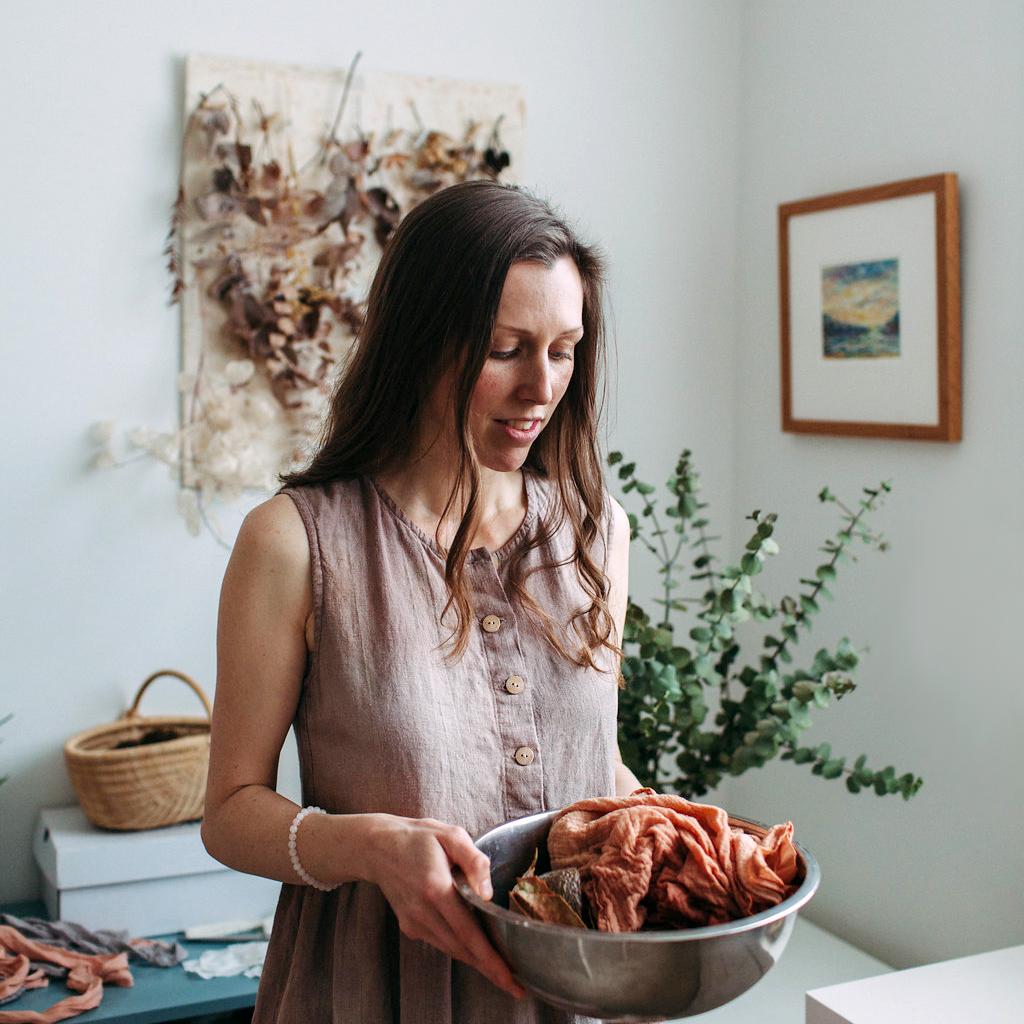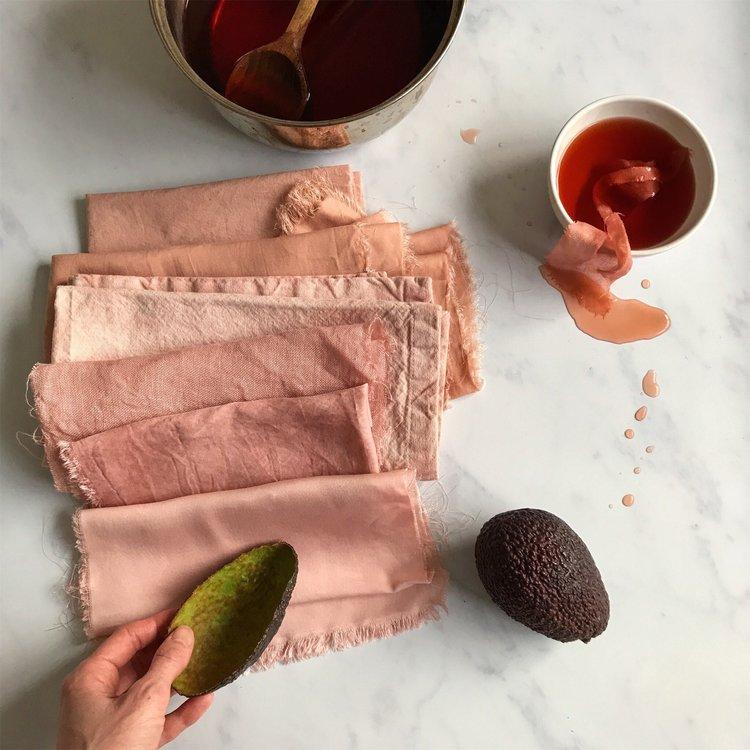 She recommends boiling avocado pits and skins to create a lovely light pink dye. On wool or silk, the dye will be more vibrant; whereas on cotton or linen it is more subdued. The key is in fact not just about the colour, but in how it interacts with the fibre.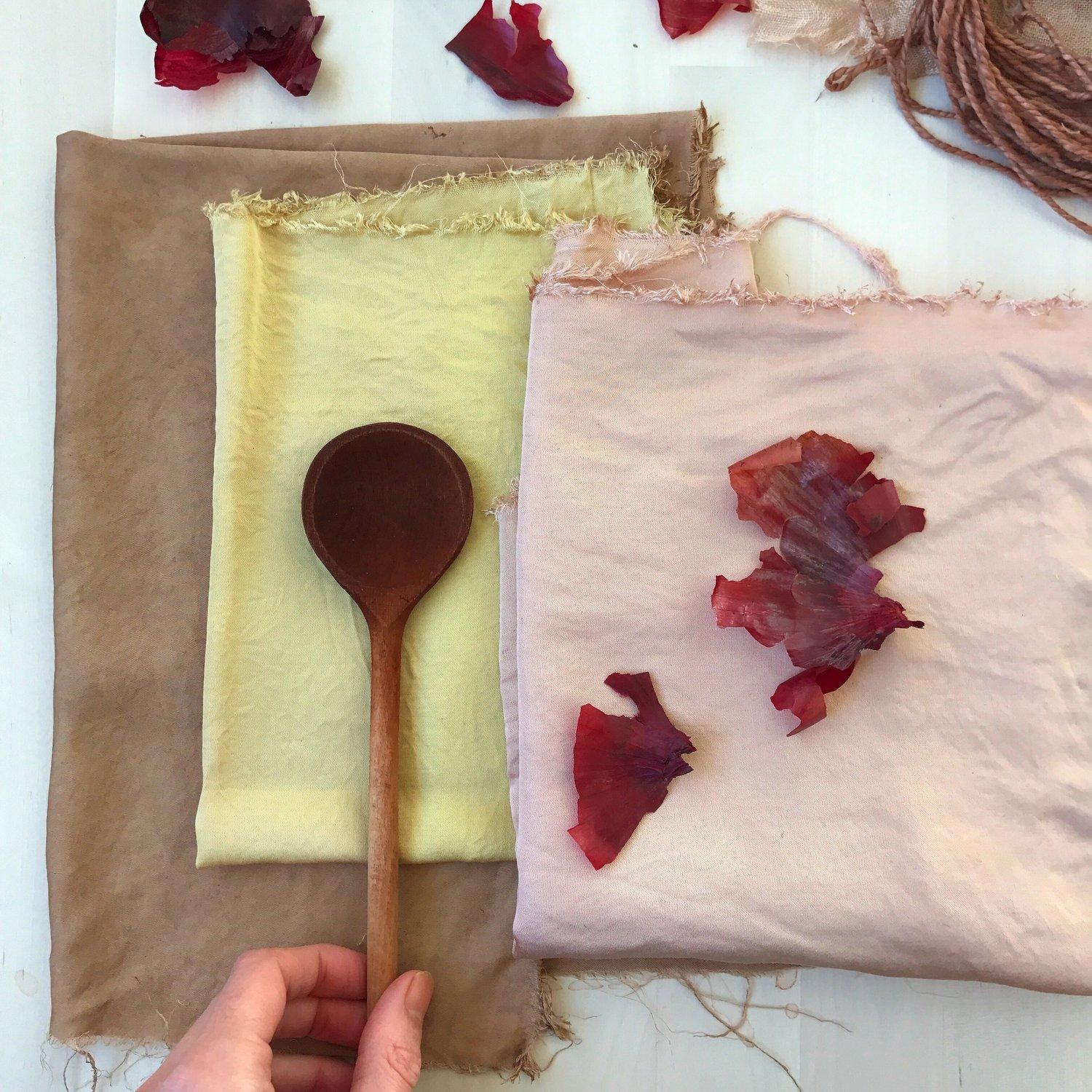 The above colour spectrum, all made by dyeing with red onion skins, is a great example of how you can shift and modify the colour of a dye with minerals called dye auxiliaries. These words may sound intimidating, but really, they are used to make your dye-bath either more acidic or more alkaline. It is also common to consider adding household white vinegar or baking soda to shift the colour of a dye.
While blue is famously a difficult colour to find in nature – and therefore very valuable – a few easy-to-find dyeing plants can be used to create a bluish colour. To get a true blue naturally, you will have to set up an indigo vat; but this lovely muted blue shade above is created by using woad, a flowering plant that is a bit more straightforward to work with.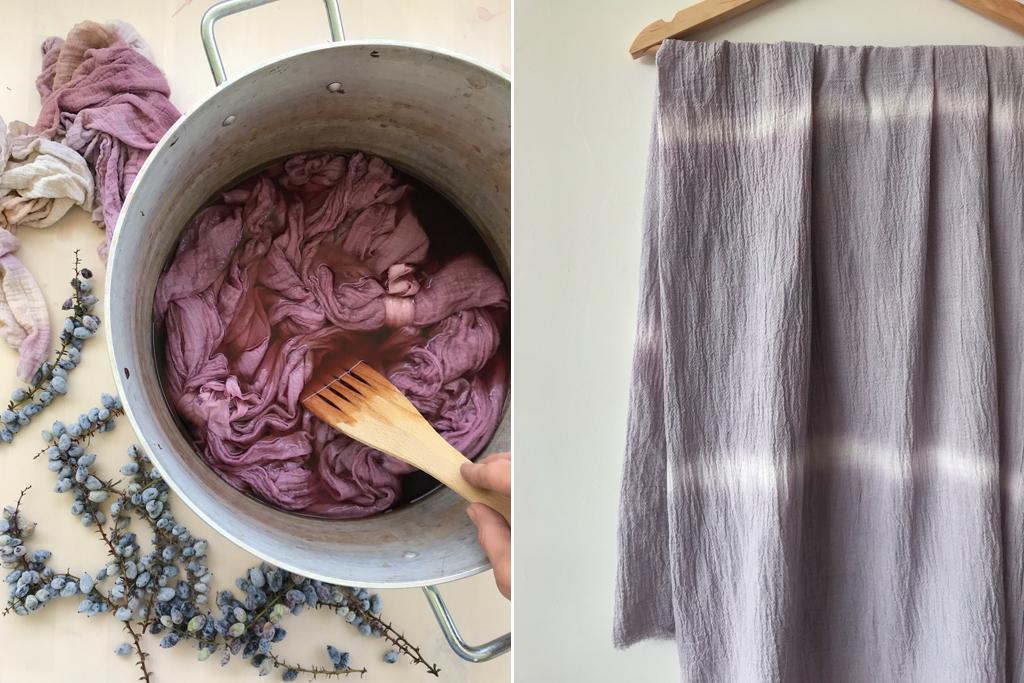 Traditionally, purple was created using a dyestuff called Lac, which is derived from a beetle. However, this mauve is created using mahonia berries, also known as the Oregon Grape. During different seasons wild plants can be foraged to create a wide range of colours. How fun is that?!
If you are after more in-depth information about natural dyes, The Modern Natural Dyer is available here. For more on at-home dyeing, Rebecca Desnos' Botanical Colour at Your Fingertips is available here.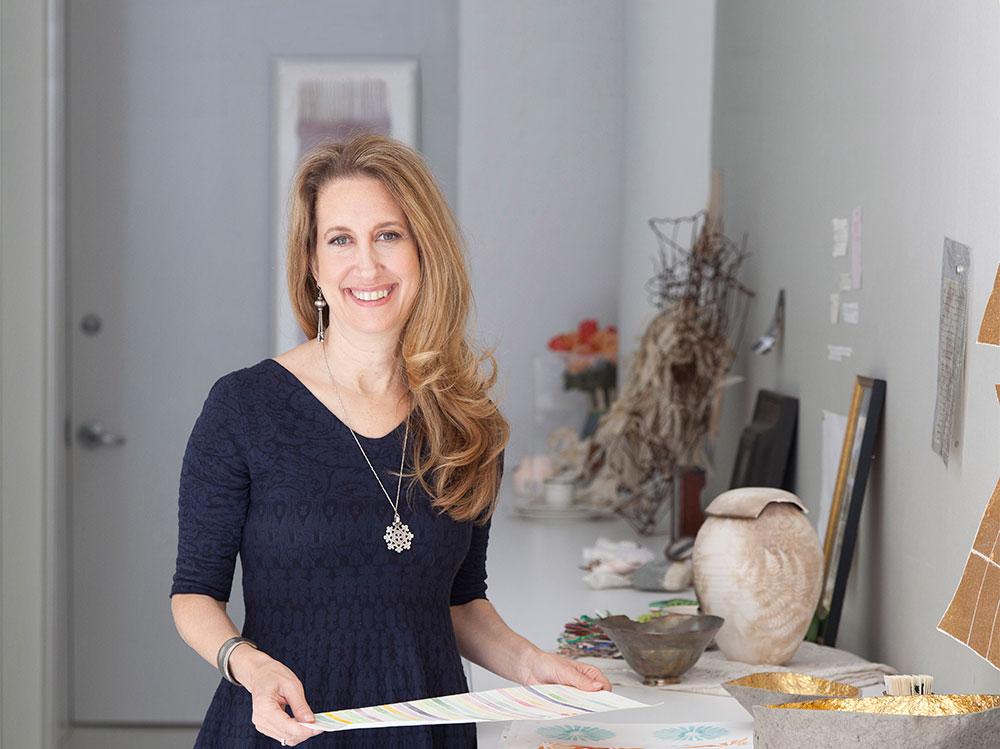 Lori Weitzner, principal and Creative Director of Lori Weitzner Design, is internationally best known for her contributions to the world of textiles, wallcoverings, rugs and passementerie. Her work is housed in the permanent collections of such museums as the Cooper-Hewitt in New York and The Victoria Albert in London and she is the recipient of more than thirty prestigious design awards. She has recently expanded into the fashion world with her first collection of textile infused jewelry and accessories under her own brand. She is the author of Ode to Color, The Ten Essential Palates for Living and Design, published by Harper Collins and lectures around the world on the effects of colour on our wellbeing. Follow Lori on Instagram and Pinterest, and take her colour analysis test here.
See more: At Home with Rituals Innovation & Sustainability Director, Nikki Schilling