Every year a roster of the industry's top names coupled with up and coming designers get to unleash their most creative visions to transform rooms into inspired spaces. These rooms in turn become the barometer for what's to come in architecture and interior design.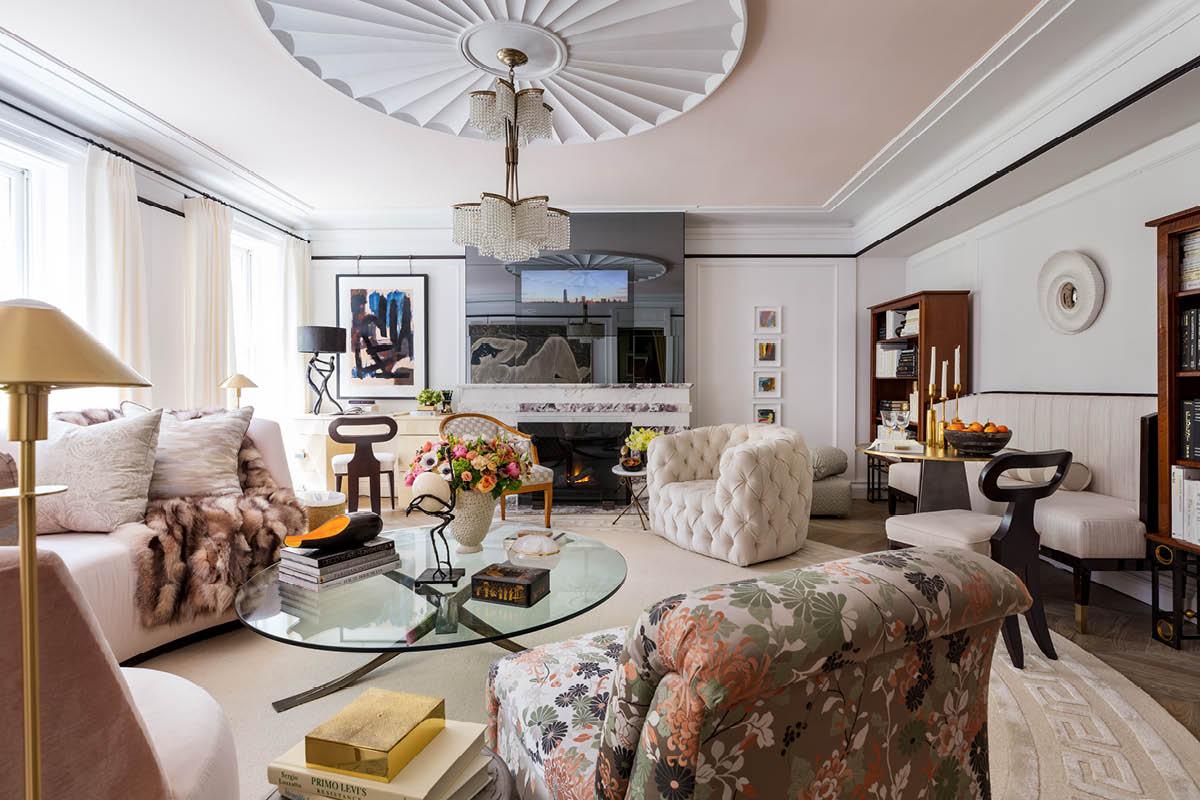 This year, the designers for the show house took over a multi-story Georgian style townhouse in New York's Upper East Side. With their imaginations as their only limits, they created unique spaces that range from full-on glamour to restrained opulence, from a chic riot of colours to pared down color palettes.
Click on the slideshow for a tour.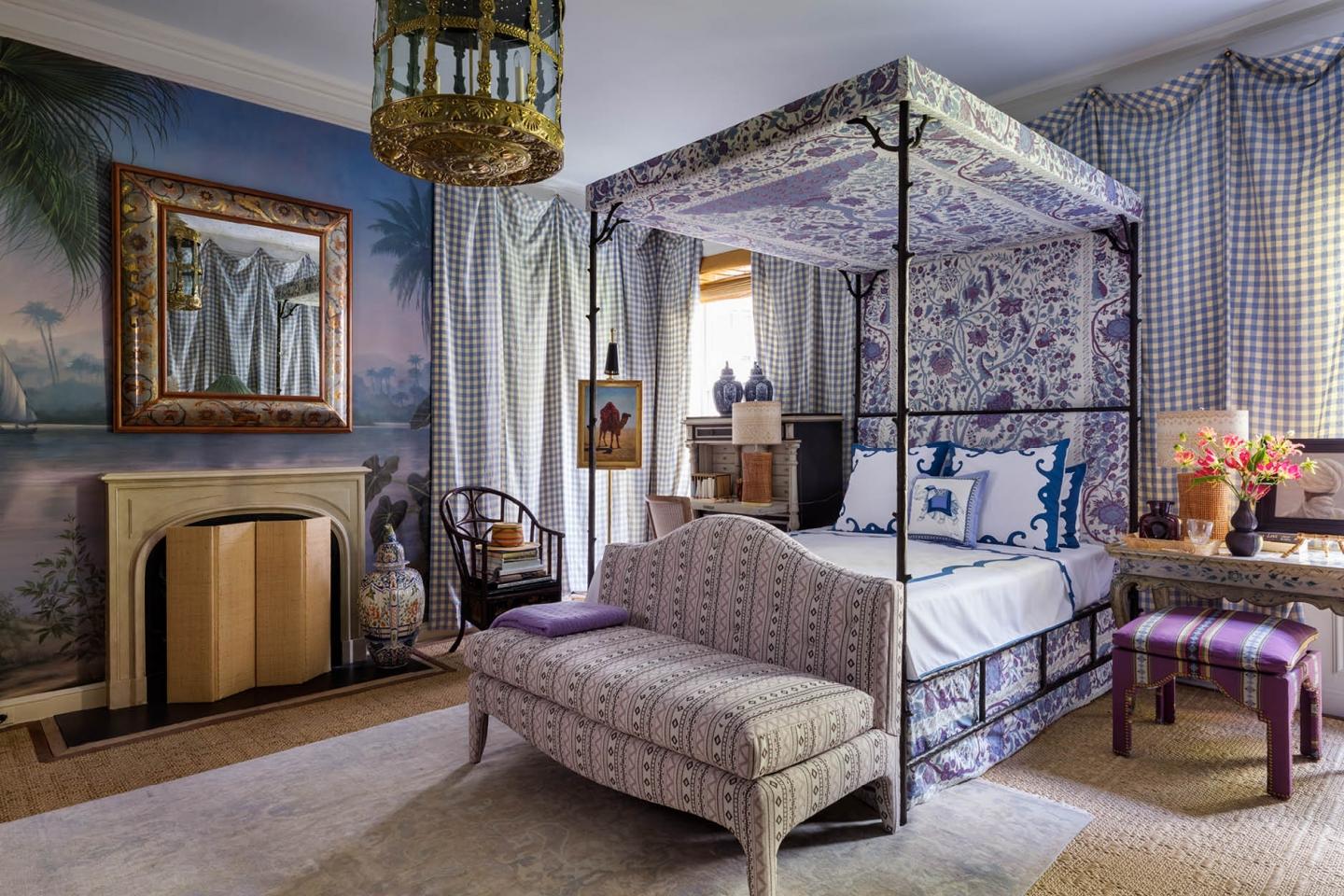 Charlotte Moss
A stalwart of the design industry and a veteran of the Kips Bay Show House, Charlotte Moss got to decorate the master's bedroom. Employing her style of layered and traditional luxe interiors, she draped the walls in a blue and white gingham fabric and installed a suzani canopy bed. "A bedroom of memories, a visual journal, a place to dream," described Moss.
Photography by Nickolas Sargent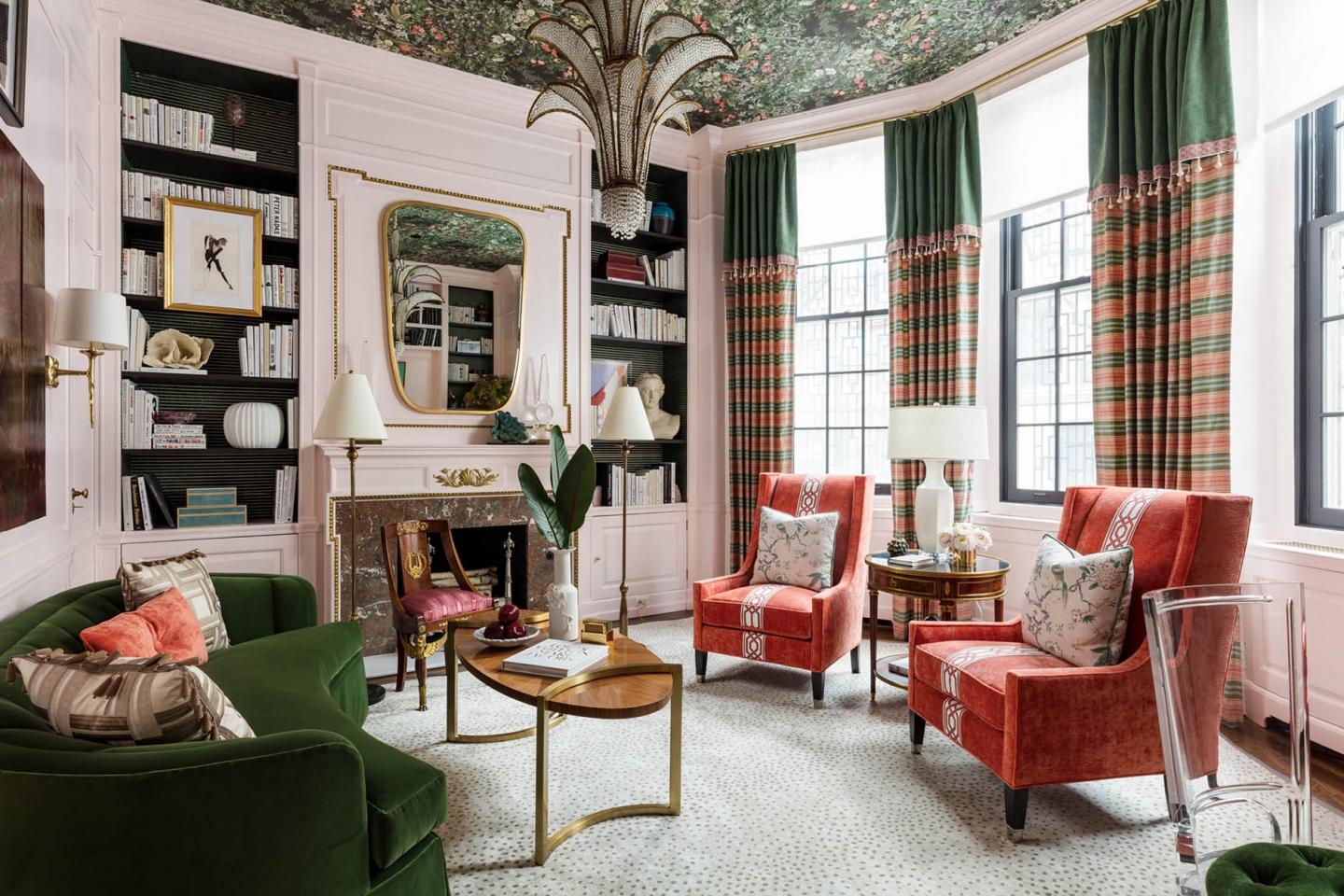 Corey Damen Jenkins
Corey Damen Jenkin's reinvented the gentleman's library and fashioned it as a woman's lair with blush pink walls and all manners of jewel tone furniture, curtains inspired by silk ball gowns and a ceiling wrapped in a glorious woodland scene. "This Lady's Library pays homage to the women who run the world: from the household to Capitol Hill—and everything in between," said Jenkins.
Photography by Nickolas Sargent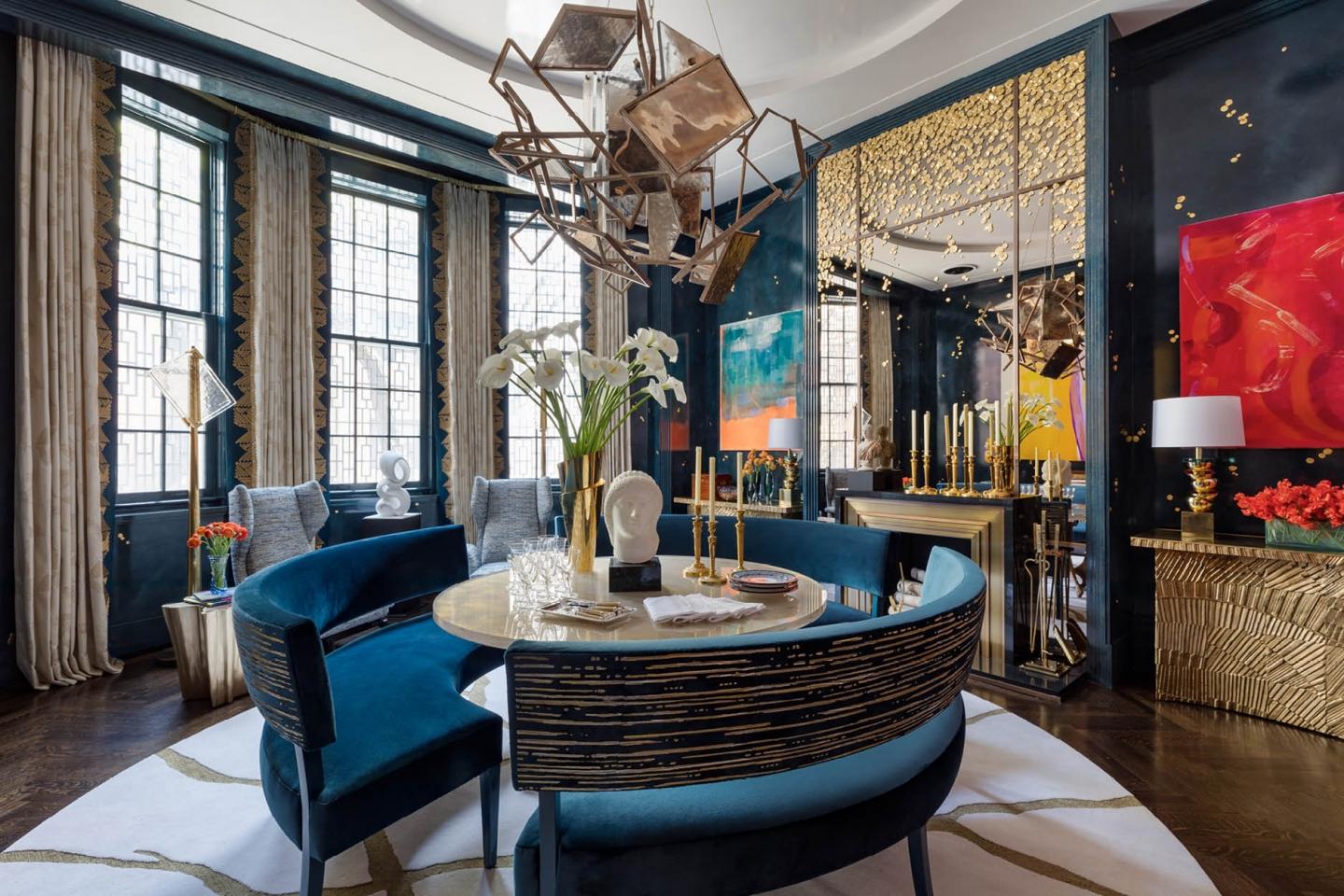 Cullman & Kravis
The designers at Cullman & Kravis namely Alyssa Urban, Lee Cavanaugh, Katie Sutton and Dani Mazza, in collaboration with architect Douglas Wright had the enviable task of outfitting the dining room and what they created was pure glamour. Lacquered blue walls with gold dusting wrap the room. The blue and gold is echoed throughout via curved banquettes, Brutalist style tables and a brass mantel.
Photography by Nick Sargent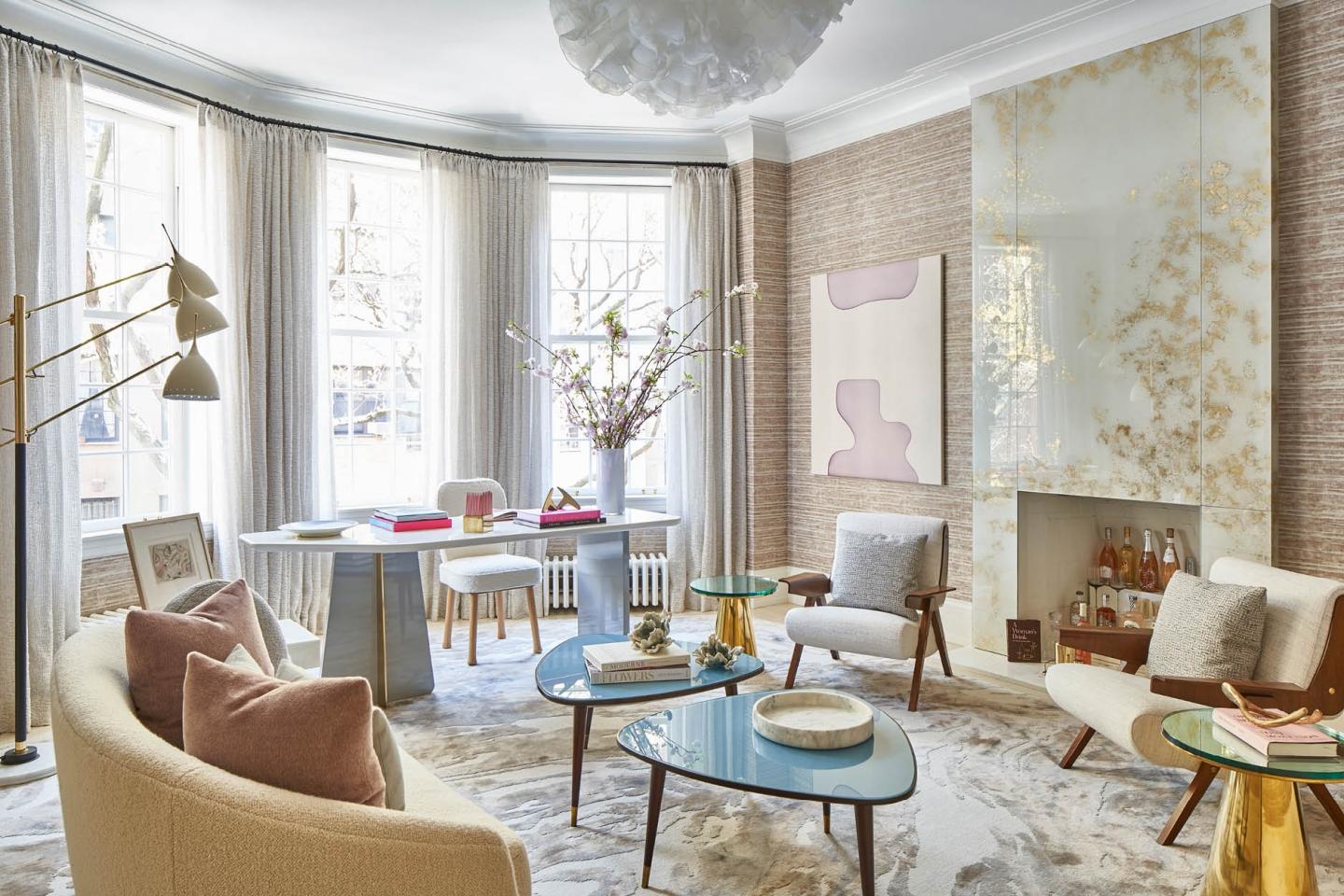 Eve Robinson
Inspired by Virginia Woolf's "A Room of One's Own", Eve Robinson designed a room that is dedicated to women with its pared down palette of creams and pale pinks. Mid-century furniture coupled with contemporary designs are rendered in soothing materials creating a luxe cocoon replete with a rosé bar.
Photography by Marco Ricca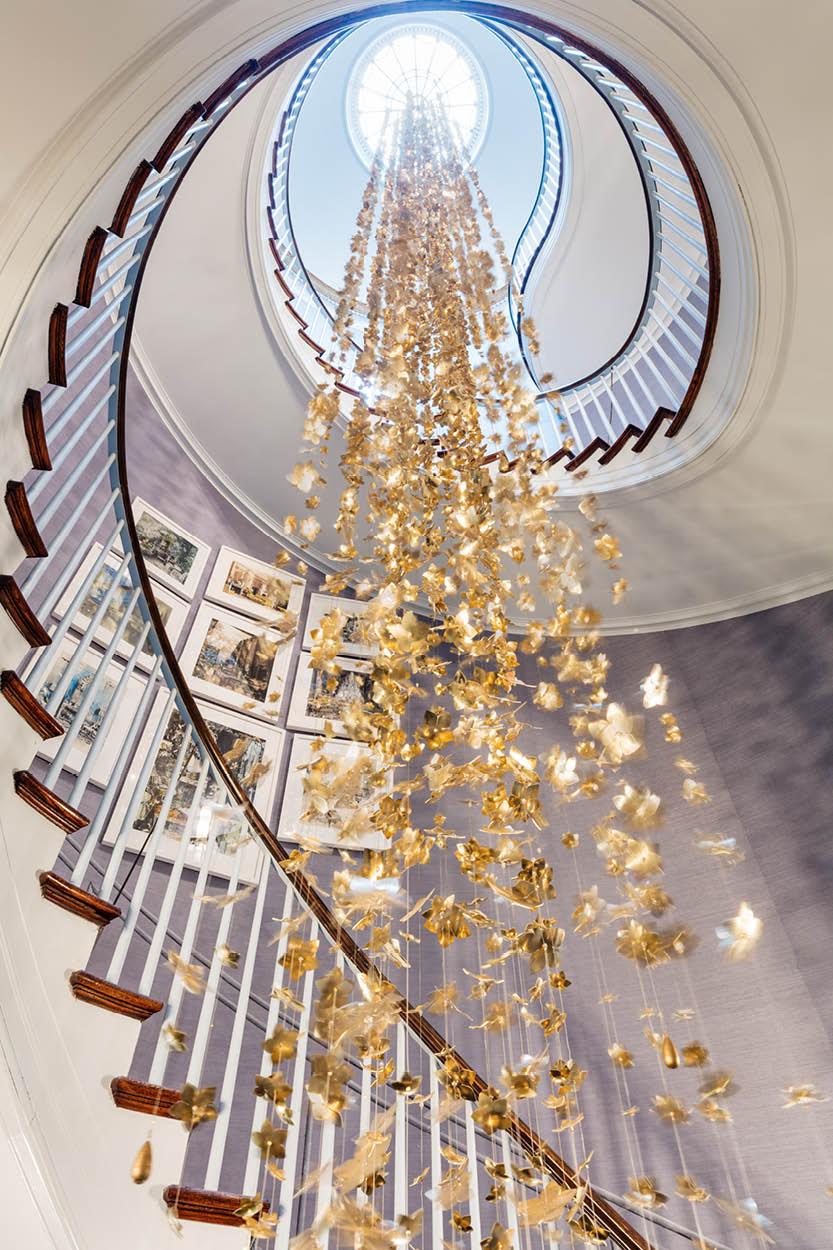 Gluckstein Design
Brian Gluckstein designed the winding four-storey staircase. He wrapped the walls in pale blue grasscloth with the door openings hand-painted with pagoda-style frames. A focal point of the staircase is a floral sculpture hanging from the ceiling. "I emphasized the sculptural aspect of the staircase by installing 4,000 hand-crafted brass cherry blossoms which span the full four storeys to form a spectacular 30-foot suspended mobile. Like architectural jewellery, the hand strung brass blossoms bring a dream-like moment of pause as visitors ascend and descend the stairs," described Gluckstein.
Photograhy by Nickolas Sargent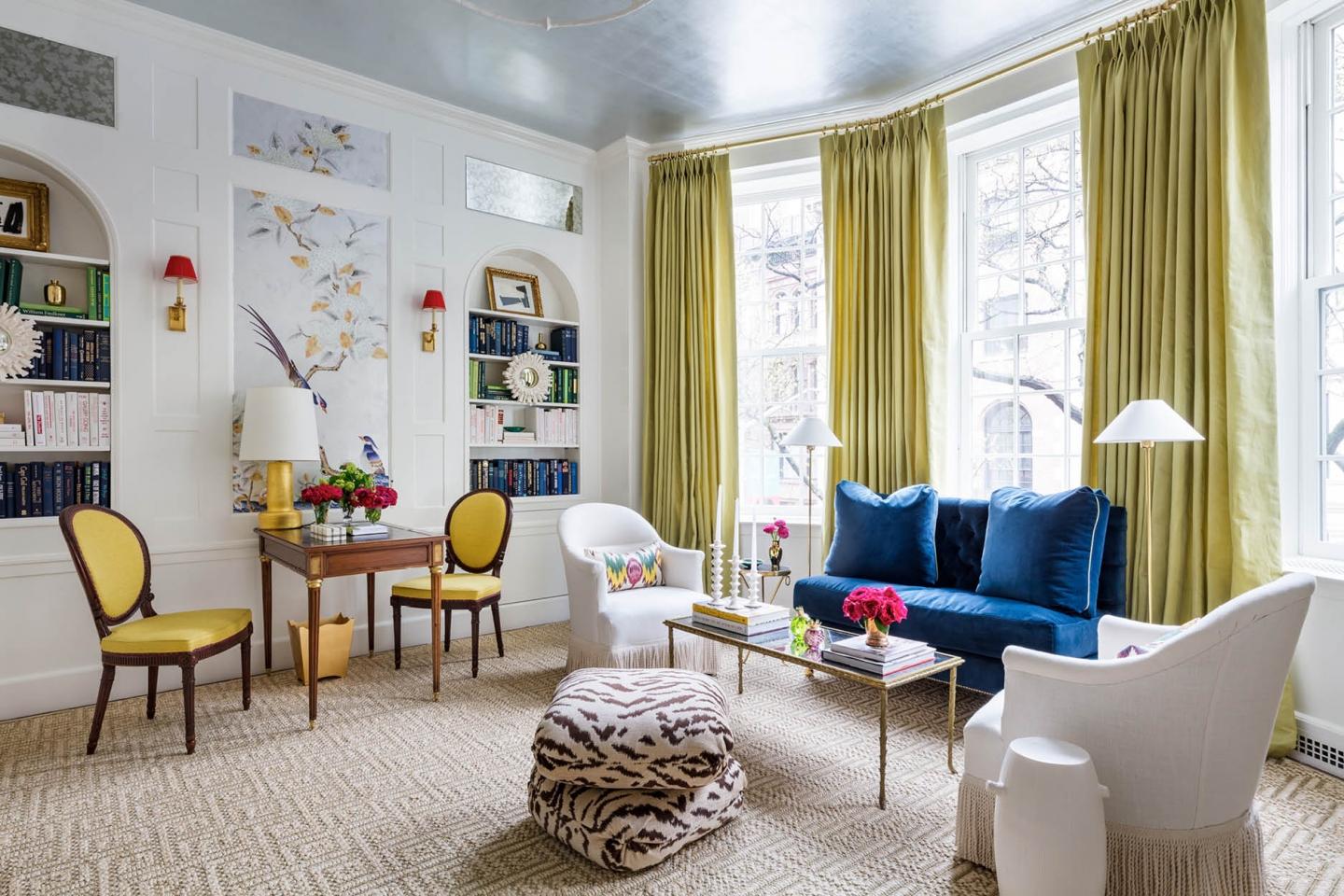 Paloma Contreras
The designer calls her room Spring Awakening and inside it is all sorts of pretty, from the De Gournay floral paneled walls to the the chartreuse drapes and all the petal shades used in the soft furnishings. "I envision the lady of the house using this space as her personal study, so it is feminine and glamorous… the room is a study in color used in a very mindful way and showcases my signature "modern-meets-traditional" style," said Contreras.
Photography by Nickolas Sargent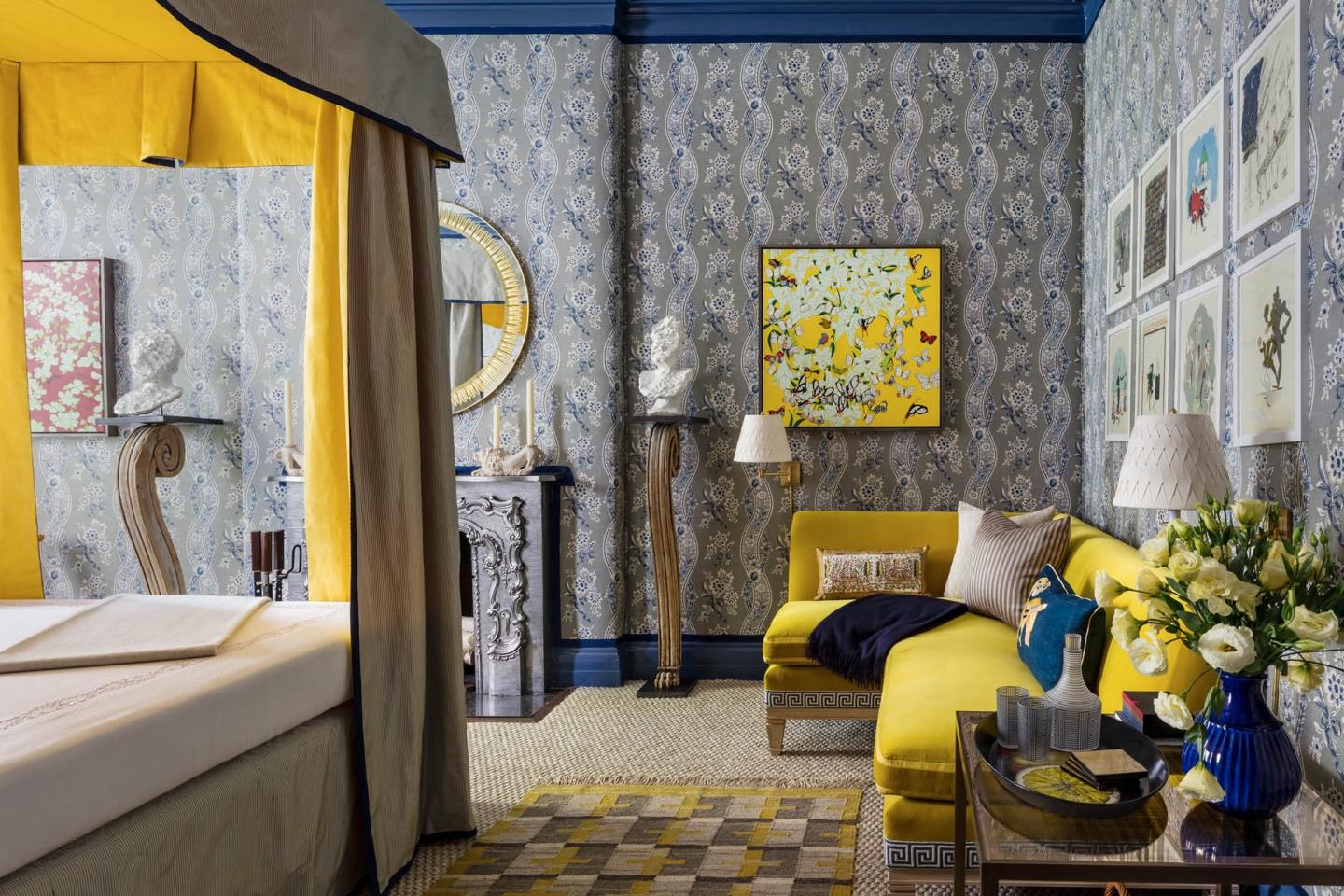 Peter Penoyer
For the guest bedroom, Peter Penoyer employed a glorious mix of blues, greys and yellows. He upholstered the walls in a paisley and floral fabric that is the perfect balance of masculine and feminine then painted the baseboard and crown moulding in a nautical blue shade. A canopy bed with a yellow interior tent echoes the corner banquette. The result is a room guests may never want to leave.
Photography by Nickolas Sargent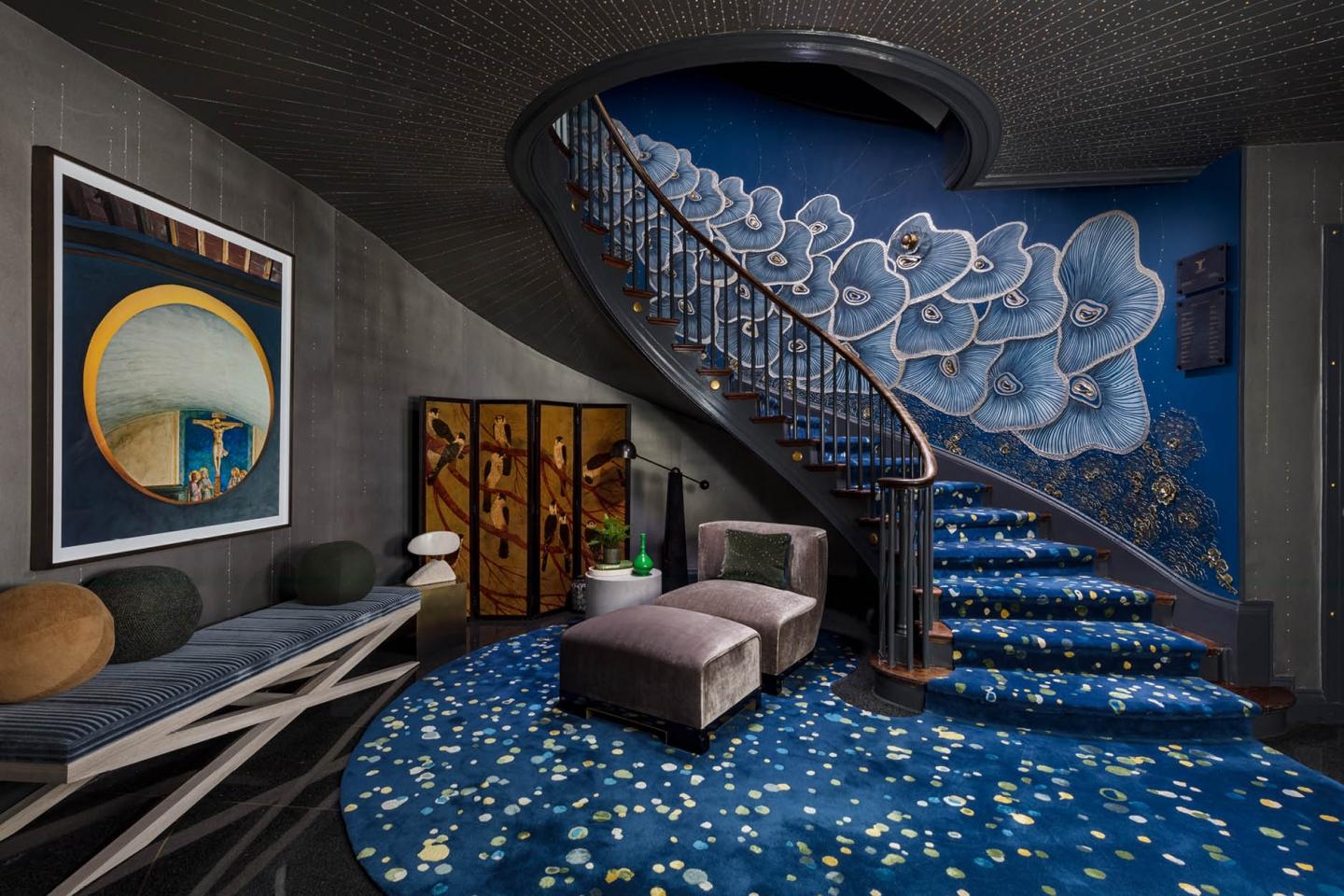 Richard Rabel
The first room you see at the Show House is the entry gallery and it calls for a wow moment. Richard Rabel delivered with his opulent showcase that is awashed in peacock blue. A textured wallpaper with an abstracted version of peacock feathers complements that brilliant blue stair runner. "One of my fondest childhood memories is chasing peacocks around my grandparent's property. As an adult, I have spent hours looking at art in house museums across the world, and this is the lens from which I design. When approaching the concept for the Gallery Entry and Grand Staircase of The Kips Bay Decorator Show House, my inspiration sprang from these three great loves: peacocks, art and design," said Rabel.
Photography by Nickolas Sargent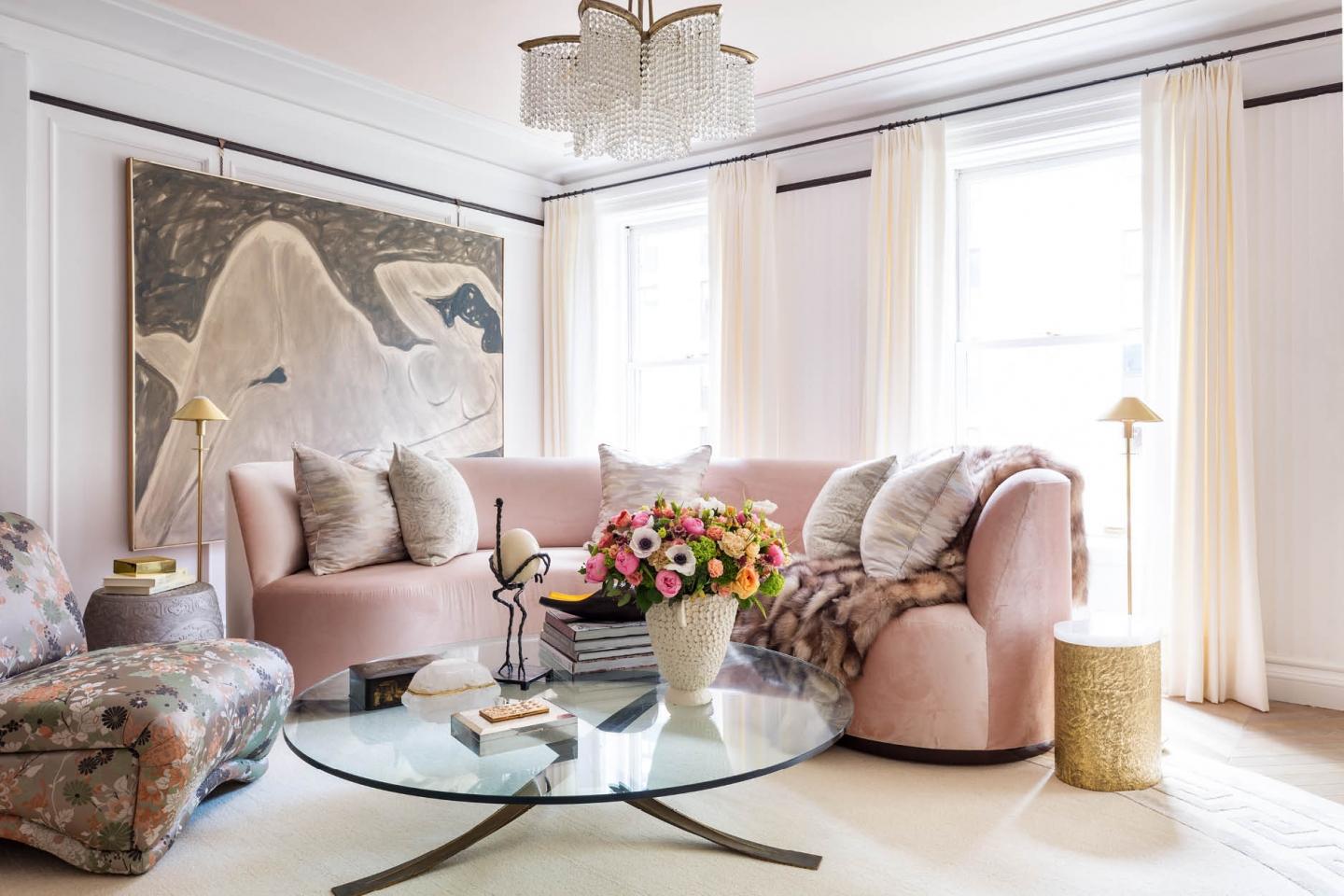 Robert Passal
Decorator Robert Passal partnered with architect Daniel Kahan to create a serene salon in pale hues mixed with rich metallics. A curved pink sofa paired with an oversized floral silk upholstered slipper chair are mixed with more contemporary designs. It is an inviting space that has various sitting areas including a gorgeous banquette flanked by tall bookcases.
Photography by Nickolas Sargent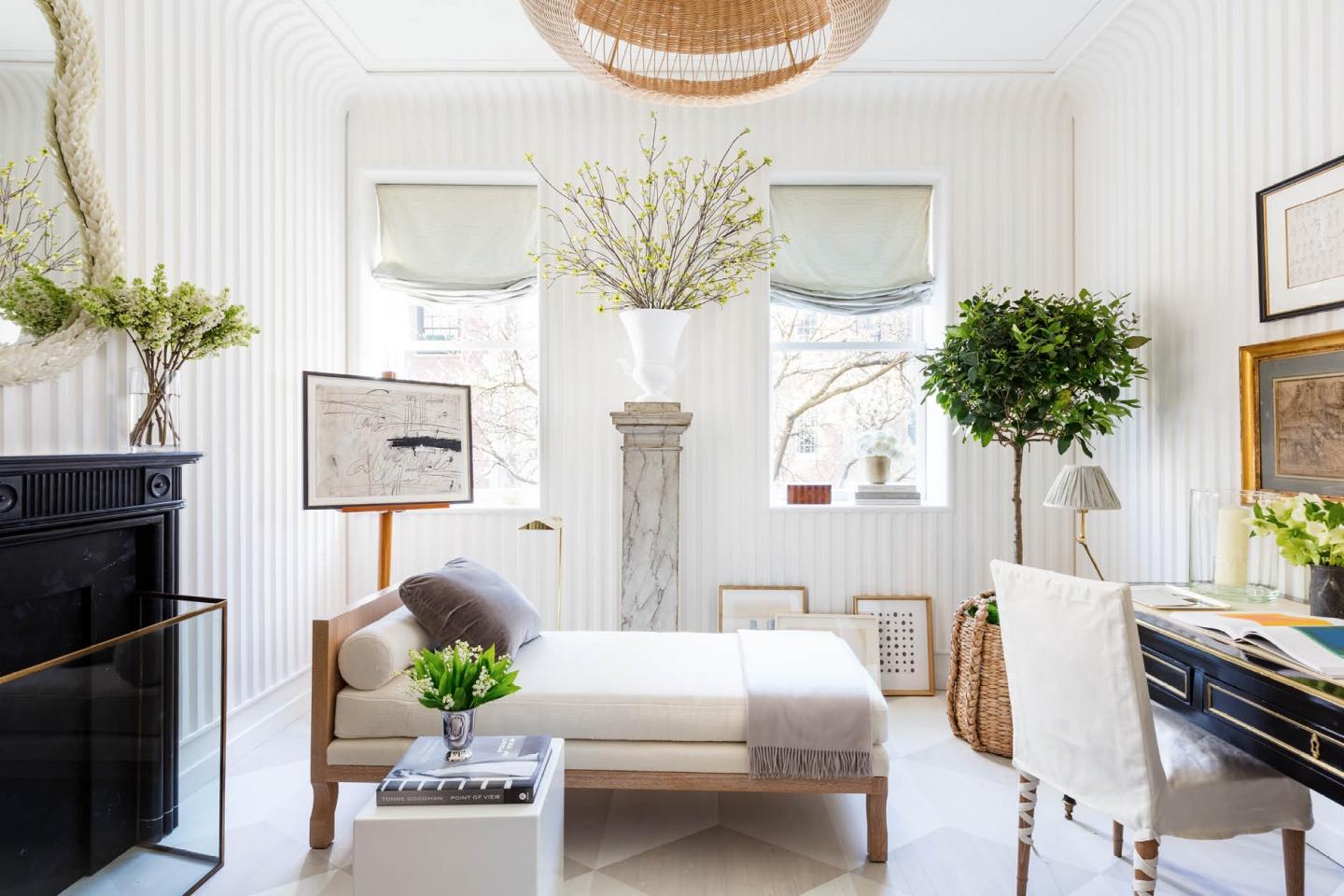 Sarah Bartholomew
Sarah Bartholomew's room makes for a brilliant case for monochromatic decorating. Fluted plaster walls in chalky white and white washed floors painted with pale cube patterns become the ideal backdrop for quiet furniture and accessories.
Photography by Nickolas Sargent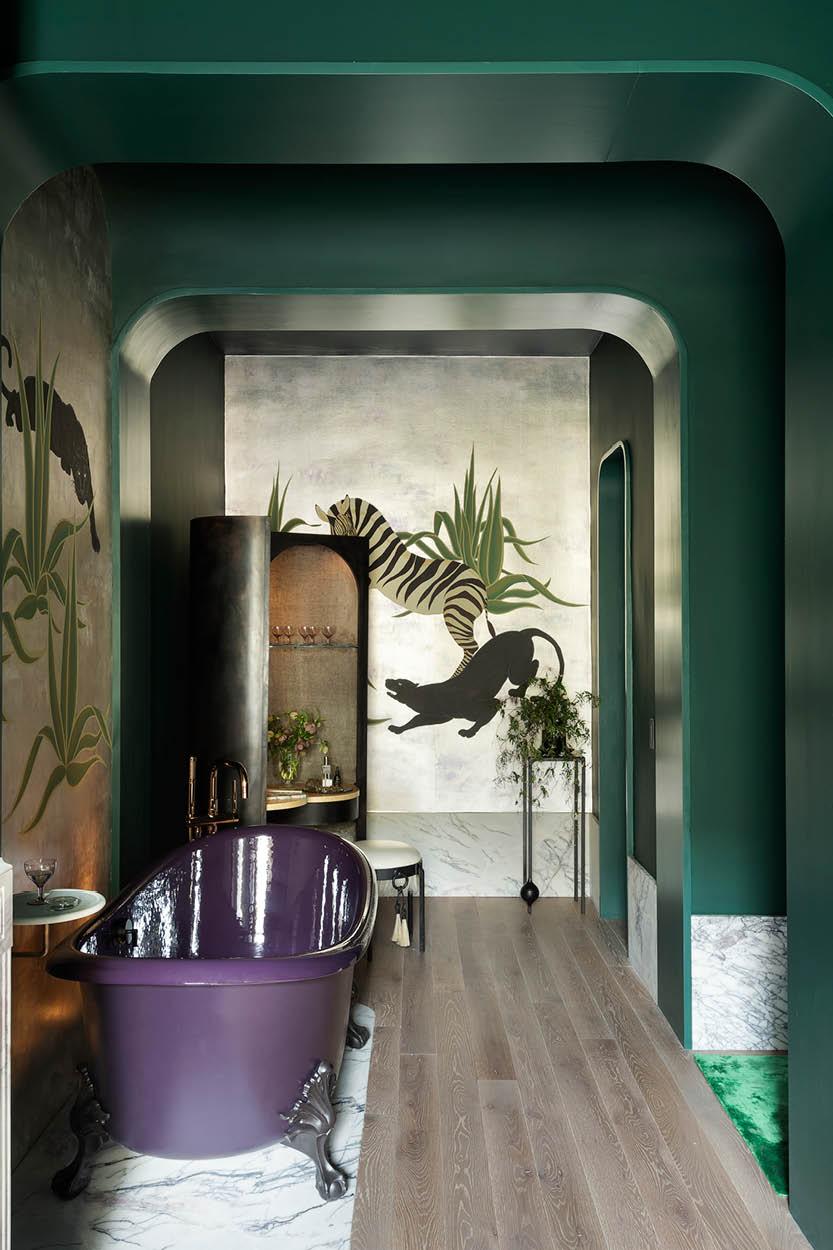 Studio DB
Given an oddly shaped room, the designers of Studio DB turned what would have been a decorating dilemma into a sexy boudoir with deep green walls accented by a metallic wallpaper with zebras and jaguars, a purple bathtub and a wraparound sofa.
Photography by Matthew Williams Photography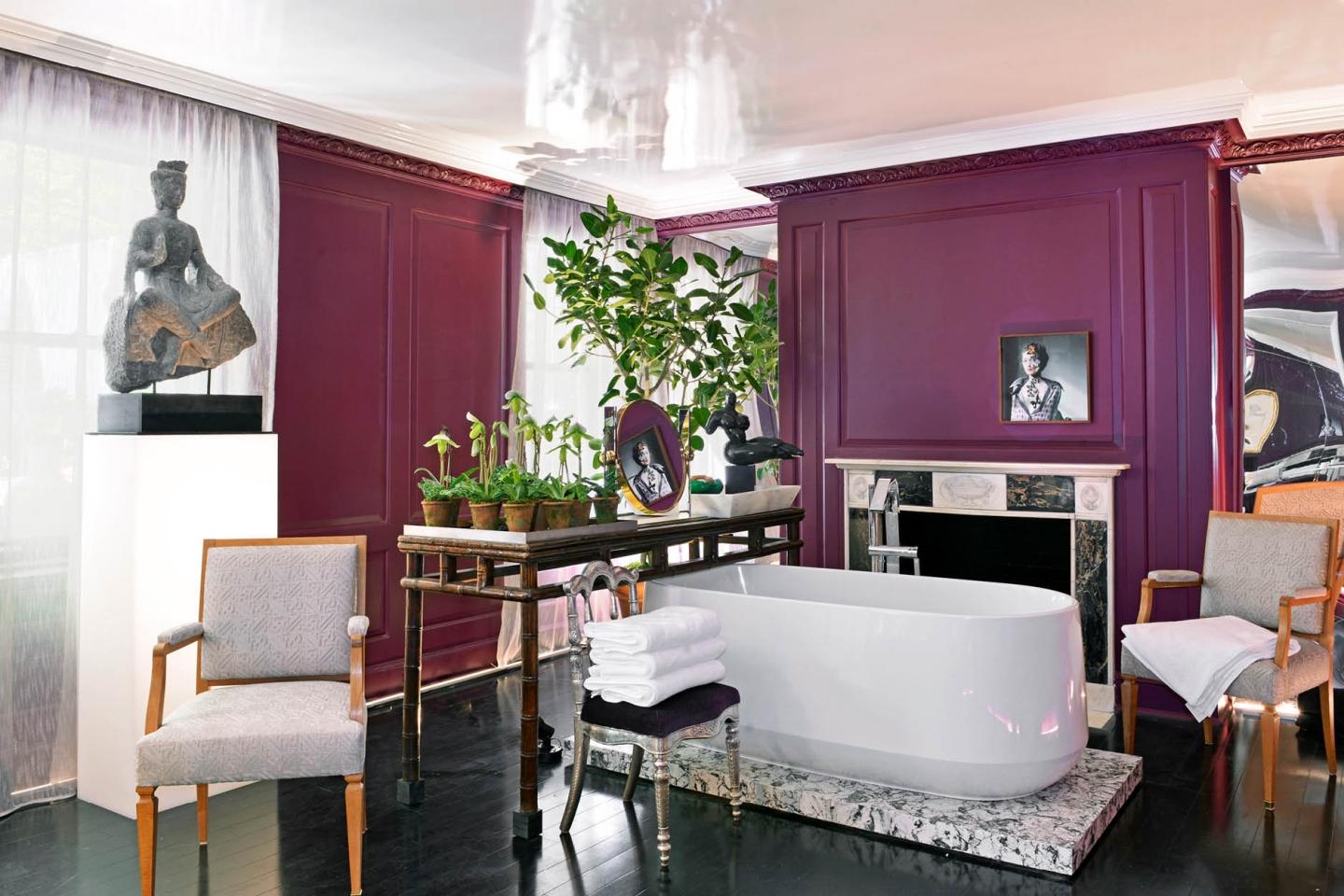 Vicente Wolf
The designer Vicente Wolf created a jewel box of a spa in his room which he has endearingly called The Dreaming Room. Rich aubergine walls envelop you with a sense of calm and the soaking tub in the middle of the room invites you to shed your worries away.
Photography by Vicente Wolf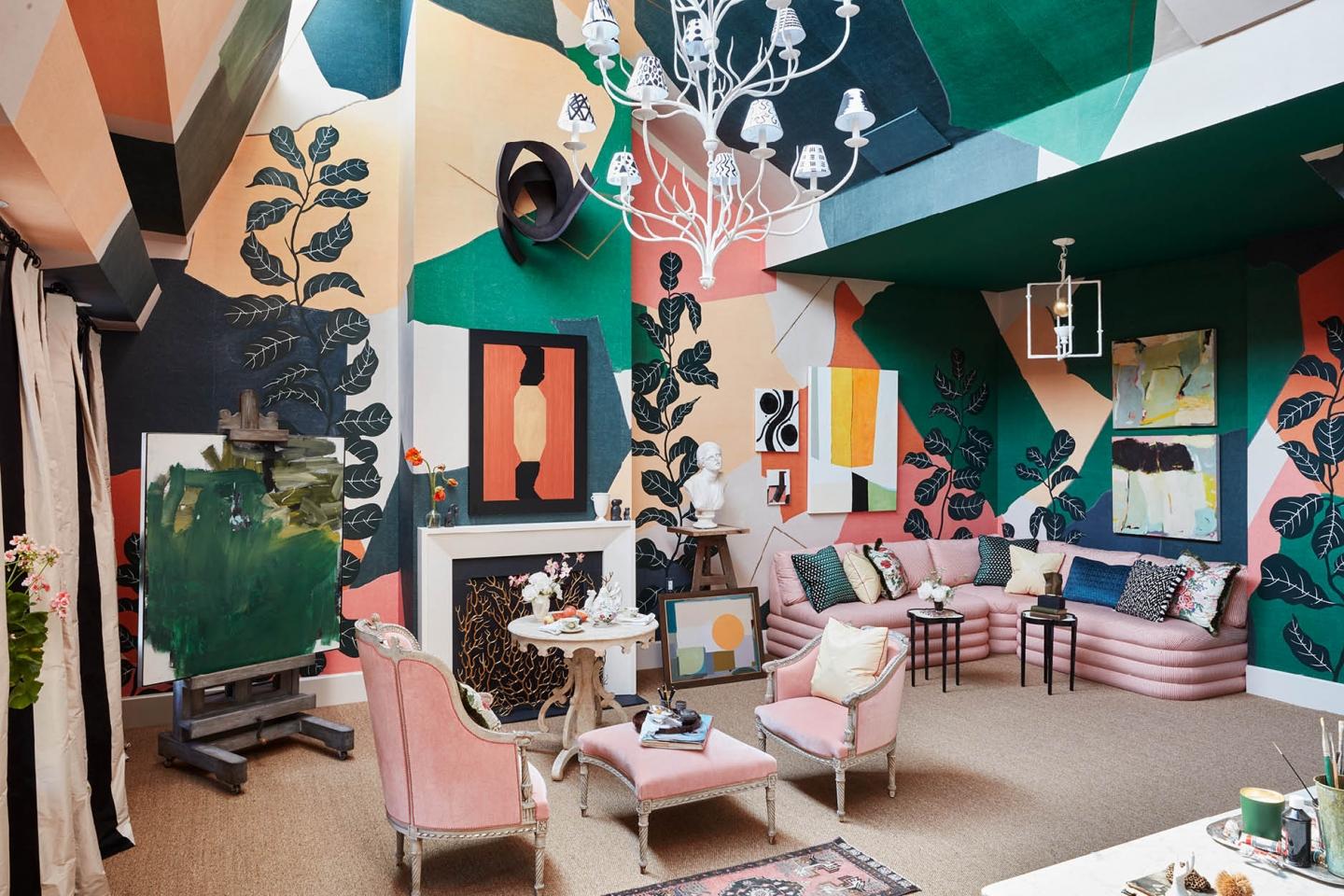 Young Huh
In what is perhaps the most memorable room of the entire show house, Young Huh transformed the attic room of the house into an artist's retreat inspired by bohemian garrets in Paris during the fin de siecle. However, this is a glamorous and luxurious bohemian take, one suffused with a harmonious riot of colors via the bold wallpaper that calls to mind Matisse's work and the pink furniture.
Photography by Ngoc Minh Ngo